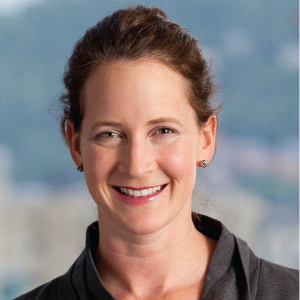 Kathryn
E. Mawer, CFA, CAIA
Senior Vice President
Kathryn Mawer serves as senior vice president and advisor at FEG. As she's dedicated solely to serving OCIO clients, her responsibilities include working with clients to develop policy, execute investment strategy, and help clients meet their goals. Her service philosophy is that collaboration with clients is paramount. She views the OCIO role as a partner who must be willing to integrate into the client's expertise.
Logic will get you from A to B. Imagination will take you everywhere.

– Albert Einstein
When asked what helps serve her clients, Kathryn shared, "creativity is important because it helps connect the dots between clients' investment strategy and enterprise needs." She believes that it is important to always look at investments and client service with a fresh perspective, and never take anything for granted. That way, you don't assume something you did five years ago is the same now. Always assume it's changing.
Kathryn has developed or co-developed several key initiatives at FEG, including the firm's process for onboarding new clients, which balances an in-depth discovery process with efficient portfolio implementation, as well as the bi-annual FEG Investment Forum, the firm's largest client event with more than 500 clients and prospective clients in attendance, and FEG's annual Community Foundation Survey, which covers a wide range of enterprise and investment topics and has had more than 200 Community Foundations participate.
Kathryn began her career as a senior research analyst at ACNielsen BASES and joined FEG in 2006. Notably, she is also a classically trained professional harpist. She holds a Bachelor of Science in Business Management from Boston University. She is a leader of FEG's Women in Investment group and also serves on the Enterprise Risk Committee and the Community Foundation Committee. She is a member of the CFA Institute and the CFA Society of Cincinnati as well as the CAIA Association and the Philanthropic Educational Organization (P.E.O.). In 2021, Kathryn was included on the short list for the 2021 Consultant of the Year award presented by Women in Asset Management.1
Outside of work, Kathryn is focused on family and music, and is very active. She has family dinners with her extended family of 13 people several times a week; during lockdown they held daily outdoor happy hours. She is also very passionate about music and continues to perform professionally for weddings, restaurants, parties, and church services. She also enjoys tennis, swimming, hiking, and is learning golf, although admits that golf may not be a core strength.
1 Women in Asset Management. To read the full article and selection criteria or the award, please visit: https://lastwordmedia.eventscase.com/EN/WIAMAwardsUSA. Any awards or nominations received by FEG or its personnel are not representative of any client's experience or FEG's capabilities as an investment adviser and as such does not indicate any future experience or performance. FEG is not affiliated with the awarding agencies and does not validate the appropriateness of said agencies or their awards.