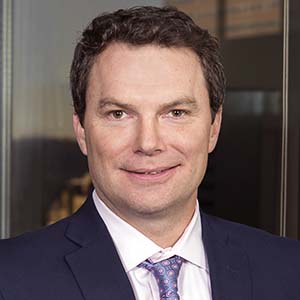 J. Alan
Lenahan, CFA, CAIA
Chief Investment Officer
Alan Lenahan serves as FEG's chief investment officer and head of OCIO, assuming responsibility as the lead for the OCIO business while overseeing the activities of the OCIO portfolio management team.
There are three types of people: those who make things happen, those who watch things happen, and those who wonder what happened.

– Mary Kay Ash
From a young age, Alan knew he was destined for a career in the investment industry. He developed this interest while helping his father, a commodities broker, whenever he had the chance. Alan received his Bachelor of Science in Business Administration in Finance and Marketing from Xavier University. He then began his career with Arthur Andersen as a senior associate of valuation services before moving to The Western and Southern Life Insurance Company for a position as a senior corporate finance and risk management analyst. While at Western and Southern, he was responsible for researching asset managers for potential acquisition and developed a keen interest in alternative investment strategies. Alan subsequently joined the FEG team in 2002 as an alternatives research analyst, focusing on non-traditional strategies and assisting advisors with portfolio construction. He led the launch of FEG's earliest discretionary pooled vehicles.
In addition to his position on the FEG Leadership Team, Alan is also a member of the FEG Portfolio Management Team, serves as executive advisor on Xavier University's Finance Board, sits on the Investment Committee for the Cincinnati Parks Foundation, and is a member of the CFA Society of Cincinnati.
When Alan is not supporting his team members, you can find him spending time with his wife and four very active kids. He loves coaching his kids' sports teams—especially soccer, since Alan played on the soccer team at Xavier University. Alan and his wife are on a mission to play golf in every state in the U.S. So far, his favorite golf resort is Bandon Dunes in Bandon, Oregon, and favorite courses are Carnoustie in Scotland and National Golf Links in Long Island, New York.