Discretionary vs. Non-Discretionary?
There are several questions to ask when determining which service model is right for your institution.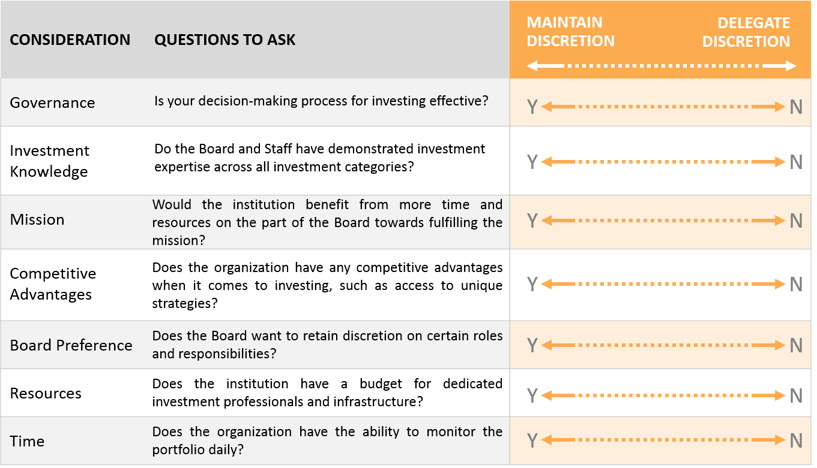 The primary advantage of utilizing our non-discretionary, or consulting, model is that you retain discretion over your portfolios. We recommend our best ideas on asset allocation, manager selection, and other factors, and we serve as your fiduciary—but you choose whether to implement these ideas.
This approach is favored by institutions with large investment staff who want to be involved in the intricate details of managing their portfolios.
The primary advantages of utilizing our Outsourced Chief Investment Officer (OCIO), or discretionary, model is that while you still determine the big picture parameters for the portfolio, we handle the daily responsibilities of managing it. This frees up your time, enabling speedier investment recommendations and streamlining administration and reporting. Using the OCIO approach also allows us to take advantage of timely opportunities in the marketplace, rather than waiting for the approval of an investment committee that meets on a monthly or quarterly basis. Other advantages include clearly defined fiduciary obligations and an improved holistic approach to portfolio construction.
This approach is favored by institutions with smaller investment staff or institutions with large staff focused on other responsibilities, such as fundraising or other financial issues.
Our hybrid approach is a custom combination of consulting and OCIO services. Some clients may choose to maintain discretion over a portion of their portfolio—retaining authority over manager selection in their public equity holdings—while outsourcing private holdings to FEG. Conversely, other clients may delegate selection of their fully liquid mandates while retaining discretion over liquidity-constrained investments such as hedge funds and private equity.