CRYPTOCURRENCY DONATIONS
Bitcoin has been around for more than ten years, but in the last year, we have seen an increase in client questions around cryptocurrency. We polled endowments and foundations to better understand their organizations' process and sentiment towards cryptocurrency donations.
WAIT, WHAT IS CRYPTOCURRENCY?
Cryptocurrencies are digital financial assets for which ownership and transfer of ownership is guaranteed by a cryptographic decentralized ledger that provides a record of transactions. To learn more about cryptocurrency and how it works, read our recent FEG Insight: "What about Bitcoin?"
CRYPTOCURRENCY DONATIONS NOT POPULAR, BUT MAY INCREASE IN THE FUTURE
The large majority of respondents do not accept cryptocurrencies, although nearly 1/3 are currently discussing the option to do so. 46% of respondents believe that cryptocurrency donations will increase in the future. Of those that are currently discussing accepting cryptocurrency donations, the number expecting such donations to increase over time jumps to 64%.

FOR THOSE THAT ACCEPT CRYPTO DONATIONS
While the overall number of respondents that accept cryptocurrency donations is very small, all respondents sell cryptocurrency donations immediately, similar to how many organizations treat stock donations. However, only a few have language, or are developing language, in their gift acceptance policy regarding cryptocurrencies.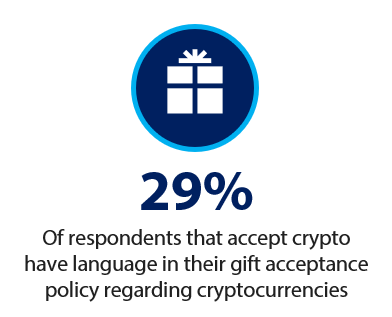 WHY DON'T YOU ACCEPT CRYPTO DONATIONS?
Of the 59% who do not accept cryptocurrency donations, we asked why. The most prevalent answer was that there has not been any donor interest, followed by comfort level, and that the process to accept is too difficult.1

FEG INSIGHT
In conclusion, we have seen several client questions around cryptocurrency, and expect this question to continue. While the number of nonprofits accepting cryptocurrency as a donation is low, this could grow with more acceptance, regulatory clarity, and/or ease of processing crypto donations. We will continue to monitor the landscape and share any trends we see in the future.
ABOUT THE SURVEY
FEG Flash Poll collects data from institutional investors in a wide variety of segments to provide insight on current topics. This poll looked at questions related to acceptance of cryptocurrency and documentation and processing of such gifts. FEG received responses from 71 participants, where more than 70% respondents were staff. We would like to thank all survey participants for their contributions and hope they find the results valuable.

1 Respondents could select more than one answer
DISCLOSURES
This report was prepared by Fund Evaluation Group, LLC (FEG), a federally registered investment adviser under the Investment Advisers Act of 1940, as amended, providing non-discretionary and discretionary investment advice to its clients on an individual basis. Registration as an investment adviser does not imply a certain level of skill or training. The oral and written communications of an adviser provide you with information about which you determine to hire or retain an adviser. Fund Evaluation Group, LLC, Form ADV Part 2A & 2B can be obtained by written request directed to: Fund Evaluation Group, LLC, 201 East Fifth Street, Suite 1600, Cincinnati, OH 45202 Attention: Compliance Department.
Neither the information nor any opinion expressed in this report constitutes an offer, or an invitation to make an offer, to buy or sell any securities.
This report is prepared for informational purposes only. It does not address specific investment objectives, or the financial situation and the particular needs of any person who may receive this report.
Published September 2021.