Every organization will have different approaches, goals, and interpretations of Responsive Investing. At FEG, we start with a discovery process and then help you build the RI portfolio right for your organization. If you would like to partner with us to develop a custom questionnaire, click here.
Read on to discover implementation considerations including performance, the spectrum of RI investing, levels of implementation and intentionality, discovering your organization's starting point, and measuring RI's impact.
Performance: Should We Invest?
While many investors express concern that RI strategies generate lower returns, several studies indicate otherwise.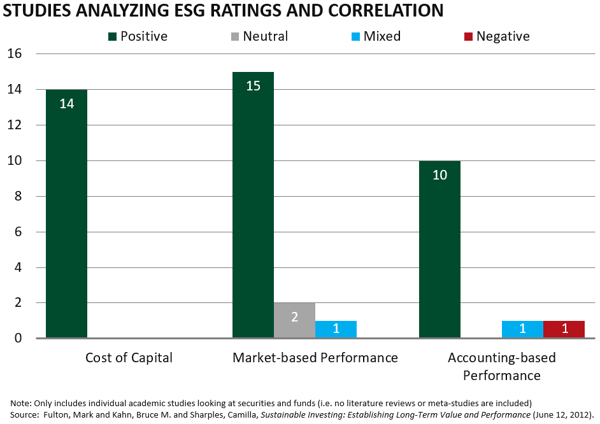 In comparing standard indices with their ESG indices counterparts, competitive performance is possible.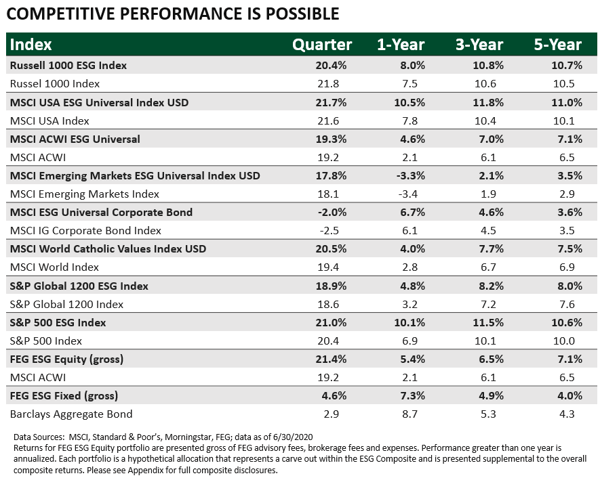 Incorporating Responsive Investing In Your Portfolio
There are

many different ways

to invest. The types of RI available can be placed on a spectrum of intentionality. SRI is typically selecting what not to invest in. As you move across the spectrum, the investments become more specific and directed.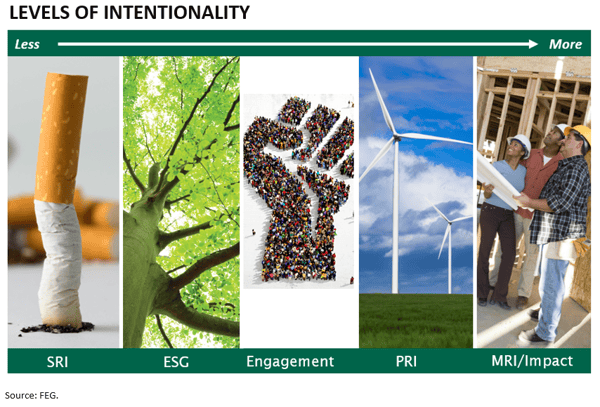 Negative Screening
(Exclusionary)

Avoidance from companies or industries (ex. tobacco, gambling, pornography, abortifacients).

Positive Screening
(Best-in-class)

Investing in specific sectors, companies, or projects with clear positive impact (ex. Identifying environment friendly company, clean technology, renewable energy, urban revitalization).

Impact Investing

Targeted investment aimed at solving social or environmental problems (ex. Bridge financing to local non profit organization, lending capital for revitalization).

Thematic Investing

Targeting specific strategies that mirror the values of the investor (ex. human rights, political contributions, economic development, etc.).

Full ESG Integration

Systematic and explicit inclusion of ESG criteria in the decision-making process to identify externalities and generate a better representative value of a company.

Integration Framework
ESG portfolio construction needs are viewed the same as any traditional portfolio. For example, focus on asset allocation, risk, manager selection, and security analysis.
Risk Analysis

Downside return assumptions and does ESG help or hurt?

Diversify by security, style, region, sector, and ESG focus

Asset Allocation Considerations

Strategic vs. Tactical

Values vs. Value
Manager Selection

Holistic approach to ESG or exclusionary only?

Specialist ESG firm or traditional firm?

Active vs. Passive

Security Analysis

ESG factors that will drive performance

Relative or absolute ESG criteria

Engagement opportunities with corporate management
Discover Your Starting Point
When the discussion arises about RI, there are several considerations. To help set your investment goals and expectations, FEG will take a deep dive into the discovery process.
SAMPLE CONSIDERATIONS
Objectives
Why are we considering RI?
IPS
Amend current IPS vs. develop separate ESG IPS
Portfolio
What level of intention?
Slice of endowment v. other option
Enterprise
Governance – Board Approval Process
Fundraising – new donor opportunity
Risks – loss of some supporters
The sample survey below is one way we help ensure committee, board, and staff members and are on the same page for your organization's needs and objectives. We develop a report that shares the results and helps to identify potential areas for discussion, or implementation.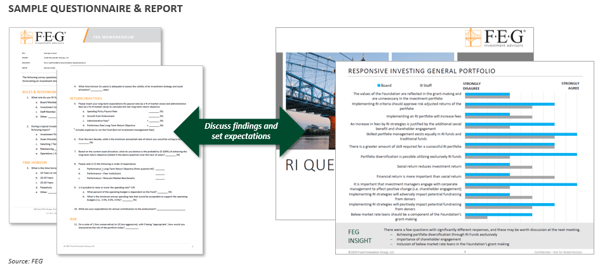 Portfolio Examples
FAITH BASED ORGANIZATION

Exclusionary screening only

Low cost index options

No sin stock exposure

Monitoring manager alignment with governing body guidelines (ex. USCCB)

Values driven decisions at the front of the process

HOLISTIC ORGANIZATION

Belief ESG criteria can drive shareholder value

General exclusions (partial sin stock)

ESG integrated into the decision making

ESG specialists considered in manager selection but not exclusively

General approach to improve overall portfolio health

Financial return first w/ social benefit included

ENVIRONMENTAL ORGANIZATION

Divestment from fossil fuels

Partial divestment from sin stocks

Complete ESG integration

Active allocation toward positively aligned environmental solutions

Effort to increase gender and racial diversity

Direct impact investments with complete alignment with mission
Measuring Impact
There are a number of ways to measure the impact of responsive investments.

Responsive investments are not a se

parate asset class, and you can approach implementation by either selecting an impact within a given asset class or selecting a specific issue and look across the asset classes to achieve that outcome.

Below is one example of measurement using the United Nations Sustainable Development Goals. This can be tailored to the specific metrics your organization utilizes to measure impact.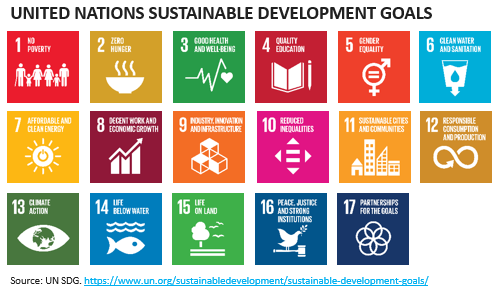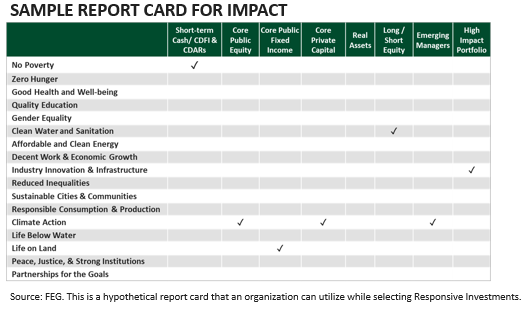 ---