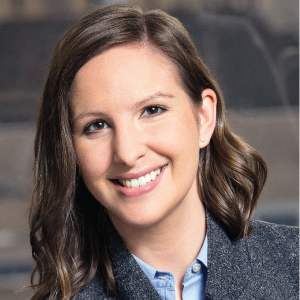 Christina N. Drake
Vice President
Christina Drake serves as a vice president and advisor at FEG. Her responsibilities include interfacing with existing and prospective nonprofit clients and helping them build long-term portfolios. Her day-to-day activities include custom analysis, reporting, and governance process development for clients; portfolio construction; as well as providing education to clients on incorporating Diversity, Equity, and Inclusion (DEI) in investment portfolios. Christina views her role as part educator, as she works in partnership with clients to help them realize their investment goals. She believes everyone deserves the opportunity to reach their full potential and tries to embody that in all of her work.
Don't believe everything you think.

– Robert Fulghum
Christina grew up in a farm town in rural Indiana. She earned her Bachelor of Science in Marketing and Bachelor of Arts in Communication Studies from Butler University and then moved East, where she spent nearly a decade before moving back to the Midwest to be closer to family. She began her career as an associate client advisor with Bridgewater Associates in 2009 and later joined FEG in 2016. She is a founding member of FEG's DEI Committee and serves as the chair of FEG's Diverse Manager Committee. She is also a member of the Investment Professionals Education Initiative, an organization that helps high schoolers achieve financial literacy, and a former development committee member of Women Helping Women.
Christina's hobbies include painting, hiking, and yoga. She and her partner share a passion for travel and food, and typically take an international trip each year if possible. They also recently welcomed a new addition to their home: a yellow Labrador puppy named River.