An eruption of risk-on tailwinds which began in March, continued to prevail during the third quarter, propelling risky asset prices higher, as investors braced for the looming November U.S. presidential election, which is likely to cause volatility levels to jump around the election regardless of the final outcome. Incoming data on the U.S. economy continued to surprise to the upside, sending economic surprise aggregates to their highest levels since early 2018, albeit with some variables reflecting an economic backdrop that continues to be challenged.

Global equity returns were generally positive, as U.S. large cap growth equities continued their impressive streak of strong performance. Regionally, domestic equities outpaced international equities but underperformed the emerging markets for the quarter, due in part to the decline in the U.S. dollar (USD) during the period. Despite the bullish sentiment, core bond returns were modestly positive, albeit trailing the more risk-oriented sectors of the market such as investment-grade corporates, high yield, and bank loans. In real assets, performance for the quarter was mixed despite an increase in inflationary sentiment and weakness in the USD. REIT returns were essentially neutral, commodities were positive, and energy infrastructure performance was negative.

To start the fourth quarter, President Trump's COVID-19 diagnosis has driven volatility higher, with global asset allocators seeking to discount a wider range of potential outcomes to conclude the year. According to Las Vegas betting probabilities, following the news of President Trump's positive COVID-19 diagnosis, the odds of a successful reelection bid by the President Trump have sunk to their lowest level since betting began last year.
Economic Update
President Trump Contracts COVID-19, Sending Reelection Betting Odds Lower
An overwhelmingly positive quarter from a risk asset performance standpoint quickly faded at the beginning of the final quarter of 2020 when news broke on October 2 of President Trump's positive COVID-19 status. Despite the president's relatively short stint at Walter Reed Medical Center—which totaled just four days—Las Vegas betting odds of a successful reelection bid by the president have sunk to their lowest level since betting began.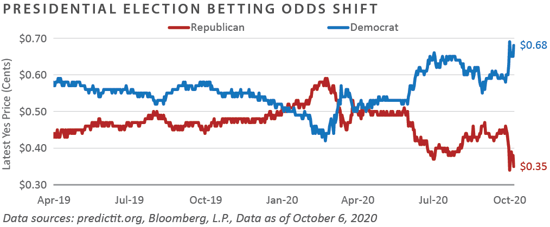 The nearly 7-month ongoing economic slump, a lack of clarity around the timing and scope of the next fiscal package—with House Democrats recently setting forth a $2.2 trillion package—and ongoing nationwide civil disturbances have likely weighed on President Trump's odds of being reelected.
Nevertheless, investors have recalibrated their sights on the cyclical business trends that are likely to accompany whomever wins the presidency in November, with pro-inflationary sentiment percolating following an impressive economic rebound off of the bottom and promises of future accommodative fiscal and monetary conditions. Indeed, surging money supply growth, which accelerated to an annual record of more than 23% year-over-year through August for the M2 supply, has stoked concerns of positive inflation surprises on the horizon.
However, the federal government's growing indebtedness is likely reflective of limited economic growth potential, realized inflation levels, employee wage growth, and nominal interest rates, particularly when viewed in conjunction with imposing secular headwinds in the way of a decline in labor force participation rate, an aging demographic, a declining birth rate, and diminishing population growth.
The most recent update to the federal government's debt burden relative to nominal GDP showed a historic surge upward, as the ratio closed in on 140% through April. Academic research highlights the relationship between an increase in this ratio and periods of weak real GDP growth, in which borrowing occurs because of weakness and weakness may persist as high debt levels impact interest rates and crowd out the private sector. Recent data suggests the government's continued propensity to borrow in the midst of declining economic growth may foretell limited economic growth potential over the coming years.
To conclude, the third quarter brought a continuation of positive performance across most major risky asset sectors, underpinned by improving economic data, supportive governmental policies, and optimism around the economy's wherewithal to grow in a post-COVID world. However, ballooning federal debt burdens, a surge in outstanding government debt, and demographic headwinds may continue to weigh on the economy regardless of the outcome of the U.S. presidential election in November.
Market Returns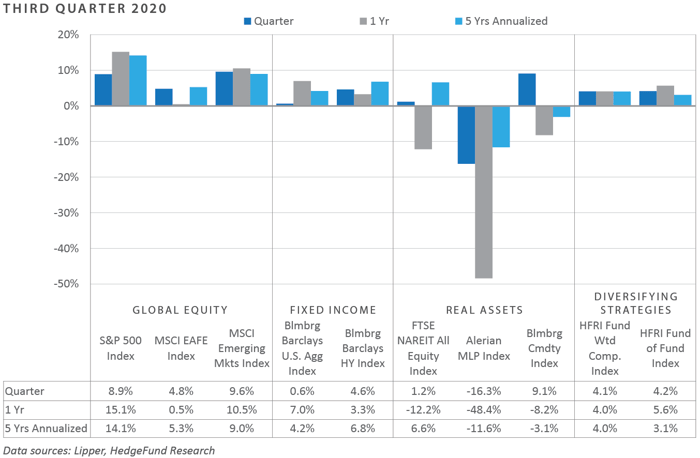 Global Equity
Global equity markets experienced positive returns during the third quarter despite some regional market dispersion, highlighting the benefit of geographical diversification. Emerging markets' continued rebound led to outperformance of both U.S. and international developed markets. Emerging markets have followed the trend of "first in, first out" as they witnessed the benefits of overcoming negative externalities from COVID-19.

In the U.S., stocks rallied due to a rise in heightened consumer confidence exhibited in consumer spending data, elevated industrial production, and a decline in the unemployment rate from the peak witnessed in April 2020. The S&P 500 Index set a record in August, surpassing the February 2020 high, prior to the full global spread of the COVID-19 pandemic.

Through the summer, the market seemed only to be running with the devil of technology stocks until they reverted in September. Cyclical sectors, such as materials and industrials, performed well during the eruption of volatility in September, due to the gradual resumption of economic activity. These sectors pushed value stocks ahead of growth, and left value investors to wonder if this is might be first sign of the reversion they have been waiting for.

The lone exception to positive U.S. sector performance was energy, which continued to face pressure from both the demand and supply sides. Production from the Permian basin, as well as other shale producers, and global producers such as Russia, Brazil, and Saudi Arabia continued to produce at levels exceeding current market demand.

Growth in European economies—most notably Spain and France—stalled in the quarter, as lockdown measures were reinstated in the wake of increased hospitalization rates due to COVID-19. This move affected business activity and weighed on equity markets.

The UK also lagged other regions, due in part to lingering Brexit concerns as opposed to what had been the myopic focus on COVID-19. Japanese equities fared well, as there were positive surprises in the quarterly earnings reporting, as well as positive industrial production data.

Although performance varied, emerging markets performed best globally. India was the best performing market, as the Indian government advanced key agriculture and labor reforms. Chinese equities also had a strong quarter due to positive gross domestic product growth in the second quarter.

Weakness occurred in Turkey and Thailand, which suffered negative double-digit returns primarily due to lira weakness and increases in COVID-19 cases, respectively.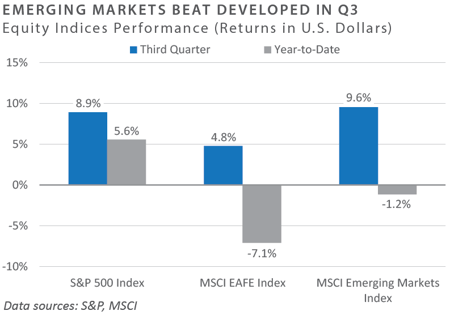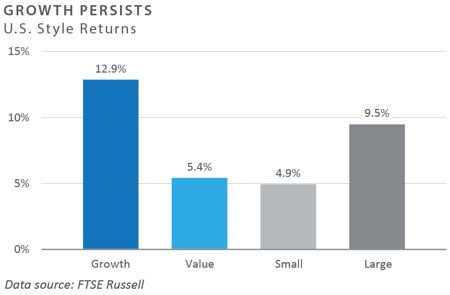 Fixed Income
After a relatively muted second quarter, the Federal Reserve (Fed) returned to the headlines this quarter, announcing major changes to inflation policy with a shift towards "average inflation targeting" in August, followed in September by a commitment to keeping the federal funds rate at zero through 2023. Notably, in spite of the Fed's assurance of maintaining accommodative policy, shortly after the end of the quarter, Fed Chair Jerome Powell provided fair warning that the "expansion is still far from complete" and suggested that further fiscal support to augment monetary stimulus would provide the best of both worlds needed to sustain the economic recovery.

Risk-on sentiment continued to prevail across fixed income markets in the third quarter. Within the credit markets, where everybody wants some yield, the Fed's ongoing support of credit buoyed those issues, as corporate credit spreads tightened significantly over the quarter. Investment-grade corporate credit spreads have generally returned to levels witnessed in January 2020, though high yield spreads remain relatively elevated.

Strong demand has supported issuance in corporate credit markets across both investment-grade and high yield issuers. Investment-grade issuers have raised over $1.6 trillion year-to-date, while high yield companies have raised over $300 billion year-to-date, representing a 72% and 57% increase in issuance year-over-year, respectively. Default rates continue to rise, however, and overall corporate leverage has increased with the decline in earnings and increased borrowing, potentially serving as a source of infection to credit markets.

Securitized credit markets continued their rebound through the quarter, as spreads across the subsegments of the market tightened—even through September, when
corporate credit markets declined.

Commercial mortgage-backed securities (CMBS), which witnessed some of the greatest declines in the first quarter, saw delinquency rates fall for the third consecutive month across all property types in September, although part of this decline can be attributed to an increase in forbearance.

Rates experienced a relatively quiet quarter, with the yield curve steepening slightly to end the quarter. Given the Fed's current stance on maintaining a low rate environment and new inflation policy, rates are expected to remain low in the near to intermediate term.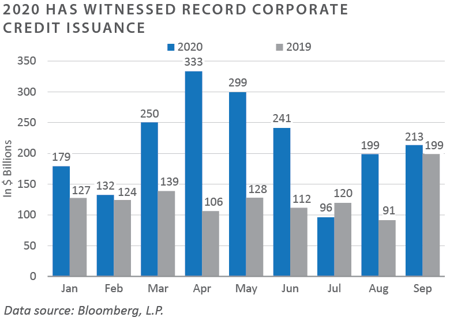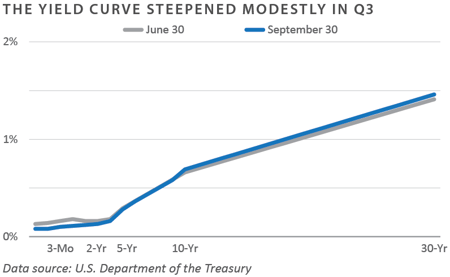 Real Assets
REAL ESTATE
REITs showed some signs of improvement over what was a volatile quarter, with large uplifts in both data centers and industrial property types in keeping with the trend for 2020. Despite being unchained from lockdowns in the second quarter, COVID-19 concerns and uncertainty continue to permeate. These uncertainties have weighed on retail, shopping centers, and office properties, while property types supporting the digital economy have continued to perform well.

As of September 30, regional malls were down 53.9% and shopping centers were down roughly 49% year-to-date. Across the U.S., challenges persist for retail properties, which have seemingly shifted from main street to mean street, as consumer traffic remains tempered, rent collections have declined, and new lease volumes are limited.

Data centers and industrial REITs continued their strong performance as their defensive characteristics supporting the digital economy continued to shine in the face of the COVID-19 pandemic.

Developed European REITs led performance during the quarter, while U.S. REITs outperformed international REITs through most trailing periods.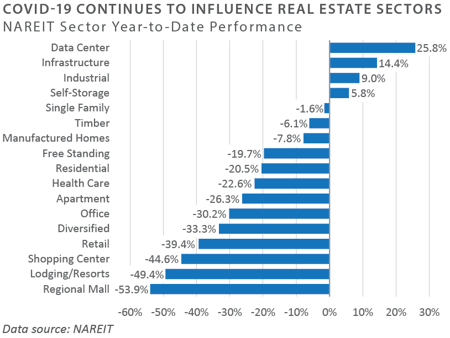 NATURAL RESOURCES
Daily WTI oil spot prices averaged ~$40 per barrel in the third quarter and, in fact, have fluctuated within a narrow band of about $38-$43. While that is a significant rise from the technical disruption in April and the bounce back in May to the same price levels experienced in 1984, uncertainty remains in the market. The peak oil contraction took place when oil demand was approximately 80 million barrels per day (MMBbl/d), an astounding 20MMBbl/d below pre-COVID levels. Global oil demand has only recovered to approximately 93MMBbl/d, yet is aiding price stabilization.

According to Baker Hughes, the current U.S. rig count is at 266 as of the end of September, down from 796 at the beginning of the year. Estimates suggest that fewer than 11,000 wells will be drilled in 2020. From a historical perspective, that would be the lowest annual total of new wells drilled in the U.S. in over 100 years.

The EIA expects falling production to continue to stabilize WTI oil prices into the near future, putting slight upward pressure on both crude and natural gas prices through the end of 2021. The monthly WTI spot prices are expected to remain in the ~$40 per barrel range in 2020 and move slightly higher to $44 per barrel in 2021.

The EIA expects that rising domestic demand for natural gas and demand for LNG exports heading into winter 2020—combined with reduced production—will cause Henry Hub spot prices to rise to a monthly average of $3.38/MMBtu in January 2021 and that average spot prices will remain higher than $3.00/MMBtu throughout 2021.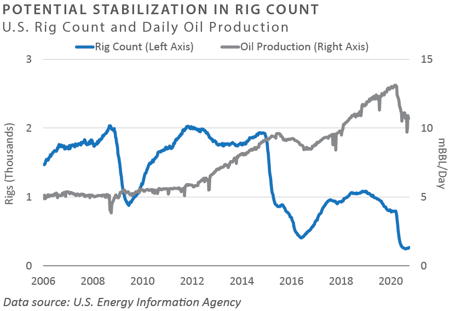 MASTER LIMITED PARTNERSHIPS
MLPs, as measured by the Alerian MLP Total Return Index, suffered double-digit declines as the industry adjusts to changing flows from reduced production and demand limited by the gradual economic recovery.

Midstream—more broadly (AMNA)—had a better quarter than MLPs. Strength from large corporations in the U.S. and Canada have preserve value for the AMNA relative to the MLP Index.

The current yield on MLPs stands at 14.7% as of the end of September.
Diversifying Strategies
The strong hedge fund performance during the second quarter took a brief respite in September. Despite the late quarter decline, all major strategy groups posted positive returns for the three-month period.

Event-driven managers, both credit and equity-oriented, generated strong gains, led by merger arbitrage and distressed credit strategies. Activist strategies started the quarter on a tear but stalled in September.

Trend following strategies generated mixed performance, starting the quarter strong but wavering in the final two months amid numerous price reversals. Managers fared differently with varied exposure to volatile asset classes as well as with different trading timeframes, as longer-term trends were negative across equities, precious metals, and currencies. Shorter-term models tended to perform slightly better due to their responsive nature.
INDICES
The Alerian MLP Index is a composite of the 50 most prominent energy Master Limited Partnerships that provides investors with an unbiased, comprehensive benchmark for this emerging asset class.
Barclays Capital Fixed Income Indices is an index family comprised of the Barclays Capital Aggregate Index, Government/Corporate Bond Index, Mortgage-Backed Securities Index, and Asset-Backed Securities Index, Municipal Index, High-Yield Index, and others designed to represent the broad fixed income markets and sectors within constraints of maturity and minimum outstanding par value. See https://ecommerce.barcap.com/indices/index.dxml for more information.
The CBOE Volatility Index (VIX) is an up-to-the-minute market estimate of expected volatility that is calculated by using real-time S&P 500 Index option bid/ask quotes. The Index uses nearby and second nearby options with at least 8 days left to expiration and then weights them to yield a constant, 30-day measure of the expected volatility of the S&P 500 Index. FTSE Real Estate Indices (NAREIT Index and EPRA/NAREIT Index) includes only those companies that meet minimum size, liquidity and free float criteria as set forth by FTSE and is meant as a broad representation of publicly traded real estate securities. Relevant real estate activities are defined as the ownership, disposure, and development of income-producing real estate. See www.ftse.com/Indices for more information.
HFRI Monthly Indices (HFRI) are equally weighted performance indexes, compiled by Hedge Fund Research Inc. (HFX), and are used by numerous hedge fund managers as a benchmark for their own hedge funds. The HFRI are broken down into 37 different categories by strategy, including the HFRI Fund Weighted Composite, which accounts for over 2000 funds listed on the internal HFR Database. The HFRI Fund of Funds Composite Index is an equal weighted, net of fee, index composed of approximately 800 fund- of- funds which report to HFR. See www.hedgefundresearch.com for more information on index construction.
J.P. Morgan's Global Index Research group produces proprietary index products that track emerging markets, government debt, and corporate debt asset classes. Some of these indices include the JPMorgan Emerging Market Bond Plus Index, JPMorgan Emerging Market Local Plus Index, JPMorgan Global Bond Non-US Index and JPMorgan Global Bond Non-US Index. See www.jpmorgan.com for more information.
Merrill Lynch high yield indices measure the performance of securities that pay interest in cash and have a credit rating of below investment grade. Merrill Lynch uses a composite of Fitch Ratings, Moody's and Standard and Poor's credit ratings in selecting bonds for these indices. These ratings measure the risk that the bond issuer will fail to pay interest or to repay principal in full. See www.ml.com for more information.
Morgan Stanley Capital International – MSCI is a series of indices constructed by Morgan Stanley to help institutional investors benchmark their returns. There are a wide range of indices created by Morgan Stanley covering a multitude of developed and emerging economies and economic sectors. See www.morganstanley.com for more information.
Russell Investments rank U.S. common stocks from largest to smallest market capitalization at each annual reconstitution period (May 31). The primary Russell Indices are defined as follows: 1) the top 3,000 stocks become the Russell 3000 Index, 2) the largest 1,000 stocks become the Russell 1000 Index, 3) the smallest 800 stocks in the Russell 1000 Index become the Russell Midcap index, 4) the next 2,000 stocks become the Russell 2000 Index, 5) the smallest 1,000 in the Russell 2000 Index plus the next smallest 1,000 comprise the Russell Microcap Index. See www.russell.com for more information.
S&P 500 Index consists of 500 stocks chosen for market size, liquidity and industry group representation, among other factors by the S&P Index Committee, which is a team of analysts and economists at Standard and Poor's. The S&P 500 is a market-value weighted index, which means each stock's weight in the index is proportionate to its market value and is designed to be a leading indicator of U.S. equities, and meant to reflect the risk/return characteristics of the large cap universe. See www.standardandpoors.com for more information.
Information on any indices mentioned can be obtained either through your consultant or by written request to information@feg.com.
DISCLOSURES
This report was prepared by FEG (also known as Fund Evaluation Group, LLC), a federally registered investment adviser under the Investment Advisers Act of 1940, as amended, providing non-discretionary and discretionary investment advice to its clients on an individual basis. Registration as an investment adviser does not imply a certain level of skill or training. The oral and written communications of an adviser provide you with information about which you determine to hire or retain an adviser. Fund Evaluation Group, LLC, Form ADV Part 2A & 2B can be obtained by written request directly to: Fund Evaluation Group, LLC, 201 East Fifth Street, Suite 1600, Cincinnati, OH 45202, Attention: Compliance Department.
The information herein was obtained from various sources. FEG does not guarantee the accuracy or completeness of such information provided by third parties. The information in this report is given as of the date indicated and believed to be reliable. FEG assumes no obligation to update this information, or to advise on further developments relating to it. FEG, its affiliates, directors, officers, employees, employee benefit programs and client accounts may have a long position in any securities of issuers discussed in this report.
Index performance results do not represent any managed portfolio returns. An investor cannot invest directly in a presented index, as an investment vehicle replicating an index would be required. An index does not charge management fees or brokerage expenses, and no such fees or expenses were deducted from the performance shown.
Neither the information nor any opinion expressed in this report constitutes an offer, or an invitation to make an offer, to buy or sell any securities.
Any return expectations provided are not intended as, and must not be regarded as, a representation, warranty or predication that the investment will achieve any particular rate of return over any particular time period or that investors will not incur losses.
Past performance is not indicative of future results.
Investments in private funds are speculative, involve a high degree of risk, and are designed for sophisticated investors.
All data is as of September 30, 2020 unless otherwise noted.