VENTURE RETURNS
During the second quarter of 2019—which is the most recent data available—private markets posted solid results, matching or outpacing public market returns in all areas except credit. Venture capital was particularly strong, as several high-profile IPOs—including those of Uber and Lyft—occurred in the quarter. Bloom has come off the rose as the year has progressed, however, and investors have become more skeptical of the high-spending, negative earnings business model of these notable companies. See venture capital section for more color.

Credit markets continued to offer strong support for the broader markets, although capital flows to the sector have waned. The public high yield markets had a strong quarter and year, posting better results than the average private credit fund. Energy investments struggled with volatility and weakness in energy prices in the quarter, although private companies consistently outpaced public offerings.
In the table detailing longer time periods, the decade of weak post-bubble venture performance has faded and longer period venture and buyout returns now appear very similar despite their varied pasts.

Importance of Manager Selection
When assessing past performance using historical averages or medians, investors should keep in mind the dispersion in results by manager around those measures. Most private market sectors exhibit dispersion of well over 1000 basis points—or 10 percentage points—versus less than 100 basis points for most public markets over longer periods. As such, fund selection remains critical.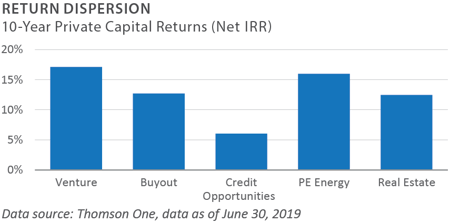 Private Equity
Venture Capital
Executive Summary
The recent strong returns and significant capital flowing into venture funds and venture-backed companies have presented some cause for concern. Valuations continue to rise and hold periods can be significant. Certain structural changes to the market are influencing the data. These changes include companies staying private longer, increased sources of capital from non-traditional venture fund sources such as public cross-over investors or larger corporate investors, and the falling cost of scaling businesses. Performance has been strong but remains meaningfully unrealized for more recent vintage years. FEG remains cautious and continues to take a selective approach, generally favoring early-stage funds, which boast relatively stable valuations compared to later-stage funds. FEG also believes that select opportunities exist in both technology and life science investments.
Fundraising and Investing
Globally, venture funds raised over $80 billion in commitments last year.¹ The $80 billion raised in 2018 was the largest amount raised since the peak of the technology bubble at the turn of the century and the fourth consecutive year that commitments to venture funds exceeded $50 billion. This year, fundraising through September was $46 billion, similar to the amount of capital raised in recent years, though not on pace to reach 2018's record level.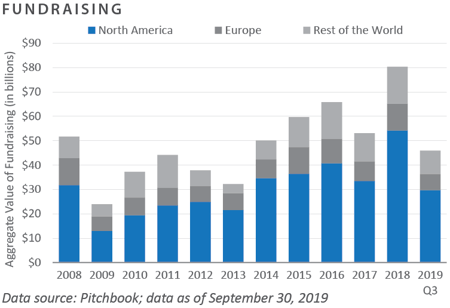 Investment Activity
Reflective of the fundraising environment and the longer hold periods, deal sizes and valuations continued to increase in the third quarter. Deal sizes of over $50 million accounted for nearly 60% of the capital invested in 2019, similar to the prior year's record level.²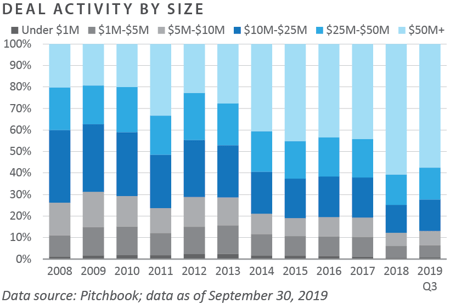 Pre-money valuations of venture-backed companies continued to increase across both early- and later-stage companies.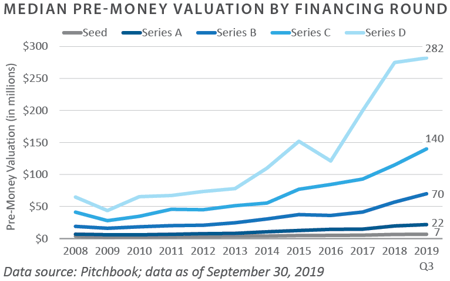 Venture-backed companies received $170 billion of funding through September, below the record level in 2018 though elevated compared to recent years.³ In their later stages, venture-backed companies receive funds from all types of investors, including mutual funds, hedge funds, corporate venture programs, and family offices. Investments in these later-stage rounds far exceed those in venture funds.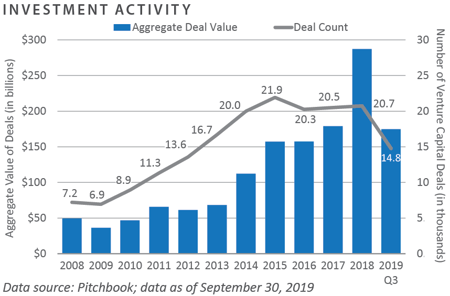 Exit Environment
The exit markets have been robust for venture-backed companies in recent years with respect to the number of exits and aggregate value. This year saw several highly- publicized companies complete an initial public offering (IPO), including Uber, Lyft, Pinterest, Slack, and Zoom. Performance in the public market for these companies has been mixed, as several have struggled to maintain the valuation from their last round of private financing.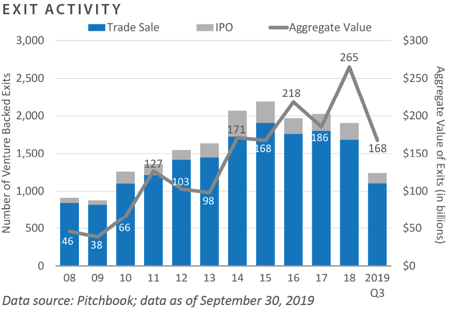 In a widely read blog post, Fred Wilson, a partner at Union Square Ventures, captured the dichotomy between those companies that had success in the public market and those that did not. Wilson emphasizes the variability in gross margins of various technology companies and the corresponding returns in the public market. High gross margin (75%+) businesses have performed better in this year's IPO market while those with lower gross margins have struggled to maintain their private market valuations.⁴ Wilson writes:
"I believe that we have seen a narrative in the late stage private markets that as software is eating the world (real estate, music, exercise, transportation), every company should be valued as a software company at 10x revenues or more. And that narrative is now falling apart. If the product is software and thus can produce software gross margins (75% or greater), then it should be valued as a software company. If the product is something else and cannot produce software gross margins then it needs to be valued like other similar businesses with similar margins, but maybe at some premium to recognize the leverage it can get through software. But we have not been doing it that way in the late-stage private markets for the last five years. I think we may start now that the public markets are showing us how."
Performance
Venture fund performance by vintage year has risen steadily over the past decade. Note that more recent vintages are not shown in the chart as they are not yet mature enough to reflect meaningful results. Much remains unrealized, as younger companies backed by venture funds take longer to mature. For example, the median distributed to paid-in capital (DPI) for venture capital funds raised in 2013 was 0.2x and it was 0.1x in 2014.⁵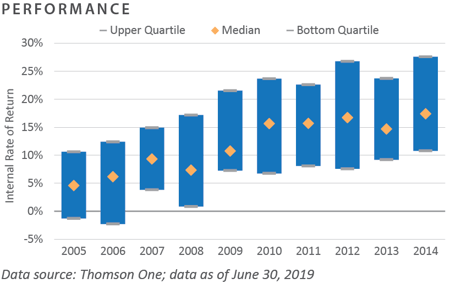 1-3 Pitchbook, data as of September 30, 2019.
4 Wilson, Fred. "The Great Public Market Reckoning." AVC, September 29, 2019. https://avc.com/2019/09/the-great-public-market-reckoning/.
5 Thomson One.
Buyouts
Executive Summary
Near-record levels of available capital—i.e., dry powder—combined with elevated purchase price multiples have been a source of concern within the buyout strategy. Investors continue to concentrate their commitments among fewer managers, which contributes to higher median and average fund sizes. Increased competition for companies, high valuations, and market volatility are weighing on private equity-backed exit activity.
Despite these trends, private equity fundraising remains constant and shows no signs of slowing. Limited partners continue to allocate capital to leveraged buyout strategies, with the bulk of the capital in vehicles raising more than $1.0 billion in aggregate capital commitments. The proliferation of capital allocated to middle market strategies is likely to have an impact on the lower-middle market in the form of higher valuations and increased deal activity. The number of transactions between private equity firms—i.e., secondary buyouts or sponsor-to-sponsor—is likely to increase.
Investors should continue to remain cautious in the current environment and partner with managers focused on creating value via operational improvement, not financial engineering. Disciplined management teams with experience leading companies through multi-year macroeconomic cycles should be able to profit if/when the broader private equity market experiences a downturn.
Fundraising and Investing
Fundraising for global buyout strategies is expected to surpass the amount raised during 2018. As of September 30, 2019, global leveraged buyout funds had raised roughly $236 billion of aggregate capital commitments.¹

Approximately $167 billion, or 71% of capital, was raised by North American-focused buyout funds. An additional $47 billion, or 20% of capital, was raised for European-focused funds.² The rest of the world represented approximately 9% of aggregate capital commitments raised.³ This is unsurprising given that control equity transactions are more common in North America and Europe.

Investors continue to consolidate their list of manager relationships; their concentrated capital commitments are contributing to larger overall fund sizes. Since 2008, the average global buyout fund size has grown from roughly $700 million to more than $1.5 billion.⁴ During the quarter, private equity firm Blackstone closed Blackstone Capital Partners (BCP) VIII on a $26 billion buyout vehicle—a new record.⁵

Global private equity fundraising cycles remain shorter than in the past, with the average time between fundraises down to just 42 months.⁷ In 2014, on average, the time taken between the final close of a predecessor and successor private equity fund was just over 59 months.⁶ Since then, there has been a year-on-year decrease in the average time between the final close dates of a predecessor and successor private equity fund.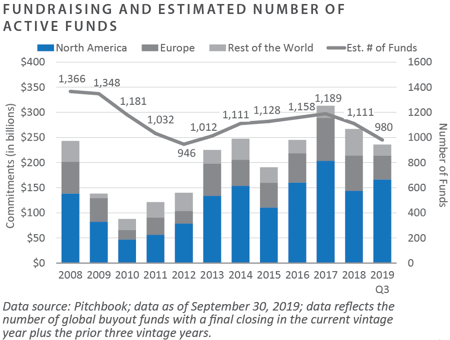 Investment Activity
As of September 30, 2019, the average purchase price multiple for middle market buyout transactions was 12.9x earnings before interest, taxes, depreciation, and amortization (EBITDA). Leverage ratios remained relatively constant.⁸ According to S&P Capital IQ, the average debt multiple for middle market LBOs was roughly 5.5x EBITDA, slightly below the 2007 peak of 5.8x EBITDA.⁹

Equity contributions in middle market transactions have grown to roughly 51%, reflecting equity sponsors' propensities to overcapitalize investments.¹⁰ Contributions for large buyout transactions remained steady at roughly 43%.¹¹ For large market transactions, the peak was approximately 46% in 2009 when financing was scarce.¹² The low point was in 2006 when the ratio dipped to roughly 30%.¹³ Importantly, the S&P Capital IQ data only represents a sample set of leverage buyout transactions executed during a given time period.

Partially due to the current high-multiple environment, the "buy-and-build" strategy continues to proliferate because it allows the buyer to average down the blended multiple. During the third quarter of 2019, add-ons accounted for approximately 70% of all U.S.-based private equity transactions.¹⁴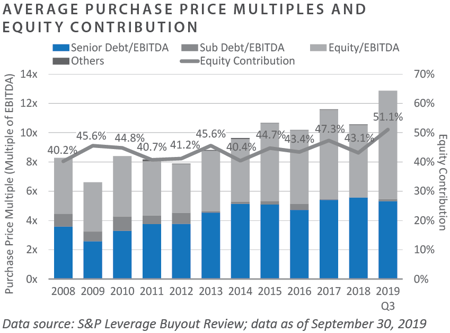 Exit Environment
Year-to-date, approximately $327 billion of proceeds were generated by 1,390 private equity-backed exits.¹⁵ Year-over-year aggregate value and volume fell 31% and 26%, respectively. Market volatility, geopolitical tensions, and uncertainty regarding trade tariffs likely contributed to a slowdown in exit volume.

Trade sales to strategic or financial acquirers represented the majority of global buyout-backed exits. Initial public offerings (IPOs) accounted for roughly 5% of the aggregate number of exits.¹⁶

Since the global financial crisis, median hold periods of private equity investments have increased from roughly four years to six years.¹⁷ Longer hold periods are likely due to private equity firms' increased emphasis on add-ons and operational improvements to drive value creation.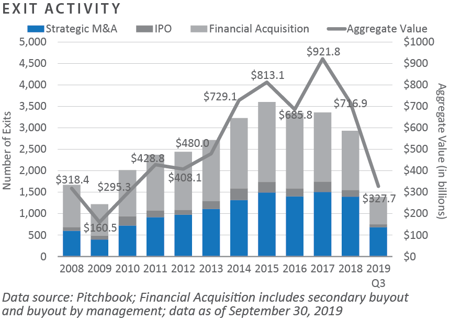 Performance
Global buyout performance has been strong. As of March 31, 2019, the 1-, 3-, 5-, and 10-year time-weighted returns were 12.2%, 15.8%, 12.4%, and 15.5%, respectively.¹⁸


The dispersion of returns between top- and lower-quartile funds has consistently been over 800 basis points, demonstrating the importance of manager selection.



1-7 Pitchbook, data as of September 30, 2019.
8-13 S&P Leveraged Buyout Review – Third Quarter 2019.
14-16 Pitchbook, data as of September 30, 2019.
17 McKinsey & Company, "Private Markets Come of Age," February 2019.
18 Thomson One – Horizon Summary Report as of March 31, 2018.
Private Debt
Executive Summary
If the past holds, private debt fundraising in the fourth quarter should be strong, with direct lenders continuing to gather a large share of commitments versus other private debt strategies.
With select managers continuing to pass on more transactions than in the past, picking credits wisely and maintaining the investment pace promised to investors has proved an ongoing struggle. Fissures in the public credit markets could foreshadow a future distressed opportunity, although false signals have been more prevalent in the recent past.
Fundraising
Private debt fundraising for the third quarter remained soft versus 2018, with 24 funds closing on $22 billion, representing a quarterly low for 2019 and the lowest amount of capital raised in any quarter since first quarter 2018. The chart shows a cyclical pattern, however, which suggests the potential for a strong fourth quarter if past is prologue.¹

Direct lending continues to garner more than its fair share of private debt commitments. The strategy accounted for 90%—or $20 billion—of the $22 billion of capital raised for private debt funds in the third quarter. From a regional perspective, private debt funds focused in Europe bounced back in the third quarter with $13.9 billion raised in eight funds.²

The number of funds raising capital in the private debt market is anticipated to decline as more funds hit their final close in the fourth quarter or abandon fundraising efforts. Among those in the market, 71% have been on the road for at least one year and 21% for more than two years.³


Fundamentals and Activity
In middle market leveraged buyout (LBO) transactions, debt multiples (debt/EBITDA) are holding at just below 2007 peak levels. Recent purchase price multiples for middle market LBOs remain elevated at 12.9x as of the end of the third quarter. Wide-open credit markets have been key to allowing deals to take place, as both public credit markets and private lending markets are open for business.

In discussions with private lenders, FEG notes that more are passing on deals due to discomfort with the pricing and/or looser covenants. Leverage on middle market deals has remained relatively stable at 5.5x, below the 2007 peak of 5.8x EBITDA.⁴

The sheer number of new participants entering the direct lending space in the past three-to-five years—which is believed to be 300-400—suggests that not all will be successful in their endeavors come the next downturn. As such, FEG remains mindful of hiring experienced managers and platforms.
Distressed Update
U.S. credit markets remained relatively strong through the third quarter, with high yield bonds posting 11.4% year-to-date for the Bloomberg Barclays U.S. High Yield Index. A deeper look at this number reveals fissures in the surface, however, as CCC-rated bonds lost 1.8% and have gained only 5.6% year-to-date, suggesting bifurcation in the market. Bifurcation can be healthy late in the cycle though, as investors adjust from a "beta-driven" mindset to one more focused on credit quality.
Amid the bifurcation, a modest adjustment higher in the distressed ratio—i.e., corporate bonds trading at 1000 basis points over U.S. Treasuries—has taken place, sending the ratio up to 5.8%.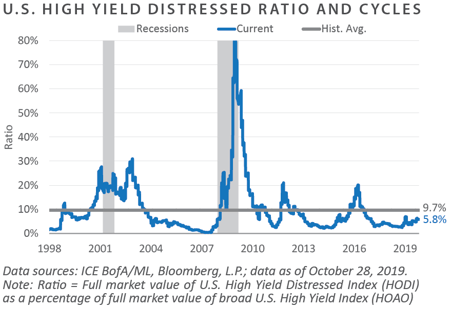 1-3 Preqin, Quarterly Update: Private Debt Q3 2019.
4 S&P Leveraged Buyout Review – Third Quarter 2019.
Private Real Estate
Executive Summary
Now 10 years into the real estate market recovery, despite cap rates being near record-lows in many markets, commercial real estate continues to attract record levels of investment from institutional investors. Broad demographic trends continue to impact real estate, including the rise of online retailing—which has been negative for retail and positive for industrial—shared work environments (office sector), and limited options for first-time homebuyers driving demand for multi-family/apartment rentals. FEG continues to focus on managers offering strategies that can potentially benefit from these broader trends. A cautious outlook for the broad commercial real estate is leading to a focus on niche areas that have the potential to generate positive returns in the event of an economic downturn.
Fundraising
A total of 48 private real estate funds closed in the third quarter, raising $37 billion. Of this amount, $20 billion came from Blackstone Real Estate Partners IX, which held a final close in the third quarter. Year-to-date, private real estate funds have raised $121 billion and are on pace to potentially break the annual fundraising record.¹

As of the end of the third quarter, there were a record 850 private real estate funds in the market, seeking a total of $253 billion. This is up significantly from the beginning of the year, when there were 634 funds in the market. Dry powder—committed and undeployed capital—held by private real estate funds stood at a record $319 billion as of mid-year 2019. The trend toward fewer but larger funds is evident across the private capital landscape.²

Market Returns

Real estate values for "core" properties, as measured by the National Council of Real Estate Investment Fiduciaries (NCREIF) Property Index (NPI), increased 1.4% during the third quarter, following a 1.5% gain in the second quarter of 2019. On a trailing one-year basis, the index return was approximately 6.2% as of the end of the third quarter.³

Equal-weighted cap rates for the index remained near a record low at 4.7% and the value- weighted cap rate for the index declined to 4.3%.

The occupancy rate remained unchanged at approximately 94.3%, the highest rate since the third quarter of 2000.⁴

In the public real estate market, REITs posted a 7.7% gain in the third quarter and were up 28.5% year-to-date as of quarter-end.⁵ From a property type standpoint, the industrial sector continued to outperform while retail lagged the overall index.

In the first half of the year—which is the latest data available—transaction volume decreased 3% to $237 billion, largely related to a lower volume of large portfolio transactions.⁶ Debt capital markets continued to provide ample liquidity to support real estate transactions in the first half of 2019. Banks, life insurance companies, and real estate debt funds have been the largest sources of debt financing.⁷ Cross-border investment volume declined 7.0% year-over-year to $79.0 billion, as foreign investors were net sellers of U.S. real estate for the first time since 2012.

OFFICE: In the office market, Blackstone—through its subsidiary, EQ Office—led one of the largest transactions year-to-date with the purchase of the U.S. Bank Centre and the Wells Fargo Center in downtown Seattle in June for approximately $1.2 billion.⁸ Ivanhoé Cambridge was the seller of both buildings. Seattle's office market is one of the strongest in the country, benefiting from the presence of Amazon. During the third quarter, the failed initial public offering of WeWork emerged as the most high-profile story of the year. After being valued at approximately $47 billion earlier this year, the office co-working company filed its S-1 documents with the SEC in August. The details of the filing revealed a myriad of conflicts with the founder and showed no clear path to profitability. Ultimately, the value of the firm was significantly written down by lead investor SoftBank.⁹

RETAIL: Forever 21's announcement in late September that it was filing for bankruptcy was the most notable headline within retail during the quarter. The company expects to close 350 stores worldwide and 178 stores in the U.S.¹⁰ Forever 21's bankruptcy adds to the woes of the beleaguered mall sector, which continues to suffer from store closures—more than 7,000 year-to-date. The average mall vacancy rate reached an eight-year high in the third quarter, rising to 9.5%, with supply and demand for retail space both decelerating in the quarter. Store closings have accelerated relative to 2018, driven by bankruptcies of companies like Payless Shoes, Gymboree, and Shopko.¹¹

INDUSTRIAL: Industrial remains the top-performing real estate property type, driven by demand from institutional investors for warehouse assets. Key drivers include growth in online retailing, reconfiguring supply chains, and demand in urban areas around large cities where e-commerce is more concentrated. In early June, Singapore-based GLP and Blackstone announced an agreement in which Blackstone will acquire assets from three of GLP's U.S. funds for a purchase price of $18.7 billion. The overall transaction totaled 179 million square feet of urban and infill logistics assets and demonstrates the strong demand from large investors for industrial assets.¹² Despite the impact of the trade war with China, the industrial sector continued to post strong fundamentals, with net absorption in warehouse/distribution at 13.5 million square feet, above the average in the first and second quarters of 10.3 million square feet.¹³

APARTMENT: The national apartment vacancy rate was 4.7% as of the end of the third quarter, unchanged from the second quarter and flat year-over-year from third quarter 2018. Effective rent rose by 0.8% in the third quarter, down from a 1.4% increase in the prior quarter. Lagging home sales and strong new household formation continue to drive rental demand.¹⁴ Projections are for more apartment units to come online this year than last year, which had 234,000 units added to the market. Net absorption in the apartment sector continues to outpace new supply by a wide margin.

1, 2 Preqin, October 2019.
1,4 NCREIF, October 25, 2019.
5 NREIT, September 30, 2019.
6 Real Capital Analytics, Global Capital Trends, Second Quarter 2019.
7 CBRE, October 2019.
8 Baltic, Scott, "EQ Office Grows Seattle Footprint in $1.2B Deal", Commercial Property Executive, July 2, 2019.
9 Aydin, Rebecca, The WeWork Fiasco of 2019, Business Insider, October 22, 2019.
10 Sapna Maheshwari, "Forever 21 Bankruptcy Signals a Shift in Consumer Tastes", The New York Times, September 29, 2019.
11 Howland, Daphne, "Mall Vacancy at 8-Year High", RetailDive.com, October 3, 2019..
12 www.blackstone.com.
13 Denham, Barbara," Q3-2019 Industrial First Glance", REIS, November 4, 2019.
14 Salmonsen, May, "Vacancy Rate Unchanged at 4.7% in Q3 2019", REIS, October 2019.




Natural Resources

Executive Summary

The U.S. energy sector continues to struggle in the wake of lower commodity prices and ongoing bankruptcies, with record levels of production and volatile commodity prices expected for the foreseeable future. While many private energy funds face challenges in rightsizing their underlying portfolio companies, others have been able to deploy capital through the downturn, acquiring assets at attractive prices. As managers seek to adapt to changing market conditions, FEG is focused on strategies with a high cash flow component from producing reserves and less reliance on the public market for exits. Strategies pursued by private energy funds may likely involve longer holding periods and fewer "quick" realizations. FEG's focus is instead on managers who are pursuing unique strategies that can lend themselves to success in the current market.

Oil Prices

Following a 2.8% decline during the second quarter of 2019, oil prices declined 7.5% in the third quarter to close at $54.07/barrel, compared to $58.47/barrel at mid-year.¹ The most notable event during the quarter was the attack on the world's largest oil processing facility in Saudi Arabia in mid-September, which disrupted more than 5% of global production and led to one of the largest one-day percentage gain in futures. Saudi Arabia quickly restored its oil output , however, and the lack of a military response led to prices falling back to pre-attack levels.

Other factors impacting prices during the quarter included ongoing concerns about the trade war with China and the possibility of slower global economic growth. Additionally, U.S oil production surpassed 12 million barrels/day, a new record, raising concerns about potential oversupply.² In early July, OPEC extended the production cut agreement from late 2018 through March 2020 with the goal of keeping global oil inventories stable at five-year average levels.³

Natural Gas Prices

For the third quarter, natural gas prices rose 1.0% to $2.33/MMbtu, but were down approximately 20% year-to-date through the end of September.⁴ Natural gas continues to be negatively impacted by growth in supply and inventories, driven in part by U.S.-associated gas production—i.e., natural gas produced as a result of oil drilling—in the Permian Basin.

The latest Energy Information Agency (EIA) production forecast projects growth in incremental U.S. production in 2019 of 8.0 Bcf/day, or a 9.6% increase to a total of 91.4 Bcf/day.⁵ Mild weather in June led to lower-than-expected demand for electricity generation, which resulted in natural gas storage injections outpacing the five-year average, driving U.S. inventories back up. Natural gas demand remained robust, supported by domestic power generation, increasing exports to Mexico, and strong liquefied natural gas (LNG) demand globally.⁶ Surging natural gas production, however, has more than offset strong demand, resulting in elevated inventories. Demand for U.S. natural gas in global markets is expected to continue to increase, and multiple Liquefied Natural Gas (LNG) facilities are slated to come online.

Energy Market Overview

As outlined in FEG's mid-summer Research Insights piece on the Evolving U.S. Energy Landscape, the public and private equity energy markets continue to face challenges, with ongoing bankruptcies through the third quarter. The most notable example is Sanchez Energy, which announced its bankruptcy filing in August. The downturn in commodity prices that began nearly five years ago, combined with ongoing bankruptcies driven by excessive debt, continue to impact all facets of the business from capital raising to exits, and ultimately, potential returns for investors.



DRILLING ACTIVITY: Rig counts declined across the board during 2019 while production continued to grow, reflecting increased efficiencies. According to data from Baker Hughes, during the third quarter, the total U.S. rig count decreased 11% from the second quarter to 860 rigs. On a year-over-year basis, the total rig count has decreased 18%. The U.S. natural gas rig count finished the quarter at 146 rigs, a decline of over 15% compared to the end of the second quarter. Year-over-year, the U.S. total natural gas rig count finished down 23%. The U.S. total oil rig count decreased 10% during the third quarter, from 793 to 713 at quarter-end. Year-over-year, the U.S. total oil rig count was down 7.6%, or 65 rigs. From a longer-term perspective, the U.S. oil rig count peaked at 1,600 in the third quarter of 2014.⁷

MERGERS AND ACQUISITIONS: Deal activity in the U.S. energy sector rebounded in the third quarter from multi-year lows earlier in the year. According to Austin-based Enverus, U.S. oil and gas merger and acquisition activity surpassed $17 billion in the third quarter, approaching the quarterly average from 2016 to 2018 of $19 billion.⁸ A majority of the total value earlier in the year was from Occidental Petroleum's corporate purchase of Anadarko. Corporate consolidation continued in the E&P space, accounting for approximately $4.9 billion or 28% of the activity during the third quarter. Among the notable deals of the quarter were Callon's acquisition of Carrizo for $3.2 billion in an all-stock deal and Hilcorp's acquisition of BP's Alaskan assets for $5.6 billion. KKR-backed Spur Energy's acquisition of Concho's New Mexico shelf assets for $925 million also ranked among the top deals.⁹


PRIVATE ENERGY FUNDS: During the third quarter, 16 private energy funds closed, raising a total of $7.9 billion in committed capital. The two largest upstream energy funds raised during the quarter were Carnelian Energy Capital III ($775 million in committed capital) and ARC Energy Fund IX (CAD $780 million).¹⁰ The decline in oil prices, combined with energy companies' move toward greater capital discipline—e.g., preserving cash and paying down debt—has resulted in diminished demand for assets held by private equity-backed firms. This trend has resulted in private equity energy firms consolidating.

1, 2 www.eia.gov, September 30, 2019.
3 Wald, Ellen, "Big OPEC Meeting, Little Movement From Oil Prices", Forbes, July 1, 2019.
4-6 www.eia.gov September 30, 2019.
7 All rig count data from www.bhge.com September 30, 2019.
8, 9 Poole, Claire, "Oil and Gas Holding Steady Despite M&A Slump", The Texas Lawbook, October 11, 2019.
10 Preqin, September 2019.


INDICES

Bloomberg Barclays US Corporate High Yield Index represents the universe of fixed rate, non-investment grade debt. Eurobonds and debt issues from countries designated as emerging markets are excluded but, Canadian and global bonds (SEC registered) of issuers in non-EMG countries are included. The index includes the corporate sectors: Industrials, Utilities, and Finance, encompassing both US and non-US Corporations. See www.bloomberg.com for more information

The Russell Indices are constructed by Russell Investment, There are a wide range of indices created by Russell covering companies with different market capitalizations, fundamental characteristics, and style tilts. See www.russellinvestments.com for more information.

The FTSE NAREIT Composite Index (NAREIT) includes only those companies that meet minimum size, liquidity and free float criteria as set forth by FTSE and is meant as a broad representation of publicly traded REIT securities in the U.S. Relevant real estate activities are defined as the ownership, disposure, and development of income-producing real estate. See www.ftse.com/Indices for more information. The S&P 500 Index is capitalization-weighted index of 500 stocks.

The S&P 500 Index is designed to measure performance of the broad domestic economy through changes in the aggregate market value of 500 stocks representing all major industries.

The NCREIF Property Index is a quarterly time series composite total rate of return measure of investment performance of a very large pool of individual commercial real estate properties acquired in the private market for investment purposes only.

HFRI ED: Distressed/Restructuring Index
Distressed/Restructuring strategies which employ an investment process focused on corporate fixed income instruments, primarily on corporate credit instruments of companies trading at significant discounts to their value at issuance or obliged (par value) at maturity as a result of either formal bankruptcy proceeding or financial market perception of near term proceedings. Managers are typically actively involved with the management of these companies, frequently involved on creditors' committees in negotiating the exchange of securities for alternative obligations, either swaps of debt, equity or hybrid securities. Managers employ fundamental credit processes focused on valuation and asset coverage of securities of distressed firms; in most cases portfolio exposures are concentrated in instruments which are publicly traded, in some cases actively and in others under reduced liquidity but in general for which a reasonable public market exists. In contrast to Special Situations, Distressed Strategies employ primarily debt (greater than 60%) but also may maintain related equity exposure.

Information on any indices mentioned can be obtained either through your consultant or by written request to information@feg.com.



DISCLOSURES

This report was prepared by Fund Evaluation Group, LLC (FEG), a federally registered investment adviser under the Investment Advisers Act of 1940, as amended, providing non-discretionary and discretionary investment advice to its clients on an individual basis. Registration as an investment adviser does not imply a certain level of skill or training. The oral and written communications of an adviser provide you with information about which you determine to hire or retain an adviser. Fund Evaluation Group, LLC, Form ADV Part 2A & 2B can be obtained by written request directly to: Fund Evaluation Group, LLC, 201 East Fifth Street, Suite 1600, Cincinnati, OH 45202, Attention: Compliance Department.


The information herein was obtained from various sources. FEG does not guarantee the accuracy or completeness of such information provided by third parties. The information in this report is given as of the date indicated and believed to be reliable. FEG assumes no obligation to update this information, or to advise on further developments relating to it. FEG, its affiliates, directors, officers, employees, employee benefit programs and client accounts may have a long position in any securities of issuers discussed in this report.


Index performance results do not represent any managed portfolio returns. An investor cannot invest directly in a presented index, as an investment vehicle replicating an index would be required. An index does not charge management fees or brokerage expenses, and no such fees or expenses were deducted from the performance shown.


Neither the information nor any opinion expressed in this report constitutes an offer, or an invitation to make an offer, to buy or sell any securities.

Any return expectations provided are not intended as, and must not be regarded as, a representation, warranty or predication that the investment will achieve any particular rate of return over any particular time period or that investors will not incur losses.

Past performance is not indicative of future results.


Investments in private funds are speculative, involve a high degree of risk, and are designed for sophisticated investors.


An investor could lose all or a substantial amount of his or her investment. Private capital funds' fees and expenses may offset private capital funds' profits. Private capital funds are not required to provide periodic pricing or valuation information to investors except as defined in the fund documents. Private capital funds may involve complex tax structures and delays in distributing important tax information. Private capital funds are not subject to the same regulatory requirements as mutual funds. Private capital funds are not liquid and require investors to commit to funding capital calls over a period of several years; any default on a capital call may result in substantial penalties and/or legal action. Private capital fund managers have total authority over the private capital funds. The use of a single advisor applying similar strategies could mean lack of diversification and, consequently, higher risk.


All data is as of September 30, 2019 unless otherwise noted..