Private Investing in Uncertain Times
With broad market uncertainty rising and questions of an inevitable downturn looming, a study by authors from Stanford, Harvard, and Northwestern Universities highlights the resiliency private equity companies may offer relative to public equity peers during a crisis.¹
Specifically, the study examines the U.K. market—which houses the largest global private equity (PE) market as a percent of its GDP, an estimated 11%—through the 2008 credit crisis. The authors characterize the pre-crisis environment in PE as having "more private equity fundraising, higher transaction valuations, and critically the greater use of leverage"—conditions which are clearly in evidence today.
Using detailed public and private company data, the authors found that despite higher leverage, private companies, on average, continued to invest in their businesses at a time when net new investment dropped dramatically. Additionally, the private companies studied experienced greater growth post-crisis relative to public counterparts. According to the study, access to financing throughout the financial crisis from both debt and equity sources was key, concluding: "The greater alignment and relatively longer time horizons of private equity investors may have allowed firms to more successfully respond to the economic dislocations."
The takeaway here is clear: while every market cycle is different, when facing an uncertain outlook, access to capital and a strong hold on the reins can be key differentiators.
Private Market Returns – 2018
While public markets have been volatile through the second quarter of 2018, most illiquid market returns continued to trend up.² In particular, average net internal rates of return (IRRs) for venture capital funds moved higher, attributable to robust IPO pricing and capital flows into late-stage rounds year-to-date. The fall back in tech in the third quarter is not priced into these numbers, however.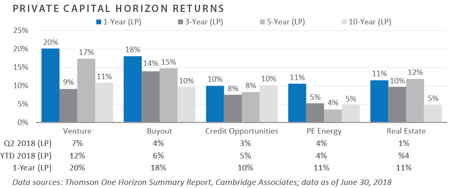 Real estate was the one area where the upper quartile and median returns moved modestly lower while the lower quartile moved higher, as measured by the 10-year figures. This narrowing of dispersion may be a sign of an aging recovery in which there are few opportunities for outsized returns but a stable overall market.
Other sectors continued to provide robust returns in line with recent trends. The low end of energy fund returns moved up substantially, in line with oil pricing through the end of June. Overall, dispersion remained robust across the manager universe.



1 Private Equity and Financial Fragility during the Crisis, Shai Bernstein, Josh Lerner and Filippo Mezzanotti, Stanford University and National Bureau of Economic Research (NBER); Harvard University and NBER; Northwestern University, July 18, 2017.
2 Thomson One, data as of June 30, 2018.
Private Equity
Venture Capital
Executive Summary
FEG is wary of the ample cash flowing into venture funds and venture-backed companies. Certain structural changes to the market are influencing the data: companies are staying private longer, capital is being sourced from non-traditional venture fund sources such as public crossover investors and/or larger corporate investing, and the cost of scaling businesses is falling. Performance has been strong but remains meaningfully unrealized for more recent years as the number of exits has declined.
Fundraising and Investing
Globally, venture funds raised approx-imately $65 billion in commitments through September 30.³ Fundraising rebounded from a sluggish start to the year and exceeded the 2017 total in the first nine months of 2018. Notably, capital raised in each of the last five calendar years has reached a minimum of $50 billion in commitments.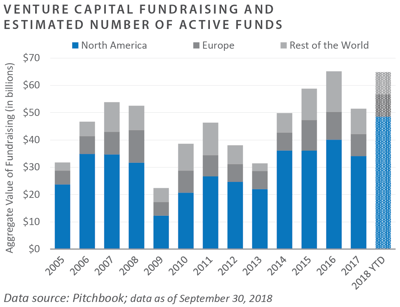 Investment Activity
Reflective of the fundraising environment, median deal sizes continued to increase in 2018 with late-stage financing rounds (Series C and Series D) surpassing 2017 levels. Venture-backed companies have remained private longer during this period, which has caused them to grow larger and pushed up the size of the average investment in late-stage deals.⁴ Series A and Series B rounds are also trending higher as funds deploy more capital into these transactions.

Some fund managers and founders cite the falling costs of computing, storage, and customer acquisition (sales, marketing, etc.) as factors in their expanded capacity for growth prior to taking outside capital from venture funds, which is resulting in larger companies at each financing round stage.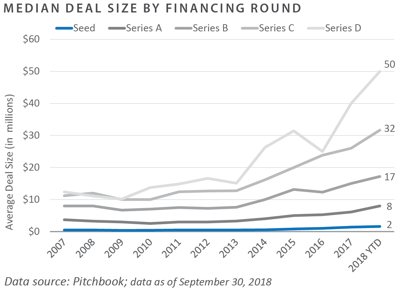 Pre-money valuations of venture-backed companies continued to increase during the quarter across both early- and later-stage companies. Year-to-date, the median pre-money valuations for venture-backed companies has risen between 33% and 40% compared to 2017.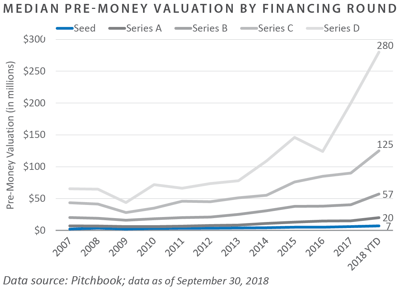 Venture-backed companies received nearly $200 billion of funding in 2018 through the first three quarters—an unprecedented amount that far exceeded the amount of capital raised by venture funds. The emergence of mutual funds and hedge funds as venture investors drove the increase in capital from 2014 to 2017, however, Softbank, family offices, and corporates have driven more recent capital flows to companies.

The number of mega rounds—financing rounds of $100 million or more—rose dramatically in 2018. The 143 mega round deals thus far in 2018 has nearly matched last year's total. Importantly, it remains to be seen whether this is a long-term shift as companies stay private longer or the result of a long bull market in the technology sector.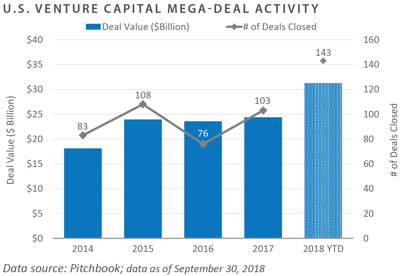 Exit Environment
Exit activity of venture-backed companies slowed in 2018 relative to the prior year. The number of acquisitions (trade sales) have also declined below last year's pace; however, the number of initial public offerings (IPOs) in 2018 is on par with the annual levels of the last two calendar years. The aggregate value of those exits in 2018 exceeds that of 2017, suggesting strong outcomes for early investors in these companies.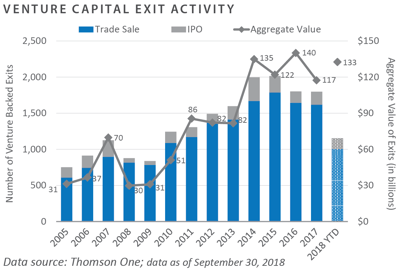 Performance
Venture fund performance by vintage year rose steadily from 2005 to 2014 with median returns for each of the recent vintages—2010 to 2014—hovering around 15% and the top of the second quartile consistently above 20%.

More recent vintages are not fully realized and the most recent vintages, not fully deployed. The median DPI—the ratio of distributed to paid in capital—for each vintage year since 2011 has been below 0.3x. The book on funds from these vintage years has not yet been written.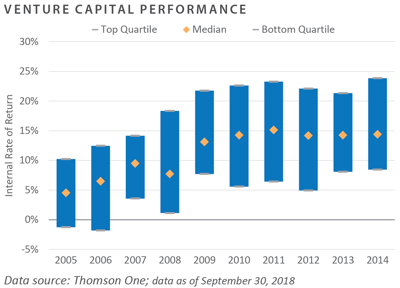 Buyouts
Executive Summary
Leveraged buyout firms are taking advantage of the current fundraising environment to raise record-breaking funds, with two mega-funds ($5 billion+) closing this quarter and several more still fundraising. While funds are larger, fewer GPs are raising funds compared to recent years, leading to a concentration of capital. Near record levels of available capital (i.e., dry powder) combined with elevated purchase price multiples are reason for concern within the buyout strategy. Investors should remain cautious and continue to look for managers with clear competitive advantages and investment philosophies built on fundamental value.
Fundraising and Investing
Annual fundraising is on pace to reach nearly $284 billion—the highest level since 2007.⁵ Year-to-date, leveraged buyout funds have raised approximately $213 billion.

Over the last 10 years, capital commitments have become more concentrated in the largest funds; since 2008, the average global buyout fund raised has grown from roughly $750 million to $1.3 billion.⁶

Approximately 55% of the capital was raised by North American-focused buyout funds. Another 27% of the capital was raised for European-focused funds. The rest of world represented approximately 18% of aggregate capital commitments raised.⁷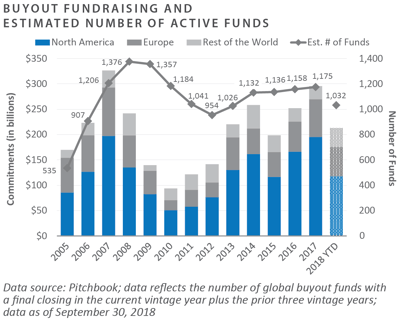 Investment Activity
As of September 30, 2018, the average purchase price multiple for middle-market buyout transactions during the year was 10.6x earnings before interest, taxes, depreciation, and amortization (EBITDA). Leverage ratios remained relatively constant.⁸

Equity contributions in large buyout transactions remained steady at roughly 40%. The peak was 46% in 2009 when financing was scarce and the low point occurred in 2007 when the ratio dipped below 30%.⁹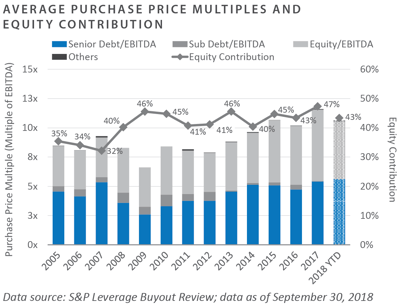 Exit Activity
Approximately $163 billion of value was generated by 714 private equity-backed exits during the second quarter. Despite lower volume, exit sizes continue to rise—the median buyout exit value reached $231 million through the first half of the year, a 15.5% increase over the prior year. According to Pitchbook, one reason for the decline in volume is that private equity sponsors are struggling to find strategic acquirers for portfolio companies.¹⁰

Trade sales to strategic or financial acquirers represented the majority of global buyout-backed exits. Initial public offerings (IPO) accounted for roughly 7% of the aggregate number of exits.¹¹

Since the global financial crisis, median holding periods of private equity investments have increased from roughly three years to five years. Longer holding periods are likely due to an increased emphasis on add-ons and operational improvements on the part of private equity firms to drive value creation.¹²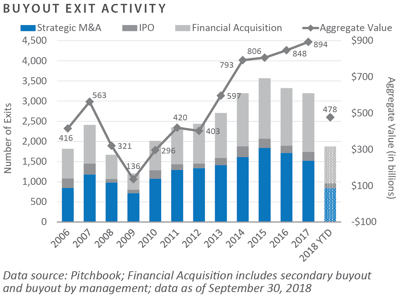 Performance
Performance has been strong on a one, three, five, and 10-year basis, with time-weighted returns of 20.7%, 14.0%, 14.2%, and 9.4%, respectively.¹³

The dispersion of returns between top and lower-quartile funds has consistently been over 800 basis points, demonstrating the importance of manager selection.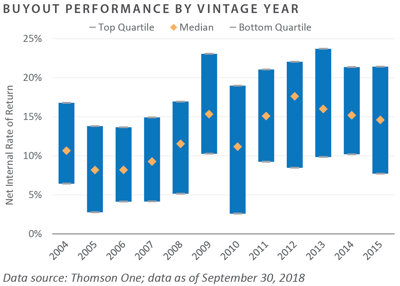 3 Pitchbook, data as of September 30, 2018.
4 Ibid.
5 Ibid.
6 Ibid.
7 Ibid.
8 S&P Leveraged Buyout Review – Third Quarter 2018; Note, the S&P Capital IQ data only represents a sample set of leverage buyout transactions executed during a given time period.
9 Ibid.
10 Pitchbook, data as of September 30, 2018.
11 Ibid.
12 Ibid.
13 Thomson One – Horizon Summary Report as of June 30, 2018; Global Buyout Funds.
Private Debt
Executive Summary
Despite the display of late cycle characteristics, demand for private lending strategies remains robust. Investors continue to embrace the strategy amid lackluster return potential from the public credit markets. Middle market fundamentals remain reasonably healthy, although purchase price multiples are elevated. Transaction volume in the middle market also remains well below peak relative to the pre-recession years, due primarily to high purchase price multiples.

Investors in distressed investment opportunities remain focused on performing debt versus non-performing, as witnessed by record fundraising activities. This preference may prove to be a contrarian indicator or something less benign.
Fundraising
Private debt pushed closer to another year of record fundraising. Through September, 31 funds had raised an aggregate $24 billion in capital commitments, putting 2018 an astounding $11 billion ahead of the same period in 2017.¹⁴ Third quarter fundraising was driven by the continued growth of direct lending strategies, with $19 billion raised. A record number (396) of funds are in the market, seeking an aggregate $175 billion in capital commitments.¹⁵

The amount of capital being raised for direct lending strategies is concerning, as too much money chasing too few opportunities can lead to weak performance. The recognition that private lenders are replacing a portion of the capital previously provided by public financial institutions mitigates some of this concern. Aggressive players at the margin will always push the limits, but FEG believes opportunity for growth in private lending remains, brought about by the structural change in risk activities undertaken by financial institutions.
Fundamental Backdrop
Fundamentals in the middle market lending remained stable, evidenced by debt/EBITDA well below 6x with solid equity contributions and earnings (pro forma EBITDA).

Purchase price multiples for middle market leveraged buyouts continued to trend up and are elevated relative to prior peaks (2007).

Higher borrowing costs—most notably on the senior, floating rate portion of company balance sheets—could increase the cost of capital to companies as interest rates increase. The risk of a potential increase in defaults may be mitigated by the prevalence of covenant-lite loan structures—now the standard for nearly 80% of deals.¹⁶ Some have speculated that while defaults may remain scarce, recovery rates could suffer.

Transaction volume in the U.S. middle market is down from last year's pace and remains generally soft versus the peak years of 2004 to 2007, due primarily to rich purchase price multiples.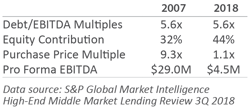 Distressed Update
A glance at third quarter 2018 private debt fundraising sheds light on where investors and managers see the distressed opportunity. One way to think about this is from the lens of performing versus non-performing debt. Investors and asset managers are clearly optimistic, as 23 funds were closed in direct lending (i.e., generally senior secured) and mezzanine debt funds in the third quarter 2018 for a total of $20.5 billion, versus distressed debt and special situations, which reflected just six funds and $3.1 billion.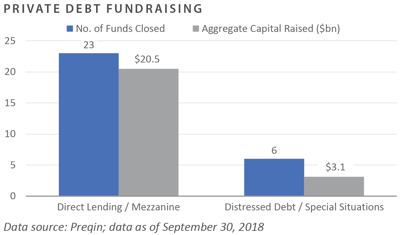 14 Preqin Quarterly Update: Private Debt, Q3 2018.
15 Ibid.
16 LeveragedLoan.com, Covenant-lite share of outstandings, US leveraged loans, November 9, 2018.
Private Real Estate
Executive Summary
Real estate fundamentals remain stable, as measured by occupancies, transaction volume, net operating income, and availability of credit. With property values above levels reached at the prior peak, however, FEG recommends cautious approach in allocating capital.
Performance and Activity
Real estate values for "core" properties, as measured by the National Council of Real Estate Investment Fiduciaries (NCREIF) Property Index (NPI), experienced a total return of 1.7% during the third quarter. The index gained 9.7% on an annualized five-year basis as of September 30, 2018.

Occupancy for properties in the NCREIF rose to 94.2%, the highest rate since the fourth quarter of 2000. Additionally, cap rates declined to 4.3%, the lowest level in the history of the index, which dates back to the first quarter of 1978.¹⁷

The industrial sector continued to outperform driven by continued growth in demand from e-commerce. Alternatively, retail continues to struggle from shifting consumer tastes, excess supply, and competition from online retailers.¹⁸

During the third quarter, global private real estate transaction volume declined 7% from the same period in the prior year. However, year-to-date transaction volume was up 8% to $1.2 trillion.¹⁹ Transaction volume in the retail sector increased 23% for the third quarter compared to the same period last year, driven primarily by Brookfield's acquisition of mall owner General Growth Properties.²⁰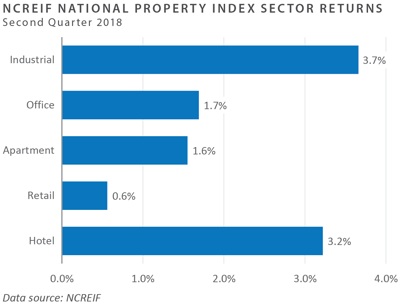 Capital Markets
Investor demand for private real estate remains strong, with over 600 funds in the market as of the end of the third quarter and dry powder of approximately $294 billion—a record high.²¹ Per Pitchbook, 216 funds had closed on $95 billion in new capital commitments through September 30, on pace with 2017. Fundraising continues to be dominated by large, high-profile managers, such as Blackstone, Carlyle, and Starwood Capital, all of which have raised multi-billion funds this year.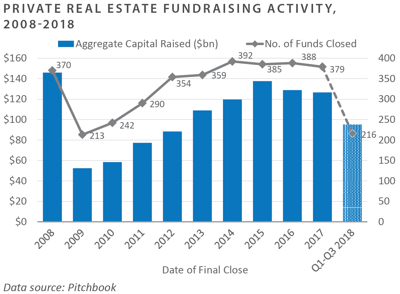 Despite the trend of higher interest rates year-to-date, commercial real estate debt continues to be boosted by attractive spreads in the U.S. The CBRE Lending Momentum Index—which tracks the pace of commercial loan closings in the U.S.—ended the quarter up nearly 25% from the end of the second quarter.²²

Banks accounted for close to 40% of non-agency lending volume and alternative lenders (REITS, finance companies, and debt funds) accounted for 27% of loan closings in third quarter, up from 16.4% in the second quarter and 13.1% from a year ago.²³ These lenders have been more aggressively placing loans on construction and bridge assignments, filling a lending gap from traditional lenders.²⁴

New CMBS year-to-date issuance, at $58 billion, is slightly below the year ago period.²⁵ CMBS underwriting standards remain relatively conservative, according to industry data provider Trepp, with the average loan-to-value ratio for new issuance at approximately 58%, below the post-crisis high of 65.2% for new issuance in 2014.²⁶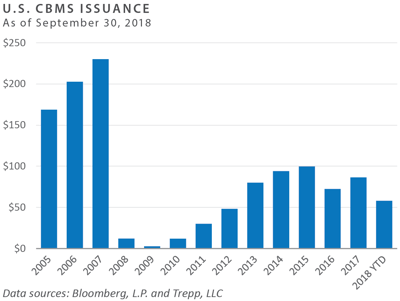 17 www.ncreif.com October25, 2018.
18 Ibid.
19 Real Capital Analytics–Global Capital Trends– Third Quarter 2018.
20 Ibid.
21 Preqin Quarterly Update: Real Estate Q3-2018.
22 World Property Journal, November 7, 2018www.ncreif.com October25, 2018.
23 Ibid.
24 Ibid.
25 Trepp CMBS Research: Q3-2018 Issuance Recap, October 12, 2018.
26 Ibid.
Natural Resources
Executive Summary
Energy-related commodity prices rose year-to-date through the third quarter, contributing to a rise in transaction volume in the sector. Nevertheless, ongoing volatility in oil and gas prices should continue to create opportunities for private energy managers to acquire assets at attractively valuations.
Market Fundamentals and Pricing
Subsequent to quarter-end, oil prices fell precipitously through mid-November, wiping out most of the year-to-date gains. The market reassessed the Iran situation in light of exemptions offered to multiple countries. In addition, Saudi Arabia, the world's largest exporter, has increased production to near record-levels. OPEC spare production capacity remains tight at slightly over 1.2 million barrels per day, making global supply vulnerable to any outages.²⁷

The U.S. continues to experience a shortage of midstream energy infrastructure which is driving widening price differentials for Permian oil.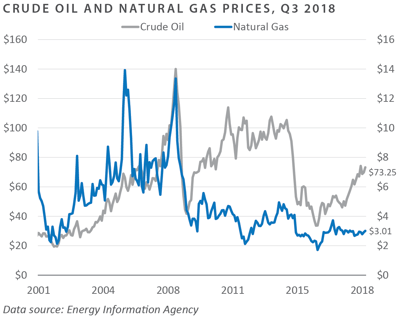 Natural gas prices rose 2.9% during the third quarter, closing at $3.01/MMbtu, compared to $2.92/MMBtu at the end of the second quarter. Natural gas storage is now tracking to enter the winter season well below the prior year's average and the five-year average. In the medium term, most analysts expect limited price upside for natural gas given continued strong supply growth domestically, which should overwhelm the improved rate of demand growth.²⁸
Deal Activity
Upstream deal volume increased to $32 billion during the quarter, a substantial climb from the $9 billion level in the second quarter and the highest level since late 2012.²⁹

Among the largest deals were BP's acquisition of BHP's Eagle Ford, Delaware, and Haynesville properties for $10.5 billion and Diamondback's acquisition of Energen, a Delaware and Midland Basin operator, for $9.2 billion.

A land auction by New Mexico's Bureau of Land Management in the Delaware Basin (Permian) set records, generating $972 million of proceeds, with high bids reaching $95,001/acre.³⁰
Fundraising and Investing
The fundraising environment for private energy continues to be dominated by mega-funds, with Quantum Energy Partners closing its eighth fund in August at its hard cap of $5.6 billion. Other groups currently in the market include Energy Capital, Natural Gas Partners, and EIG.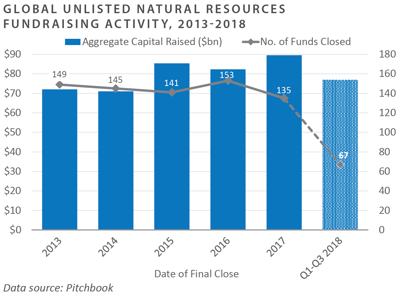 27 Sheppard, David, "Nervous oil: Five factors driving price swings", The Financial Times, November 5, 2018.
28 EnCap Investments, Energy Capital Fund, Third Quarter2018 Review (Section II: Industry Overview).
29 Ibid.
20 Ibid.
This report was prepared by Fund Evaluation Group, LLC (FEG), a federally registered investment adviser under the Investment Advisers Act of 1940, as amended, providing non-discretionary and discretionary investment advice to its clients on an individual basis. Registration as an investment adviser does not imply a certain level of skill or training. The oral and written communications of an adviser provide you with information about which you determine to hire or retain an adviser. Fund Evaluation Group, LLC, Form ADV Part 2A & 2B can be obtained by written request directly to: Fund Evaluation Group, LLC, 201 East Fifth Street, Suite 1600, Cincinnati, OH 45202, Attention: Compliance Department.
The information herein was obtained from various sources. FEG does not guarantee the accuracy or completeness of such information provided by third parties. The information in this report is given as of the date indicated and believed to be reliable. FEG assumes no obligation to update this information, or to advise on further developments relating to it. FEG, its affiliates, directors, officers, employees, employee benefit programs and client accounts may have a long position in any securities of issuers discussed in this report.
Index performance results do not represent any managed portfolio returns. An investor cannot invest directly in a presented index, as an investment vehicle replicating an index would be required. An index does not charge management fees or brokerage expenses, and no such fees or expenses were deducted from the performance shown.
Neither the information nor any opinion expressed in this report constitutes an offer, or an invitation to make an offer, to buy or sell any securities.
Any return expectations provided are not intended as, and must not be regarded as, a representation, warranty or predication that the investment will achieve any particular rate of return over any particular time period or that investors will not incur losses.
Past performance is not indicative of future results.
Investments in private funds are speculative, involve a high degree of risk, and are designed for sophisticated investors.
An investor could lose all or a substantial amount of his or her investment. Private capital funds' fees and expenses may offset private capital funds' profits. Private capital funds are not required to provide periodic pricing or valuation information to investors except as defined in the fund documents. Private capital funds may involve complex tax structures and delays in distributing important tax information. Private capital funds are not subject to the same regulatory requirements as mutual funds. Private capital funds are not liquid and require investors to commit to funding capital calls over a period of several years; any default on a capital call may result in substantial penalties and/or legal action. Private capital fund managers have total authority over the private capital funds. The use of a single advisor applying similar strategies could mean lack of diversification and, consequently, higher risk.
The S&P 500 Index is capitalization-weighted index of 500 stocks. The S&P 500 Index is designed to measure performance of the broad domestic economy through changes in the aggregate market value of 500 stocks representing all major industries.
The NCREIF Property Index is a quarterly time series composite total rate of return measure of investment performance of a very large pool of individual commercial real estate properties acquired in the private market for investment purposes only.
HFRI ED: Distressed/Restructuring Index
Distressed/Restructuring strategies which employ an investment process focused on corporate fixed income instruments, primarily on corporate credit instruments of companies trading at significant discounts to their value at issuance or obliged (par value) at maturity as a result of either formal bankruptcy proceeding or financial market perception of near term proceedings. Managers are typically actively involved with the management of these companies, frequently involved on creditors' committees in negotiating the exchange of securities for alternative obligations, either swaps of debt, equity or hybrid securities. Managers employ fundamental credit processes focused on valuation and asset coverage of securities of distressed firms; in most cases portfolio exposures are concentrated in instruments which are publicly traded, in some cases actively and in others under reduced liquidity but in general for which a reasonable public market exists. In contrast to Special Situations, Distressed Strategies employ primarily debt (greater than 60%) but also may maintain related equity exposure.
All data is as of September 30, 2018 unless otherwise noted.