Time to Run for the Hills?
The weather in the Eastern U.S. is turning colder, but private capital markets remain hot. Through the third quarter of 2017, capital raised for private investments remains at or near record levels. Evidence of abundant capital can be found in increased prices. According to S&P Capital IQ data, the average purchase price multiple for middle market private equity deals rose above 11x in the quarter—a record high¹—and cap rates on real estate properties continued to decline below 4.4%.²
Is it time to run for the hills?
With markets flush with capital, experienced investors have continued to approach the current market with caution. In a recent article, 30+ year private fund investors at Oregon State Treasury plan noted they are gradually dialing down targets from 25% of their portfolio to 17.5%.³ They still expect their private equity investments to earn a premium to public markets, but Oregon is reducing expectations and diversifying.
Also noted in this article and highlighted in last quarter's Private Capital Quarterly, updated research from the University of Chicago demonstrated a weakening of persistence in private equity returns and a decline in the average premium.⁴
When asked about the current environment, two dynamics seem relevant:
A Maturing Market
Private investing is a maturing market, with increased capital, increased transparency, and more investors, both experienced as well as novices. While the big have gotten bigger, more fragmentation has also occurred. The median return may be declining, but dispersion remains high—over 1,300 basis points on average in recent vintages.⁵ In addition, some have suggested a barbell market is developing in private equity. The big, brand-name players in the space continue to do reasonably well but with lower premiums, and the smaller funds addressing less-competitive or more-challenging strategies provide the strongest alpha. However, identifying and investing with them requires more resources and discernment.
Locked Up Capital Can Dampen Volatility
The nature of private funds is to invest over a multi-year period. Looking forward, there are good odds the 8+ year bull market will hit a snag. Providing capital to investment opportunities with an appropriate dose of caution and a long-term view can help damper reactionary decisions during that snag, while preserving potential for returns. Furthermore, the appraisal-based valuation process of illiquid investments dampens measured portfolio volatility and also locks in the opportunity to invest through cycles. Certainly there will be winners and losers, but if chosen wisely, short-term stress may benefit patient, long-term capital.
Quarterly updates of the venture, buyout, private debt, energy, and real estate markets follow.
1 S&P Leveraged Buyout Review, 3Q17
2 www.ncreif.com
3 White, Amanda, Asset Owners Rethink Private Equity, Top1000Funds.com, November 10, 2017
4 Steven N. Kaplan, Neubauer Family Distinguished Service Professor of Entrepreneurship and Finance at the University of Chicago Booth School of Business, Private Equity and Venture Capital: Past, Present, and Future, presentation to PensionBridge Conference, Chicago, July 2017
5 Pitchbook, 2017 Global PE & VC Fund Benchmarking Report (data through 4Q16), September 17, 2017; reflects average net IRR between top and bottom quartile breakpoints in 2011-2013 vintage funds
Private Equity
Venture Capital
Fundraising and Investing
Globally, venture funds raised over $35 billion in commitments in the nine months of 2017.¹ After a slow start to the year, fundraising accelerated in the second quarter, putting 2017 on pace with the prior three years.

The estimated number of active venture funds also remains high. Although quarter-to-quarter fundraising data can be choppy due to timing of fund closings, fundraising has persisted near peak levels for several years.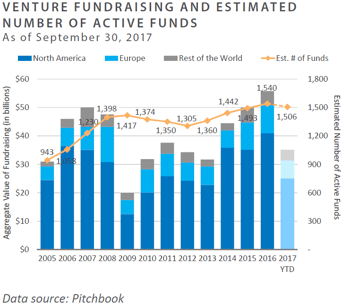 Investment Activity
Reflective of fundraising activity, median deal sizes rose in 2017, with late-stage rounds nearing all-time highs. With ample capital to deploy, investors have supported venture-backed companies in their preferences to remain private longer. As a result, these larger companies have pushed up the size of the average investment in late stage deals.² By contrast, Seed- and Series-A round financings have been more stable.

U.S. venture capital firms invested $61 billion in almost 6,000 companies in the first nine months of 2017. The amount of capital invested places the annualized rate near the peak levels of recent years. Also, the number of companies was slightly below the annual average from 2013–2016.³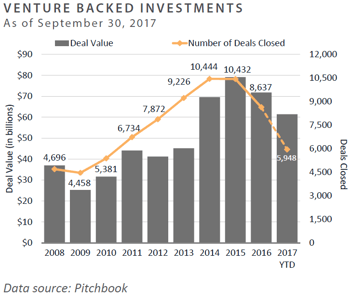 Exit Environment
Exit activity of venture-backed companies slowed in 2017 for both acquisitions and initial public offerings (IPOs). The aggregate value of exits has also fallen.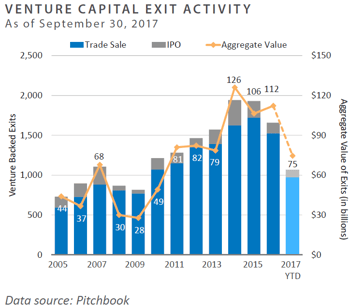 The average holding period for venture-backed companies have increased for the last four years, although only modestly for exits via an acquisition. On average, venture investors have had to wait longer before returns materialize.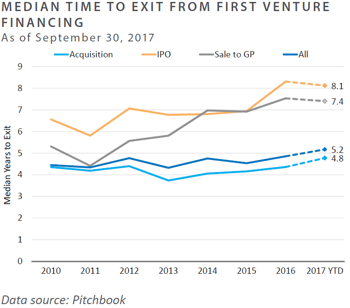 Performance
Venture fund performance by vintage year rose steadily from 2005 to 2011 but has moderated since. More recent vintages are not fully realized and in the most recent periods, capital has not been fully deployed.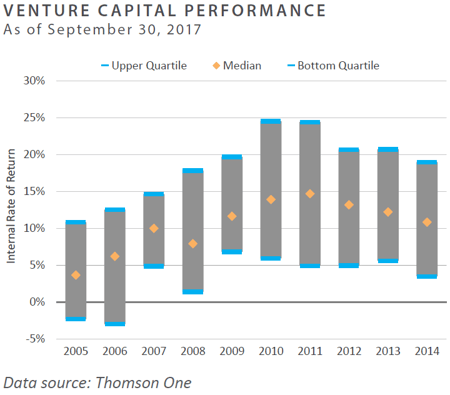 Conclusion
Fundraising and investment activity remain elevated, and public exits delayed. Performance in the post Global Financial Crisis vintage years has been solid, but remains significantly unrealized. Exit opportunities over the next two to three years will determine if the recent vintages outpace the public markets.
1-3 Pitchbook, data as of September 30, 2017
Buyouts
Fundraising and Investing
Fundraising for global buyout strategies remains robust. According to Pitchbook data, global buyout firms raised more than $194 billion across 214 funds during the first three quarters of 2017. Annual fundraising is on pace to reach nearly $260 billion—the highest level since 2007.¹

Approximately $130 billion, or 67% of the capital, was raised by North American-focused buyout funds. Roughly $57 billion, or 29% of the capital, was raised for European-focused funds. The rest of the world represented less than 5% of aggregate capital commitments raised. This is not surprising given control equity transactions are more common in North America and Europe.²

Over the last 10 years, capital commitments became more concentrated in the largest funds. Since 2008, the average global buyout fund raised has grown from roughly $650 to $900 million.³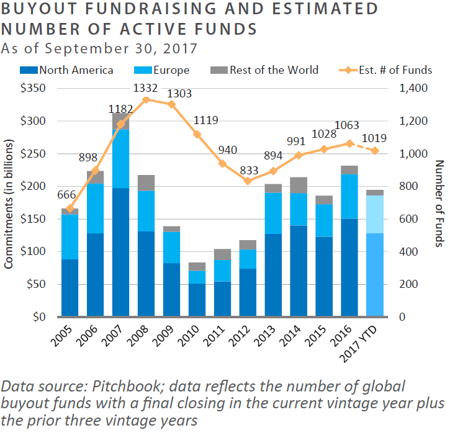 Investment Activity
As of September 30, 2017, the average purchase price multiple for middle-market buyout transactions was 11.4x EBITDA. Leverage ratios remained relatively constant. According to S&P Capital IQ, the average debt multiple for middle market LBOs was roughly 5.5x EBITDA, below the 2007 peak of 5.9x EBITDA.⁴

Equity contributions in large buyout transactions remained steady at 39%. The peak was 46% in 2009, when financing was scarce. The low point was in 2007, when the ratio dipped below 30%. Equity contributions in middle market transactions were little changed at 46%.⁵ (Note, the S&P Capital IQ data only represents a sample set of leverage buyout transactions executed during a given time period.)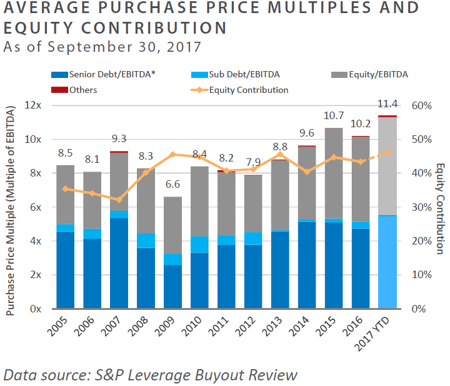 Exit Activity
Despite a much slower exit market than in recent years, activity is still on par with the 10-year average. As of September 30, 2017, approximately $567 billion of value has been generated by 1,924 private equity backed exits year-to-date. According to Pitchbook data, one reason for the decline is that private equity sponsors are struggling to find strategic acquirers for portfolio companies.⁶

Trade sales to strategic or financial acquirers represented the majority of global buyout-backed exits. IPOs accounted for less than 7% of the aggregate number of exits.⁷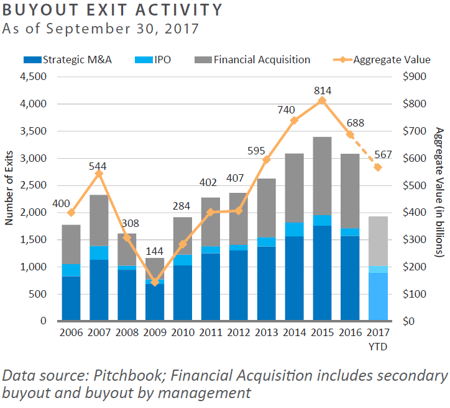 Performance
Performance has been strong on a one-, three-, five-, and ten-year basis, with time-weighted returns of 18.7%, 10.4%, 14.4%, and 8.7%, respectively.⁸

The dispersion of returns between top- and lower-quartile funds has consistently been over 800 basis points, demonstrating the importance of manager selection.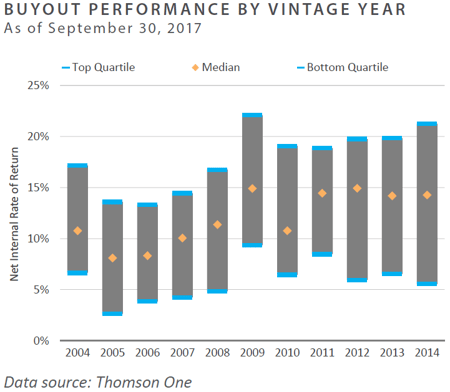 Conclusion
Fundraising levels and elevated purchase price multiples continue to be areas of concern. Through nine months of 2017, North American private equity firms are on pace to match, or surpass fundraising levels recorded 10 years ago. FEG continues to look for managers with clear competitive advantages and investment philosophies built on fundamental value.
1, 2, 3, 6, 7 Pitchbook, data as of September 30, 2017
4, 5 S&P Leveraged Buyout Review – Third Quarter 2017
8 Thomson One – Horizon Summary Report as of June 30, 2017
Private Debt
Fundraising
According to Preqin, North America remains the most active region in the private lending industry: 66% of private debt deals tracked were based in the region, versus 29% in Europe and 4% in Asia and the rest of the world.¹

The largest proportion of third-quarter transactions were in the industrial (25% of total), information technology (17%), and consumer discretionary (17%) sectors.

Private debt 'dry powder' remained high. As of September 2017, $214 billion in capital was available for private debt investments, just below the $215 billion record high in December 2015.²
Fundamental Backdrop
Fundamentals in the lower middle market—defined as companies with EBITDA of $50 million or less—remained favorable for debt investors, although the table below shows a meaningful increase in purchase price multiples. Any decrease in the earnings of these companies due to recession or company specific deterioration could present challenges to those providing equity for these companies.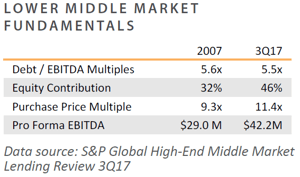 Transaction volume in the U.S. middle market was $9.6 billion through the third quarter of 2017, a pace that slightly exceeds annual volume for 2015 and 2016 ($9.7 billion and $9.4 billion, respectively). Despite this increase, middle market volume remained significantly below its peak years in the late 1990s and roughly one-third of pre-crisis (2007) pace.³
Distressed Update
The European distressed opportunity set in non-performing loans has remained the focus of managers global with mandates as European banks seek to reduce exposures to weaker assets ahead of Basel III implementation in 2019.

The U.S. credit cycle remains extended, with investors willing to accept lower credit risk premiums. Distressed managers have been raising "war chests" over the past few years in preparation for the next distressed cycle. Regardless, the sustained rally in high yield bonds has kept the distressed ratio—bonds trading at more than 1000 basis points over Treasuries—well below its historical average, measured at 4.2% in November 2017.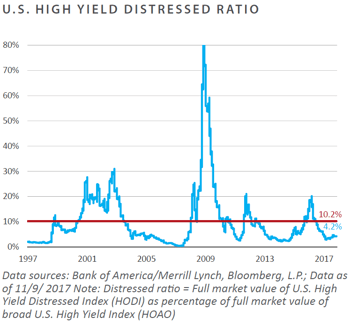 Conclusion
Demand for private debt strategies remains robust, as institutional investors continue to embrace the strategy amid lackluster return potential from public credit instruments.

Middle market fundamentals remain reasonably healthy and volumes remains well below peak volume/pre-recession years, which we find compelling.

European distressed opportunities remain prevalent with continued pressure from slow growth and Basel III deadlines. Also, U.S. defaults for 2017 remain soft, and absent a U.S. recession, a broad-based U.S. distressed opportunity remains in the offing.
1, 2 Preqin Quarterly Update: Private Debt Spotlight Q3 2017
3 S&P Global Market Intelligence – High-End Middle Market Lending Review 3Q 2017
Private Real Estate
Real estate values, as measured by the National Council of Real Estate Investment Fiduciaries (NCREIF) Property Index, increased 1.7% during the third quarter. On a trailing one-year basis, the index gained 6.9%, and the annualized 5-year return was 10.4% as of September 30, 2017.¹

Similar to second quarter, the industrial and hotel sectors were the top performers, gaining 3.3% and 2.3% respectively in the third quarter. Alternatively, retail was the weakest performing property type, with a return of 1.2%.²

Property fundamentals were stable in the third quarter, with occupancy for the NCREIF at 92.8%, in-line with the second quarter of 2017 and near the 16-year high reached in the first half of 2017.³
Net operating income growth was 5.1% for the trailing 12-month period, above its long-term average of 3.2%.⁴

The implied valuation cap rate was 4.38%, a near record-low. Cap rates declined (valuations increased) for all property types in the index.⁵
Global commercial real estate transaction volume increased 12% from the same period last year.⁶ In Europe, investment volume grew for the first time in seven quarters, led by the U.K., while the Asia-Pacific region was dominated by Hong Kong, where transaction volume was up 38% year-over-year.

Conversely, in the U.S., total transaction volume fell for four consecutive quarters and was down 9% in the third quarter; however, pricing remained stable.⁷

The most active real estate markets during third quarter were New York, Los Angeles, and London. New York led with $28 billion in total volume, despite a year-over year decline of 40% in overall volume. In London, transaction volume totaled $25.6 billion, an 18% increase year-over-year.⁸ The top property transactions during third quarter were in London and included the sale of 20 Fenchurch Street for $1.7 billion and the sale of the Grosvenor House Hotel for $716 million.⁹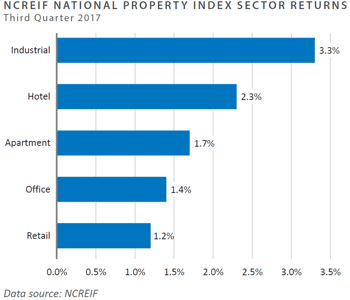 Capital Markets
New CMBS issuance totaled $26.8 billion in the third quarter of 2017, making it the most active quarter since third quarter 2014.¹⁰ Approximately 36% of new CMBS loans were backed by hotel properties, while trophy office properties in New York and San Francisco made up an additional 27% of new issuance. The largest CMBS deal in the third quarter was a $2.1 billion deal secured by a portfolio of 460 Motel 6 properties across the U.S. and Canada.¹¹

Despite some uncertainty around the implementation of new risk retention regulations (designed to hold banks more accountable for their own lending operations), the overall impact has not resulted in a slowdown in CMBS activity for the year.¹² Total issuance for 2017 is expected to reach $80-85 billion, surpassing last year's total. Nevertheless, CMBS still comprises a much smaller portion of the commercial real estate debt market than it did at the peak of the market ten years ago.¹³

Commercial-loan dollar volume rose by 21% in the third quarter, driven by increases in hotel and health care property loans.¹⁴ Compared to the third quarter 2016, loan volume for hotels and health care properties rose year-over-year by 116% and 97% percent, respectively.

Other major property types posted strong year-over-year gains, including industrial (+20%), multifamily (+15%), office (+8%), and retail (+8%).¹⁵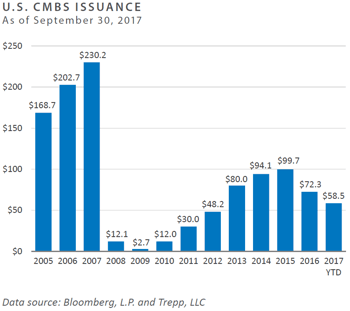 1, 2, 3, 4, 5 www.ncreif.com October 25, 2017
6, 7, 8, 9 Real Capital Analytics–Global Capital Trends–Third Quarter 2017
10, 11, 12, 13 Trepp CMBS Research: Q3-2017 Issuance Recap, November 2017
14, 15 Mortgage Bankers Association
Natural Resources
After declining 9.0% in the second quarter, oil prices rose 12% in the third quarter of 2017, closing at $51.67/barrel, up from $46.04/barrel at the end of the second quarter.¹ Improving supply/demand fundamentals was a key factor driving gains during the quarter. The International Energy Agency (IEA) announced upward revisions in demand growth (2.3 million barrels/day) primarily from emerging markets, along with a global supply pullback in August of approximately 700,000 barrels per day, which was the first decline in four months.² Additionally, a decline in global crude supplies occurred in August due to scheduled maintenance and supply outages related to hurricane Harvey. Finally, expectations that OPEC would extend its production cut agreement beyond March of 2018, along with slower growth in the domestic rig count, contributed to improving sentiment for oil prices.³

Natural gas prices were essentially flat during the third quarter, closing at $3.01/MMBtu.⁴ Higher production growth, driven by increased rig counts and greater well efficiencies continued to put downward pressure on natural gas prices. Furthermore, growth in production of "associated gas" (natural gas produced as a by-product of oil production) has added to the incremental supply. On the positive side, increased demand for natural gas should come from rising industrial demand, liquid natural gas (LNG) exports, and ongoing coal-to-gas switching by power producers.⁵ Colder-than-expected weather patterns heading into the winter months could also bolster demand.

According to energy services firm Baker Hughes, the U.S. oil rig count ended the third quarter at 750.⁶ On a year-over-year basis, the total U.S. oil rig count increased by 325, a 76% increase.⁷ Despite the increase, the rig count remains well below the peak of over 1,600 rigs in the fall of 2014. The U.S. total natural gas rig count finished the third quarter at 189, increasing 97% year-over-year.⁸

The downturn in oil prices during the first half of the year led to slower merger and acquisition activity in the third quarter, with deal volume falling to its lowest level in 18 months.⁹ Similar to last quarter, deal activity in the Permian Basin dropped considerably compared to prior quarters. The largest acquisitions were driven by financial private-equity players and included Silver Run's $2.15 billion corporate purchase of Oklahoma operator Alta Mesa, and a large Rocky Mountain asset sale by Halcon Resources and QEP Resources.¹⁰ The fundraising environment for private energy continues to be dominated by mega-funds, with EnCap, Natural Gas Partners, and Quantum Energy Partners all in the market, raising multi-billion dollar funds.
1, 4 CoreCommodity Quarterly Letter – September 30, 2017
2 International Energy Agency www.iea.org
3 Alessi, Christopher, Oil Trades in Narrow Range, The Wall Street Journal, September 19, 2017
5, 9, 10 EnCap Quarterly Letter, September 30, 2017
6, 7, 8 www.bakerhughes.com
This report was prepared by Fund Evaluation Group, LLC (FEG), a federally registered investment adviser under the Investment Advisers Act of 1940, as amended, providing non-discretionary and discretionary investment advice to its clients on an individual basis. Registration as an investment adviser does not imply a certain level of skill or training. The oral and written communications of an adviser provide you with information about which you determine to hire or retain an adviser. Fund Evaluation Group, LLC, Form ADV Part 2A & 2B can be obtained by written request directly to: Fund Evaluation Group, LLC, 201 East Fifth Street, Suite 1600, Cincinnati, OH 45202, Attention: Compliance Department.
This report is prepared for informational purposes only. It does not address specific investment objectives, or the financial situation and the particular needs of any person who may receive this report.
The information herein was obtained from various sources. FEG does not guarantee the accuracy or completeness of such information provided by third parties. The information in this report is given as of the date indicated and believed to be reliable. FEG assumes no obligation to update this information, or to advise on further developments relating to it. FEG, its affiliates, directors, officers, employees, employee benefit programs and client accounts may have a long position in any securities of issuers discussed in this report.
Index performance results do not represent any managed portfolio returns. An investor cannot invest directly in a presented index, as an investment vehicle replicating an index would be required. An index does not charge management fees or brokerage expenses, and no such fees or expenses were deducted from the performance shown.
Neither the information nor any opinion expressed in this report constitutes an offer, or an invitation to make an offer, to buy or sell any securities.
Any return expectations provided are not intended as, and must not be regarded as, a representation, warranty or predication that the investment will achieve any particular rate of return over any particular time period or that investors will not incur losses.
Past performance is not indicative of future results.
Investments in private funds are speculative, involve a high degree of risk and are designed for sophisticated investors.
An investor could lose all or a substantial amount of his or her investment. Private capital funds' fees and expenses may offset private capital funds' profits. Private capital funds are not required to provide periodic pricing or valuation information to investors except as defined in the fund documents. Private capital funds may involve complex tax structures and delays in distributing important tax information. Private capital funds are not subject to the same regulatory requirements as mutual funds. Private capital funds are not liquid and require investors to commit to funding capital calls over a period of several years; any default on a capital call may result in substantial penalties and/or legal action. Private capital fund managers have total authority over the private capital funds. The use of a single advisor applying similar strategies could mean lack of diversification and, consequently, higher risk.
All data is as of September 30, 2017 unless otherwise noted.
Previous
Next