Following two consecutive quarters of strong gains across both risky and high-quality assets, market performance appeared muted in the third quarter, as investors digested numerous market-moving macro developments, such as geopolitical tensions in the Middle East, a worsening U.S.-China relationship, a record share of negative-yielding global debt, the first inversion of the Treasury 2/10 curve in the post-Global Financial Crisis era, the first Federal Reserve rate cut in more than a decade, and a fresh record low yield on the 30-Year Treasury Bond. Over the trailing 12-month period, the Fed has switched gears from a multi-year tightening cycle, to a brief "pause," to today's environment of policy easing via interest rate cuts and intervention in the Treasury market.

Despite accommodative financial conditions and forward guidance pointing to a continuation, global equity returns for the quarter were generally negative, outside of a modest positive performance from domestic large cap equity. In fixed income, rate-sensitive sectors, such as core bonds, continued to generate strong returns, outpacing below investment-grade credit and nearly closing the year-to-date performance gap favoring the riskier corners of the bond market. REITs continued to benefit from the immense downward pressure on interest rates in conjunction with a solid labor market, while energy infrastructure performance suffered amid global growth concerns and volatile energy price fluctuations.
Economic Update
Central Banks Intervene in an Effort to Revive Dimming Growth Prospects
In early October 2018, Federal Reserve (Fed) Chairman Jerome Powell described the policy rate backdrop as being "a long way from neutral," stoking fears the Fed may over-tighten policy and curtail the economic expansion. Over the past year, however, the Fed has reversed course and after a momentary "pause," the central bank has taken numerous steps to ease monetary conditions.

At their July meeting, the Fed lowered the federal funds rate (FFR) by 25 basis points (bps), representing the first rate cut since December 2008 in what Chairman Powell described as a "mid-cycle adjustment." The Fed's fine-tuning of the policy rate regime included a second consecutive rate cut at their September meeting, bringing the upper bound of the FFR to 2.00%.

The Fed has also expanded its balance sheet to the tune of approximately $200 billion in the past few weeks through repo market intervention aimed at stripping Treasury supply out of the market and, in turn, increasing banking system reserve—i.e., liquidity balances.


While these operations are likely a temporary solution to short-term funding strains, the combination of lower interest rates and an expanding balance sheet failed to impress risk-taking market participants during the quarter, leaving some to question the timing of the Fed's apparent backpedaling.

Coming off relatively robust economic conditions in 2018, many key fundamental data series have exhibited little-to-no improvement year-over-year, with near-zero growth readings across leading economic indicators, such as labor market composite gauges, corporate profitability, corporate earnings, and industrial production, among others. Through September, for example, the Institute for Supply Management (ISM) reported the weakest Manufacturing PMI reading since June 2009, with the manufacturing sector slumping deeper into contractionary territory.

The World Bank, however, estimates that manufacturing comprises just 11% of U.S. gross domestic product, somewhat allaying fears of a manufacturing-driven slowdown impacting other economic sectors. Nevertheless, manufacturing witnessed the loss of 2,000 manufacturing jobs in September, which was 1 of just 3 negative monthly readings during President Trump's time in office. Unfortunately, as the manufacturing sector has soured, the services sector has also turned lower.

Overseas, the European Central Bank (ECB) is grappling with a growth slowdown of their own, the theme of which has been in place for the past handful of quarters but has recently gathered pace. Through August, for example, the Conference Board reported the first negative annual growth reading for the Euro Area Leading Economic Index, a composite of factors designed to lead the business cycle since 2013. A similar downward trajectory has also been evident in the U.S., but the U.S. measure remains in positive territory.
Considering muted inflationary pressures and meaningful growth headwinds, the ECB lowered its deposit facility rate deeper into negative territory at their September meeting by 10 bps to -0.50% and announced a new asset purchase program set to take place in November. Expectations for a more accommodative monetary path in both the U.S. and Europe in the coming quarters may indeed help sustain the ongoing economic expansion, but this course leaves the Fed and ECB with fewer traditional policy tools to combat future downturns, an eventuality that investors could face sooner rather than later, should the current trajectory fail to improve materially.
To conclude, market performance across most major asset categories was modest in the third quarter, with rate-sensitive sectors continuing to display strength. Investors were inundated with headlines around recessionary fears, shifting central bank policies, U.S.-China trade war developments, and geopolitical tremors in the Middle East. Despite a recent shift towards a more accommodative monetary backdrop in both the U.S. and Europe, global risk assets appear to have encountered some resistance, as the anticipatory nature of financial markets likely priced in much of the recent policy easing in the first half of the year.
Market Returns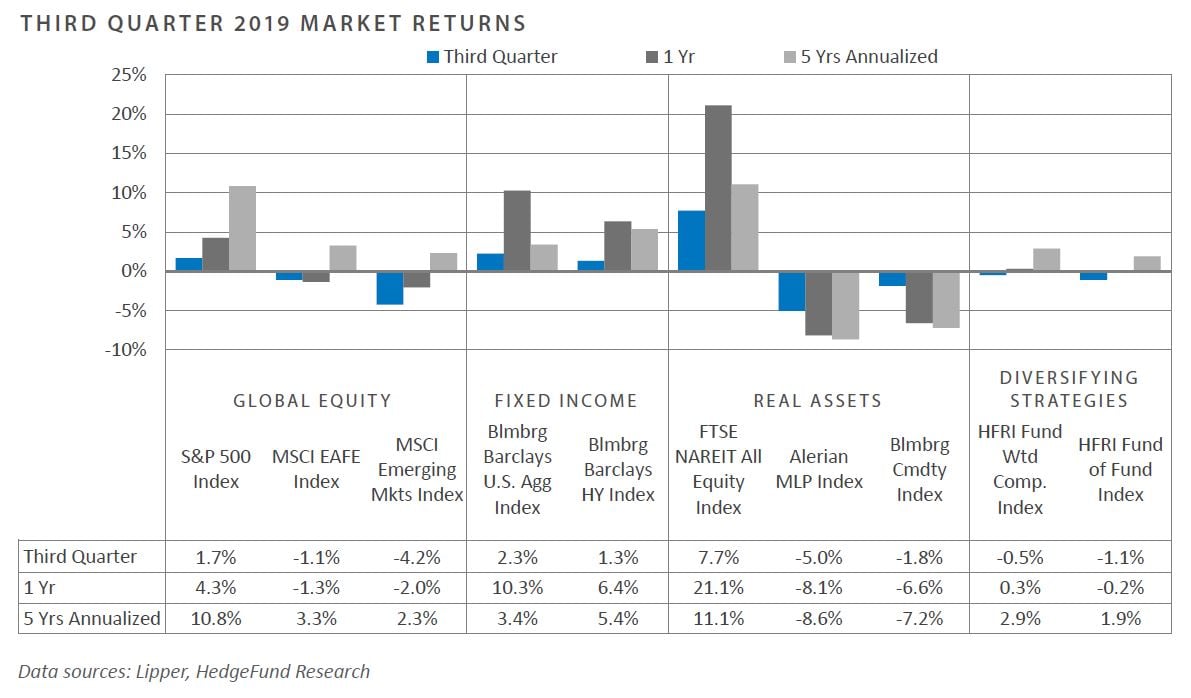 Global Equity
Global equity markets had mixed results in the third quarter. July and August were volatile due to continued global economic slowdown and trade tensions; however, September was strong from additional monetary easing. Additionally, the market saw a reversal in style to favor value stocks, softening the year-to-date performance disparity.

Most sectors in the U.S. market had positive returns for the quarter, except energy, materials, and health care. The energy sector declined the most due to depressed oil and natural gas prices after the attack on Saudi Arabia's oil infrastructure, as well as ongoing oil and gas producer bankruptcies. Information technology and financials were the strongest performing sectors due to favorable fundamentals.

European stocks gained in local terms, but euro weakness pressured returns for U.S. investors. The ECB cut interest rates in response to weaker economic activity, pushing rates further into negative territory and boosting equity markets, but hampering currency.

UK performance lagged European counterparts, as Brexit concerns lingered. Boris Johnson controversially announced the UK will be leaving the European Union at the end of October, deal or no deal.

Japan led developed markets despite the continued slowdown in manufacturing and declining consumer confidence. The Bank of Japan did not cut interest rates but hinted at the possibility of future quantitative easing.

Asia and other emerging market regions struggled during the quarter due to the impacts to China of the ongoing trade war and secondary effects to Chinese trading partners. Argentina suffered from a geopolitical shock in August, as stocks sold off due to the presidential election surprise.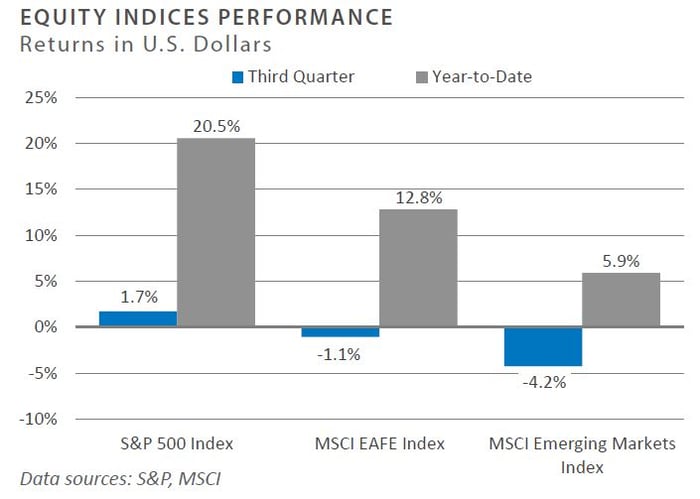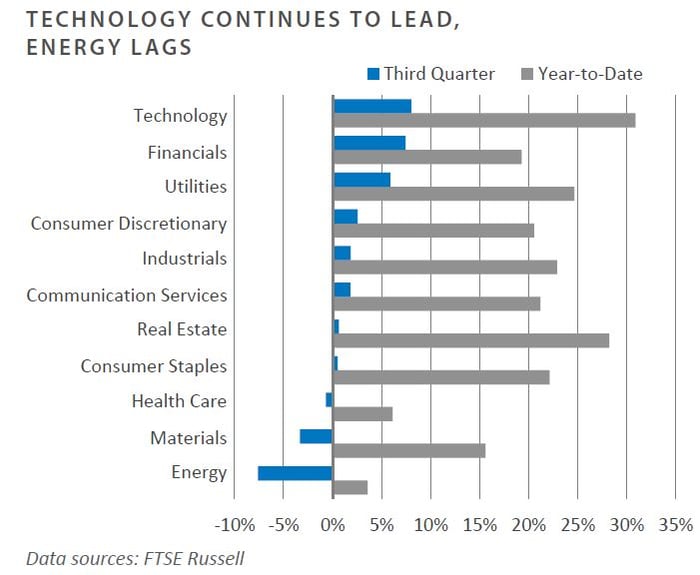 Fixed Income
The third quarter was characterized by large movements in rates, resulting in the 30-year Treasury touching fresh all-time lows and the 2-year/10-year spread inverting briefly in August for the first time since the Great Financial Crisis. The inversion of the 2-year/10-year curve sparked recessionary fears, as this spread is often seen as an indicator of a potential recession.

In a reversal from prior quarters, lower quality issues outperformed their higher quality peers in the investment-grade market. The opposite was true in the below investment-grade markets, as CCC-rated bonds lagged higher quality, below investment-grade issues.

As a result of weakening economic data and ongoing trade tensions, major central banks across the world continued to ease monetary policy. The Fed cut rates twice during the quarter, reducing the degree of yield curve inversion, while the ECB decreased its deposit rate further, to a new low of -0.5%.

Though the Fed opted to cut rates in what Fed Chair Jerome Powell declared a "mid-cycle adjustment," dissension among members was present in recent meetings. At the Fed's September meeting, three members dissented, with two voting against cutting rates further and one in favor of an even larger rate cut. This marked the first time since 2016 that the Fed saw three dissents in one meeting. Chair Powell argued the divergence in views was healthy amid an environment of "difficult judgements."

The New York Fed made headlines in September as it provided $75 billion of additional liquidity to overnight repo markets, which had experienced a spike in yields following a shortage of funds banks were willing to lend. In response to this liquidity crunch in the short end of the curve, the Fed will resume the growth of its balance sheet but stated that this was not quantitative easing.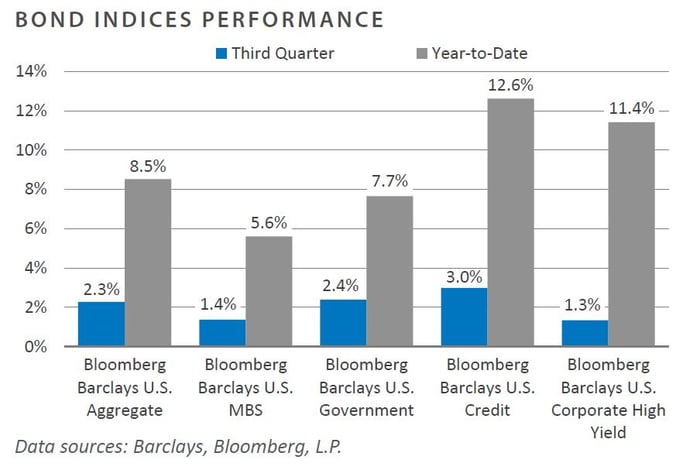 Real Assets
REAL ESTATE
U.S. REITs closed out the third quarter with market-leading performance for both the quarter and the year. Strong returns were due in part to continued macroeconomic support, such as low unemployment and lower interest rates across longer duration treasuries. Further, investors have viewed REITs as largely being insulated from ongoing U.S.-China trade tensions.

Data center, industrial, and infrastructure REITs continued to outperform due to ongoing demand from e-commerce. Hotel REITs delivered negative returns last quarter due to lower demand from business and leisure travelers, which is typical near the end of the business cycle.

Global REITs rose primarily due to European REITs. REITs continued to face headwinds from geo-political challenges, including an impending Brexit and protests in Hong Kong.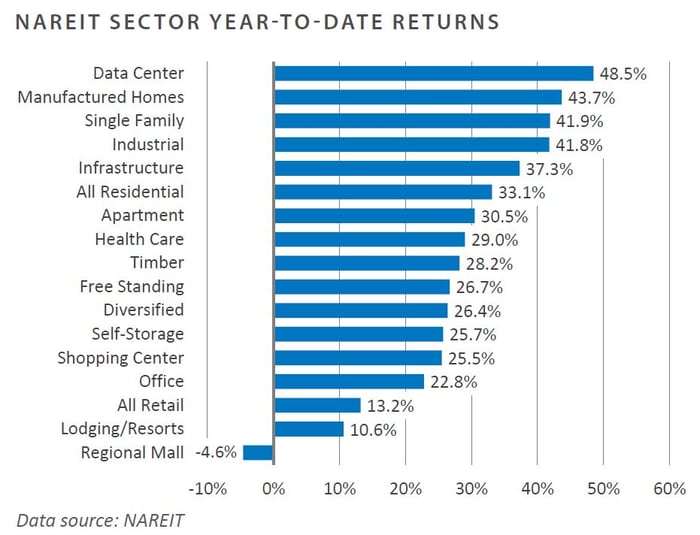 NATURAL RESOURCES
Oil pricing in September was primarily defined by the attack on the Saudi Arabian Abqaiq crude processing facility. Despite the expectation of Saudi supply cuts of 1.2 million barrels/day, markets immediately factored in the limited processing capabilities of Abqaiq, which typically generates 7% of the global supply.

After rising to a peak of over $63/barrel, oil prices retreated to pre-attack levels due to indications that the facility is operating as normal, closing the month at $54/barrel.

Natural gas fell over 10% in the week following the attack in anticipation of increased U.S. production, but closed the month up 1.7% at $2.37/MBTU.
MASTER LIMITED PARTNERSHIPS
MLPs, as measured by the Alerian MLP Total Return Index fell 5% for the third quarter. Year-over-year growth in crude oil and petroleum product exports slowed through the third quarter and reached its lowest level since first quarter 2018; however, midstream MLPs with strong fundamentals and geographic positions in the Gulf Coast helped support the sector. The yield on MLPs stood at 8.7% to end the quarter.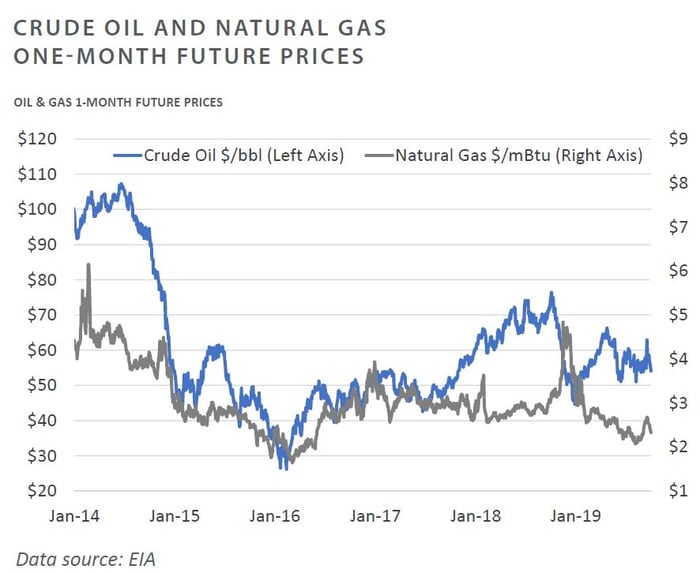 Diversifying Strategies
Trend followers benefitted from being long the continued global bond rally during the quarter. That trend reversed course in the month of September, even with rate cuts from the Fed and ECB.

Some event-driven managers, which had suffered for several months due to energy assets, finally witnessed gains in holding the third quarter, as progress was made on the potential sale of assets at a premium. Nevertheless, performance was mixed in the event-driven space with volatile returns from activist managers and weakness from distressed managers that led to negative returns for the index.

Discretionary macro managers with a focus on emerging markets experienced significant pain following the disclosure of poll results for the upcoming Argentinian election. Argentinian equity and fixed income markets were particularly adversely impacted from the announcement. Risk assets rebounded later in the quarter but were unable to offset incurred losses.
DISCLOSURES
This report was prepared by FEG (also known as Fund Evaluation Group, LLC), a federally registered investment adviser under the Investment Advisers Act of 1940, as amended, providing non-discretionary and discretionary investment advice to its clients on an individual basis. Registration as an investment adviser does not imply a certain level of skill or training. The oral and written communications of an adviser provide you with information about which you determine to hire or retain an adviser. Fund Evaluation Group, LLC, Form ADV Part 2A & 2B can be obtained by written request directly to: Fund Evaluation Group, LLC, 201 East Fifth Street, Suite 1600, Cincinnati, OH 45202, Attention: Compliance Department.
The information herein was obtained from various sources. FEG does not guarantee the accuracy or completeness of such information provided by third parties. The information in this report is given as of the date indicated and believed to be reliable. FEG assumes no obligation to update this information, or to advise on further developments relating to it. FEG, its affiliates, directors, officers, employees, employee benefit programs and client accounts may have a long position in any securities of issuers discussed in this report.
Index performance results do not represent any managed portfolio returns. An investor cannot invest directly in a presented index, as an investment vehicle replicating an index would be required. An index does not charge management fees or brokerage expenses, and no such fees or expenses were deducted from the performance shown.
Neither the information nor any opinion expressed in this report constitutes an offer, or an invitation to make an offer, to buy or sell any securities.
Any return expectations provided are not intended as, and must not be regarded as, a representation, warranty or predication that the investment will achieve any particular rate of return over any particular time period or that investors will not incur losses.
Past performance is not indicative of future results.
Investments in private funds are speculative, involve a high degree of risk, and are designed for sophisticated investors.
All data is as of September 30, 2019 unless otherwise noted.
INDICES
The Alerian MLP Index is a composite of the 50 most prominent energy Master Limited Partnerships that provides investors with an unbiased, comprehensive benchmark for this emerging asset class.
Barclays Capital Fixed Income Indices is an index family comprised of the Barclays Capital Aggregate Index, Government/Corporate Bond Index, Mortgage-Backed Securities Index, and Asset-Backed Securities Index, Municipal Index, High-Yield Index, and others designed to represent the broad fixed income markets and sectors within constraints of maturity and minimum outstanding par value. See https://ecommerce.barcap.com/indices/index.dxml for more information.
The CBOE Volatility Index (VIX) is an up-to-the-minute market estimate of expected volatility that is calculated by using real-time S&P 500 Index option bid/ask quotes. The Index uses nearby and second nearby options with at least 8 days left to expiration and then weights them to yield a constant, 30-day measure of the expected volatility of the S&P 500 Index. FTSE Real Estate Indices (NAREIT Index and EPRA/NAREIT Index) includes only those companies that meet minimum size, liquidity and free float criteria as set forth by FTSE and is meant as a broad representation of publicly traded real estate securities. Relevant real estate activities are defined as the ownership, disposure, and development of income-producing real estate. See www.ftse.com/Indices for more information.
HFRI Monthly Indices (HFRI) are equally weighted performance indexes, compiled by Hedge Fund Research Inc. (HFX), and are used by numerous hedge fund managers as a benchmark for their own hedge funds. The HFRI are broken down into 37 different categories by strategy, including the HFRI Fund Weighted Composite, which accounts for over 2000 funds listed on the internal HFR Database. The HFRI Fund of Funds Composite Index is an equal weighted, net of fee, index composed of approximately 800 fund- of- funds which report to HFR. See www.hedgefundresearch.com for more information on index construction.
J.P. Morgan's Global Index Research group produces proprietary index products that track emerging markets, government debt, and corporate debt asset classes. Some of these indices include the JPMorgan Emerging Market Bond Plus Index, JPMorgan Emerging Market Local Plus Index, JPMorgan Global Bond Non-US Index and JPMorgan Global Bond Non-US Index. See www.jpmorgan.com for more information.
Merrill Lynch high yield indices measure the performance of securities that pay interest in cash and have a credit rating of below investment grade. Merrill Lynch uses a composite of Fitch Ratings, Moody's and Standard and Poor's credit ratings in selecting bonds for these indices. These ratings measure the risk that the bond issuer will fail to pay interest or to repay principal in full. See www.ml.com for more information.
Morgan Stanley Capital International – MSCI is a series of indices constructed by Morgan Stanley to help institutional investors benchmark their returns. There are a wide range of indices created by Morgan Stanley covering a multitude of developed and emerging economies and economic sectors. See www.morganstanley.com for more information.
Russell Investments rank U.S. common stocks from largest to smallest market capitalization at each annual reconstitution period (May 31). The primary Russell Indices are defined as follows: 1) the top 3,000 stocks become the Russell 3000 Index, 2) the largest 1,000 stocks become the Russell 1000 Index, 3) the smallest 800 stocks in the Russell 1000 Index become the Russell Midcap index, 4) the next 2,000 stocks become the Russell 2000 Index, 5) the smallest 1,000 in the Russell 2000 Index plus the next smallest 1,000 comprise the Russell Microcap Index. See www.russell.com for more information.
S&P 500 Index consists of 500 stocks chosen for market size, liquidity and industry group representation, among other factors by the S&P Index Committee, which is a team of analysts and economists at Standard and Poor's. The S&P 500 is a market-value weighted index, which means each stock's weight in the index is proportionate to its market value and is designed to be a leading indicator of U.S. equities, and meant to reflect the risk/return characteristics of the large cap universe. See www.standardandpoors.com for more information.
Information on any indices mentioned can be obtained either through your consultant or by written request to information@feg.com.