Accommodative monetary and fiscal policy actions of historic scope and magnitude, paired with better-than-expected incoming economic data, drove a notably strong market rally in the second quarter, as investors breathed a sigh of relief following the first quarter's rout. Despite mounting evidence of a potential second wave of COVID-19 and an associated wave of selling pressure, the surge in liquidity during the quarter helped boost risk assets during the quarter. U.S. large cap returns had their strongest quarterly gain since 1998—20.5% for the S&P 500 Index—essentially reversing the first quarter's decline of 19.6%, the worst quarterly performance since 2008. International developed equities lagged U.S. large cap, however, emerging market equity returns nearly matched the performance of U.S. large cap, as the MSCI Emerging Markets Index posted an 18.1% total return. Interest rates were essentially unchanged, despite the strong rally across risk assets, as the 10-year Treasury note yield fell 1 basis point quarter-over-quarter to end June at 0.66%. The risk-on environment sent credit risk premiums sharply lower, in turn supporting a double-digit gain across high yield bonds. Real asset sector returns were also positive, with energy infrastructure MLPs generating the strongest quarterly return on record, which followed the steepest quarterly loss on record in the first quarter.
Economic Update
Supportive Policy Backdrop and Better-than-Expected Data Sparks Rebound
As the number of global COVID-19 cases marched towards—and ultimately surpassed—10 million, policymakers across the globe scrambled to implement policy measures aimed at offsetting the deflationary forces that accompany a severe growth shock, in turn fueling a liquidity-driven rally across risk assets that sent U.S. large cap equities to their strongest quarterly gain in more than 2 decades.
On the monetary front, the Federal Reserve (Fed) maintained their commitment to an ultra-low policy rate regime for the foreseeable future, while expanding the scope of eligible asset purchases to include both investment-grade and below investment-grade corporate bonds through a special purpose vehicle (SPV) credit facility. By the time the quarter concluded, the Fed's balance sheet stood at just over $7 trillion, an increase of nearly $3 trillion since the beginning of 2020, when the Fed's balance sheet totaled slightly above $4 trillion.
On the fiscal front, U.S. legislators passed the $2 trillion Coronavirus Aid, Relief, and Economic Security Act (CARES Act) at the tail end of the first quarter. When combined with the more than $3 trillion in monetary support via Fed asset purchases, direct aid for the U.S. economy was at least $5 trillion for the first 6 months of 2020. Exhaustive use of policy support tools appears to be working as intended, as the Bureau of Labor Statistics (BLS) reported the U.S. economy added 7.5 million jobs over the course of May and June, or roughly a third of the jobs lost during March and April.
A broader subset of underlying data corroborates the recent positive trends emanating from the labor market, although jobless claims activity continues to remain historically elevated. The Bloomberg U.S. Economic Surprise Index, which standardizes incoming economic data versus the median sell-side estimate derived from survey economists, has generally stood in positive territory throughout 2020, implying as-reported data—despite being historically weak in absolute terms—has actually surprised to the upside.

The combination of ultra-accommodative monetary and fiscal policies—along with forward guidance pointing to future supportive conditions—and relatively better economic data have been key pillars supporting the market's rebound since late March. The second half of 2020, however, presents a packed agenda of market-moving events, including a potential second wave of COVID-19 that may coincide with a spike in seasonal illnesses such as colds and the flu, a potential further souring of relations between the U.S. and China, and the U.S. presidential election in November, to name a few.
To conclude, both the economy and key sectors of the investment markets staged a healthy rebound in the second quarter, as risk-seeking investors were rewarded with overwhelmingly positive performance, a stark contrast to the first quarter's steep declines across most economic aggregates and major areas of the investible universe. Central to the reversal in fortunes was a continuation of immense policy accommodation, alongside better-than-anticipated economic data, despite numerous current and looming geopolitical events that have the potential to divert current positive trends..
Market Returns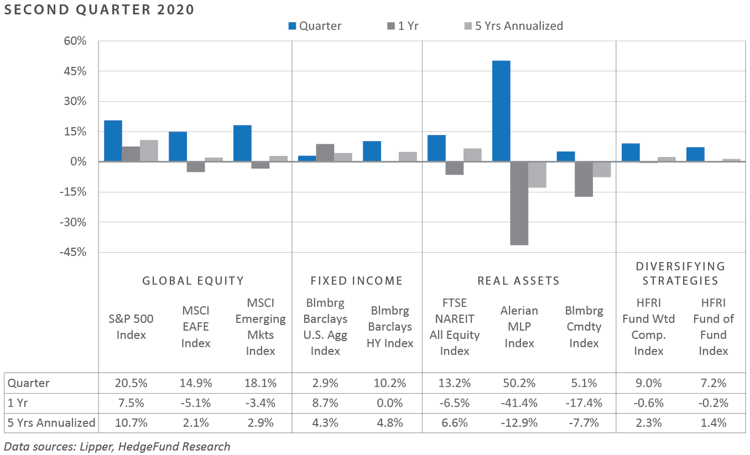 Global Equity
Since the coronavirus bear market bottomed on March 23, global equity markets have been rallying. The second quarter was one of the strongest quarters on record for equities, as accommodative central banks and governments plowed massive amounts of stimulus into economies that subsequently began to reopen.

Although economic data has shown positive signs of a rebound, equity earnings data is just beginning to measure the negative impacts of the pandemic over a full quarterly reporting period.

Growth equities continued to outperform value equities, despite a strong intra-quarter rebound in value when consumer discretionary and energy stocks rallied. Furthermore, small cap equities outperformed large cap equities during the quarter, after smaller companies were some of the hardest hit during the peak of the economic decline.

In some developed markets and China, new reported infections have fallen, and economies are on the path of reopening.

In contrast, India, countries in Latin America, and several other emerging markets have struggled to get their virus infection rates under control. Simultaneously, these nations have not been able to provide as much monetary and fiscal support as many developed nations.

Prior to the COVID-19 pandemic, the Japanese economy had been struggling to grow and is now officially measured to be in recession. Japanese fiscal policy has been largely supportive to combat the weakness, with the government recently approving a stimulus package exceeding 100 trillion yen.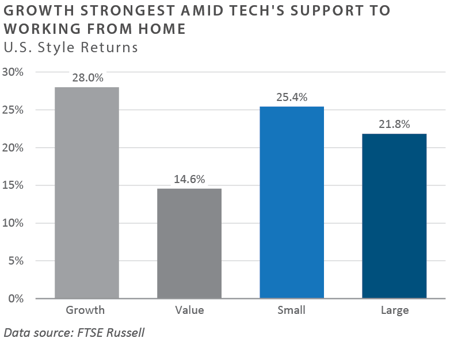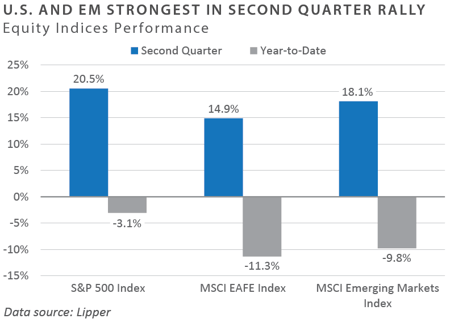 Fixed Income
Although the Fed made headlines in late March and early April with the announcement of various market-supporting programs, the market response to Fed meetings in late April and June was somewhat muted. Fed Chair Jerome Powell continued to voice the Fed's support of the economy, citing the need for both monetary and fiscal policy to remain highly accommodative in light of lingering concerns about the strength—and ultimate recovery—of the economy.

At their June meeting, the Fed voted to keep rates at their effective zero bound. Minutes from the Fed's June meeting indicate ongoing discussion about potential yield curve control measures and strengthened forward guidance to markets amid an environment of "extraordinary uncertainty."

The second quarter witnessed a rebound in credit nearly as remarkable as the drawdown experienced in March 2020. Corporate bonds rallied, supported in part by Fed programs and strong demand from the broader market. Both investment-grade and high yield funds saw record inflows over the three-month period starting in late March.

The quarter also saw record corporate credit bond issuance, particularly within investment-grade credit, as companies sought to take advantage of historically low yields and to build up liquidity.

Securitized credit lagged the broader recovery early in the quarter, though the market showed signs of improvement in June. While higher quality segments of this market are receiving Fed support, the lower quality segments have not received such aid and have thus trailed other fixed income markets for the quarter and year-to-date.

Technical factors have generally remained strong and supported markets across the board, however, market participants continue to question underlying fundamentals. Weekly bankruptcy claims spiked the week of June 13 to the highest levels since May 2009. Additionally, data indicate that the pace of leveraged loan issue downgrades in 2020 has been unprecedented.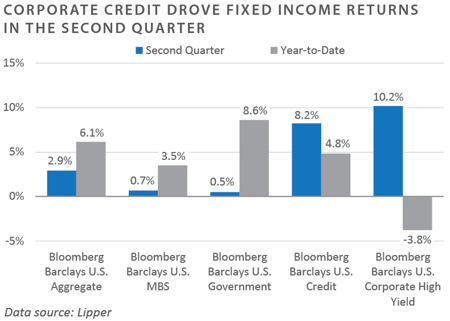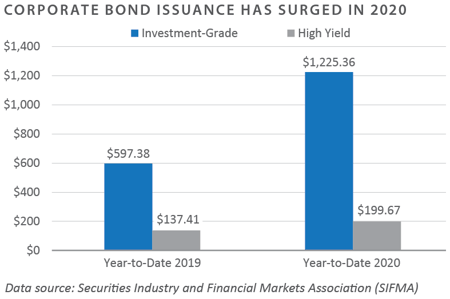 Real Assets
REAL ESTATE
REITs posted a solid rally for the quarter, as real estate remains heavily pressured by the pandemic.

REITs experienced a broad uplift across most U.S. property types while self-storage, office, and lodging/resorts lagged. Questions remain about how hotel properties may fully reopen, and how quickly consumers will utilize these facilities in the future.

Data centers and infrastructure REITs remain the only positive sectors for U.S. real estate year-to-date due to their defensive characteristics in this pandemic as consumers accelerate data usage.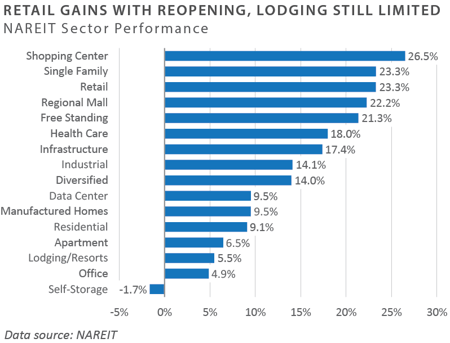 NATURAL RESOURCES
Daily Brent crude oil spot prices averaged $38/barrel in June, up $10/barrel from the May average, and up $19/barrel from the monthly average price in April, which was a multi-year low. Oil prices increased in June as regions began to lift stay-at-home orders and as oil supply began to fall. Supply reductions were a result of production cuts by the Organization of the Petroleum Exporting Countries (OPEC) and partner countries (OPEC+) as well as a slowdown of domestic drilling.

The Energy Information Administration's Short-Term Energy Outlook remains subject to significant ambiguity as both mitigation and reopening efforts related to COVID-19 continue to evolve. As such, uncertainties persist across the EIA's outlook for all energy sources, including liquid fuels, natural gas, electricity, coal, and renewables.

The natural gas spot price averaged $1.63 per MMBtu in June—the lowest inflation-adjusted price going back to at least 1989—driven by low demand and ample production.

The EIA expects falling production to put upward pressure on both crude and natural gas prices through the end of 2021. Monthly Brent spot prices are expected to average $41/bbl during the second half of 2020 and rise to an average of $50/bbl in 2021, while Henry Hub spot prices are expected to average $1.93/MMBtu in 2020 and $3.10/MMBtu in 2021, respectively.

According to Baker Hughes, the U.S. oil and gas rig count—an early indicator of future output—fell 38 in the quarter to an all-time low of 263 as of June 30, 2020. This represents a total rig count decline of 700 compared to end-of-June 2019.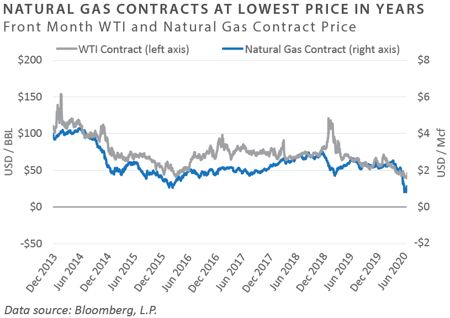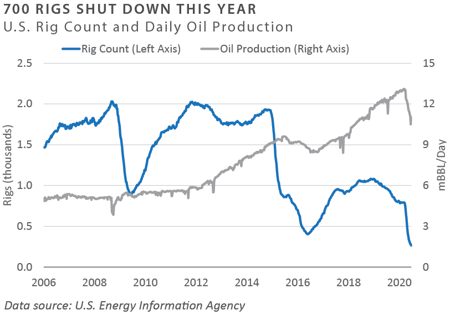 MASTER LIMITED PARTNERSHIPS
MLPs, as measured by the Alerian MLP Total Return Index, fell in June after two consistent months of gains. This decline was the result of continued uncertainty in energy prices, foreshadowing potentially significant production declines in the future. Despite the decline in June, the second quarter of 2020 was still the index's best quarter on record.

A key factor in midstream performance during the second quarter was the strong relative performance of MLPs versus midstream C-corps. This marked a reversal of the trend of C-corps outperforming MLPs over the past few years.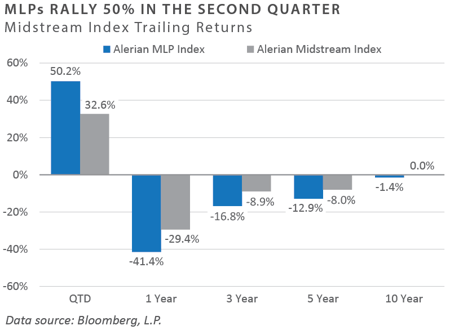 Diversifying Strategies
The broad hedge fund universe produced a strong quarter, clawing back some of the losses suffered through March. The month of June was exceptionally good with only broad hedge fund strategy, macro, to experience losses.

Event-oriented credit strategies generated strong gains, especially longer-biased managers, as spreads continued to recover from March lows.

Trend following strategies tended to detract with the approach of the quarter's end, as risk sentiment reversed course mid-June, driving choppy markets. Two areas of particular pain were commodities—including softs, energy, metals, and grains—and currencies.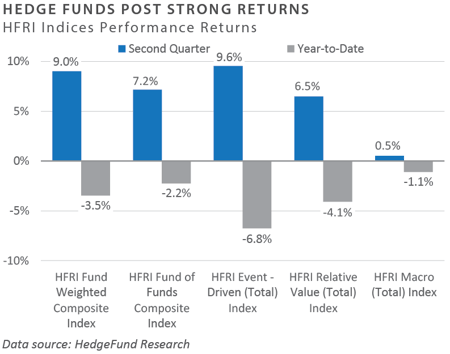 DISCLOSURES
This report was prepared by FEG (also known as Fund Evaluation Group, LLC), a federally registered investment adviser under the Investment Advisers Act of 1940, as amended, providing non-discretionary and discretionary investment advice to its clients on an individual basis. Registration as an investment adviser does not imply a certain level of skill or training. The oral and written communications of an adviser provide you with information about which you determine to hire or retain an adviser. Fund Evaluation Group, LLC, Form ADV Part 2A & 2B can be obtained by written request directly to: Fund Evaluation Group, LLC, 201 East Fifth Street, Suite 1600, Cincinnati, OH 45202, Attention: Compliance Department.
The information herein was obtained from various sources. FEG does not guarantee the accuracy or completeness of such information provided by third parties. The information in this report is given as of the date indicated and believed to be reliable. FEG assumes no obligation to update this information, or to advise on further developments relating to it. FEG, its affiliates, directors, officers, employees, employee benefit programs and client accounts may have a long position in any securities of issuers discussed in this report.
Index performance results do not represent any managed portfolio returns. An investor cannot invest directly in a presented index, as an investment vehicle replicating an index would be required. An index does not charge management fees or brokerage expenses, and no such fees or expenses were deducted from the performance shown.
Neither the information nor any opinion expressed in this report constitutes an offer, or an invitation to make an offer, to buy or sell any securities.
Any return expectations provided are not intended as, and must not be regarded as, a representation, warranty or predication that the investment will achieve any particular rate of return over any particular time period or that investors will not incur losses.
Past performance is not indicative of future results.
Investments in private funds are speculative, involve a high degree of risk, and are designed for sophisticated investors.
All data is as of May 31, 2020 unless otherwise noted.
INDICES
The Alerian MLP Index is a composite of the 50 most prominent energy Master Limited Partnerships that provides investors with an unbiased, comprehensive benchmark for this emerging asset class.
Barclays Capital Fixed Income Indices is an index family comprised of the Barclays Capital Aggregate Index, Government/Corporate Bond Index, Mortgage-Backed Securities Index, and Asset-Backed Securities Index, Municipal Index, High-Yield Index, and others designed to represent the broad fixed income markets and sectors within constraints of maturity and minimum outstanding par value. See https://ecommerce.barcap.com/indices/index.dxml for more information.
The CBOE Volatility Index (VIX) is an up-to-the-minute market estimate of expected volatility that is calculated by using real-time S&P 500 Index option bid/ask quotes. The Index uses nearby and second nearby options with at least 8 days left to expiration and then weights them to yield a constant, 30-day measure of the expected volatility of the S&P 500 Index. FTSE Real Estate Indices (NAREIT Index and EPRA/NAREIT Index) includes only those companies that meet minimum size, liquidity and free float criteria as set forth by FTSE and is meant as a broad representation of publicly traded real estate securities. Relevant real estate activities are defined as the ownership, disposure, and development of income-producing real estate. See www.ftse.com/Indices for more information.
HFRI Monthly Indices (HFRI) are equally weighted performance indexes, compiled by Hedge Fund Research Inc. (HFX), and are used by numerous hedge fund managers as a benchmark for their own hedge funds. The HFRI are broken down into 37 different categories by strategy, including the HFRI Fund Weighted Composite, which accounts for over 2000 funds listed on the internal HFR Database. The HFRI Fund of Funds Composite Index is an equal weighted, net of fee, index composed of approximately 800 fund- of- funds which report to HFR. See www.hedgefundresearch.com for more information on index construction.
J.P. Morgan's Global Index Research group produces proprietary index products that track emerging markets, government debt, and corporate debt asset classes. Some of these indices include the JPMorgan Emerging Market Bond Plus Index, JPMorgan Emerging Market Local Plus Index, JPMorgan Global Bond Non-US Index and JPMorgan Global Bond Non-US Index. See www.jpmorgan.com for more information.
Merrill Lynch high yield indices measure the performance of securities that pay interest in cash and have a credit rating of below investment grade. Merrill Lynch uses a composite of Fitch Ratings, Moody's and Standard and Poor's credit ratings in selecting bonds for these indices. These ratings measure the risk that the bond issuer will fail to pay interest or to repay principal in full. See www.ml.com for more information.
Morgan Stanley Capital International – MSCI is a series of indices constructed by Morgan Stanley to help institutional investors benchmark their returns. There are a wide range of indices created by Morgan Stanley covering a multitude of developed and emerging economies and economic sectors. See www.morganstanley.com for more information.
Russell Investments rank U.S. common stocks from largest to smallest market capitalization at each annual reconstitution period (May 31). The primary Russell Indices are defined as follows: 1) the top 3,000 stocks become the Russell 3000 Index, 2) the largest 1,000 stocks become the Russell 1000 Index, 3) the smallest 800 stocks in the Russell 1000 Index become the Russell Midcap index, 4) the next 2,000 stocks become the Russell 2000 Index, 5) the smallest 1,000 in the Russell 2000 Index plus the next smallest 1,000 comprise the Russell Microcap Index. See www.russell.com for more information.
S&P 500 Index consists of 500 stocks chosen for market size, liquidity and industry group representation, among other factors by the S&P Index Committee, which is a team of analysts and economists at Standard and Poor's. The S&P 500 is a market-value weighted index, which means each stock's weight in the index is proportionate to its market value and is designed to be a leading indicator of U.S. equities, and meant to reflect the risk/return characteristics of the large cap universe. See www.standardandpoors.com for more information.
Information on any indices mentioned can be obtained either through your consultant or by written request to information@feg.com.