Trade wars, a global economic slowdown, and a recent cooling across U.S. economic data were overwhelmed by expectations for accommodative policy responses by global monetary authorities during the second quarter, unleashing a wave of investor asset-buying across the risk spectrum. Safe-haven assets, such as Treasuries and precious metals, posted handsome returns alongside solid performance from the risk corners of the marketplace, such as equities, high yield credit, and REITs. This somewhat confused market environment, in which both risk-on and risk-off asset categories experienced positive returns, occurred during a quarter that marked the longest U.S. economic expansion on record. Elsewhere in the markets, rising geopolitical tensions and an ongoing debate regarding the president's influence on the (independent) Federal Reserve's monetary initiatives helped drive volatility higher and likely contributed to the unusual market environment that characterized the quarter.
Economic Update
Recessionary Warning Signs Begin to Appear in the United States
Since early 2018, the global economy — excluding the U.S. — has been in the midst of a slowdown, much of which can be attributed to trade war-induced growth headwinds and capital outflows from international asset categories and into domestic equivalents.
Until the second quarter, the U.S. appeared to be resilient against this troubling global backdrop; however, over the past few months, the U.S. economy's buoyancy has come under pressure, with incoming data suggesting the domestic economy may be in the early stages of succumbing to international weakness.
Initially, the housing market was the only major area of the economy that appeared to be slowing, as home price appreciation cooled to its lowest levels since 2012, mortgage application volume declined, delinquency rates appeared to have bottomed, and home affordability deteriorated.
Signs of more broad-based weakness surfaced in the second quarter, however, as the manufacturing and services sectors weakened to near contraction, previous labor market strength began to moderate. Despite mounting expectations for numerous cuts to the federal funds rate, most Treasury yield curve slopes had already inverted or were on the verge of inverting.

The European Central Bank, Bank of Japan, and Federal Reserve (Fed) have all responded to the unstable global backdrop by invoking dovish sentiment back into the market, which has aided in stemming what would presumably be an unfavorable market environment for incremental investor dollars.
Despite these policy efforts, recessionary fears continued to mount during the quarter, with market-based measures — such as the slope of Treasury yield curve, survey-based forecasts, and model-based estimates — reflecting an increasing probability of a U.S. recession on the horizon.
The Federal Reserve Bank of New York's probability of recession 1-year ahead model, which is driven by the yield spread between 3-month Treasury bills and 10-year Treasury notes, ended the quarter at 32.9%, the highest probability of a recession in the upcoming 12 months as measured during any point of the current business cycle.

Over the past three cycles, each occurrence of a greater than 30% probability saw the U.S. economy tip into recession approximately 13 months later, on average. Consequently, a counterbalancing act between natural economic forces and the Fed's best efforts at stalling an inevitable inflection from expansion to contraction is set to play out in the coming 12-18 months, with a U.S. presidential election also thrown into the mix.
To conclude, positive market performance was generated across nearly every corner of the liquid global investment universe, as both safe-haven and defensive sectors performed notably well alongside healthy returns from the opposite end of the risk spectrum. A critical set of events have the potential to transpire over the next 12-18 months, including the potential for a cycle turn, the return to accommodative monetary policy in the U.S., and easing conditions in other markets, in addition to the all-important 2020 presidential election.
Market Returns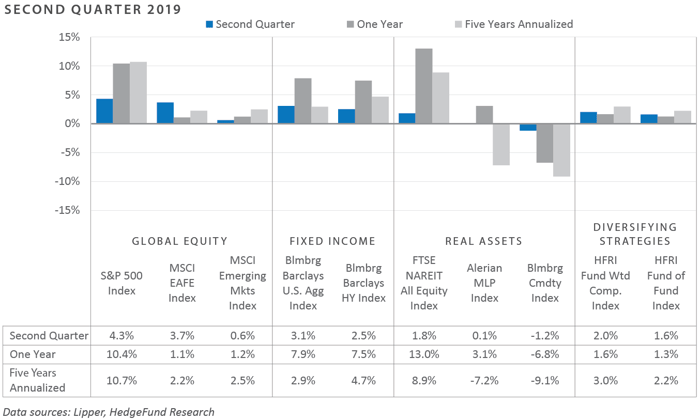 Global Equity
Equity markets ended the second quarter strong after rebounding in June from a weak May. In the first half of 2019, the S&P 500 Index experienced its best six-month performance since 1997 and its eighth best since 1950.

All sectors in the U.S. market were positive for the quarter except energy. The energy sector posted a loss in the quarter amid a tense standoff between the U.S. and Iran over alleged attacks by Iran on oil tankers in the Gulf of Oman. Financials, materials and information technology were the strongest performing sectors due to favorable fundamentals.

In late June, market sentiment was buoyed after the U.S. and China agreed to restart trade talks, temporarily pausing tariff escalations from May.

The ECB announced intentions for further quantitative easing (QE) to induce economic stimulus. QE could provide a tailwind to risk assets in the euro zone, which has seen weak manufacturing and labor data in recent months.

Brexit uncertainties persisted in the UK over the quarter. Theresa May announced her resignation as party leader in early June, leading to an early transition of the nation's leadership in July. The weakening of the pound against the dollar, on the back of weak PMI data, contributed to performance in the second quarter.

Japanese equities were adversely affected by a decrease in business confidence due in part to a proposed value-added tax (VAT) rate hike.

After a strong first quarter, global trade tensions induced headwinds for emerging markets performance in the second quarter. However, central banks in several emerging economies, including China, seemed prepared to push stimulus measures through to alleviate the slowdown.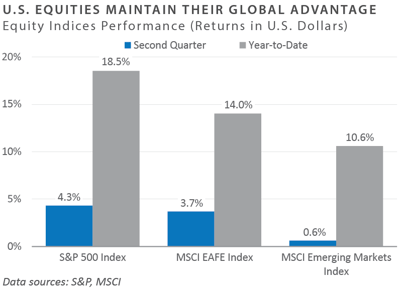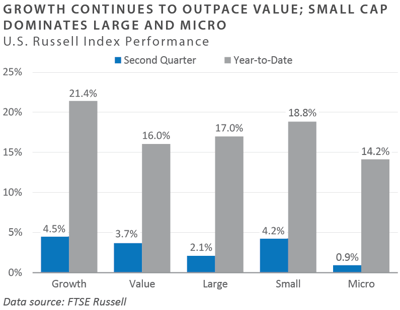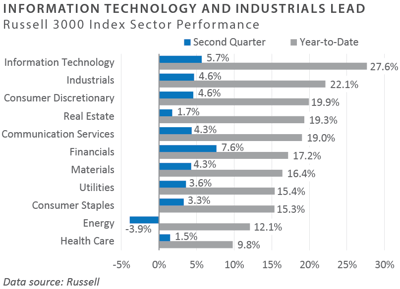 Fixed Income
The Fed continued its more dovish stance during the second quarter of 2019. Following the Fed's June meeting in which rates were left unchanged, Fed Chair Jerome Powell highlighted the Fed's intention to "act as appropriate to sustain the expansion" considering increased economic uncertainties, causing markets to anticipate potential rate cuts as early as July of this year. However, the strong jobs report released on July 5 slightly moderated expectations for a rate cut in the near term.

Additionally, the composition of the Fed may be shifting. On July 2, President Trump announced two additional nominees to serve on the Federal Open Market Committee (FOMC). Trump, who has on numerous occasions shared his views on monetary policy, has already appointed four of the five sitting appointed governors of the body.

10-year Treasury yields hovered at 2% at the end of June, after dropping over 40 basis points (bps) in the second half of the quarter as the market priced in potential rate cuts. While the 3-month/10-year spread remained in negative territory for a large part of the quarter, the 2-year/10-year spread nearly doubled quarter-over-quarter, increasing from 14 bps to 25 bps.

Although Japan has had lower yielding bonds for decades, the yield on the German bund — considered a benchmark for bonds in Europe — hit a historical low of -0.4% in July.¹ Additionally, French long-term bonds traded at 0% for the first time since inception in June and fell further in early July, drawing concerns that lower bund yields were causing investors to reach for yield elsewhere.

Weakening economic data in Europe caused the European Central Bank (ECB) to announce that it was considering several stimulus measures, including the resumption of its bond-buying program and further trimming of already negative rates.
¹ Bloomberg, L.P.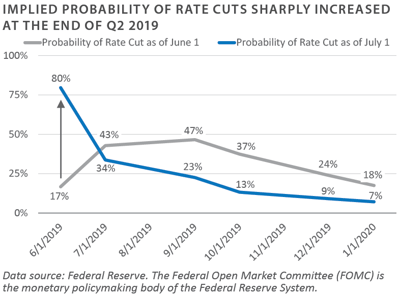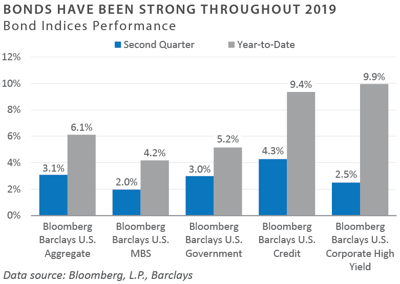 Real Assets
REAL ESTATE
During the second quarter, U.S. REITs benefited from stable economic growth, low unemployment, and low interest rates, which provided a favorable environment for real estate. The largest gains within REITs came from the industrial sector, which continues to benefit from growth in online retailing. Self-storage, residential, and data centers also outperformed.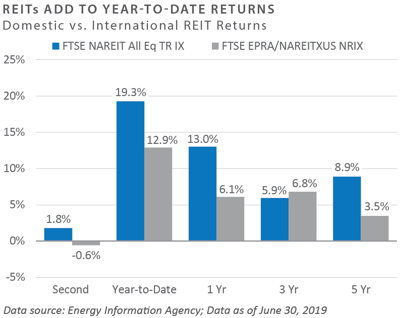 NATURAL RESOURCES
Oil prices continued to experience significant volatility during the second quarter due to concerns about the impact of trade wars on global economic growth and geopolitical tensions in the Middle East. Specifically, attacks on oil tankers in the Persian Gulf put upward pressure on prices, while concerns about record U.S. production and growing supply led to lower prices at quarter-end.




MASTER LIMITED PARTNERSHIPS

Midstream energy stocks benefitted from attractive relative yields and improving company fundamentals. Specifically, midstream companies now have lower leverage, higher distribution growth, and are less reliant on the equity markets to fund projects. The sector continues to attract private equity infrastructure buyers, as several midstream companies were taken private at a premium to their public values in 2019.

Diversifying Strategies

Mega deals in the U.S. set the pace for mergers and acquisitions (M&A) during the second quarter of 2019. Large U.S. companies took advantage of strong equity and debt capital markets to implement synergistic deals. The opportunity for M&A continues to be supportive given the strength of equity markets and the broader economy.

Trend following strategies enjoyed a strong quarter, mainly due to the emergence of trends in June. Long positions in interest rates and fixed income led the way, while long equity markets also contributed, following a rocky May.

Commodities were another source of profits for managers. Gold broke out of a recent trading band, climbing to its highest level since 2013. Lower global bond yields and a softer U.S. dollar sparked the rally. In addition, recent uptrends in crude oil aided performance due in part to increased U.S./Iran tensions and lower U.S. inventories.
DISCLOSURES
This report was prepared by FEG (also known as Fund Evaluation Group, LLC), a federally registered investment adviser under the Investment Advisers Act of 1940, as amended, providing non-discretionary and discretionary investment advice to its clients on an individual basis. Registration as an investment adviser does not imply a certain level of skill or training. The oral and written communications of an adviser provide you with information about which you determine to hire or retain an adviser. Fund Evaluation Group, LLC, Form ADV Part 2A & 2B can be obtained by written request directly to: Fund Evaluation Group, LLC, 201 East Fifth Street, Suite 1600, Cincinnati, OH 45202, Attention: Compliance Department.
The information herein was obtained from various sources. FEG does not guarantee the accuracy or completeness of such information provided by third parties. The information in this report is given as of the date indicated and believed to be reliable. FEG assumes no obligation to update this information, or to advise on further developments relating to it. FEG, its affiliates, directors, officers, employees, employee benefit programs and client accounts may have a long position in any securities of issuers discussed in this report.
Index performance results do not represent any managed portfolio returns. An investor cannot invest directly in a presented index, as an investment vehicle replicating an index would be required. An index does not charge management fees or brokerage expenses, and no such fees or expenses were deducted from the performance shown.
Neither the information nor any opinion expressed in this report constitutes an offer, or an invitation to make an offer, to buy or sell any securities.
Any return expectations provided are not intended as, and must not be regarded as, a representation, warranty or predication that the investment will achieve any particular rate of return over any particular time period or that investors will not incur losses.
Past performance is not indicative of future results.
Investments in private funds are speculative, involve a high degree of risk, and are designed for sophisticated investors.
All data is as of June 30, 2019 unless otherwise noted.
INDICES
The Alerian MLP Index is a composite of the 50 most prominent energy Master Limited Partnerships that provides investors with an unbiased, comprehensive benchmark for this emerging asset class.
Barclays Capital Fixed Income Indices is an index family comprised of the Barclays Capital Aggregate Index, Government/Corporate Bond Index, Mortgage-Backed Securities Index, and Asset-Backed Securities Index, Municipal Index, High-Yield Index, and others designed to represent the broad fixed income markets and sectors within constraints of maturity and minimum outstanding par value. See https://ecommerce.barcap.com/indices/index.dxml for more information.
The CBOE Volatility Index (VIX) is an up-to-the-minute market estimate of expected volatility that is calculated by using real-time S&P 500 Index option bid/ask quotes. The Index uses nearby and second nearby options with at least 8 days left to expiration and then weights them to yield a constant, 30-day measure of the expected volatility of the S&P 500 Index. FTSE Real Estate Indices (NAREIT Index and EPRA/NAREIT Index) includes only those companies that meet minimum size, liquidity and free float criteria as set forth by FTSE and is meant as a broad representation of publicly traded real estate securities. Relevant real estate activities are defined as the ownership, disposure, and development of income-producing real estate. See www.ftse.com/Indices for more information.
HFRI Monthly Indices (HFRI) are equally weighted performance indexes, compiled by Hedge Fund Research Inc. (HFX), and are used by numerous hedge fund managers as a benchmark for their own hedge funds. The HFRI are broken down into 37 different categories by strategy, including the HFRI Fund Weighted Composite, which accounts for over 2000 funds listed on the internal HFR Database. The HFRI Fund of Funds Composite Index is an equal weighted, net of fee, index composed of approximately 800 fund- of- funds which report to HFR. See www.hedgefundresearch.com for more information on index construction.
J.P. Morgan's Global Index Research group produces proprietary index products that track emerging markets, government debt, and corporate debt asset classes. Some of these indices include the JPMorgan Emerging Market Bond Plus Index, JPMorgan Emerging Market Local Plus Index, JPMorgan Global Bond Non-US Index and JPMorgan Global Bond Non-US Index. See www.jpmorgan.com for more information.
Merrill Lynch high yield indices measure the performance of securities that pay interest in cash and have a credit rating of below investment grade. Merrill Lynch uses a composite of Fitch Ratings, Moody's and Standard and Poor's credit ratings in selecting bonds for these indices. These ratings measure the risk that the bond issuer will fail to pay interest or to repay principal in full. See www.ml.com for more information.
Morgan Stanley Capital International – MSCI is a series of indices constructed by Morgan Stanley to help institutional investors benchmark their returns. There are a wide range of indices created by Morgan Stanley covering a multitude of developed and emerging economies and economic sectors. See www.morganstanley.com for more information.
Russell Investments rank U.S. common stocks from largest to smallest market capitalization at each annual reconstitution period (May 31). The primary Russell Indices are defined as follows: 1) the top 3,000 stocks become the Russell 3000 Index, 2) the largest 1,000 stocks become the Russell 1000 Index, 3) the smallest 800 stocks in the Russell 1000 Index become the Russell Midcap index, 4) the next 2,000 stocks become the Russell 2000 Index, 5) the smallest 1,000 in the Russell 2000 Index plus the next smallest 1,000 comprise the Russell Microcap Index. See www.russell.com for more information.
S&P 500 Index consists of 500 stocks chosen for market size, liquidity and industry group representation, among other factors by the S&P Index Committee, which is a team of analysts and economists at Standard and Poor's. The S&P 500 is a market-value weighted index, which means each stock's weight in the index is proportionate to its market value and is designed to be a leading indicator of U.S. equities, and meant to reflect the risk/return characteristics of the large cap universe. See www.standardandpoors.com for more information.
Information on any indices mentioned can be obtained either through your consultant or by written request to information@feg.com.