SIGNS?
During the first quarter of 2019, which offers the most recent data available, private markets posted solid results but were dramatically outpaced by public markets rebounding from a harsh fourth quarter of 2018.¹

While we highlight quarterly results, longer-term time periods are more relevant for these illiquid asset classes. As highlighted in the table, despite strong end-period bias, average private market returns have kept pace or bested public market returns over most longer time periods, with private real estate serving as the notable exception.

Across private capital sectors, fundraising and deal activity remains robust; however, FEG is mindful of increasing investor allocations toward private investing strategies and the increase in capital from non-traditional pools of capital — e.g., mutual funds, hedge funds, and others. As a result, ample capital is readily available across most private investing strategies. Excess capital presents a risk and investors should consider how these trends impact opportunities.
We are constantly looking for signs that the markets are overheated. It remains unclear how far purchase price multiples can creep — now above 12.5x for U.S. middle market buyouts² — before a setback reprices risk.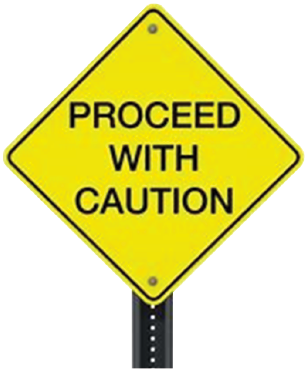 Private companies have an advantage over their public counterparts in developing new market opportunities and driving change, and their management teams and owners are strongly incented to perform. Historically, this formula has translated into premium returns. In recent periods, cheap money — in the form of low interest rates — has kept the party going by offsetting, in part, the impact of higher purchase price multiples.
Strategies have also evolved to buy down purchase prices through add-on acquisitions, and managers have increased their sophistication in deal sourcing and in implementing change. For now, while investors remain cautiously aware, there are no obvious signs that the private markets are in peril of losing their advantage.
FEG remains focused on select opportunities with experienced management teams overseeing smaller, agile funds, and the private markets continue to offer access to many dynamic industry trends. Technology has become ubiquitous. Software applications are being deployed in all industry sectors, particularly in the fin-tech and healthcare sectors; dynamic innovations are rapidly occurring in bio-tech; distribution channels have been disrupted impacting industrial real estate and creating distress in retail; and infrastructure demands in the communications and energy sectors continue to evolve in the face of growing data and continued development in domestic energy markets.
1 Thomson One, data as of March 31, 2019; Public market indices: Russell 2000, S&P 500, Barclays High Yield, Russell 3000 Energy Sector, FTSE NARIET All Equity.
2 S&P Leveraged Buyout Review – Second Quarter 2019.
Private Equity
Venture Capital
Executive Summary
Recent strong returns and significant capital flowing into venture funds and venture-backed companies have prompted some concern. Valuations continue to rise and hold periods can be significant. Certain structural changes are influencing the market, such as companies staying private longer; capital being sourced from non-traditional venture fund sources, such as public crossover investors or larger corporate investing; and the falling cost of scaling businesses. Performance has been strong but remains meaningfully unrealized for more recent vintage years. FEG remains cautious and continues to take a selective approach, generally favoring early-stage investments, where valuations have remained relatively stable compared to late-stage investments. Select opportunities exist in both technology and life science investments.
Fundraising and Investing
Globally, venture funds raised over $80 billion in commitments in 2018.¹ This was the largest amount raised since the peak of the technology bubble at the turn of the century and the fourth consecutive year that commitments to venture funds exceeded $50 billion. Fundraising in the first half of the year totaled $30 billion, which is down from last year's record level but in line with capital raised in recent years. Funds at the large end of the market have driven these dramatic increases. Nearly a third of U.S. venture capital commitments in 2019 went to funds over $1.0 billion, the second highest percentage in the last decade.


Investment Activity
Reflective of the fundraising environment and the longer hold periods, deal sizes and valuations have continued to increase. Deal sizes of over $50 million account for 60% of the capital invested thus far in 2019, similar to last year's record level.
Venture-backed companies received nearly $100 billion in funding in the first half of 2019, down from the record level in 2018 but still elevated compared to recent years. In their later stages, venture-backed companies receive funds from all types of investors, including mutual funds, hedge funds, corporate venture programs, and family offices, and amounts invested in these later-stage rounds far exceed amounts raised by venture funds.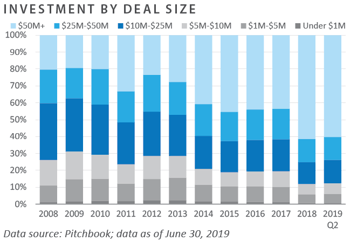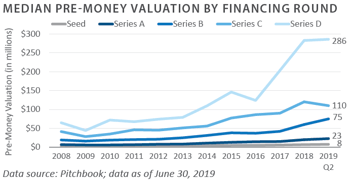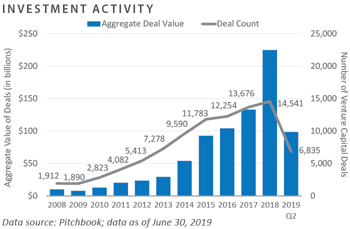 Exit Activity
The second quarter of 2019 marked the largest quarterly exit value in history thanks to several high-profile initial public offerings (IPOs) and robust acquisitions. Uber, Pinterest, Slack, and Zoom were some of the most notable public offerings in the second quarter. The post-offering performance was mixed, with Uber and Lyft struggling while Zoom and Beyond Meat saw meaningful gains above their listing price.

Notable for late-stage investors looking for a quick exit, early trading pushed Uber below its valuation in the last round of private financing.² However, it remains to be seen whether the company can manage its way to a higher valuation and reward these investors.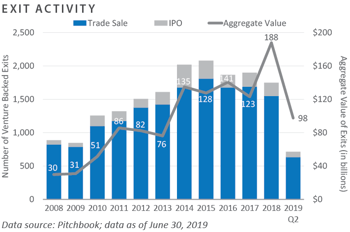 Performance
Venture fund performance by vintage year has risen steadily over the past decade. More recent vintages are not shown in the chart as they are not mature enough to reflect meaningful results. Much remains unrealized, as younger companies backed by venture funds take longer to mature. For example, the median DPI (distributed to paid-in capital) for venture capital funds raised in 2013 was 0.2x, while it was 0.1x for funds raised in 2014.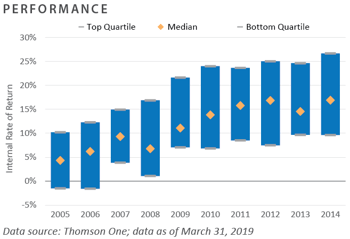 1 Pitchbook, data as of March 31, 2019.
2 Schleifer, Theodore, "Uber had a terrible first day as a public company. It might not matter at all," Vox.com, May 10, 2019..
Buyouts
Executive Summary
Near-record levels of available capital — i.e., dry powder — combined with elevated purchase price multiples are reason for concern within the buyout strategy. Fewer but larger funds are closing, pushing median and average fund sizes even higher. Increased competition, high valuations, and market volatility have started to negatively impact private equity-backed exit activity. Despite these trends, private equity fundraising remains constant and shows no sign of slowing down. Limited partners continue to allocate capital to leveraged buyout strategies, with the bulk of the capital in vehicles raising more than $1.0 billion in aggregate capital commitments. The proliferation of capital allocated to middle market strategies is likely to have an impact on the lower middle market in the form of higher valuations and increased deal activity. The number of transactions between private equity firms — i.e., secondary buyouts or sponsor-to-sponsor — is likely to increase. Given this backdrop, investors should remain cautious. Limited partners should continue to favor general partners with investment philosophies built on fundamental value and operational improvement — not financial engineering. Disciplined management teams with experience leading companies through multi-year macroeconomic cycles could benefit if/when the broader private equity market experiences a downturn.
Fundraising and Investing
Over the last 10 years, capital commitments have become more concentrated in the largest funds. Since 2008, the average global buyout fund raised has more than doubled from roughly $700 million to more than $1.5 billion.¹

Global fundraising for leveraged buyout strategies remains strong. As of June 30, 2019, global leveraged buyout funds raised roughly $143 billion of aggregate capital commitments.² At this pace, fundraising figures are on pace to surpass the $234 billion of commitments raised in 2018.³

Approximately $83 billion, or 58% of the capital, was raised by North American-focused buyout funds. An additional $38 billion, or 27% of the capital, was raised for European-focused funds.⁴ The rest of world represented approximately 15% of aggregate capital commitments raised. This is unsurprising given control equity transactions are more common in North America and Europe.⁵

Global private equity fundraising cycles remain shorter than in the past. In 2013, on average, the time between the final close of a predecessor and successor private equity fund was just over 59 months.⁶ Since then, there has been a year-on-year decrease in the average time between the final close dates of a predecessor and successor private equity fund. As of quarter-end, the average was 39 months.⁷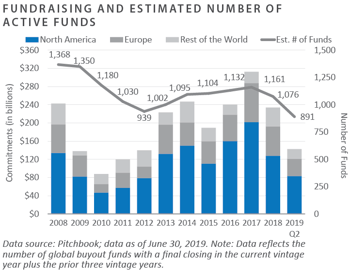 Investment Activity
As of June 30, 2019, the average purchase price multiple for middle market buyout transactions was 12.6x earnings before interest, taxes, depreciation, and amortization (EBITDA). Leverage ratios remained relatively constant.⁸ According to S&P Capital IQ, the average debt multiple for middle market leveraged buyouts (LBOs) was roughly 5.7x EBITDA, slightly below the 2007 peak of 5.8x EBITDA.⁹

Equity contributions in middle market transactions have grown to roughly 50%, reflecting the propensity of equity sponsors to overcapitalize investments.¹⁰ Contributions for large buyout transactions remained steady at roughly 42%.¹¹ For large market transactions, the peak was approximately 46% in 2009 when financing was scarce.¹² The low point was in 2006 when the ratio dipped to roughly 30%.¹³ It is important to note, however, that the S&P Capital IQ data only represents a sample set of leverage buyout transactions executed during a given time period.

Partially due to the current high-multiple environment, the "buy-and-build" strategy continues to proliferate because this strategy allows the buyer to average down the blended multiple. During the second quarter of 2019, for example, add-ons accounted for approximately 70% of all U.S.-based private equity transactions.¹⁴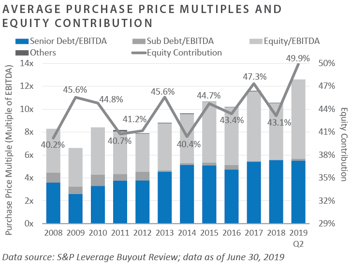 Exit Activity
During the first half of 2019, approximately $176 billion of proceeds were generated by 870 private equity-backed exits.¹⁵ Year-over-year aggregate value and volume grew 8.0% and 21.8%, respectively. Stability in the public equity markets likely contributed to the increase in exit activity.

Trade sales to strategic or financial acquirers represented the majority of global buyout-backed exits. IPOs accounted for roughly 5% of the aggregate number of exits.¹⁶ Several large IPOs occurred during the second quarter.

Since the global financial crisis, median hold periods of private equity investments increased from roughly four years to six years.¹⁷ Longer hold periods are likely due to private equity firms' increased emphasis on add-ons and operational improvements to drive value creation.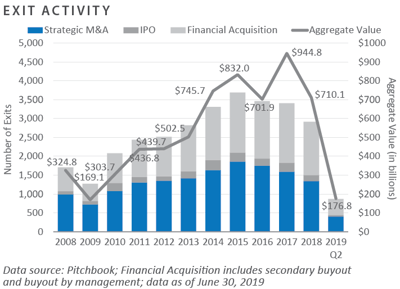 Performance
Performance in the first quarter has been strong. As of March 31, 2019, the 1, 3, 5, and 10-year time-weighted returns were 10.6%, 15.6%, 12.2%, and 15.6%, respectively.¹⁸


The dispersion of returns between top- and lower-quartile funds has consistently been over 800 basis points, demonstrating the importance of manager selection.



1-7 Pitchbook, data as of June 30, 2019.
8-13 S&P Leveraged Buyout Review – Second Quarter 2019.
14-16 Pitchbook, data as of June 30, 2019.
17 McKinsey & Company, "Private Markets Come of Age," February 2019.
18 Thomson One – Horizon Summary Report as of March 31, 2018.
Private Debt
Executive Summary
Direct lending strategies continue to overwhelm other private debt options but have begun to saturate the marketplace, as evidenced by waning demand from institutional investors. The growth in direct lending strategies in recent years has had a negative impact on pricing and covenant protection. Select managers are passing on more transactions than in previous years. Distressed fundraising remains soft relative to other private debt strategies. The market seems to have become complacent regarding the idea of a potential dislocation in the credit markets and investors appear to be waiting to see signs of real distress before allocating capital.
Fundraising
Private debt fundraising continued to slow in the second quarter, with the first half of 2019 well below the pace of the first half of 2018. Just 28 funds reached a final close in the second quarter, raising a combined $25 billion.¹

Private debt encompasses direct lending—in senior or uni-tranche form, mezzanine debt, distressed, special situations, or venture debt. Of the $25 billion in private debt funds closed in the second quarter of 2019, direct lending accounted for $11.9 billion (47%) of the capital.²

Looking at the first half of the year, there were a record 420 private debt funds in the market raising capital, with direct lending vehicles continuing to dominate.³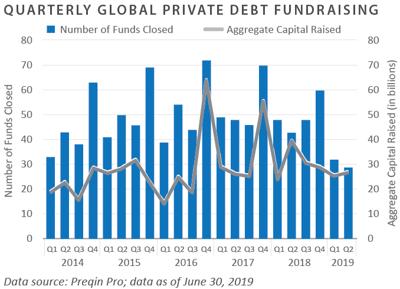 Fundamentals and Activity
Wide-open credit markets have been key to allowing deals to take place, as both public credit markets and private lending markets are open for business.

In middle market, LBO transactions debt multiples (debt/EBITDA) are holding at just below 2007 peak levels.

Recent purchase price multiples for middle market LBOs are above 2007 levels, at 12.6x as of the end of the second quarter.

Discussions with managers have revealed anecdotal evidence of pricing pressure and weaker covenants in the middle market as competition has increased. Specifically, managers are noting an increase in the number of deals on which they have passed or lost due to pricing discomfort.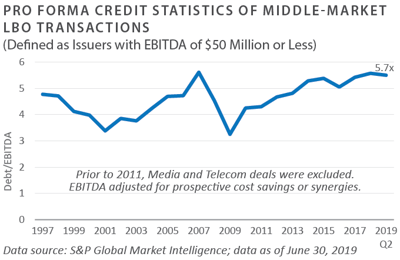 Distressed Update
U.S. credit markets were strong through Q2 2019, with high yield bonds already returning well above their coupon payments for the year due to strong investor demand. As a result, the distressed ratio — corporate bonds trading at 1000 basis points over U.S. Treasuries — remained low, suggesting a lack of distressed opportunities.


The European distressed opportunity set remains focused on non-performing loans, as various countries continue to dispose of assets at a measured pace. Despite continued uncertainty regarding the timing of Brexit, option-adjusted spreads for European high yield bonds remain at normal levels.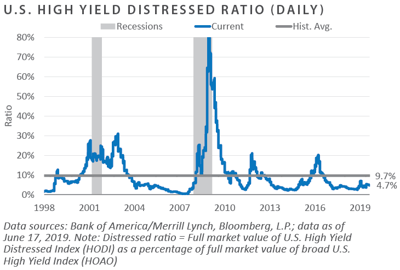 1-3 Preqin, Quarterly Update: Private Debt Q2 2019.
Private Real Estate
Executive Summary
It is now 10 years into the real estate market recovery. Despite cap rates being near record lows in many markets, commercial real estate continues to offer attractive yield spreads compared to 10-year government bonds. Given the low interest rate environment globally, real estate is attracting record levels of investment from institutional investors. Broad demographic trends continue to impact real estate, including the rise of online retailing—which has been negative for retail and positive for industrial—shared work environments (office sector), and limited options for first-time homebuyers driving demand for multi-family/apartment rentals. FEG maintains a cautious outlook on the broad commercial real estate markets and continues to focus on identifying managers with theme-based, opportunistic strategies and a bias towards more defensive, niche sectors.
Market Returns
Real estate values for "core" properties, as measured by the National Council of Real Estate Investment Fiduciaries (NCREIF) Property Index (NPI), experienced a one-year total return of 6.5% as of mid-year 2019. The value-weighted cap rate for the index rose slightly to 4.37% but remained at a near-record low. Occupancy increased to 94.3% in the prior quarter, the highest rate since the third quarter of 2000.¹

The industrial sector continued to outperform in both the private and public markets, with growth in demand for warehouse space from online retailers and shifting global. Alternatively, the retail sector lagged with the ongoing wave of store closures and bankruptcies continued to negatively impact property values in the retail sector.²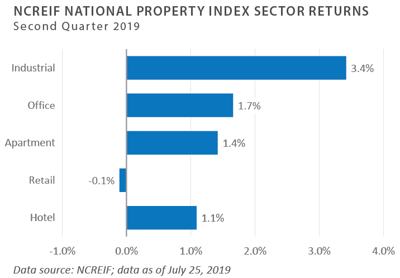 Market Trends
TRANSACTION VOLUME: U.S. commercial real estate transaction volume rose to $127 billion in the second quarter, up 2.3% year-over-year, with the apartment, office, and senior housing sectors leading overall sales volume. However, transaction volume for industrial, retail, and hotel declined year-over-year.³

DEALS: In early June, Singapore-based GLP and Blackstone announced an agreement in which Blackstone will acquire assets from three of GLP's U.S. funds for a purchase price of $18.7 billion. The deal points to the insatiable demand for industrial assets in the current market, driven in part by the growth of Amazon and other e-commerce companies. The overall transaction totaled 179 million sq. ft. of urban and infill logistics assets, nearly doubling the size of Blackstone's existing U.S. industrial footprint.⁴ Notably, Blackstone outbid public industrial REIT ProLogis for the portfolio, which, as a public REIT, should have a significantly lower cost of capital than an opportunistic private real estate fund.⁵

RETAIL: Retail store closings, which are estimated at over 6,000 year-to-date, have accelerated relative to 2018 and bankruptcies have continued. The impact on property values has been most significant at malls and power centers, with the decline in retail real estate values impacting even those areas of retail previously viewed as immune to disruption. In the second quarter, retail transaction volume totaled $14.6 billion, down 32.2% year-over-year.⁶ Generally, the most populated U.S. cities reported the highest sales activity, with Manhattan, Los Angeles, Dallas, and Chicago leading in total sales volume.

INDUSTRIAL: Industrial remains the top-performing property type, driven by demand from institutional investors for warehouse assets — for example Blackstone, as previously noted — with growth in online shopping reconfiguring supply chains and demand especially high in urban areas around large cities, where e-commerce is more concentrated. In most U.S. markets, vacancy rates remained at historically low levels, with rent growth above the long-term average.⁷

APARTMENT: The national vacancy rate for multifamily fell 60 basis points to 4.0% as of mid-year, while effective rent growth reached 2.9%. Lagging home sales and strong new household formation continue to drive rental demand.⁸ High costs and lower inventory of for-sale single-family homes has been a headwind for first-time buyers. Net absorption in the apartment sector continues to outpace new supply by a wide margin and annual effective rent growth reached 2.9%, in-line with the prior two quarters.⁹


Fundraising
A total of 47 private real estate funds closed in the second quarter, raising $29 billion. This was a significant decrease from the $46 billion raised in the first quarter and represents a five-year low. Fundraising in the second quarter was also lower than the same period in 2018 when 115 funds raised a combined total of $38 billion.¹⁰

Dry powder — committed and undeployed capital — held by private real estate funds stood at a record $319 billion as of mid-year 2019. There were also a record 797 private real estate funds in the market as of mid-year 2019, seeking a total of $253 billion. This was up significantly from the beginning of the year, when there were 634 funds in the market.¹¹

Large funds continue to dominate the landscape, with Blackstone closing on its latest opportunistic real estate fund at $20 billion in the first quarter and Brookfield completing fundraising on its third global flagship real estate fund with $15 billion in capital commitments.¹² Factoring in leverage, these funds will have buying power in excess of $70 billion. The trend toward fewer but larger funds is evident across the private capital landscape.

1, 2 NCREIF, July 25, 2019.
3 Real Capital Analytics, Global Capital Trends, Second Quarter 2019.
4 ,12 www.blackstone.com.
5 Northwood Liquid Management, LP Second Quarter 2019 Letter."
6, 8, 9 Clarion Partners U.S. Quarterly Market Update: Q2 2019.
7 Cushman & Wakefield, US Industrial MarketBeat, Second Quarter 2019.
10, 11 Preqin, July 2019.
Natural Resources
Executive Summary
The U.S. energy environment continues to evolve, with record levels of production and volatile commodity prices for the foreseeable future. Private energy funds face multiple challenges and will need to adapt to changing market conditions and investor expectations. Performance for energy funds that deployed capital during the downturn of 2015-2016 has been strong, but many deals remain unrealized. Moreover, the strategies pursued by private energy funds will need to evolve to reflect the current environment and will likely involve longer holding periods and fewer quick realizations. Within private energy, the operator fund model — with its focus on acquisition and management of proven, developed, producing reserves — is less reliant on asset sales and instead generates returns largely from production cash flow. This model has been effective over multiple commodity price cycles, although these funds tend to be more directly impacted by commodity price movements. FEG focuses on managers who understand these factors and have integrated them into their investment strategies to remain competitive in the current market.
Oil Prices
Following a 32% gain during the first quarter of 2019, oil prices declined 2.8% in the second quarter to close at $58.47/barrel, compared to $60/barrel at the end of the first quarter.¹ Key factors impacting prices during the quarter included ongoing concerns about the trade war with China, which pushed prices lower, and geopolitical uncertainty in the Middle East, including tensions with Iran. Additionally, U.S. oil production surpassed 12 million barrels/day, raising concerns about potential oversupply.²

In early July, OPEC extended the production cut agreement from late 2018 through March 2020 with the goal of keeping global oil inventories stable at five-year average levels. OPEC's agreement in late 2018 to cut production effectively took 1.2 million barrels a day out of the global market during the first part of the year, bolstering prices.³
Natural Gas Prices
Natural gas prices continue to be negatively impacted by growth in supply and inventories, driven in part by U.S. associated gas production, or natural gas produced as a result of oil drilling. For the second quarter, natural gas prices declined 13.3%, finishing at $2.31/MMbtu compared to $2.66/MMbtu at the end of the first quarter.⁴

The U.S. Energy Information Administration reported in mid-June that domestic supplies of natural gas rose by 115 billion cubic feet, above the average forecast of an increase of 104 billion cubic feet. Total stocks now stand at 2.2 trillion cubic feet, up 209 billion cubic feet from a year ago but still below the five-year average.⁵ On the demand side, exports of U.S.-produced liquefied natural gas (LNG) is an emerging factor for U.S. natural gas, as countries seeking to reduce carbon dioxide emissions see natural gas as the most readily available alternative to coal.

In the U.S., multi-year lower prices for natural gas prices are impacting the coal industry, with three coal companies filing for bankruptcy since May.⁶ Coal cannot compete with natural gas prices at current levels. Natural gas prices continued to fall through July despite a heat wave that led to increased demand at power plants. Natural gas futures were trading near $2/MMbtu as of early August.
The Private Energy Landscape
In July, FEG published "Boom to Bust to Recovery: The Evolving U.S. Energy Landscape", a Research Insights piece outlining our views on the current energy environment. Among the key points of the paper are the pressures facing the private equity energy model, as the industry continues to face distress and bankruptcies as a result of the downturn in commodity prices that began nearly five years ago. These issues are impacting all facets of the business — from capital raising to exits — as well as potential returns for investors. The following is a brief analysis of the current environment as of mid-year 2019.
MERGERS AND ACQUISITIONS: After falling to a 10-year low in the first quarter, U.S. energy sector deal activity rebounded in the second quarter to reach $65 billion; however, almost all of the total value was from Occidental Petroleum's corporate purchase of Anadarko for $55 billion. In April, Chevron announced a plan to acquire Anadarko for a total consideration of $50 billion, but was subsequently outbid by Occidental Petroleum, who agreed to acquire the company for $55 billion.⁷ Excluding this transaction, the merger and acquisition market remained slow, with only $7.6 billion in total deal value, which is roughly half the 2017-2018 average quarterly value.⁸ Public energy companies continued their efforts to preserve cash flow, resulting in limited appetite for capital raises in the debt/equity markets. Corporate consolidation and the demand for royalty/minerals assets remain the key themes in the industry.
DRILLING ACTIVITY: According to data from Baker Hughes, the total U.S. oil and gas rig count decreased 3.9% during the second quarter to 967 rigs. This total rig count represented a decrease of 7.6% on a year-over-year basis. The U.S. total oil rig count decreased from 816 rigs to 793 at quarter-end. From a longer-term perspective, the U.S. oil rig count peaked at 1,600 in the third quarter of 2014.⁹
PRIVATE ENERGY FUNDS: The natural buyers of private equity-backed energy companies, which historically included public E&P companies and upstream Master Limited Partnerships (MLPs), are now either gone or are not actively looking to acquire acreage positions. The decline in oil prices combined with energy companies' move toward greater capital discipline — e.g., preserving cash and paying down debt — has resulted in diminished demand for assets held by private equity-backed firms. Additionally, there is a glut of management teams and an oversupply of assets for sale. By one estimate, there are over 400 private equity-backed portfolio companies — 155 in the Permian alone — with more than $100 billion in private equity dry powder currently available.¹⁰ Thus, the long-term sustainability of some of these PE-backed companies is questionable.
1, 2, 4, 5 www.eia.gov, June 30, 2019.
3 Wald, Ellen, "Big OPEC Meeting, Little Movement From Oil Prices", Forbes, July 1, 2019.
6 Cunningham, Nick, "Why Natural Gas Prices Collapsed", July 04, 2019, Oil Price.com.
7 Hiller, Jennifer, "Anadarko shareholders go for the cash in $38 billion Occidental buyout", Reuters, August 9, 2019.
8 EnCap Quarterly Letter – August 2019.
9 www.bhge.com, June 30, 2019.
10 Grey Rock Energy Partners – March 31, 2019.

INDICES
Bloomberg Barclays US Corporate High Yield Index represents the universe of fixed rate, non-investment grade debt. Eurobonds and debt issues from countries designated as emerging markets are excluded but, Canadian and global bonds (SEC registered) of issuers in non-EMG countries are included. The index includes the corporate sectors: Industrials, Utilities, and Finance, encompassing both US and non-US Corporations. See www.bloomberg.com for more information
The Russell Indices are constructed by Russell Investment, There are a wide range of indices created by Russell covering companies with different market capitalizations, fundamental characteristics, and style tilts. See www.russellinvestments.com for more information.
The FTSE NAREIT Composite Index (NAREIT) includes only those companies that meet minimum size, liquidity and free float criteria as set forth by FTSE and is meant as a broad representation of publicly traded REIT securities in the U.S. Relevant real estate activities are defined as the ownership, disposure, and development of income-producing real estate. See www.ftse.com/Indices for more information. The S&P 500 Index is capitalization-weighted index of 500 stocks.
The S&P 500 Index is designed to measure performance of the broad domestic economy through changes in the aggregate market value of 500 stocks representing all major industries.
The NCREIF Property Index is a quarterly time series composite total rate of return measure of investment performance of a very large pool of individual commercial real estate properties acquired in the private market for investment purposes only.
HFRI ED: Distressed/Restructuring Index
Distressed/Restructuring strategies which employ an investment process focused on corporate fixed income instruments, primarily on corporate credit instruments of companies trading at significant discounts to their value at issuance or obliged (par value) at maturity as a result of either formal bankruptcy proceeding or financial market perception of near term proceedings. Managers are typically actively involved with the management of these companies, frequently involved on creditors' committees in negotiating the exchange of securities for alternative obligations, either swaps of debt, equity or hybrid securities. Managers employ fundamental credit processes focused on valuation and asset coverage of securities of distressed firms; in most cases portfolio exposures are concentrated in instruments which are publicly traded, in some cases actively and in others under reduced liquidity but in general for which a reasonable public market exists. In contrast to Special Situations, Distressed Strategies employ primarily debt (greater than 60%) but also may maintain related equity exposure.
Information on any indices mentioned can be obtained either through your consultant or by written request to information@feg.com.


DISCLOSURES
This report was prepared by Fund Evaluation Group, LLC (FEG), a federally registered investment adviser under the Investment Advisers Act of 1940, as amended, providing non-discretionary and discretionary investment advice to its clients on an individual basis. Registration as an investment adviser does not imply a certain level of skill or training. The oral and written communications of an adviser provide you with information about which you determine to hire or retain an adviser. Fund Evaluation Group, LLC, Form ADV Part 2A & 2B can be obtained by written request directly to: Fund Evaluation Group, LLC, 201 East Fifth Street, Suite 1600, Cincinnati, OH 45202, Attention: Compliance Department.

The information herein was obtained from various sources. FEG does not guarantee the accuracy or completeness of such information provided by third parties. The information in this report is given as of the date indicated and believed to be reliable. FEG assumes no obligation to update this information, or to advise on further developments relating to it. FEG, its affiliates, directors, officers, employees, employee benefit programs and client accounts may have a long position in any securities of issuers discussed in this report.

Index performance results do not represent any managed portfolio returns. An investor cannot invest directly in a presented index, as an investment vehicle replicating an index would be required. An index does not charge management fees or brokerage expenses, and no such fees or expenses were deducted from the performance shown.

Neither the information nor any opinion expressed in this report constitutes an offer, or an invitation to make an offer, to buy or sell any securities.
Any return expectations provided are not intended as, and must not be regarded as, a representation, warranty or predication that the investment will achieve any particular rate of return over any particular time period or that investors will not incur losses.
Past performance is not indicative of future results.

Investments in private funds are speculative, involve a high degree of risk, and are designed for sophisticated investors.

An investor could lose all or a substantial amount of his or her investment. Private capital funds' fees and expenses may offset private capital funds' profits. Private capital funds are not required to provide periodic pricing or valuation information to investors except as defined in the fund documents. Private capital funds may involve complex tax structures and delays in distributing important tax information. Private capital funds are not subject to the same regulatory requirements as mutual funds. Private capital funds are not liquid and require investors to commit to funding capital calls over a period of several years; any default on a capital call may result in substantial penalties and/or legal action. Private capital fund managers have total authority over the private capital funds. The use of a single advisor applying similar strategies could mean lack of diversification and, consequently, higher risk.

All data is as of June 30, 2019 unless otherwise noted..