After briefly dipping into deflationary territory in 2015, U.S. inflation rates have since accelerated, with some measures reflecting the most robust inflationary backdrop since the economy was in the early recovery stages of the deflationary grips of the Global Financial Crisis (GFC). In August, the majority of global risk sectors generated positive returns, particularly domestically, while performance across many risky corners of the international investment landscape was challenged amid growing trade war pressures, sharp currency declines, and a coordinated removal of global central bank liquidity. Fixed income returns were generally positive across both rate and credit-sensitive sectors. In real assets, real estate investment trusts (REITs) posted strong performance and energy infrastructure assets experienced continued positive momentum.


Economic Update
U.S. Inflation (Finally) on the Rise
The Federal Reserve (Fed) embarked on a large-scale expansion of their balance sheet through numerous quantitative easing programs in the years following the 2007-2009 Global Financial Crisis. This economic rescue mission was met with substantial criticism, particularly among those market participants that assumed these hyper-stimulative measures would lead to runaway inflation, which never ultimately materialized. What did materialize, however, was a goldilocks period of subdued inflation, declining interest rates, and substantial upward price momentum across many key domestic risk sectors.
Fast forwarding to today, headline inflation rates in the U.S. have since increased to (near) post-GFC highs as energy prices have rebounded and late-business cycle fiscal stimulus has had the opportunity to transmit throughout the economy. The Fed's preferred gauge of inflation, the core PCE index, has increased to the 2% targeted level, while headline PCE inflation has risen to the highest level since March 2012.

Rising domestic inflation rates bode well for the Fed's plans to continue their tightening path, as they find comfort in the fact that their removal of policy accommodation has coincided with a period of domestic strength. Unfortunately for those economies that continue to rely on USD-based funding sources to maintain their respective economic engines, the Fed's removal of liquidity may serve as a cyclical tailwind behind the USD's recent appreciation, fueling funding strains abroad. This dynamic has the potential to be exacerbated by the growing unease around the possibility of global trade wars, which will likely serve as a growth headwind for economic zones that are sensitive to fluctuations in U.S. demand growth.
While near-term inflation rates are likely to continue ascending, longer-term structural headwinds should help keep a lid on runaway inflationary concerns. Notably, a growing federal debt burden, historically weak productivity growth, declining population growth, an aging demographic, and a structural shift away from public sector investment spending in favor of social benefit expenditures should serve as both growth and inflation-constraining forces over the long run.
Spending on social benefits—which encompass Federally-mandated expenditures across Social Security, Medicare, Medicaid, unemployment insurance, and supplemental nutrition assistance (among others)—now comprises more than $0.70 of each dollar the government spends, versus the historical average of $0.40. This growing societal trend helps crowd out expenditures that otherwise could be directed toward more GDP growth-productive channels, such as investment spending on physical capital, research and development education, and training, to name a few.

To summarize, U.S. inflation appears to finally be trending higher, with late-cycle fiscal stimulus, a notably tight labor market, rebounding energy prices, and strengthening economic conditions supporting the recent acceleration. The persistence of this recent rise is likely to encounter meaningful resistance in the coming years, with leverage at the Federal level continuing to rise, demographic headwinds that appear growth-restricting, and a societal shift away from public sector investment spending in favor of social benefit outlays all serving as disinflationary forces.
Market Returns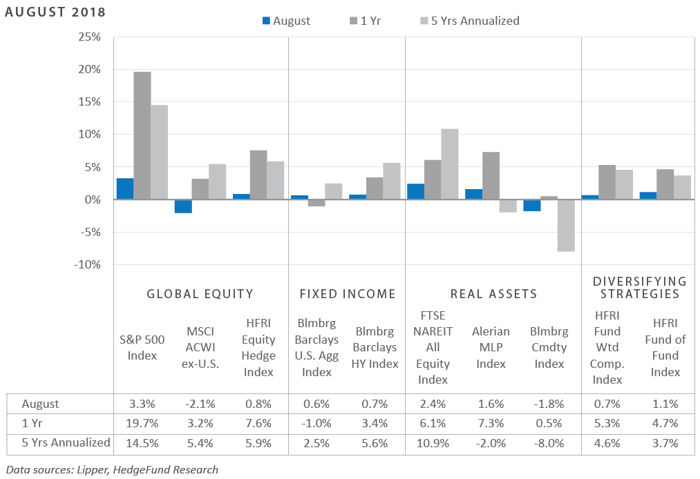 Global Equity
August and September have historically provided weak stock market returns—coined the "August Effect"—on speculation that as the summer ends, investors are ready to lock in gains, as well as tax losses, before year-end This year was no exception, as markets experienced geopolitical woes including the reintroduction of U.S. sanctions on Iran, turmoil in Turkey, and continued trade tensions between the U.S. and China.
Most equity markets across the globe declined, except for those in the U.S., where stocks rose on strong economic data and earnings growth.
GDP growth in the U.S. for the second quarter was strong, specifically from the growth of net trade and consumption components. Additionally, a strong labor market and ongoing benefits from tax reform continued to aid consumers, evidenced by stronger-than-expected retail sales for July.
The leadership of the technology sector did not diminish during August, as investors have come to understand that the benefits of asset repatriation and tax cuts have led to investment in new projects, especially in software, that otherwise may not have occurred.
Europe experienced strong fundamental growth during the month of August, with second quarter GDP revised upwards and a rise in headline inflation of approximately 2%. Politics overshadowed the positive fundamentals in Europe, as investors experienced volatility within the region. The United Kingdom continued negotiations with the European Union and the Italian government faced pressure on their fiscal budget, both of which put pressure on equity returns in the region.
Emerging markets continued to lag due to trade tensions and the National Defense Authorization Act, which was signed by President Trump during the second week of August, and received relatively little media attention. Although the Act was not targeted specifically at China, it is expected to hinder the country's investors' abilities to invest in the United States.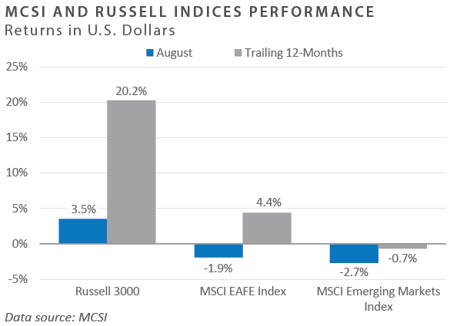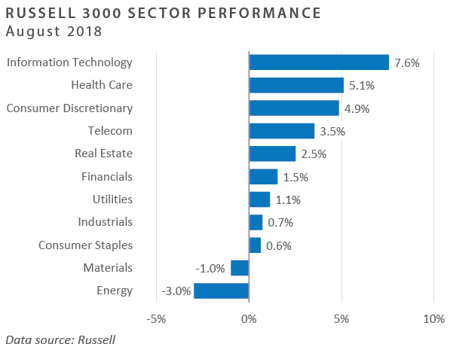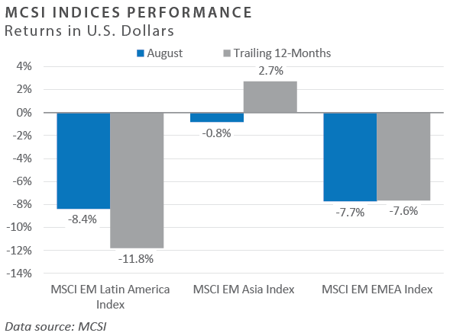 Fixed Income
The Federal Reserve (Fed) maintained their stance for keeping the federal funds rate at 1.75%-2.0% in their July 31-August 1 meeting. The minutes for the Fed's fifth meeting of the year, released in late August, suggest that future rate hikes will depend on the Fed's assessment of realized and expected economic conditions relative to their dual objectives. The markets, however, are signaling an expectation of future rate increases.
At the 2018 Economic Symposium in Jackson Hole, WY, Fed Chair Jerome Powell focused on communicating the Fed's stance on policy decision-making amidst the uncertainty of economic data.
Higher U.S. interest rates have played a role in increasing pressure on emerging market (EM) economies with higher external vulnerabilities, resulting in significant pressure on EM currencies.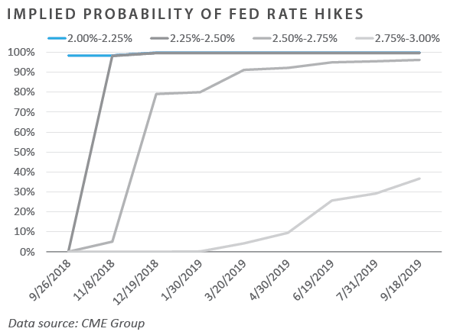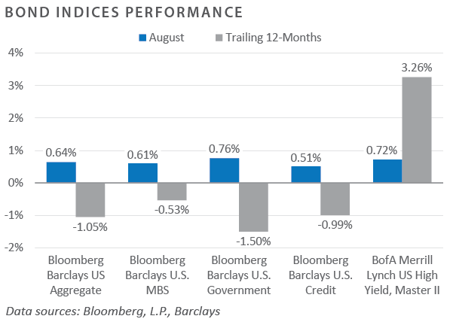 Real Assets
REAL ESTATE
U.S. REIT's showed robust gains in August, rising 2.4%, with residential, diversified, health care, and office REITs posting the strongest returns. Conversely, the only negative returning sectors were self-storage and regional mall REITs, which declined 1.7% and 1.0%, respectively. Health care REITs saw gains due to improving sentiment regarding senior housing and skilled nursing fundamentals as well as strong private capital interest in medical office and senior housing assets. Additionally, retail REITs benefitted from an improving retail environment with strong earnings and fewer bankruptcies.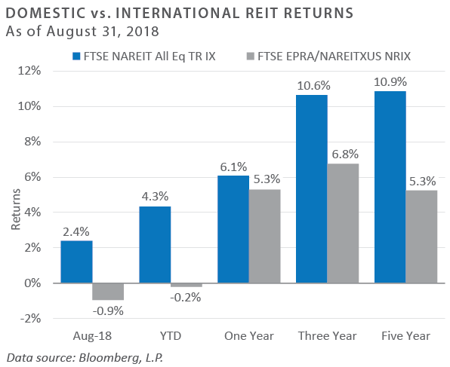 NATURAL RESOURCES
Crude oil prices rebounded from declines in the prior month, extending this year's gain on disruptions in crude supply from Iran and Venezuela and after a fall in U.S. inventories. During the month there were reports that Iranian tanker loading had decreased by over 500,000 barrels per day, a decline that exceeded the expected decrease. October WTI crude futures topped $70 per barrel for the first time since July, increasing 1.1% to settle at $70.25 per barrel, while October Brent crude increased 0.8% to $77.77 per barrel.

Meanwhile, natural gas futures ended the month with a modest gain after the Energy Information Administration reported that U.S. inventories rose by 70 billion cubic feet for the week ended Aug. 24, which was higher than the expected 64 billion cubic feet analyst consensus.

Commodity prices continued to decline throughout August, with the broader agriculture and soft metals sectors posting the toughest declines. Investor uncertainty remained in agriculture, as there was doubt as to whether Mexico and the U.S. could reach a trade agreement. Additionally, the sector continued to watch pork supply in China as the African Swine Fever has begun to spread throughout their supply. Notably, two main cocoa exporters have withdrawn their buyers from Cameroon due to concessions demanded from splinter groups.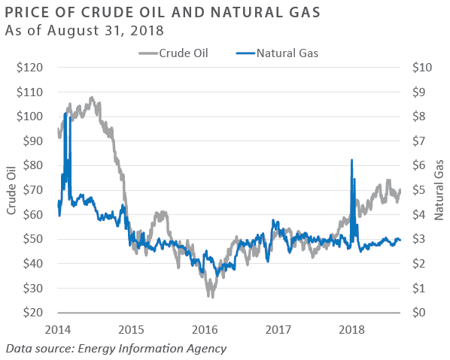 Diversifying Strategies
Concerns over Turkey's large and seemingly unsustainable levels of external debt sent the country's risk assets plummeting. Spillover effects also rippled across emerging markets. Political issues and economic balances added to the headwinds in Brazil and Argentina. As a result, hedge fund managers focused on emerging markets strategies tended to struggle during the month.

Systematic macro indices generated strong performance, driven by trend following strategies. Continued strength in the U.S. dollar and weakness in the commodities complex created tailwinds for strategies with a momentum component.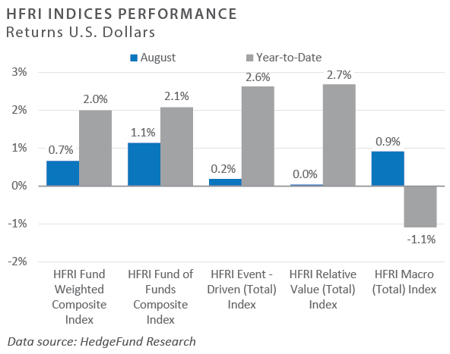 DISCLOSURES
This report was prepared by FEG (also known as Fund Evaluation Group, LLC), a federally registered investment adviser under the Investment Advisers Act of 1940, as amended, providing non-discretionary and discretionary investment advice to its clients on an individual basis. Registration as an investment adviser does not imply a certain level of skill or training. The oral and written communications of an adviser provide you with information about which you determine to hire or retain an adviser. Fund Evaluation Group, LLC, Form ADV Part 2A & 2B can be obtained by written request directly to: Fund Evaluation Group, LLC, 201 East Fifth Street, Suite 1600, Cincinnati, OH 45202, Attention: Compliance Department.
The information herein was obtained from various sources. FEG does not guarantee the accuracy or completeness of such information provided by third parties. The information in this report is given as of the date indicated and believed to be reliable. FEG assumes no obligation to update this information, or to advise on further developments relating to it. FEG, its affiliates, directors, officers, employees, employee benefit programs and client accounts may have a long position in any securities of issuers discussed in this report.
Index performance results do not represent any managed portfolio returns. An investor cannot invest directly in a presented index, as an investment vehicle replicating an index would be required. An index does not charge management fees or brokerage expenses, and no such fees or expenses were deducted from the performance shown.
Neither the information nor any opinion expressed in this report constitutes an offer, or an invitation to make an offer, to buy or sell any securities.
Any return expectations provided are not intended as, and must not be regarded as, a representation, warranty or predication that the investment will achieve any particular rate of return over any particular time period or that investors will not incur losses.
Past performance is not indicative of future results.
Investments in private funds are speculative, involve a high degree of risk, and are designed for sophisticated investors.
All data is as of August 31, 2018 unless otherwise noted.
INDICES
The Alerian MLP Index is a composite of the 50 most prominent energy Master Limited Partnerships that provides investors with an unbiased, comprehensive benchmark for this emerging asset class.
Barclays Capital Fixed Income Indices is an index family comprised of the Barclays Capital Aggregate Index, Government/Corporate Bond Index, Mortgage-Backed Securities Index, and Asset-Backed Securities Index, Municipal Index, High-Yield Index, and others designed to represent the broad fixed income markets and sectors within constraints of maturity and minimum outstanding par value. See https://ecommerce.barcap.com/indices/index.dxml for more information.
The CBOE Volatility Index (VIX) is an up-to-the-minute market estimate of expected volatility that is calculated by using real-time S&P 500 Index option bid/ask quotes. The Index uses nearby and second nearby options with at least 8 days left to expiration and then weights them to yield a constant, 30-day measure of the expected volatility of the S&P 500 Index. FTSE Real Estate Indices (NAREIT Index and EPRA/NAREIT Index) includes only those companies that meet minimum size, liquidity and free float criteria as set forth by FTSE and is meant as a broad representation of publicly traded real estate securities. Relevant real estate activities are defined as the ownership, disposure, and development of income-producing real estate. See www.ftse.com/Indices for more information.
HFRI Monthly Indices (HFRI) are equally weighted performance indexes, compiled by Hedge Fund Research Inc. (HFX), and are used by numerous hedge fund managers as a benchmark for their own hedge funds. The HFRI are broken down into 37 different categories by strategy, including the HFRI Fund Weighted Composite, which accounts for over 2000 funds listed on the internal HFR Database. The HFRI Fund of Funds Composite Index is an equal weighted, net of fee, index composed of approximately 800 fund- of- funds which report to HFR. See www.hedgefundresearch.com for more information on index construction.
J.P. Morgan's Global Index Research group produces proprietary index products that track emerging markets, government debt, and corporate debt asset classes. Some of these indices include the JPMorgan Emerging Market Bond Plus Index, JPMorgan Emerging Market Local Plus Index, JPMorgan Global Bond Non-US Index and JPMorgan Global Bond Non-US Index. See www.jpmorgan.com for more information.
Merrill Lynch high yield indices measure the performance of securities that pay interest in cash and have a credit rating of below investment grade. Merrill Lynch uses a composite of Fitch Ratings, Moody's and Standard and Poor's credit ratings in selecting bonds for these indices. These ratings measure the risk that the bond issuer will fail to pay interest or to repay principal in full. See www.ml.com for more information.
Morgan Stanley Capital International – MSCI is a series of indices constructed by Morgan Stanley to help institutional investors benchmark their returns. There are a wide range of indices created by Morgan Stanley covering a multitude of developed and emerging economies and economic sectors. See www.morganstanley.com for more information.
Russell Investments rank U.S. common stocks from largest to smallest market capitalization at each annual reconstitution period (May 31). The primary Russell Indices are defined as follows: 1) the top 3,000 stocks become the Russell 3000 Index, 2) the largest 1,000 stocks become the Russell 1000 Index, 3) the smallest 800 stocks in the Russell 1000 Index become the Russell Midcap index, 4) the next 2,000 stocks become the Russell 2000 Index, 5) the smallest 1,000 in the Russell 2000 Index plus the next smallest 1,000 comprise the Russell Microcap Index. See www.russell.com for more information.
S&P 500 Index consists of 500 stocks chosen for market size, liquidity and industry group representation, among other factors by the S&P Index Committee, which is a team of analysts and economists at Standard and Poor's. The S&P 500 is a market-value weighted index, which means each stock's weight in the index is proportionate to its market value and is designed to be a leading indicator of U.S. equities, and meant to reflect the risk/return characteristics of the large cap universe. See www.standardandpoors.com for more information.
Information on any indices mentioned can be obtained either through your consultant or by written request to information@feg.com.