The Federal Reserve (Fed) lowered interest rates at their October policy meeting, representing the third consecutive cut amid an ongoing adjustment in the Fed's level of accommodation. The combination of lower policy rates, renewed increases to the size of the Fed's balance sheet, and positive Brexit developments helped send the global exchange rate value of the U.S. dollar lower in October. Rising interest rates beyond the short end of the curve in the U.S., as well as steepening sovereign yield curves globally, accompanied the decline in the greenback. Concurrently, near-term recessionary risks appear to have abated in October. Accommodative financial conditions and forward-based measures reflect a similar bias over the coming quarters, supporting the shift in sentiment.

Global equities witnessed broad-based strength, particularly in international markets, with anticipation of a successful "phase one" trade deal between the U.S. and China underpinning the strong performance. Fixed income returns were modestly positive except for slight negative performance in bank loans, which have generally failed to keep pace with the rest of the bond market this year. Performance across real assets was mixed, with generally strong performance across the asset category—particularly international REITs—but notably poor performance in energy infrastructure.
Economic Update
Federal Reserve Cuts Interest Rates Below 2%
At their late October policy meeting, the Fed lowered the federal funds rate (FFR) by 25 basis points (bps), bringing the new upper bound on the targeted FFR level to 1.75% and representing the third decrease to this key interest rate so far this year. Market-based estimates, such as those implied by prices on Fed funds futures, point to muted odds of a fourth rate cut at the Fed's final meeting of 2019, slated to take place in mid-December.
In addition to applying downward pressure to borrowing costs through cuts to the FFR, the Fed's continued intervention in the Treasury repo market has resulted in a nearly $300 billion increase in the size of the Fed's balance sheet since August, a process of which is expected to persist through at least January 2020. The combination of rate cuts, an expanding balance sheet, and cautious forward guidance have helped allay fears of a near-term secular inflection in the business cycle or an abatement of the ongoing equity rally.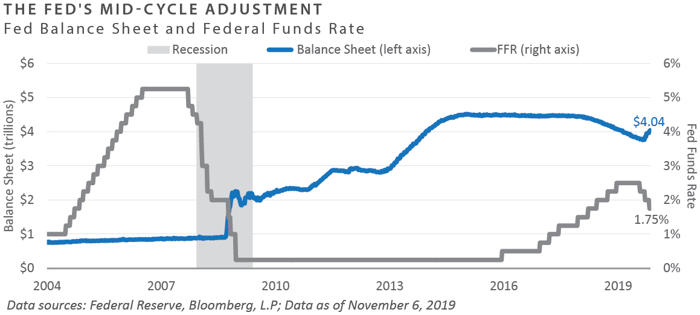 Looser monetary conditions, progress on the Brexit front, and waning safe-haven demand for safe-haven assets helped send the value of the dollar lower during the month, as the ICE U.S. Dollar Index declined 2.0% from September, the worst monthly decline for the dollar since January of last year. Despite the sizable move lower in October, the dollar continued to appear expensive, at one standard deviation above its historical downward trend.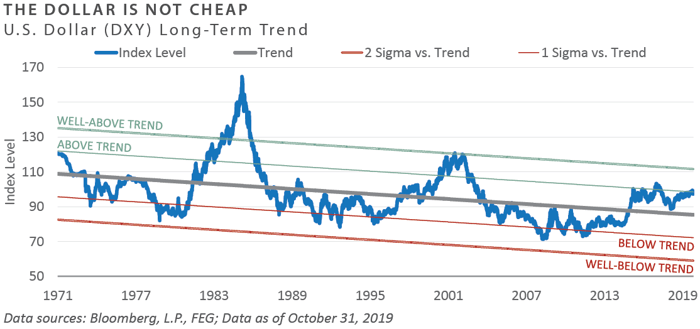 The depreciation of the dollar in October aided in driving impressive performance across international equity markets, while also supporting the increase in both Treasury interest rates and the slope of the yield curve.
With a current policy rate below 2% and a balance sheet already north of $4 trillion, the Fed's stimulative efforts in the next downturn may require far more scale and creativity, potentially serving, in turn, as a primary headwind to the dollar over the secular horizon. In the currency markets, however, one country's currency weakness is another's strength. With economic growth and inflation rates generally below trend, and trade pressures abundant, the prospect of sharply appreciating currencies globally is expected to be met with meaningful resistance across much of the developed world.
To summarize, the Fed lowered interest rates for the third time in 2019 at their October policy meeting, with forward estimates pointing to the potential for one more 25 basis point cut over the next 12 months. A material move lower in the dollar helped support strong performance across risk assets, particularly abroad, but the dollar continued to appear expensive on a historical basis.
Market Returns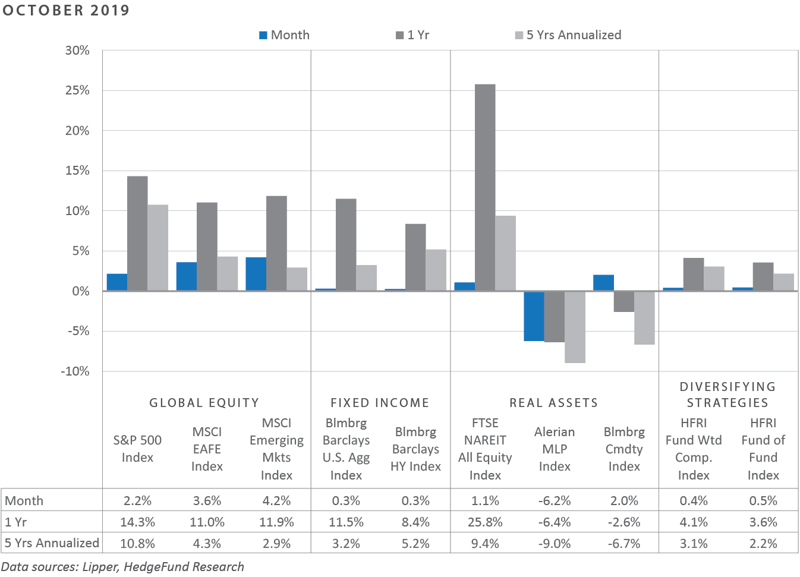 Global Equity
Global equity markets were positive in October, with emerging markets leading developed markets. Signs of eased geopolitical tensions between China and the U.S. as well as between Europe and the UK—in addition to continued monetary easing and strong third quarter corporate earnings—contributed to global returns.

The S&P 500 Index hit another all-time high at the end of the month, bringing the total closing milestones in 2019 to four—April 23, June 20, July 12, and October 28.

Most sectors in the U.S. market had positive returns for the quarter, with the exception of energy, utilities, and consumer staples. Energy exploration and production companies reported the weakest earnings, mostly due to lower oil and gas prices. The healthcare sector boasted the strongest returns in October, with nearly 90% of sector companies reporting positive third quarter earnings surprises.

Europe's performance was relatively flat during the month. The trade war has hurt some countries and industries more than others in the euro zone, notably Germany and its auto industry. The UK was the worst-performing market for the month, where the Brexit deal deadline for the end of October was extended to the end of January 2020. The labor market showed signs of weakening amid the Brexit turmoil, with the unemployment rate increasing slightly.

Asia ex-Japan and other emerging market regions bounced back from a challenging third quarter with strong returns in October. Improvement in industrial production and retail sales, coupled with monetary easing, supported Chinese equities during the month.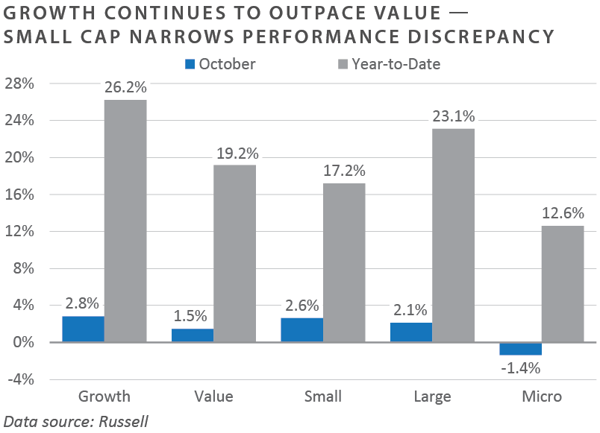 Fixed Income
The Fed made a third "insurance cut" in October, in what Fed Chair Jerome Powell referred to as a "mid-cycle adjustment," decreasing the FFR by 25 bps and the interest paid on excess reserves. Powell's comments indicated that the Fed is likely to remain data-dependent and largely on hold in coming months. He deemed the current policy "appropriate" and described the U.S. economy as being "in a good place," given the Fed's outlook.

The rate cut brought down the front end of the U.S. yield curve, which re-steepened slightly in October after months of flattening. The 3-month/10-year spread, which had been in negative territory since May 2019, became positive in mid-October and has been continually increasing since.

Investor distaste for lower quality below-investment grade instruments continued, with CCC-rated leveraged loans and high yield securities trailing high quality peers.

Loan funds continued to witness huge outflows, taking trailing 12-month outflows to approximately $42 billion. Much of the decrease in appetite for the asset class is due to the Fed's reversal in monetary policy—which shifted from hiking rates through December 2018 to cutting rates three times in 2019—and downgrades of loans by rating agencies.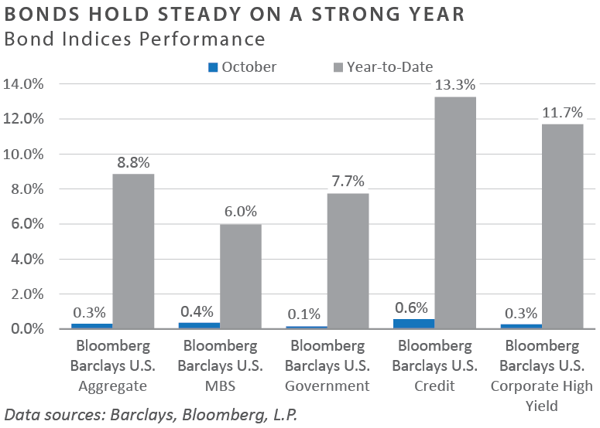 Real Assets
REAL ESTATE
U.S. REITs closed out October with a positive return, adding to already strong year-to-date (YTD) performance due to macroeconomic support, including low unemployment and generally low interest rates.

An ongoing theme driving performance has been enhanced data usage and e-commerce growth, resulting in strong returns across data centers, industrial, and infrastructure REITs this year. Manufactured home REITs are now the strongest performing sub-sector of 2019, returning 54% YTD. Conversely, hotel REITs and regional malls continue to languish, which is typical late cycle, delivering the weakest October results of -4.3% and -3.1%, respectively.

Global REITs outpaced their U.S. peers. REITs continue to face headwinds from geo-political challenges, including an impending Brexit and protests in Hong Kong, which stressed that important real estate market.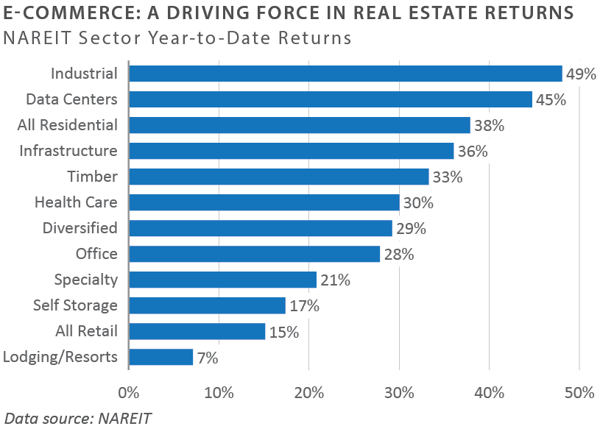 NATURAL RESOURCES
Crude prices saw a modest increase over the month, closing at $55 for a 1-month contract—up almost 2% from September.

Oil prices remains challenged by the forecasts of slow global growth, particularly across developing countries, which drive growth in petroleum consumption.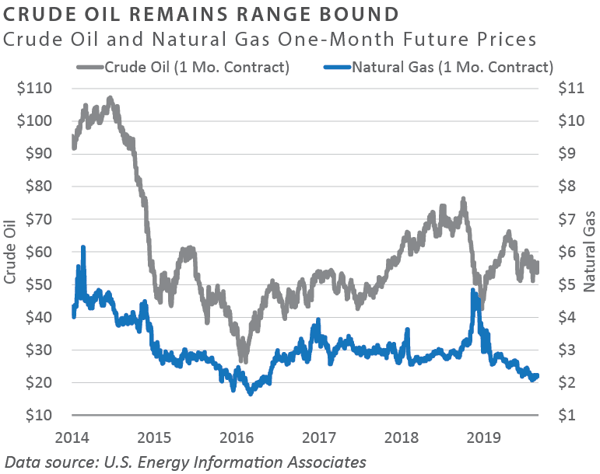 MASTER LIMITED PARTNERSHIPS
MLPs ended October down 6.2%, bringing the current yield to 9.4%, but maintained positive returns of 4.2% for the year. The Alerian Midstream Index, which includes midstream C-corps, ended the month only slightly better, down 3.4%, supported by stronger performance among Canadian midstream constituents.

The MLP index has faced significant technical headwinds due to diminished fund flows over 2019—only $38 million by the end of the third quarter—compared to two years ago when midstream energy saw over $5 billion in inflows. This has also driven a wedge between MLP and C-corp performance, as C-corps are eligible for wider inclusion in passive benchmarks.


Diversifying Strategies
Trend followers faced headwinds during the month as strong trends from the third quarter reversed. Within currencies, the British pound/U.S. dollar and euro/U.S. dollar both rallied. Nearly all commodity sectors were negative, with base metals leading the poor results.

Event-driven strategies were essentially flat during the month. Following an active third quarter of deal closures, transactions slowed in October. Both equity and credit event managers generated modest results.

Discretionary macro managers with a focus on emerging markets continued to experience a rebound in Argentine assets following the large sell-off in August. Financial markets were oversold following the weak polling results for the incumbent, Mauricio Macri.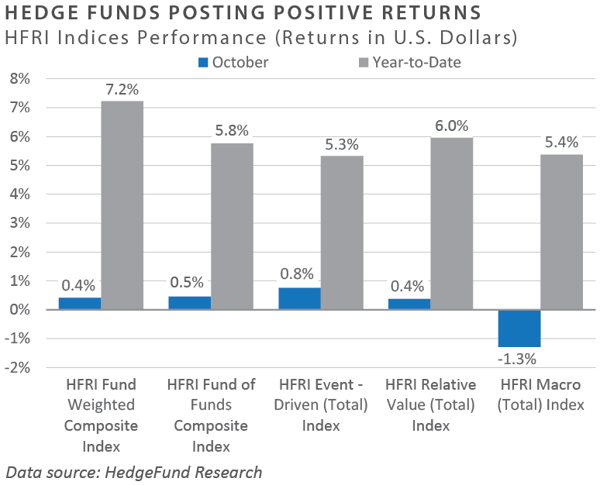 DISCLOSURES
This report was prepared by FEG (also known as Fund Evaluation Group, LLC), a federally registered investment adviser under the Investment Advisers Act of 1940, as amended, providing non-discretionary and discretionary investment advice to its clients on an individual basis. Registration as an investment adviser does not imply a certain level of skill or training. The oral and written communications of an adviser provide you with information about which you determine to hire or retain an adviser. Fund Evaluation Group, LLC, Form ADV Part 2A & 2B can be obtained by written request directly to: Fund Evaluation Group, LLC, 201 East Fifth Street, Suite 1600, Cincinnati, OH 45202, Attention: Compliance Department.
The information herein was obtained from various sources. FEG does not guarantee the accuracy or completeness of such information provided by third parties. The information in this report is given as of the date indicated and believed to be reliable. FEG assumes no obligation to update this information, or to advise on further developments relating to it. FEG, its affiliates, directors, officers, employees, employee benefit programs and client accounts may have a long position in any securities of issuers discussed in this report.
Index performance results do not represent any managed portfolio returns. An investor cannot invest directly in a presented index, as an investment vehicle replicating an index would be required. An index does not charge management fees or brokerage expenses, and no such fees or expenses were deducted from the performance shown.
Neither the information nor any opinion expressed in this report constitutes an offer, or an invitation to make an offer, to buy or sell any securities.
Any return expectations provided are not intended as, and must not be regarded as, a representation, warranty or predication that the investment will achieve any particular rate of return over any particular time period or that investors will not incur losses.
Past performance is not indicative of future results.
Investments in private funds are speculative, involve a high degree of risk, and are designed for sophisticated investors.
All data is as of October 31, 2019 unless otherwise noted.
INDICES
The Alerian MLP Index is a composite of the 50 most prominent energy Master Limited Partnerships that provides investors with an unbiased, comprehensive benchmark for this emerging asset class.
Barclays Capital Fixed Income Indices is an index family comprised of the Barclays Capital Aggregate Index, Government/Corporate Bond Index, Mortgage-Backed Securities Index, and Asset-Backed Securities Index, Municipal Index, High-Yield Index, and others designed to represent the broad fixed income markets and sectors within constraints of maturity and minimum outstanding par value. See https://ecommerce.barcap.com/indices/index.dxml for more information.
The CBOE Volatility Index (VIX) is an up-to-the-minute market estimate of expected volatility that is calculated by using real-time S&P 500 Index option bid/ask quotes. The Index uses nearby and second nearby options with at least 8 days left to expiration and then weights them to yield a constant, 30-day measure of the expected volatility of the S&P 500 Index. FTSE Real Estate Indices (NAREIT Index and EPRA/NAREIT Index) includes only those companies that meet minimum size, liquidity and free float criteria as set forth by FTSE and is meant as a broad representation of publicly traded real estate securities. Relevant real estate activities are defined as the ownership, disposure, and development of income-producing real estate. See www.ftse.com/Indices for more information.
HFRI Monthly Indices (HFRI) are equally weighted performance indexes, compiled by Hedge Fund Research Inc. (HFX), and are used by numerous hedge fund managers as a benchmark for their own hedge funds. The HFRI are broken down into 37 different categories by strategy, including the HFRI Fund Weighted Composite, which accounts for over 2000 funds listed on the internal HFR Database. The HFRI Fund of Funds Composite Index is an equal weighted, net of fee, index composed of approximately 800 fund- of- funds which report to HFR. See www.hedgefundresearch.com for more information on index construction.
J.P. Morgan's Global Index Research group produces proprietary index products that track emerging markets, government debt, and corporate debt asset classes. Some of these indices include the JPMorgan Emerging Market Bond Plus Index, JPMorgan Emerging Market Local Plus Index, JPMorgan Global Bond Non-US Index and JPMorgan Global Bond Non-US Index. See www.jpmorgan.com for more information.
Merrill Lynch high yield indices measure the performance of securities that pay interest in cash and have a credit rating of below investment grade. Merrill Lynch uses a composite of Fitch Ratings, Moody's and Standard and Poor's credit ratings in selecting bonds for these indices. These ratings measure the risk that the bond issuer will fail to pay interest or to repay principal in full. See www.ml.com for more information.
Morgan Stanley Capital International – MSCI is a series of indices constructed by Morgan Stanley to help institutional investors benchmark their returns. There are a wide range of indices created by Morgan Stanley covering a multitude of developed and emerging economies and economic sectors. See www.morganstanley.com for more information.
Russell Investments rank U.S. common stocks from largest to smallest market capitalization at each annual reconstitution period (May 31). The primary Russell Indices are defined as follows: 1) the top 3,000 stocks become the Russell 3000 Index, 2) the largest 1,000 stocks become the Russell 1000 Index, 3) the smallest 800 stocks in the Russell 1000 Index become the Russell Midcap index, 4) the next 2,000 stocks become the Russell 2000 Index, 5) the smallest 1,000 in the Russell 2000 Index plus the next smallest 1,000 comprise the Russell Microcap Index. See www.russell.com for more information.
S&P 500 Index consists of 500 stocks chosen for market size, liquidity and industry group representation, among other factors by the S&P Index Committee, which is a team of analysts and economists at Standard and Poor's. The S&P 500 is a market-value weighted index, which means each stock's weight in the index is proportionate to its market value and is designed to be a leading indicator of U.S. equities, and meant to reflect the risk/return characteristics of the large cap universe. See www.standardandpoors.com for more information.
Information on any indices mentioned can be obtained either through your consultant or by written request to information@feg.com.