Following a brief pause in October, the ongoing rally across risk assets that began in March resumed in November, sending U.S. large cap equities to new record highs. The market rally has been supported by an ongoing rebound across economic activity—albeit from historically depressed levels—paired with unprecedented levels of monetary and fiscal accommodation and better-than-anticipated economic data. The U.S. dollar (USD), which initially spiked during the market drawdown earlier in the year before turning lower, depreciated further during the month, sending some of the USD's relative value measures to lows not witnessed in over two years.
Economic Update
U.S. Dollar Slide Accelerates, as Some Measures Still Appear Expensive
At the depths of the market sell-off in March, the USD's safe haven status resulted in a sharp bout of appreciation, as investors sought the relative safety of the greenback amid immense selling pressure across most risky corners of the global investment universe. The subsequent consequences of this knee-jerk reaction included downward pressure on the dollar, which gathered pace through November, resulting in the dollar declining by more than 2% on the month and sending the ICE U.S. Dollar Index (DXY) to its lowest level since April 2018.

The headline unemployment rate, which surged to 14.7% in April, its highest level since at least 1948, also surprised to the upside, improving to 6.9% versus the sell-side estimate of 7.6%. While the pace of improvement in both payrolls and unemployment is likely to continue to moderate, the momentum behind the ongoing domestic economic recovery appeared strong through October, underscored by a rapidly improving labor situation.
At the time of publication, odds of a "clean sweep" of the White House by Democrats—in which the Democratic party wins a majority in the Senate and House of Representatives, in addition to the presidency—appeared very low, with the odds tilted in favor of the Republicans retaining control of the Senate. The potential for gridlock with a divided Congress and a Democratic president may limit the size and scope of future fiscal stimulus measures, with a change in leadership at the Federal Reserve also likely to present investors with a clouded outlook for the near-term policy path.

Much of the upward pressure on the dollar earlier in the year came at the expense of major European currencies, and with greater than 75% representation in the DXY, the brief decline across European currencies accounted for most of the USD's relative advance during that period. However, the DXY has declined by more than 10% since that localized peak, which essentially coincided with the bottom in the equity market, in late March.
Looking at broader relative valuation measures of the dollar, such as those that incorporate trade-weighting and inflation-adjusting methodologies—versus liquidity focused composites—the USD continues to look expensive despite its recent move lower. The Bank for International Settlements' Real Effective Exchange Rate (REER) valuation indices utilize this methodology.
Through month-end October, the dollar's REER appeared well above its historical downward trend, at nearly 1.75 standard deviations above trend, implying that despite meaningful downward pressure on the USD in recent months, further downward momentum may arise in the coming years. This may be particularly more likely if the U.S. continues to follow its current expansionary fiscal and monetary path, which has pushed debt/gross domestic product (GDP) and deficit/GDP ratios to historically weak levels.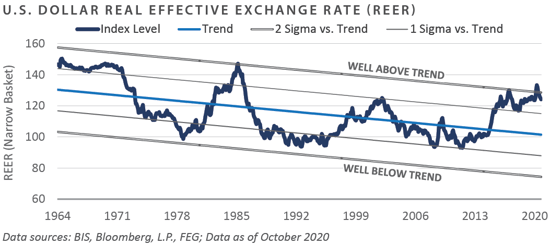 A depreciating dollar would likely serve as a tailwind behind the relative performance of international equities, particularly in the emerging markets, which have generally underperformed domestic markets since the dollar reached its bottom in 2011. A declining USD is likely to also support other segments of the market such as commodities—particularly precious metals—and inflation-sensitive sectors.
Without an associated increase in economic output, however, a weakening USD is unlikely to be a welcome phenomenon, as U.S.-based consumers would see their relative purchasing power erode, compounding the discomfort felt by the potential relative underperformance of domestic assets versus international assets over this period. The recent weakness in the USD also comes during a transition in U.S. presidential administrations, which will include newly appointed policy officials and an unknown set of changes across the scope and implementation of key policy measures.
In summary, market performance in November was overwhelmingly positive, with most major equity indices posting double-digit monthly gains and domestic indices pushing to new record highs. Against the backdrop of ultra-accommodative monetary and fiscal conditions as well as supportive economic data, a recent acceleration in the dollar's decline has added fuel to the market's advance, with some valuation measures pointing to a continued expensive dollar in real, trade-weighted terms.
Market Returns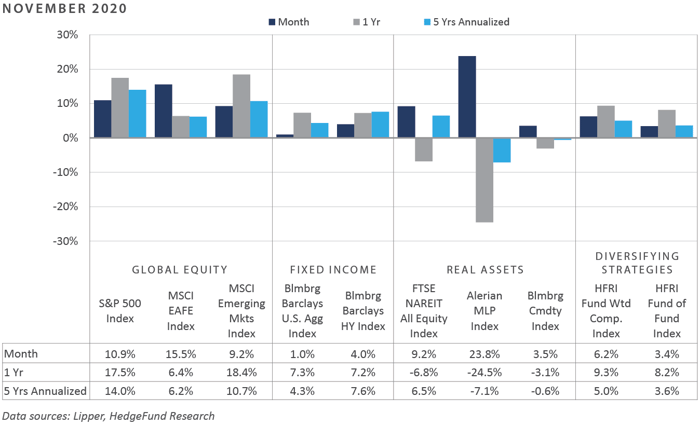 Global Equity
Global equity markets surged in November, despite renewed lockdown measures in parts of the UK and Europe, as well as a sharp increase in COVID-19 infections in the U.S., which is proving to be particularly difficult for small businesses. The equity markets overlooked the short-term implications in favor of promising vaccine developments, resulting in double-digit gains and a broad recovery across many sectors during the month.

Markets also responded positively to the outcome of the U.S general election. The Goldilocks gridlock scenario created by the U.S. elections—with Joe Biden winning the presidential race and Republicans likely maintaining a majority in the Senate (pending Georgia's special election) as well as gaining seats in the House—also helped bolster optimism in the markets due to the diminished likelihood of tax hikes.

European and UK equities outperformed U.S. equities as the outlook for an economic turnaround improved on news of safe and efficacious vaccines. The expectation of a definitive Brexit deal finally occurring at the end of the year also aided markets. The rally favored value stocks and sectors most negatively affected by the economic downturn, with energy and financials gaining the most, relative to other sectors.

A weaker U.S. dollar supported most Asian equity market returns. However, Chinese equities suffered due to underperformance of the technology sector and heightened scrutiny from the U.S. on auditing rules for Chinese companies listed on U.S stock exchanges. The underperformance in Chinese equities was offset by strong rallies in Thailand and Singapore markets.

The recent shift of value outperforming growth continued, as rotation into sectors likely to benefit the most from economic recovery and out of "work from home" stocks accelerated. Despite the shift of performance in cyclical stocks, technology continues to be a dominant sector, with U.S. tech stocks surpassing the entire European stock market in terms of market capitalization.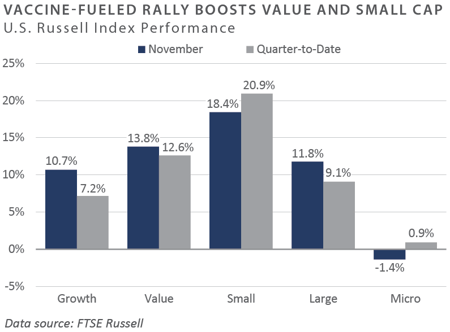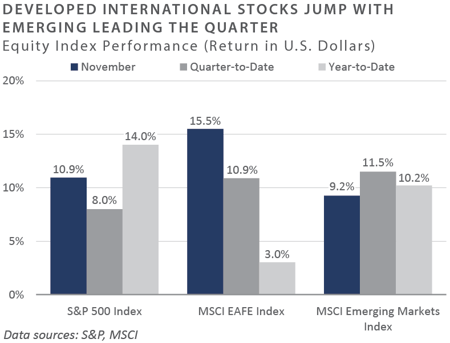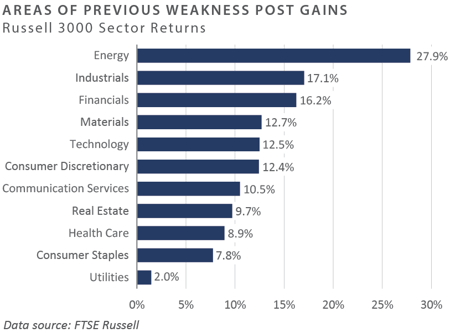 Fixed Income
Following positive vaccine news, credit-sensitive assets rallied across the board, with higher beta and COVID-affected sectors such as energy credit and subordinated tranches of commercial mortgage backed securities (CMBS) seeing the greatest benefits.

Pro-risk sentiment following positive vaccine news, combined with a global search for yield, boosted prices for emerging market bonds in November. A weakening U.S. dollar provided an additional currency tailwind to local currency bonds.

U.S. Treasury Secretary Steve Mnuchin announced the Treasury Department's intent to allow some of the U.S. Federal Reserve's (Fed's) emergency lending programs to expire at the end of the year. The Fed notably issued a public statement disagreeing with Mnuchin's decision, describing the lending programs as an important backstop to a recovering economy.

The Federal Open Market Committee (FOMC) met November 4-5, leaving policy rates unchanged, as futures markets had expected. In a similar statement shared in prior meetings, the FOMC emphasized the dependence of the economic recovery on the path of COVID-19.

Minutes from the November meeting show committee members discussed further monetary accommodation through expansion of the asset purchase program. The minutes also show the existing asset purchase program, as well as that they removed assumptions for additional fiscal stimulus from their economic projections, given the lack of congressional progress. The FOMC further highlighted the negative impact this adjustment had on aggregate demand projections over the medium term.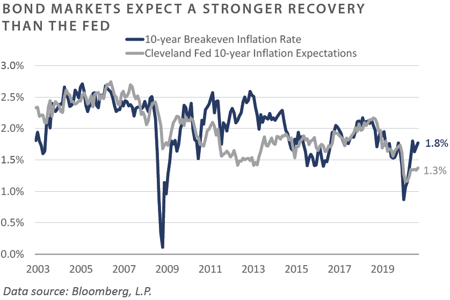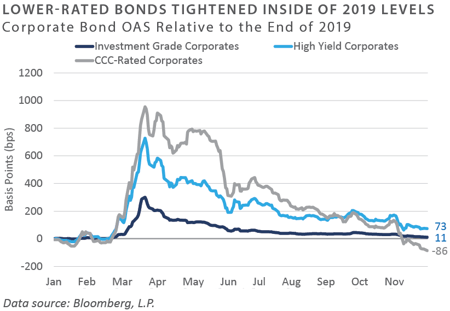 Real Assets
REAL ESTATE
News of effective vaccines in November led to a reversal of the recent trend in real estate sector returns. Retail and lodging property types, which had been disproportionately affected by the pandemic due to stay at home orders and social distancing, saw strong returns in November. Regional malls, one of the most affected sectors, returned over 43% quarter-to-date on vaccine news. While these businesses should continue to benefit through the return to normality, COVID-19 has materially impacted consumer shopping habits and business travel, presenting challenges to the future of retail and lodging.

Conversely, technology real estate—data centers and infrastructure—started to see declines after outperformance through most of the year. These are two of the few sectors in real estate which saw negative performance through the quarter, though strong performance in previous quarters has driven their valuations to significant premiums.

U.S. REITs, which include a larger allocation to technology real estate, underperformed global benchmarks, which have larger tilts towards residential, retail, and lodging.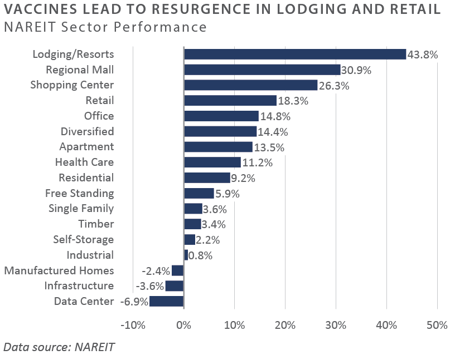 NATURAL RESOURCES
The average daily WTI oil spot price was ~$41 per barrel in November, holding roughly steady from September's average pricing of ~$40 per barrel. Despite news of an effective vaccine, average daily spot prices have stayed within a narrow band of about $38-$43 since June 2020. While peak oil contraction took place in April—falling about 20MMBbl/d below pre-COVID levels of 80MMBbl/d—global demand has since recovered to around 95MMBbl/d, which has helped stabilize prices.

The natural gas spot price averaged $2.87 per MMBtu in November, ending the month 14% over the third quarter closing price. Lower oil drilling and production activity has been a net positive for natural gas prices, as associated gas production has fallen, constraining supply.

The Energy Information Administration (EIA) short-term energy outlook remains subject to significant uncertainty. Some forecasts have predicted that peak oil production has already occurred in 2019, with the expectation that increasing renewable adoption will reduce future demand.

The EIA expects that rising domestic demand for natural gas and demand for LNG exports heading into winter 2020, combined with reduced production, will cause spot prices to rise to a monthly average of ~$3.14/MMBtu in 2021.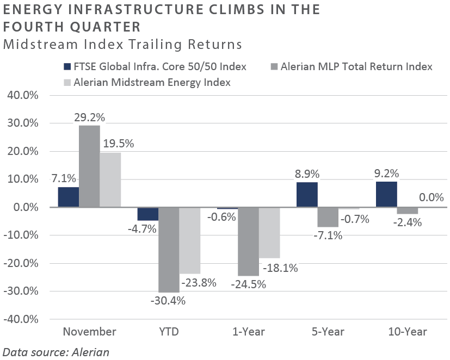 INFRASTRUCTURE
MLPs, as measured by the Alerian MLP Total Return Index, have underperformed their C-corps peers through the year. This trend reversed, as MLPs led the recovery, returning almost 30% quarter-to-date compared to just under 20% for the Alerian Midstream Energy Index, which includes C-corps.

Midstream prospects appear to be improving; the COVID-19 crisis has driven capital expenditures and distributions down, leaving midstream businesses to focus on paying down debt.

Nearly all infrastructure sectors have contributed positive performance quarter-to-date with news of effective vaccines that could increase energy and travel demand.

Traffic volumes at U.S. airports continue to recover, reaching over 40% of 2019 volumes for the first time since the onset of the pandemic. Further, global toll road volumes continue to improve.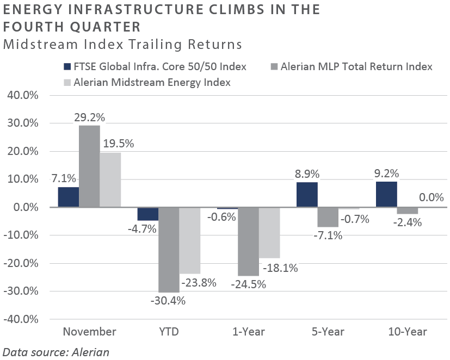 Diversifying Strategies
Hedge funds surged in November to near-record-breaking returns, led by equity hedge and event-driven strategies. The risk-on environment contributed to several of the underlying sub-strategies rising by double digits.

Event-driven strategies generated the largest gains across activist, special situations, merger arbitrage, and distressed/restructuring sub-strategies. Both equity and credit-oriented managers were able to profit from the market surge.

Trend following managers performed well during the month, as strong trends emerged in growth-sensitive assets such as equities and base metals. The trends took form following significant signs of progress towards a COVID-19 vaccine.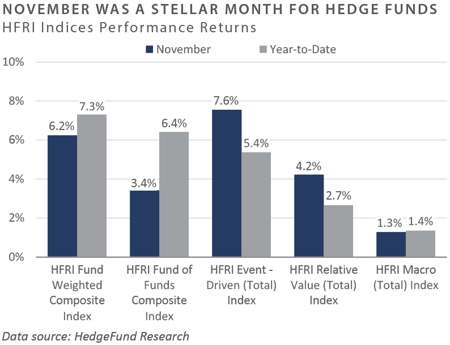 INDICES
The Alerian MLP Index is a composite of the 50 most prominent energy Master Limited Partnerships that provides investors with an unbiased, comprehensive benchmark for this emerging asset class.
Barclays Capital Fixed Income Indices is an index family comprised of the Barclays Capital Aggregate Index, Government/Corporate Bond Index, Mortgage-Backed Securities Index, and Asset-Backed Securities Index, Municipal Index, High-Yield Index, and others designed to represent the broad fixed income markets and sectors within constraints of maturity and minimum outstanding par value. See https://ecommerce.barcap.com/indices/index.dxml for more information.
The CBOE Volatility Index (VIX) is an up-to-the-minute market estimate of expected volatility that is calculated by using real-time S&P 500 Index option bid/ask quotes. The Index uses nearby and second nearby options with at least 8 days left to expiration and then weights them to yield a constant, 30-day measure of the expected volatility of the S&P 500 Index. FTSE Real Estate Indices (NAREIT Index and EPRA/NAREIT Index) includes only those companies that meet minimum size, liquidity and free float criteria as set forth by FTSE and is meant as a broad representation of publicly traded real estate securities. Relevant real estate activities are defined as the ownership, disposure, and development of income-producing real estate. See www.ftse.com/Indices for more information.
HFRI Monthly Indices (HFRI) are equally weighted performance indexes, compiled by Hedge Fund Research Inc. (HFX), and are used by numerous hedge fund managers as a benchmark for their own hedge funds. The HFRI are broken down into 37 different categories by strategy, including the HFRI Fund Weighted Composite, which accounts for over 2000 funds listed on the internal HFR Database. The HFRI Fund of Funds Composite Index is an equal weighted, net of fee, index composed of approximately 800 fund- of- funds which report to HFR. See www.hedgefundresearch.com for more information on index construction.
J.P. Morgan's Global Index Research group produces proprietary index products that track emerging markets, government debt, and corporate debt asset classes. Some of these indices include the JPMorgan Emerging Market Bond Plus Index, JPMorgan Emerging Market Local Plus Index, JPMorgan Global Bond Non-US Index and JPMorgan Global Bond Non-US Index. See www.jpmorgan.com for more information.
Merrill Lynch high yield indices measure the performance of securities that pay interest in cash and have a credit rating of below investment grade. Merrill Lynch uses a composite of Fitch Ratings, Moody's and Standard and Poor's credit ratings in selecting bonds for these indices. These ratings measure the risk that the bond issuer will fail to pay interest or to repay principal in full. See www.ml.com for more information.
Morgan Stanley Capital International – MSCI is a series of indices constructed by Morgan Stanley to help institutional investors benchmark their returns. There are a wide range of indices created by Morgan Stanley covering a multitude of developed and emerging economies and economic sectors. See www.morganstanley.com for more information.
Russell Investments rank U.S. common stocks from largest to smallest market capitalization at each annual reconstitution period (May 31). The primary Russell Indices are defined as follows: 1) the top 3,000 stocks become the Russell 3000 Index, 2) the largest 1,000 stocks become the Russell 1000 Index, 3) the smallest 800 stocks in the Russell 1000 Index become the Russell Midcap index, 4) the next 2,000 stocks become the Russell 2000 Index, 5) the smallest 1,000 in the Russell 2000 Index plus the next smallest 1,000 comprise the Russell Microcap Index. See www.russell.com for more information.
S&P 500 Index consists of 500 stocks chosen for market size, liquidity and industry group representation, among other factors by the S&P Index Committee, which is a team of analysts and economists at Standard and Poor's. The S&P 500 is a market-value weighted index, which means each stock's weight in the index is proportionate to its market value and is designed to be a leading indicator of U.S. equities, and meant to reflect the risk/return characteristics of the large cap universe. See www.standardandpoors.com for more information.
Information on any indices mentioned can be obtained either through your consultant or by written request to information@feg.com.
DISCLOSURES
This report was prepared by FEG (also known as Fund Evaluation Group, LLC), a federally registered investment adviser under the Investment Advisers Act of 1940, as amended, providing non-discretionary and discretionary investment advice to its clients on an individual basis. Registration as an investment adviser does not imply a certain level of skill or training. The oral and written communications of an adviser provide you with information about which you determine to hire or retain an adviser. Fund Evaluation Group, LLC, Form ADV Part 2A & 2B can be obtained by written request directly to: Fund Evaluation Group, LLC, 201 East Fifth Street, Suite 1600, Cincinnati, OH 45202, Attention: Compliance Department.
The information herein was obtained from various sources. FEG does not guarantee the accuracy or completeness of such information provided by third parties. The information in this report is given as of the date indicated and believed to be reliable. FEG assumes no obligation to update this information, or to advise on further developments relating to it. FEG, its affiliates, directors, officers, employees, employee benefit programs and client accounts may have a long position in any securities of issuers discussed in this report.
Index performance results do not represent any managed portfolio returns. An investor cannot invest directly in a presented index, as an investment vehicle replicating an index would be required. An index does not charge management fees or brokerage expenses, and no such fees or expenses were deducted from the performance shown.
Neither the information nor any opinion expressed in this report constitutes an offer, or an invitation to make an offer, to buy or sell any securities.
Any return expectations provided are not intended as, and must not be regarded as, a representation, warranty or predication that the investment will achieve any particular rate of return over any particular time period or that investors will not incur losses.
Past performance is not indicative of future results.
Investments in private funds are speculative, involve a high degree of risk, and are designed for sophisticated investors.
All data is as of November 30, 2020 unless otherwise noted.