Following the Federal Reserve's (Fed's) third consecutive interest-rate cut in late October and combined with bright spots among certain U.S. economic data, market performance across most traditional asset classes and categories, particularly in domestic markets, was positive in November. However, the strengthening U.S. dollar and fundamental concerns—including persistent trade uncertainty between the U.S. and China—served as headwinds to relative performance for international equities.
In the bond market, strong risk-on forces pressured credit risk premiums lower, supporting performance across high yield and bank loans. Performance across real assets was overwhelmingly negative in November, as strong recent REIT returns took a breather in response to an increase in interest rates and a material weakening of energy infrastructure sub-asset categories on seasonal concerns and fundamental pressures.
Economic Update
Solid U.S. Labor Market Strengthens Further in November
Beating sell-side expectations by a wide margin was November's 266,000 monthly nonfarm payrolls print, which helped allay fears of a near-term business cycle inflection—from expansion to contraction—and helped send the headline unemployment rate to 3.5%, matching September's reading as the lowest level in 50 years. The strong monthly jobs number reported by the Bureau of Labor Statistics on Friday, December 6 helped counterbalance November's weak ADP jobs print, an alternative monthly jobs reading typically released ahead of the BLS report.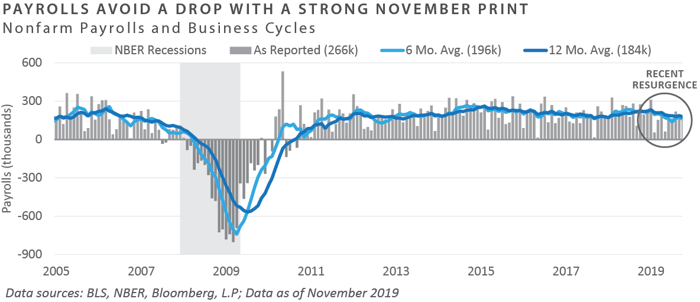 The ADP reported that U.S. employers added just 66,900 jobs during the month, the second-weakest monthly jobs reading in the post-Global Financial Crisis era, with the weakest reading occurring earlier this year in May (45,700 jobs). The news from the more-widely followed BLS Employment Situation was more optimistic, highlighting a historically strong U.S. labor market through the month, which should provide the Fed with confidence that its three rate cuts since July and resumption of balance sheet expansion have helped support business conditions. This report should also reassure President Trump that the ongoing trade battle with China has failed to materially impact the broad U.S. labor market.
However, while favorable labor market dynamics in November provide a glimpse of the current state of the economy, they cannot necessarily be relied upon as a leading indicator for future conditions. After all, nonfarm payrolls comprise more than 50% of The Conference Board's Coincident Economic Index, a composite business cycle gauge comprised of factors that, as the name suggests, coincide with the economic cycle. Among the more useful gauges of where the economy may be going versus its current state is the Department of Labor's weekly initial jobless claims data, more commonly known as first-time filings for unemployment insurance.
Similar to the headline unemployment rate, the cyclical evolution of jobless claims most often exhibits a sine wave pattern. That is, during economic expansions, jobless claims and unemployment witness seemingly uninterrupted multi-year periods of improvement in tandem, which then tends to reverse course during economic contractions.
Recent claims data suggests that the rate of improvement appears to be at risk of completely stalling out, with little-to-no improvement witnessed year-over-year, while hovering near 50-year lows.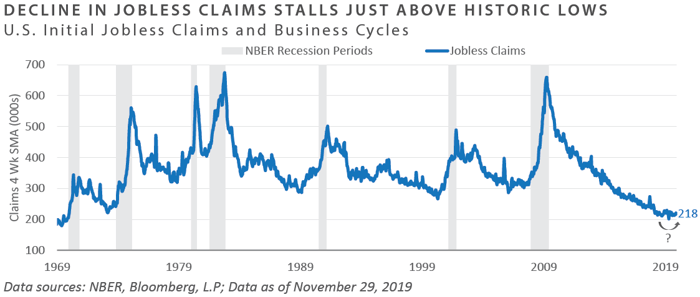 A number of factors on the near-term horizon have the potential to keep the current expansion on track, including the significant room for improvement in U.S.-China trade relations, the potential for fresh fiscal stimulus in 2020, the prospect for a return of synchronized global central bank balance sheet accommodation (QE), among other latent cycle-extending tailwinds.
To conclude, market performance in November across most major asset classes and categories was strong, supported by favorable economic-related data in the U.S. and positive sentiment for an eventual Phase 1 trade deal between the U.S. and China. Strong labor market fundamentals during the month helped calm investors' fears of a near-term recession; however, forward-based labor market measures continue to point to a moderating growth bias in the coming quarters.
Market Returns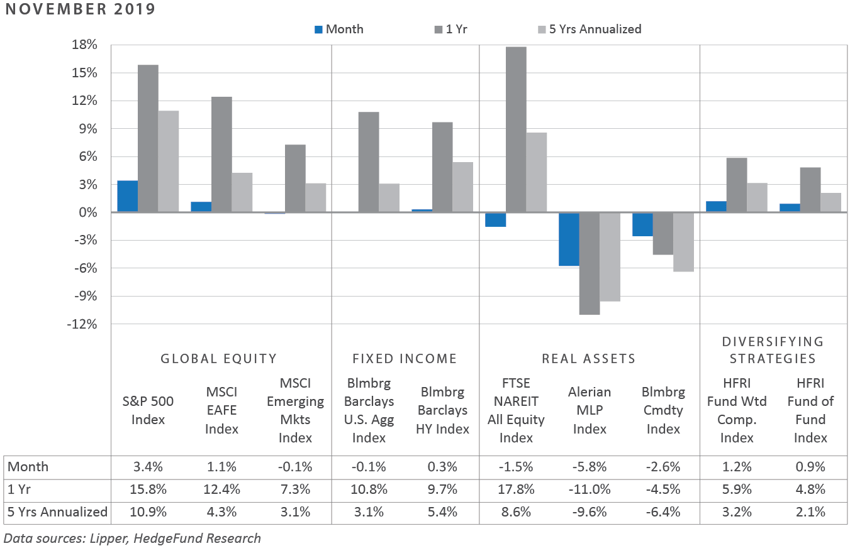 Global Equity
As the markets often do, equity markets ignored the politics of the U.S. impeachment process and the never-ending Brexit saga, and instead focused on improved economic data and what appeared to be calm in the trade war between the U.S. and China. Market speculation suggested the absence of further escalation in tariffs.

Sentiment appeared to be improving on the back of stronger economic data such as the U.S. Purchasing Managers' Index (PMI) and third quarter U.S. GDP. This is a reversal in investor sentiment from earlier in 2019 when investors expected a potential recession, primarily due to a yield curve inversion.

Corporate America's earnings season, represented by the S&P 500 Index, ended with most companies reporting relatively flat earnings contrasted to the third quarter 2018. Approximately 80% of companies beat their earnings estimates, which can be partially attributed to downward revisions earlier in the year.

Growth continued to outperform value and large capitalization stocks continued to outperform small capitalization stocks during November—eliminating value's gains from the short but severe reversal in relative performance that occurred in September.

European markets strengthened relative to previous months as Germany narrowly escaped a technical recession.

Emerging markets faced downward pressure during the month of November, underperforming developed market indices. Weakness within emerging markets was primarily due to weakness in China, which has been rife with controversy from the Chinese-U.S. trade war, the protests in Hong Kong, and increasingly concerning economic data, all of which carry potentially long-term ramifications.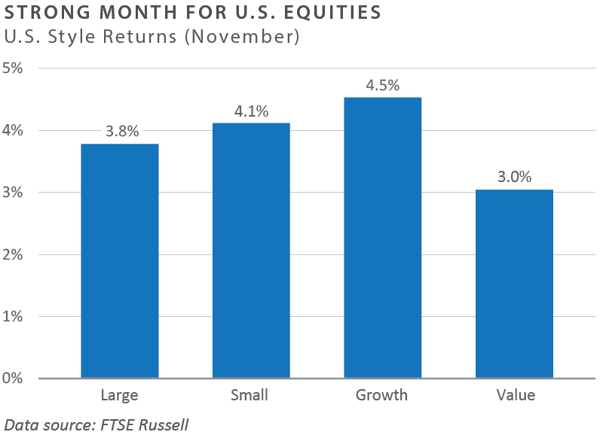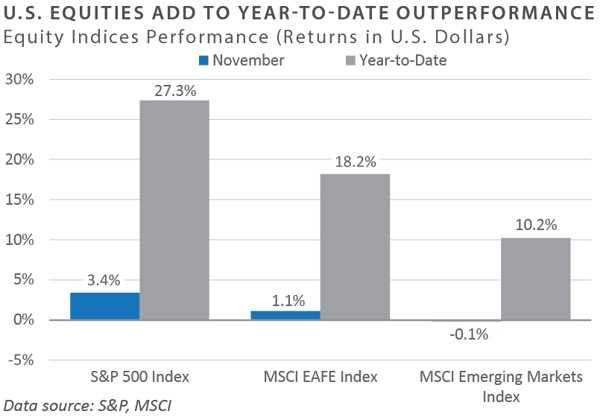 Fixed Income
The minutes released from the Federal Reserve's (Fed) October meeting showed that most members of the Fed Open Market Committee (FOMC) believed that current policy has been supportive of the Fed's outlook.

Long-term U.S. interest rates rose modestly more than short term U.S. interest rates, extending the re-steepening of the yield curve which began in August.

U.S. credit returns outpaced the interest rate risk as the increase in long term yields resulted in negative returns for Treasuries.

High yield bond spreads tightened by 13 basis points during the month. Although, non-investment-grade credit bifurcated with credit spreads for lower-rated issues (CCC and below) wideneding in excess of 100 basis points. The disparity has been driven by widening spreads in the energy sector, specifically.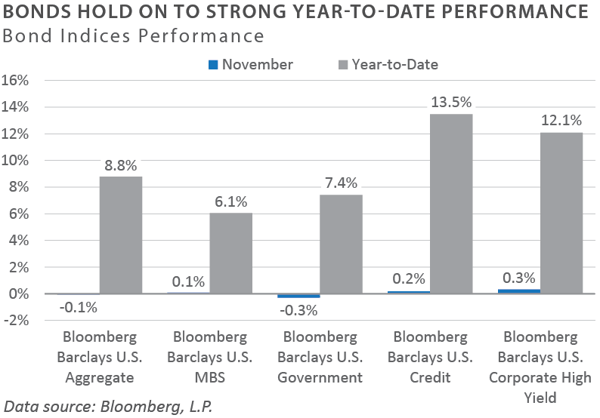 Real Assets
REAL ESTATE
November was only the second down month for REITs this year. REITs have enjoyed continued macroeconomic support through the year as recessionary fears ebbed and monetary policy kept rates low. In the international markets, protests in Hong Kong continued to weigh on one of Asia's showcase property markets.

Notably in November, subsectors with overextended valuations such as infra-structure and data centers snapped back over the month, declining 2.4% and 2.5%, respectively. Additionally, retail continued to lag broader REITs, falling 1.1%. Conversely, manufactured homes, a sub-sector consisting of only three underlying securities, has become the top performing sub-sector in 2019, returning 59.4% year-to-date.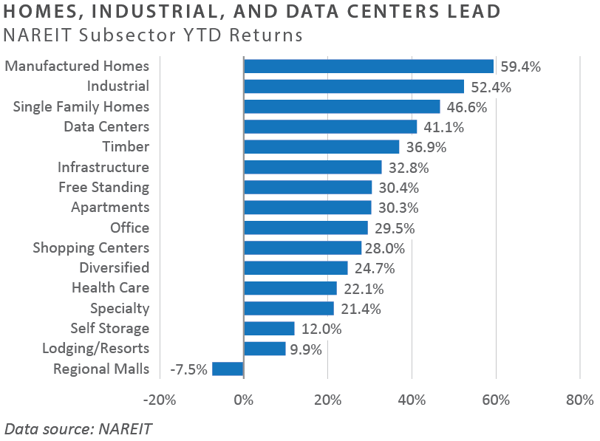 NATURAL RESOURCES
Crude prices saw a modest increase over the month, closing at almost $56 per barrel for a 1-month contract—up 3.3% from October's close. Oil prices benefitted from the Fed's October rate cut and the reversion of the general sentiment of a broader global economic slowdown.

Despite headlines of slowing production in the Permian Basin due to higher declines than expected, the EIA revised its U.S. crude forecast upwards by 0.9% for 2020, citing higher productivity across future Permian wells.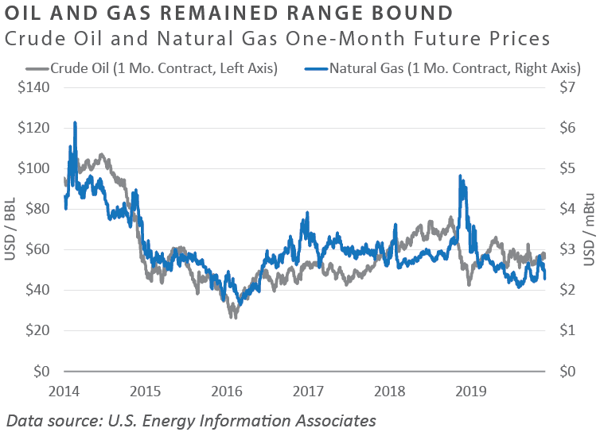 MASTER LIMITED PARTNERSHIPS
MLPs, as measured by the Alerian MLP Total Return Index, ended November down 5.8%, reversing the gains from earlier in the year and bringing year-to-date returns to -1.8%. The Alerian Midstream Index, which includes midstream C-corps, ended the month down 1.1%, supported by stronger performance among C-corps constituents relative to their MLP peers.

The MLP index has faced technical headwinds due to significantly diminished fund flows over 2019—only $38 million at the end of the third quarter, compared to over $5 billion in inflows for midstream energy just two years ago. This has also driven a wedge between MLP and C-corp performance, as C-corps are eligible for wider inclusion in active and passive benchmarks and portfolios.


Diversifying Strategies
Heading into year-end, hedge funds extended their run of positive performance in November with broad-based gains across all strategies. Event-driven managers in particular enjoyed a strong month, driven by idiosyncratic positions advancing towards the eventual value-unlocking catalyst.

Trend following managers participated in strong equity markets, mainly in the U.S., as trade tensions moderated during November. Currencies were another source of profit, with short euro exposure providing the greatest gains.

The PG&E bankruptcy was widely held across credit funds and multi-strategies—both through equity and credit—and hedge fund managers with exposure to that position experienced positive momentum during the month.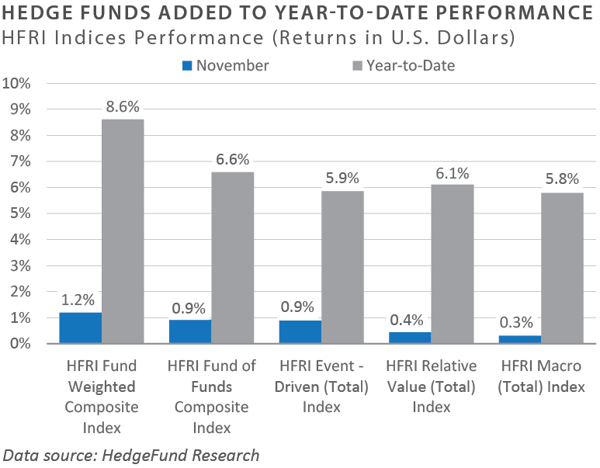 DISCLOSURES
This report was prepared by FEG (also known as Fund Evaluation Group, LLC), a federally registered investment adviser under the Investment Advisers Act of 1940, as amended, providing non-discretionary and discretionary investment advice to its clients on an individual basis. Registration as an investment adviser does not imply a certain level of skill or training. The oral and written communications of an adviser provide you with information about which you determine to hire or retain an adviser. Fund Evaluation Group, LLC, Form ADV Part 2A & 2B can be obtained by written request directly to: Fund Evaluation Group, LLC, 201 East Fifth Street, Suite 1600, Cincinnati, OH 45202, Attention: Compliance Department.
The information herein was obtained from various sources. FEG does not guarantee the accuracy or completeness of such information provided by third parties. The information in this report is given as of the date indicated and believed to be reliable. FEG assumes no obligation to update this information, or to advise on further developments relating to it. FEG, its affiliates, directors, officers, employees, employee benefit programs and client accounts may have a long position in any securities of issuers discussed in this report.
Index performance results do not represent any managed portfolio returns. An investor cannot invest directly in a presented index, as an investment vehicle replicating an index would be required. An index does not charge management fees or brokerage expenses, and no such fees or expenses were deducted from the performance shown.
Neither the information nor any opinion expressed in this report constitutes an offer, or an invitation to make an offer, to buy or sell any securities.
Any return expectations provided are not intended as, and must not be regarded as, a representation, warranty or predication that the investment will achieve any particular rate of return over any particular time period or that investors will not incur losses.
Past performance is not indicative of future results.
Investments in private funds are speculative, involve a high degree of risk, and are designed for sophisticated investors.
All data is as of November 30, 2019 unless otherwise noted.
INDICES
The Alerian MLP Index is a composite of the 50 most prominent energy Master Limited Partnerships that provides investors with an unbiased, comprehensive benchmark for this emerging asset class.
Barclays Capital Fixed Income Indices is an index family comprised of the Barclays Capital Aggregate Index, Government/Corporate Bond Index, Mortgage-Backed Securities Index, and Asset-Backed Securities Index, Municipal Index, High-Yield Index, and others designed to represent the broad fixed income markets and sectors within constraints of maturity and minimum outstanding par value. See https://ecommerce.barcap.com/indices/index.dxml for more information.
The CBOE Volatility Index (VIX) is an up-to-the-minute market estimate of expected volatility that is calculated by using real-time S&P 500 Index option bid/ask quotes. The Index uses nearby and second nearby options with at least 8 days left to expiration and then weights them to yield a constant, 30-day measure of the expected volatility of the S&P 500 Index. FTSE Real Estate Indices (NAREIT Index and EPRA/NAREIT Index) includes only those companies that meet minimum size, liquidity and free float criteria as set forth by FTSE and is meant as a broad representation of publicly traded real estate securities. Relevant real estate activities are defined as the ownership, disposure, and development of income-producing real estate. See www.ftse.com/Indices for more information.
HFRI Monthly Indices (HFRI) are equally weighted performance indexes, compiled by Hedge Fund Research Inc. (HFX), and are used by numerous hedge fund managers as a benchmark for their own hedge funds. The HFRI are broken down into 37 different categories by strategy, including the HFRI Fund Weighted Composite, which accounts for over 2000 funds listed on the internal HFR Database. The HFRI Fund of Funds Composite Index is an equal weighted, net of fee, index composed of approximately 800 fund- of- funds which report to HFR. See www.hedgefundresearch.com for more information on index construction.
J.P. Morgan's Global Index Research group produces proprietary index products that track emerging markets, government debt, and corporate debt asset classes. Some of these indices include the JPMorgan Emerging Market Bond Plus Index, JPMorgan Emerging Market Local Plus Index, JPMorgan Global Bond Non-US Index and JPMorgan Global Bond Non-US Index. See www.jpmorgan.com for more information.
Merrill Lynch high yield indices measure the performance of securities that pay interest in cash and have a credit rating of below investment grade. Merrill Lynch uses a composite of Fitch Ratings, Moody's and Standard and Poor's credit ratings in selecting bonds for these indices. These ratings measure the risk that the bond issuer will fail to pay interest or to repay principal in full. See www.ml.com for more information.
Morgan Stanley Capital International – MSCI is a series of indices constructed by Morgan Stanley to help institutional investors benchmark their returns. There are a wide range of indices created by Morgan Stanley covering a multitude of developed and emerging economies and economic sectors. See www.morganstanley.com for more information.
Russell Investments rank U.S. common stocks from largest to smallest market capitalization at each annual reconstitution period (May 31). The primary Russell Indices are defined as follows: 1) the top 3,000 stocks become the Russell 3000 Index, 2) the largest 1,000 stocks become the Russell 1000 Index, 3) the smallest 800 stocks in the Russell 1000 Index become the Russell Midcap index, 4) the next 2,000 stocks become the Russell 2000 Index, 5) the smallest 1,000 in the Russell 2000 Index plus the next smallest 1,000 comprise the Russell Microcap Index. See www.russell.com for more information.
S&P 500 Index consists of 500 stocks chosen for market size, liquidity and industry group representation, among other factors by the S&P Index Committee, which is a team of analysts and economists at Standard and Poor's. The S&P 500 is a market-value weighted index, which means each stock's weight in the index is proportionate to its market value and is designed to be a leading indicator of U.S. equities, and meant to reflect the risk/return characteristics of the large cap universe. See www.standardandpoors.com for more information.
Information on any indices mentioned can be obtained either through your consultant or by written request to information@feg.com.