Following October's broad-based decline across nearly every area of the global investable universe, investors were presented with some relief in November, with most asset categories posting positive returns. A potential thematic shift rounded out the month, as Fed Chairman Jerome Powell's remarks on interest rates during a speech to The Economic Club of New York represented a "dovish" reversal from previous hawkish sentiment in early-October. In the global equity markets, emerging market equity logged a solid monthly gain, outpacing domestic and international developed counterparts, while in fixed income, positive momentum across high yield sectors encountered headwinds. Real assets performance was mixed, with strong returns across real estate-related sectors, essentially flat performance in energy infrastructure, and outsized losses experienced in commodities.


Economic Update
Federal Reserve Softens Rate-Hike Stance
On Wednesday, November 28, Federal Reserve (Fed) Chairman Jerome Powell's remarks during a speech at The Economic Club of New York helped spark a sharp yet short-lived rally among most risky asset sectors. Powell's seemingly dovish reversal on the Fed's expectation for the near-term path of interest rates was interpreted by market participants as a "risk-on" development.
Specifically, Powell noted, "Interest rates are still low by historical standards, and they remain just below the broad range of estimates of the level that would be neutral for the economy…" This sentiment contrasts meaningfully from his comments in early-October when Powell explained that the Federal Open Market Committee "…may go past neutral. But, we're a long way from neutral at this point, probably." As of the Fed's last update to their dot plot, this theoretical "neutral" level on the federal funds rate (FFR) sits just 75 bps above the current upper bound on the FFR.

There are many possible reasons for this unexpected dovish reversal. For example, October's sharp market-wide downside volatility may have influenced the Fed despite being outside the purview of the Fed's mandate of promoting price stability and maximum employment. Another possible influence might have been President Trump's harsh criticisms of the Fed's plan for ongoing rate hikes. Regardless of the circumstances that led to this position adjustment, however, market-implied measures appear to be moving against the Fed's dot plot projection of three interest rate hikes in 2019. Pricing on eurodollar futures points to less than one rate hike in 2019, and zero rate increases anticipated throughout 2020.

Key risks facing central monetary authorities and investors alike includes not only the mismatch between market-based estimates and official sector forecasts for near-term interest rate increases, but also a potentially truncated "runway" for additional monetary tightening, as portions of the U.S. Treasury yield curve have already begun to invert—a trend that would presumably be exacerbated by additional Fed tightening.
To conclude, asset category performance in November was generally positive, apart from below investment grade credit and energy-related sectors. During the month, Fed Chair Jerome Powell's dovish reversal related to the near-term path of Fed rate hikes spurred a brief risk-on rally late in the month, with dovish monetary sentiment corroborated by the fixed income market.
Market Returns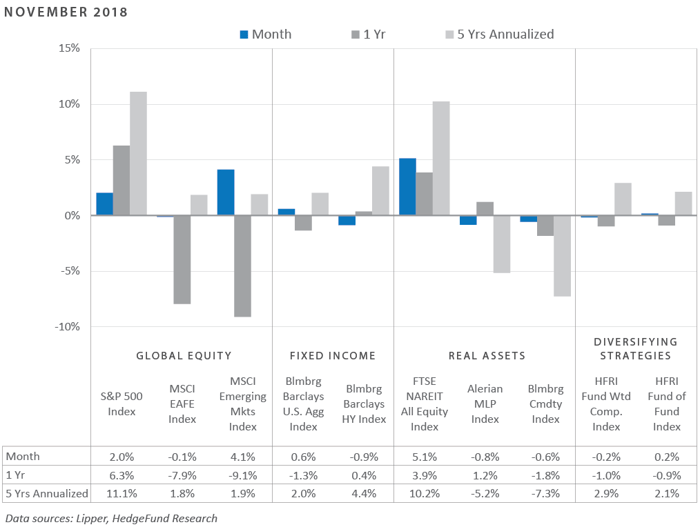 Global Equity
Markets experienced volatility in November due largely to geopolitical events, including continued trade tensions between the U.S. and China, the U.S. midterm elections, and instability between Russia and Ukraine. These events limited the markets' rebound after October's decline.

The U.S. continued to show strong economic data despite softness in the housing market, as interest rates have continued to rise and the increase in mortgage rates have weighed on buyers, in addition to the seasonal winter slowdown.

Value stocks outperformed tech-heavy growth stocks across market capitalizations within the U.S. during November, continuing the trend of the past few months. Apple declined almost 20% amid Chinese tariff concerns while Facebook fell due in part to the ongoing scrutiny of the company's handling of users' data.

Third quarter corporate earnings exhibited strong growth; however, corporations provided guidance to investors stating that future earnings could be weaker due to higher costs and increased margin pressure.

Economic growth outside the U.S. appeared to slow, as Europe and China's economic data pointed to subdued growth. European GDP for the third quarter was disappointing, as the growth rate remained at 1.7% year-over-year, primarily held down by Germany's negative GDP growth. In additiion to China's announced fiscal stimulus plan to be implemented in 2019, the country is expected to provide additional monetary stimulus to help Chinese banks.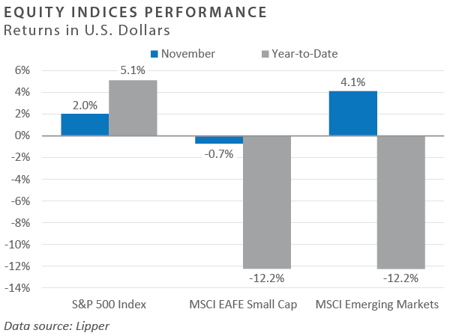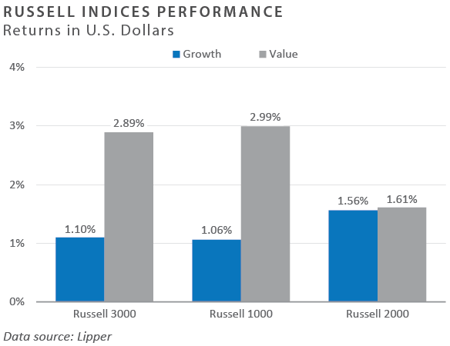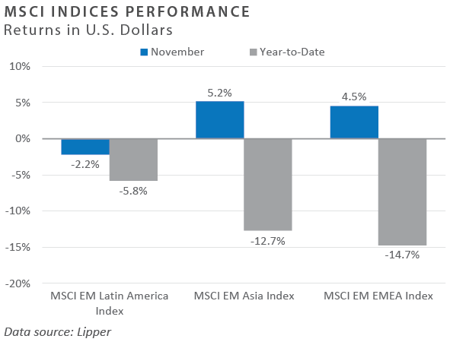 Fixed Income
Core

fixed income markets recovered slightly in November and more substantially in early December amid the resurgence in market volatility. Higher quality securities continued to outperform their lower quality counterparts as investors sought safety resulting in compressed yields.

As was anticipated, the Fed did not hike rates at their November 7-8 meeting; however, Fed Chair Jerome Powell's speech on November 28 stirred markets when he suggested that the federal funds rate may be "just below" the neutral rate. Powell also acknowledged the lag between the implementation of monetary policy and its actual impact on the economy, demonstrating the Fed's awareness of the pitfalls of hawkish monetary policy.

In early December, the markets saw an inversion at the short end of the yield curve, with the 2s/5s spread touching negative territory. This was largely perceived as a sign that the market was pricing in an end to the Fed's hiking cycle. Investors should note that while inversion of the 2s/10s spread has historically suggested an impending recession, inversion of the 2s/5s is largely tied to the Fed's actions and the perceptions of those actions, and not linked to the health of the economy at large.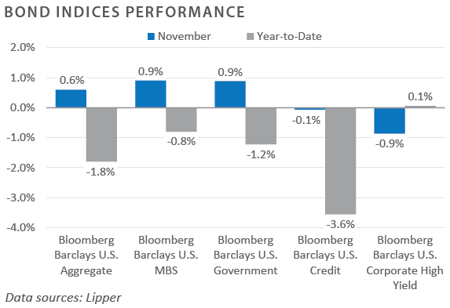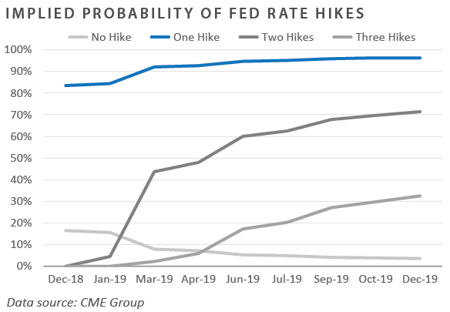 Real Assets
REAL ESTATE
U.S. REITs posted a positive return of 5.1% in November after producing negative returns in September and October. The strong gains in November were due in part to a potential pause in the Fed's interest rate tightening cycle. Previously, the sell-off in September and October was fueled largely by fear that the Fed would not slow the pace of quarterly rate hikes, creating yield competition for REITs from the fixed income markets.

Overall, fundamentals in the REIT market remain attractive, as REIT earnings remain solid and many REITs are trading at material discounts to NAV.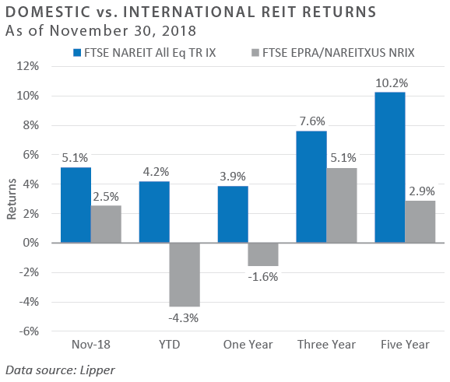 NATURAL RESOURCES
Crude oil (WTI) prices fell 22% in November, closing the month at under $52/barrel, down from a high of $76/barrel in early October. This represented the largest one-month decline since October of 2008.

The precipitous decline in oil prices was triggered by issues related to the sanctions against Iran, which took effect in early November. Saudi Arabia and the U.S. ramped up production in anticipation of the loss of Iranian oil once the sanctions took effect, but last-minute waivers from the Trump administration to multiple countries resulted in a less-than-expected reduction in supply.

In the near term, oil market participants are expected to focus on the results of OPEC's meeting in the first week of December where production cuts of just under two million barrels per day were announced.

Raw materials and agricultural commodities may receive a boost, if signs develop of a truce in the escalating trade war with China, which substantially impacts both agricultural products and industrial materials.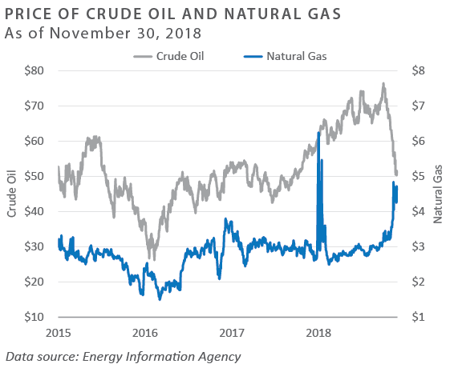 Diversifying Strategies
Hedge fund performance was mixed during the month. Lower U.S. interest rates and a flattening yield curve posed headwinds for discretionary macro managers positioned for tighter central bank policy. Systematic trend followers were generally down for the month as negative trends in equities and emerging market currencies reversed.

In aggregate, event-driven strategies generated losses despite positive performance from merger arbitrage managers. Event-driven losses were driven by distressed strategies, particularly those with exposure to the consumer, energy, and industrial sectors.

Relative value strategies were up slightly, with gains from multi-strategy and volatility managers offset by losses from asset-backed corporate bond strategies.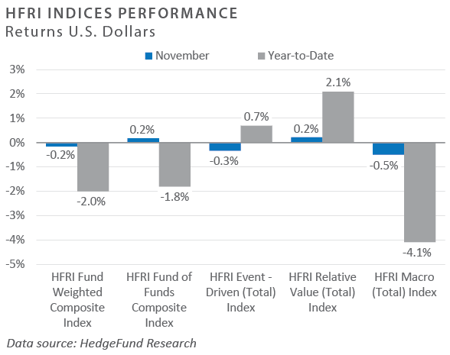 DISCLOSURES
This report was prepared by FEG (also known as Fund Evaluation Group, LLC), a federally registered investment adviser under the Investment Advisers Act of 1940, as amended, providing non-discretionary and discretionary investment advice to its clients on an individual basis. Registration as an investment adviser does not imply a certain level of skill or training. The oral and written communications of an adviser provide you with information about which you determine to hire or retain an adviser. Fund Evaluation Group, LLC, Form ADV Part 2A & 2B can be obtained by written request directly to: Fund Evaluation Group, LLC, 201 East Fifth Street, Suite 1600, Cincinnati, OH 45202, Attention: Compliance Department.
The information herein was obtained from various sources. FEG does not guarantee the accuracy or completeness of such information provided by third parties. The information in this report is given as of the date indicated and believed to be reliable. FEG assumes no obligation to update this information, or to advise on further developments relating to it. FEG, its affiliates, directors, officers, employees, employee benefit programs and client accounts may have a long position in any securities of issuers discussed in this report.
Index performance results do not represent any managed portfolio returns. An investor cannot invest directly in a presented index, as an investment vehicle replicating an index would be required. An index does not charge management fees or brokerage expenses, and no such fees or expenses were deducted from the performance shown.
Neither the information nor any opinion expressed in this report constitutes an offer, or an invitation to make an offer, to buy or sell any securities.
Any return expectations provided are not intended as, and must not be regarded as, a representation, warranty or predication that the investment will achieve any particular rate of return over any particular time period or that investors will not incur losses.
Past performance is not indicative of future results.
Investments in private funds are speculative, involve a high degree of risk, and are designed for sophisticated investors.
All data is as of November 30, 2018 unless otherwise noted.
INDICES
The Alerian MLP Index is a composite of the 50 most prominent energy Master Limited Partnerships that provides investors with an unbiased, comprehensive benchmark for this emerging asset class.
Barclays Capital Fixed Income Indices is an index family comprised of the Barclays Capital Aggregate Index, Government/Corporate Bond Index, Mortgage-Backed Securities Index, and Asset-Backed Securities Index, Municipal Index, High-Yield Index, and others designed to represent the broad fixed income markets and sectors within constraints of maturity and minimum outstanding par value. See https://ecommerce.barcap.com/indices/index.dxml for more information.
The CBOE Volatility Index (VIX) is an up-to-the-minute market estimate of expected volatility that is calculated by using real-time S&P 500 Index option bid/ask quotes. The Index uses nearby and second nearby options with at least 8 days left to expiration and then weights them to yield a constant, 30-day measure of the expected volatility of the S&P 500 Index. FTSE Real Estate Indices (NAREIT Index and EPRA/NAREIT Index) includes only those companies that meet minimum size, liquidity and free float criteria as set forth by FTSE and is meant as a broad representation of publicly traded real estate securities. Relevant real estate activities are defined as the ownership, disposure, and development of income-producing real estate. See www.ftse.com/Indices for more information.
HFRI Monthly Indices (HFRI) are equally weighted performance indexes, compiled by Hedge Fund Research Inc. (HFX), and are used by numerous hedge fund managers as a benchmark for their own hedge funds. The HFRI are broken down into 37 different categories by strategy, including the HFRI Fund Weighted Composite, which accounts for over 2000 funds listed on the internal HFR Database. The HFRI Fund of Funds Composite Index is an equal weighted, net of fee, index composed of approximately 800 fund- of- funds which report to HFR. See www.hedgefundresearch.com for more information on index construction.
J.P. Morgan's Global Index Research group produces proprietary index products that track emerging markets, government debt, and corporate debt asset classes. Some of these indices include the JPMorgan Emerging Market Bond Plus Index, JPMorgan Emerging Market Local Plus Index, JPMorgan Global Bond Non-US Index and JPMorgan Global Bond Non-US Index. See www.jpmorgan.com for more information.
Merrill Lynch high yield indices measure the performance of securities that pay interest in cash and have a credit rating of below investment grade. Merrill Lynch uses a composite of Fitch Ratings, Moody's and Standard and Poor's credit ratings in selecting bonds for these indices. These ratings measure the risk that the bond issuer will fail to pay interest or to repay principal in full. See www.ml.com for more information.
Morgan Stanley Capital International – MSCI is a series of indices constructed by Morgan Stanley to help institutional investors benchmark their returns. There are a wide range of indices created by Morgan Stanley covering a multitude of developed and emerging economies and economic sectors. See www.morganstanley.com for more information.
Russell Investments rank U.S. common stocks from largest to smallest market capitalization at each annual reconstitution period (May 31). The primary Russell Indices are defined as follows: 1) the top 3,000 stocks become the Russell 3000 Index, 2) the largest 1,000 stocks become the Russell 1000 Index, 3) the smallest 800 stocks in the Russell 1000 Index become the Russell Midcap index, 4) the next 2,000 stocks become the Russell 2000 Index, 5) the smallest 1,000 in the Russell 2000 Index plus the next smallest 1,000 comprise the Russell Microcap Index. See www.russell.com for more information.
S&P 500 Index consists of 500 stocks chosen for market size, liquidity and industry group representation, among other factors by the S&P Index Committee, which is a team of analysts and economists at Standard and Poor's. The S&P 500 is a market-value weighted index, which means each stock's weight in the index is proportionate to its market value and is designed to be a leading indicator of U.S. equities, and meant to reflect the risk/return characteristics of the large cap universe. See www.standardandpoors.com for more information.
Information on any indices mentioned can be obtained either through your consultant or by written request to information@feg.com.