Following one of the most challenging six-week periods in modern records, the U.S. economy displayed a number of bright spots in May, including a sudden and widely unexpected strengthening of the labor market. Against the backdrop of better-than-expected incoming data, most major risk sectors generated strong absolute performance during the month, particularly in the U.S. Among global equities, most major domestic sectors witnessed mid-single-digit total returns in May, with the growth style continuing to outperform value, while smaller cap companies outperformed larger cap. In fixed income, interest rates were generally range-bound during the month, leading to modestly positive returns among the higher quality rate-sensitive sectors, while improving credit and economic conditions provided a strong tailwind behind credit-sensitive sector performance. Real asset sectors, broadly speaking, participated in the risk-on rally in May, particularly energy infrastructure, which experienced a much-needed rebound following a historic dislocation earlier in the year.
Economic Update
U.S. Labor Market Stages Unexpected Rebound in May
Since mid-March, as the U.S. (and much of the world) has remained essentially shut down, most key gauges of the robustness of the economy displayed significant weakness, with some measures—such as jobless claims, payrolls growth, and industrial production—exhibiting immense downside moves, the scope of which has not been experienced in generations.
Throughout May, however, the Bureau of Labor Statistics (BLS) reported the labor market added more than 2.5 million jobs during the month, with nonfarm payrolls increasing by approximately 2.5 million, a 10 million disparity versus the Bloomberg median sell-side consensus forecast, which estimated a 7.5 million decline. The headline unemployment rate, which was expected to increase from 14.7% in April to over 19% in May, surprisingly fell to 13.3%.
The 2.5 million monthly job gain was the strongest reading in the history of the data, which dates to 1939, but also follows the sharpest decline on record, in which April saw 20.7 million jobs shed. The historic job gain also contrasts meaningfully versus the Department of Labor's weekly initial jobless claims data, which showed aggregate first-time filings for unemployment benefits for the 4-week period ending May 29 totaling 9.1 million, or nearly 4 times the amount of jobs gained as reported by the BLS.
Nevertheless, the unexpected resurgence of the U.S. labor market, in addition to a year-to-date surge in both monetary and fiscal accommodative measures, could support further price gains for risky assets in the near term, particularly should incoming economic data continue to dramatically surprise to the upside. Although, the absolute level of economic data is anticipated to reflect challenging business conditions for months to come.
In summary, market performance in May—particularly among the riskier corners of the global investible universe—continued to appear robust following a strong start to the second quarter in April. Despite the economy being effectively shut down and the steepest one-month jobs loss on record in April (-20.7 million), the U.S. labor market added the most jobs for a single month on record in May (2.5 million). The combination of better-than-anticipated economic data and policy accommodation of immense scope and magnitude has the potential to sustain the current market rebound over the near-term horizon. The longer-term outlook, however, continues to remain particularly uncertain.
Market Returns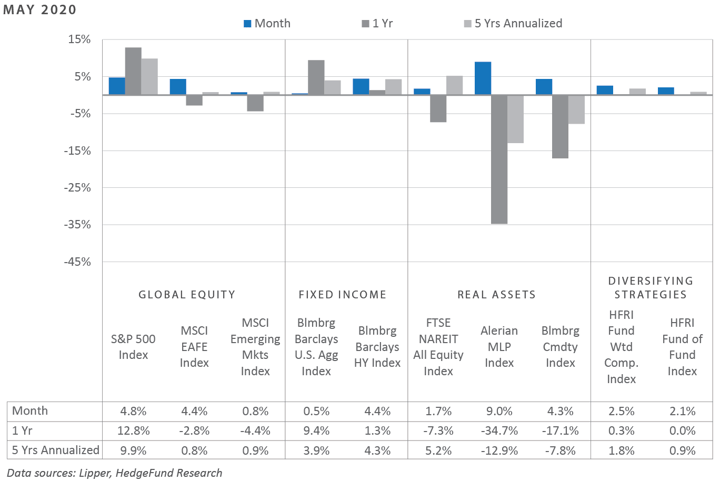 Global Equity
After a strong April, equity markets continued to rally in May with the help of a supportive Fed, reopened economies, declines in new COVID-19 cases, and reported progress on a COVID-19 vaccine.

In the U.S., equity returns were strong with corporate earnings contracting approximately 14% in the first quarter from first quarter 2019. As of June 3, the S&P 500 Index returned over 37% in the 50 preceding trading days, making it the index's largest 50-day rally in history.

Broad themes for the month included developed markets outperforming emerging markets, growth outperforming value, and small caps outperforming larger cap stocks, as small cap stocks recovered from being the hardest-hit asset class in the first quarter.

The communication services sector was the strongest performing sector in May, as consumers continued to stream entertainment at home and utilize technology to work from home. The consumer staples sector was the weakest performing sector due to negative effects in the food and beverage industry from COVID-19-related issues at meat processing plants.

Asian markets were mixed in May. Japan was the best-performing country during the month due to falling COVID-19 cases and the restart of its economy. Emerging markets were the worst region, as countries such as India and Brazil experienced a steepening rise in COVID-19 cases. Hong Kong was hit hardest due to the decline in self-rule, instead falling under greater control from Beijing.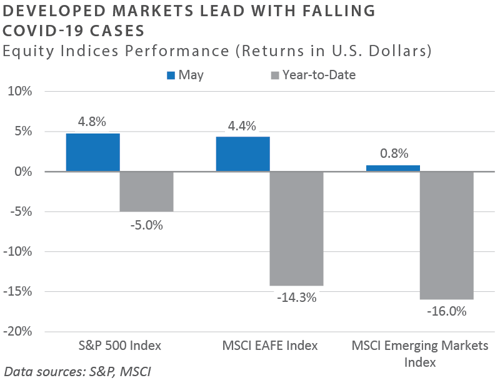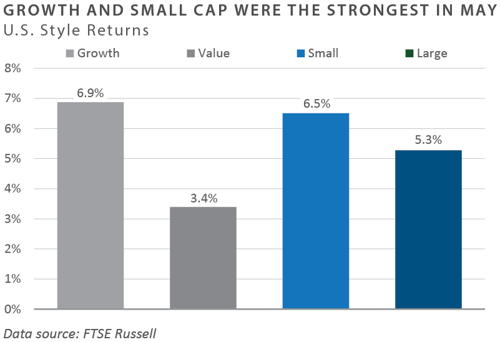 Fixed Income
In comments made to the Peterson Institute for International Economics on May 13, Federal Reserve (Fed) Chair Jerome Powell once again emphasized that the Fed does not plan to use negative policy rates as part of its toolkit. The Fed continued its purchases of select fixed income securities through May, resulting in a swelling of the Fed's balance sheet to over $7 trillion as of month-end, representing a greater than 65% increase in the size of its balance sheet since the first week of March 2020.

In a continuation of the trend that began in April, credit rallied through May, as both investment-grade and high yield bond spreads tightened over the month, supported in part by Fed purchase activity. Investment-grade credit issuance remained robust through May, exceeding $1 trillion in issuance year-to-date. As context, in 2019, that level of issuance was not reached until November.

Securitized credit had initially lagged the corporate credit markets in their rebound, but showed signs of recovery during May, though apprehensions about the strength of the U.S. consumer remained.

Treasuries lagged the broader fixed income markets, as the risk-on sentiment prevailed. Intermediate duration Treasuries outperformed their longer duration peers, with the yield curve steepening slightly over the month.

Liquidity across fixed income markets, which had all but disappeared in March, returned more broadly in May, though lower-rated tranches of securitized credit remain relatively illiquid.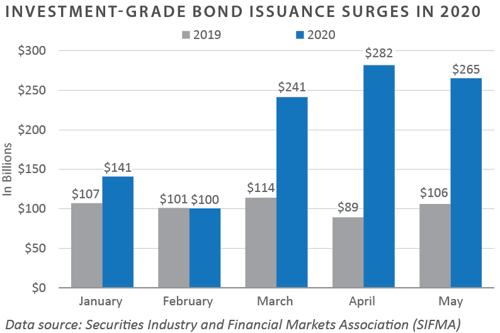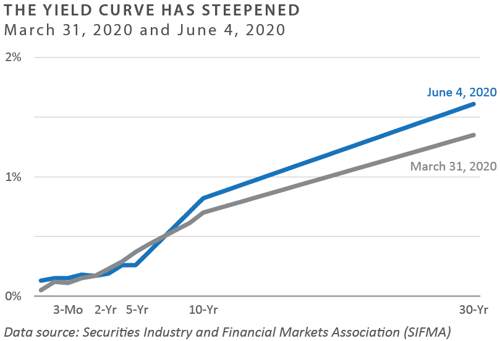 Real Assets
REAL ESTATE
REIT prices continued to improve over the month, with a broad uplift across all U.S. property types. However, the recovery for real estate has not been as strong as broader equity markets, lagging by almost 750 bps quarter-to-date.

Despite positive performance for the quarter, retail (-44.2%) and lodging (-45.7%) are still significantly down for the year, as both have been strongly impacted by COVID-19. Across the U.S., questions remain about when and how retail and hotel properties may reopen, and the extent to which consumers will utilize these facilities.

Data centers and infrastructure REITs remain the only two positive sectors for U.S. real estate year-to-date due to their defensive characteristics in this pandemic as consumers accelerate data usage.

U.S. REITs have outperformed international REITs through the quarter and most trailing periods.

NATURAL RESOURCES
Crude oil experienced significant pricing increases in May, rebounding off momentous volatility in April that saw oil prices dip into negative pricing territory for the first time in history. Price increases stemmed from the continuation of OPEC's April production cuts and improvement in the economic impacts of COVID-19. Crude prices for May closed at $35.57, an increase of 88% for the month.

The EIA forecasts 2020 global oil consumption-weighted gross domestic product (GDP) to decline by 4.1%, a significant decrease from the 0.1% April energy outlook. This reduction in oil demand is a result of low economic growth, less air travel, and other declines largely related to reduction in travel because of stay-at-home orders and apprehension surrounding a resumption of certain activities. The outlook for global economic growth remains highly uncertain, and the high level of volatility in the markets presents considerable challenges for forecasting both oil prices and global oil consumption levels in the near future.

Natural gas closed the month at $1.70/MMBtu for a one-month contract, down approximately 13% from April. This decrease can be attributed to the coming summer months in which natural gas experiences lower seasonal demand. In addition, the potential for higher natural gas production associated with rising oil prices and related production continues to weigh on pricing.

The futures strip for crude has risen as expectations have rebounded since mid-April. Expectations are that crude will remain between $36-$40/BBL through the next 12 months.

According to Baker Hughes, the U.S. oil and gas rig count, an early indicator of future output, declined to an all-time low of 301 during the week ending May 29, 2020. For May, the U.S. lost 164 rigs, its third monthly decline in a row. This represents a 69% decline in rigs compared to end-of-May 2019.

Commodity prices, as measured by the Bloomberg Commodity Index (BCOM), ended the quarter up 74.6%, mostly due to increases in energy prices.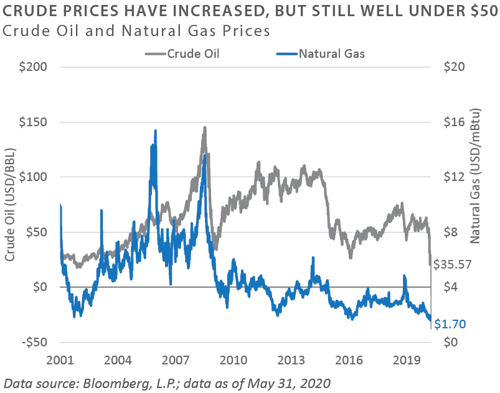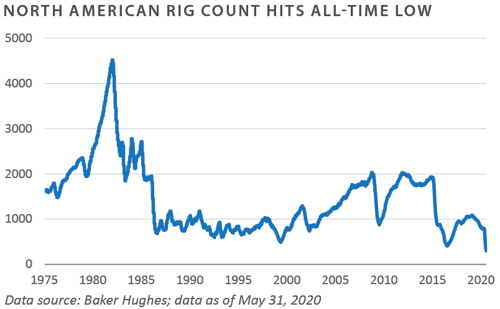 MASTER LIMITED PARTNERSHIPS
MLPs, as measured by the Alerian MLP Total Return Index, returned roughly 9% in May for a second consecutive month of gains. This was the result of continued improvement in energy prices that could encourage more development of shale basins and restart the associated natural gas production. Quarter-to-date, the AMZ has produced 63% in total return, which is 3 times the biggest quarterly return recorded for MLPs.

The Alerian Midstream Index followed a 30% gain in April with a 7% gain in May. Year-to-date performance was -26.5%, largely tracking negative commodity prices.

The current yield on MLPs stands at 12.5% as of the end of May.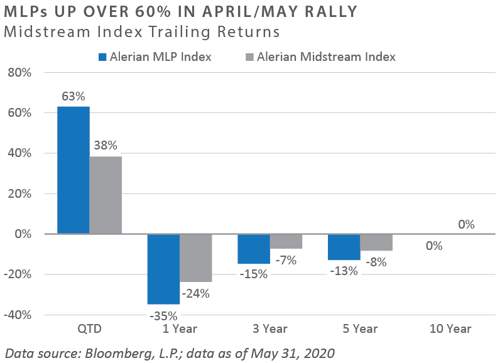 Diversifying Strategies
Performance continued to rebound strongly for risk assets in May following the March drawdown. Hedge funds, broadly, produced gains across nearly all strategies.

Event-oriented strategies benefitted from a general risk-on environment. Both equity and credit-focused managers generated strong gains during the month.

Trend following managers were one of the lone detractors during the month. Short energy exposures—oil in particular—were painful for investors, as prices reversed sharply. Short equities were another pain point for the month.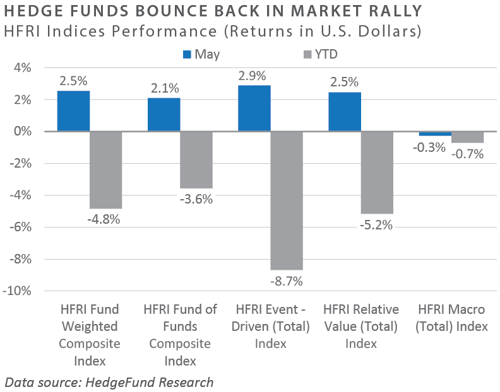 DISCLOSURES
This report was prepared by FEG (also known as Fund Evaluation Group, LLC), a federally registered investment adviser under the Investment Advisers Act of 1940, as amended, providing non-discretionary and discretionary investment advice to its clients on an individual basis. Registration as an investment adviser does not imply a certain level of skill or training. The oral and written communications of an adviser provide you with information about which you determine to hire or retain an adviser. Fund Evaluation Group, LLC, Form ADV Part 2A & 2B can be obtained by written request directly to: Fund Evaluation Group, LLC, 201 East Fifth Street, Suite 1600, Cincinnati, OH 45202, Attention: Compliance Department.
The information herein was obtained from various sources. FEG does not guarantee the accuracy or completeness of such information provided by third parties. The information in this report is given as of the date indicated and believed to be reliable. FEG assumes no obligation to update this information, or to advise on further developments relating to it. FEG, its affiliates, directors, officers, employees, employee benefit programs and client accounts may have a long position in any securities of issuers discussed in this report.
Index performance results do not represent any managed portfolio returns. An investor cannot invest directly in a presented index, as an investment vehicle replicating an index would be required. An index does not charge management fees or brokerage expenses, and no such fees or expenses were deducted from the performance shown.
Neither the information nor any opinion expressed in this report constitutes an offer, or an invitation to make an offer, to buy or sell any securities.
Any return expectations provided are not intended as, and must not be regarded as, a representation, warranty or predication that the investment will achieve any particular rate of return over any particular time period or that investors will not incur losses.
Past performance is not indicative of future results.
Investments in private funds are speculative, involve a high degree of risk, and are designed for sophisticated investors.
All data is as of May 31, 2020 unless otherwise noted.
INDICES
The Alerian MLP Index is a composite of the 50 most prominent energy Master Limited Partnerships that provides investors with an unbiased, comprehensive benchmark for this emerging asset class.
Barclays Capital Fixed Income Indices is an index family comprised of the Barclays Capital Aggregate Index, Government/Corporate Bond Index, Mortgage-Backed Securities Index, and Asset-Backed Securities Index, Municipal Index, High-Yield Index, and others designed to represent the broad fixed income markets and sectors within constraints of maturity and minimum outstanding par value. See https://ecommerce.barcap.com/indices/index.dxml for more information.
The CBOE Volatility Index (VIX) is an up-to-the-minute market estimate of expected volatility that is calculated by using real-time S&P 500 Index option bid/ask quotes. The Index uses nearby and second nearby options with at least 8 days left to expiration and then weights them to yield a constant, 30-day measure of the expected volatility of the S&P 500 Index. FTSE Real Estate Indices (NAREIT Index and EPRA/NAREIT Index) includes only those companies that meet minimum size, liquidity and free float criteria as set forth by FTSE and is meant as a broad representation of publicly traded real estate securities. Relevant real estate activities are defined as the ownership, disposure, and development of income-producing real estate. See www.ftse.com/Indices for more information.
HFRI Monthly Indices (HFRI) are equally weighted performance indexes, compiled by Hedge Fund Research Inc. (HFX), and are used by numerous hedge fund managers as a benchmark for their own hedge funds. The HFRI are broken down into 37 different categories by strategy, including the HFRI Fund Weighted Composite, which accounts for over 2000 funds listed on the internal HFR Database. The HFRI Fund of Funds Composite Index is an equal weighted, net of fee, index composed of approximately 800 fund- of- funds which report to HFR. See www.hedgefundresearch.com for more information on index construction.
J.P. Morgan's Global Index Research group produces proprietary index products that track emerging markets, government debt, and corporate debt asset classes. Some of these indices include the JPMorgan Emerging Market Bond Plus Index, JPMorgan Emerging Market Local Plus Index, JPMorgan Global Bond Non-US Index and JPMorgan Global Bond Non-US Index. See www.jpmorgan.com for more information.
Merrill Lynch high yield indices measure the performance of securities that pay interest in cash and have a credit rating of below investment grade. Merrill Lynch uses a composite of Fitch Ratings, Moody's and Standard and Poor's credit ratings in selecting bonds for these indices. These ratings measure the risk that the bond issuer will fail to pay interest or to repay principal in full. See www.ml.com for more information.
Morgan Stanley Capital International – MSCI is a series of indices constructed by Morgan Stanley to help institutional investors benchmark their returns. There are a wide range of indices created by Morgan Stanley covering a multitude of developed and emerging economies and economic sectors. See www.morganstanley.com for more information.
Russell Investments rank U.S. common stocks from largest to smallest market capitalization at each annual reconstitution period (May 31). The primary Russell Indices are defined as follows: 1) the top 3,000 stocks become the Russell 3000 Index, 2) the largest 1,000 stocks become the Russell 1000 Index, 3) the smallest 800 stocks in the Russell 1000 Index become the Russell Midcap index, 4) the next 2,000 stocks become the Russell 2000 Index, 5) the smallest 1,000 in the Russell 2000 Index plus the next smallest 1,000 comprise the Russell Microcap Index. See www.russell.com for more information.
S&P 500 Index consists of 500 stocks chosen for market size, liquidity and industry group representation, among other factors by the S&P Index Committee, which is a team of analysts and economists at Standard and Poor's. The S&P 500 is a market-value weighted index, which means each stock's weight in the index is proportionate to its market value and is designed to be a leading indicator of U.S. equities, and meant to reflect the risk/return characteristics of the large cap universe. See www.standardandpoors.com for more information.
Information on any indices mentioned can be obtained either through your consultant or by written request to information@feg.com.