The process of rebalancing trade relations between the U.S. and its primary trading partners encountered significant turbulence in May, sparking a flight-to-quality rally that helped send U.S. interest rates to the lowest level in two years. Across the global investment landscape, equity performance was largely negative during the month, with most major indices still holding on to solid year-to-date (YTD) returns, particularly for domestic sectors. Safe haven flows in fixed income propelled core bonds to a nearly 2% return in May, bringing YTD performance just below 5%, as positive momentum behind risky credit moderated. Real assets were not spared in the risk-off market environment, with steep declines across energy infrastructure and commodities. However, sharply declining long-term Treasury rates supported positive relative performance on behalf of REITs.


Economic Update
Trade Tensions Send Risky Assets, Interest Rates Lower in May
Throughout May, the U.S. government stepped up pressure on many of the country's key trading partners. Tariffs on imports from China were increased meaningfully and the administration made numerous threats about imposing tariffs on certain imports from Mexico, Japan, and Europe.
Since 2018, heightened trade tensions between the U.S. and China have been a key driver behind the economic slowdown across the globe. Previously, the U.S. appeared to be resilient in the face of this backdrop, however, that dynamic has recently shown signs of reversing.
The potential for a trade war-induced economic slowdown (finally) splashed upon the shores of the U.S. markets in May, corroborated by survey-based measures, such as Purchasing Manager Indices (PMI), which slumped to near-contraction levels across both the manufacturing and services sectors.

In addition, payrolls growth – which has remained strong throughout most of the current business cycle expansion – lost some traction in May, with both the ADP (+27,000 jobs) and the BLS (+75,000 jobs) monthly job measures missing sell-side expectations and falling to sub-100,000 levels. Thankfully, leading labor market indicators, such as first-time filings for unemployment benefits, remained historically low during the month, although this trend is unlikely to persist into perpetuity.
The potential for the world's largest economy to succumb to the fundamental weakness permeating throughout much of Europe, Japan, and China – among other regions – has applied strong downward pressure to U.S. Treasury interest rates, term structure shapes, and the steepness of the market's expected path for near-term Federal Reserve (Fed) policy.
A strong bid for safe-haven assets such as U.S. Treasuries has placed meaningful downward pressure on interest rates. The yield on the benchmark 10-Year U.S. Treasury Note, for example, declined to 2.07% in early June, the lowest yield for this key yield metric since September 2017.
Relatedly, the prospect for a domestic growth slowdown and an associated uptick in certain recessionary estimates helped flatten the Treasury yield curve further, with the yield spread between 3-Month Treasury bills and 10-Year Treasury notes driving deeper into inverted territory, ending the month at -22 bps.

Market participants have acknowledged the presence global trade pressures and the recent threat to global growth by discounting the potential for multiple cuts to the federal funds rate over the next 18 months. Pricing on fed funds futures during the month pointed to a nearly 80% likelihood the Fed would cut interest rates at their July meeting. Similar measures, such as positioning in euro dollar futures, also discounted a full cut-and-a-half during calendar year 2020.
Investors will focus their sights on the Fed's upcoming policy meetings for confirmation of the growing market sentiment for cuts to the current upper bound on the federal funds rate of 2.50%. A surprise in either direction – either too tight or too loose – is expected to further increase market volatility.
In summary, trade tensions spiked in May, particularly between the U.S. and China, sparking a risk-off market environment that benefited safe-haven assets and defensive sectors and drove downside volatility higher across most risky asset categories. While the U.S. economy has demonstrated resilience over the past 18 months amid a clear slowdown abroad, recent data has indicated a potential reversal of this disparity, with market participants responding by pricing in multiple cuts to U.S. interest rates over the next 18 months.
Market Returns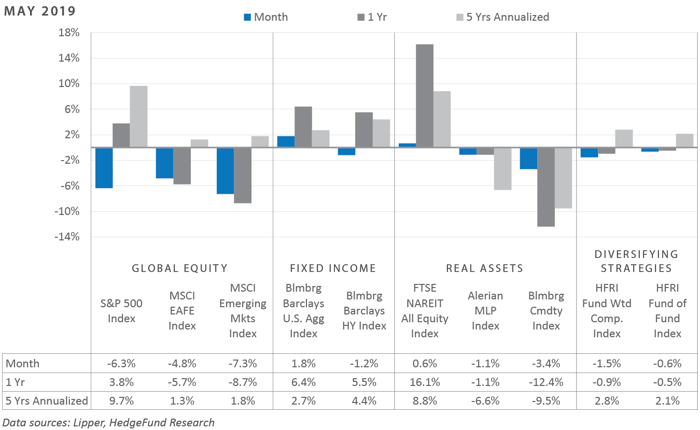 Global Equity
Global equity markets witnessed a sharp decline in May, ending a four-month streak of gains that peaked in an all-time high at the end of April.

The U.S. and Chinese markets were negatively affected as trade tensions escalated. President Trump's announcement of additional tariffs on Chinese imports – and the retaliatory tariffs from Beijing – sparked investor uncertainty followed by a market sell-off. A late-month announcement by the U.S. of a potential tariff increase on Mexican goods also tampered U.S. returns.

Energy was the sector that declined the most in May, with oil prices at their lowest level since mid-February as a consequence of trade disputes and increased inventory.

Weak manufacturing data from Europe signaled economic contraction. Nevertheless, consumer confidence in the euro zone reached its highest level YTD in May. Growing risk of trade war escalation and Brexit were headwinds to the European and UK markets. The Brexit crisis intensified, as Theresa May announced her resignation as Britain's prime minister after failing to reach a consensus among lawmakers for her proposed agreement.

Of all the regions, emerging markets declined the most in May. In the wake of trade negotiations, foreign investors seemed to be fleeing China, resulting in the first net outflow of funds from Chinese equities since October 2018. High current account deficits, weakening currencies, dependence on commodities, and policy uncertainties have also adversely affected the general sentiment of emerging markets. Conversely, Indian equity markets were a bright spot in emerging markets amidst results of the election of Prime Minister Modi.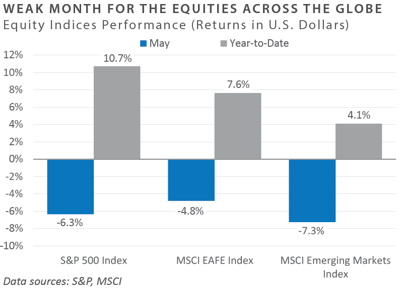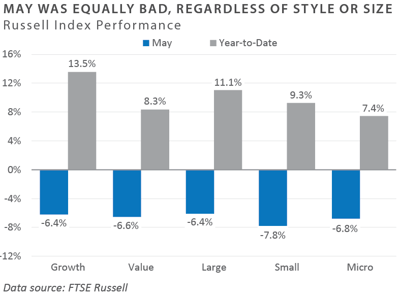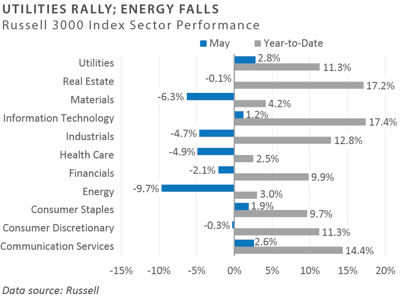 Fixed Income
In a reversal from prior months, Treasuries rallied in May, outperforming their lower-quality credit counterparts.

Minutes from the Fed's April 30 - May 1 meeting were released in mid-May and reiterated the Fed's stance of "patience." However, at a speech in Chicago on June 5, Fed Chair Jerome Powell stated that the Fed remained ready to "act as appropriate to sustain the expansion." This was widely interpreted by markets as a sign that the Fed stood ready to cut rates if escalated trade tensions affected the strength of the U.S. economy.

While Fed funds futures projected over a 90% chance of a rate cut by the end of 2019 as of June 1, the release of the June 7 jobs report was immediately followed by an increased expectation of rate cuts earlier than previously anticipated. Fed funds futures now predict three rate cuts by June 2020.

The three-month/10-year spread has been negative three times thus far in 2019, with the most recent inversion starting May 23 and continuing through the end of the month. As of May 31, the spread stood at -21 bps, the largest negative reading since July 2007. However, the two-year/10-year spread, which is the more commonly watched indicator of a potential recession, remained positive.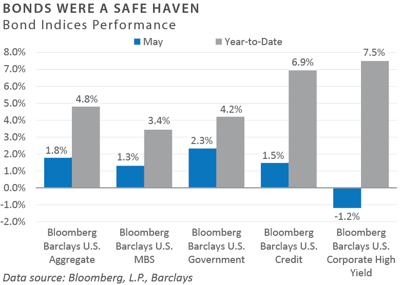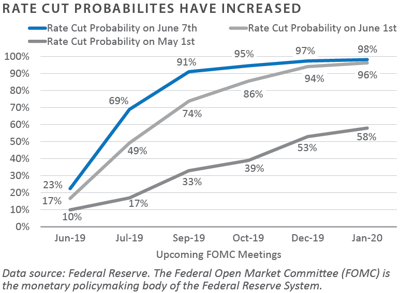 Real Assets
REAL ESTATE
Although tensions related to the trade war with China negatively impacted equities, REITs were viewed as less vulnerable to disruptions in global supply chains from the tariffs imposed by Washington and were relatively flat in a month of weak performance for risk assets.

Year-to-date, the industrial, residential, and infrastructure sectors experienced the largest gains, while the retail sector underperformed due to ongoing challenges from online retailers' higher costs from tariffs.

Long-term interest rate trends are expected to have the greatest impact on REITs over time, due in large part to most firms having longer-term leases of 5 to 10 years – or even longer – where tenants are less likely to react to short-term news. The key challenges facing real estate companies at this point in the cycle include higher construction costs and labor shortages.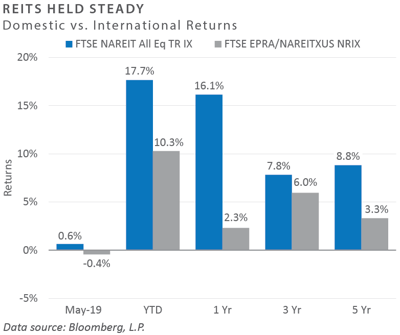 NATURAL RESOURCES
Crude oil (WTI) dropped 16% in May, closing at $53.50/barrel, down from $63/barrel by the end of the April. Oil prices declined significantly during the month when OPEC production cuts were unable to offset the growth in U.S. production, slackening global demand, and persistent trade tensions.

Industrial metals declined in May amid global economic concerns. In other commodities, corn prices appreciated during the month due to poor weather conditions limiting production. Further delays in a positive outcome on a U.S.-China trade agreement may negatively impact agricultural commodities like U.S. soybean exports and industrial metals prices such as aluminum, nickel, and copper.




MLPs

MLPs have enjoyed a strong recovery in 2019, up over 15% year to date. MLP news during the month included the initial public offering (IPO) of Rattler Midstream (RTLR), the midstream subsidiary of Diamondback Energy, Inc, which will own and operate midstream infrastructure assets in the Midland and Delaware-sub basins of the Permian Basin.

More consolidation is expected along with increased private equity interest in purchasing midstream assets.
Diversifying Strategies
The deal flow for merger arbitrage continued to be robust during the month. While flow remained elevated representing large merger deals, the count of deals declined. The underlying conditions remained accommodative for a strong deal pipeline if the ongoing trade disputes are resolved.

Credit-sensitive relative value strategies experienced mixed results with the U.S. yield curve inverting. Volatility-focused strategies performed well in response to May's increased market volatility.

Recent trends in energy and agricultural commodities reversed course in May causing losses across trend-following strategies. Crude oil sold off due to rising inventories in the U.S. as well as concerns of waning demand in the wake of trade tensions.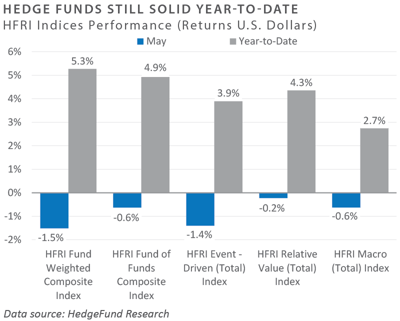 DISCLOSURES
This report was prepared by FEG (also known as Fund Evaluation Group, LLC), a federally registered investment adviser under the Investment Advisers Act of 1940, as amended, providing non-discretionary and discretionary investment advice to its clients on an individual basis. Registration as an investment adviser does not imply a certain level of skill or training. The oral and written communications of an adviser provide you with information about which you determine to hire or retain an adviser. Fund Evaluation Group, LLC, Form ADV Part 2A & 2B can be obtained by written request directly to: Fund Evaluation Group, LLC, 201 East Fifth Street, Suite 1600, Cincinnati, OH 45202, Attention: Compliance Department.
The information herein was obtained from various sources. FEG does not guarantee the accuracy or completeness of such information provided by third parties. The information in this report is given as of the date indicated and believed to be reliable. FEG assumes no obligation to update this information, or to advise on further developments relating to it. FEG, its affiliates, directors, officers, employees, employee benefit programs and client accounts may have a long position in any securities of issuers discussed in this report.
Index performance results do not represent any managed portfolio returns. An investor cannot invest directly in a presented index, as an investment vehicle replicating an index would be required. An index does not charge management fees or brokerage expenses, and no such fees or expenses were deducted from the performance shown.
Neither the information nor any opinion expressed in this report constitutes an offer, or an invitation to make an offer, to buy or sell any securities.
Any return expectations provided are not intended as, and must not be regarded as, a representation, warranty or predication that the investment will achieve any particular rate of return over any particular time period or that investors will not incur losses.
Past performance is not indicative of future results.
Investments in private funds are speculative, involve a high degree of risk, and are designed for sophisticated investors.
All data is as of May 31, 2019 unless otherwise noted.
INDICES
The Alerian MLP Index is a composite of the 50 most prominent energy Master Limited Partnerships that provides investors with an unbiased, comprehensive benchmark for this emerging asset class.
Barclays Capital Fixed Income Indices is an index family comprised of the Barclays Capital Aggregate Index, Government/Corporate Bond Index, Mortgage-Backed Securities Index, and Asset-Backed Securities Index, Municipal Index, High-Yield Index, and others designed to represent the broad fixed income markets and sectors within constraints of maturity and minimum outstanding par value. See https://ecommerce.barcap.com/indices/index.dxml for more information.
The CBOE Volatility Index (VIX) is an up-to-the-minute market estimate of expected volatility that is calculated by using real-time S&P 500 Index option bid/ask quotes. The Index uses nearby and second nearby options with at least 8 days left to expiration and then weights them to yield a constant, 30-day measure of the expected volatility of the S&P 500 Index. FTSE Real Estate Indices (NAREIT Index and EPRA/NAREIT Index) includes only those companies that meet minimum size, liquidity and free float criteria as set forth by FTSE and is meant as a broad representation of publicly traded real estate securities. Relevant real estate activities are defined as the ownership, disposure, and development of income-producing real estate. See www.ftse.com/Indices for more information.
HFRI Monthly Indices (HFRI) are equally weighted performance indexes, compiled by Hedge Fund Research Inc. (HFX), and are used by numerous hedge fund managers as a benchmark for their own hedge funds. The HFRI are broken down into 37 different categories by strategy, including the HFRI Fund Weighted Composite, which accounts for over 2000 funds listed on the internal HFR Database. The HFRI Fund of Funds Composite Index is an equal weighted, net of fee, index composed of approximately 800 fund- of- funds which report to HFR. See www.hedgefundresearch.com for more information on index construction.
J.P. Morgan's Global Index Research group produces proprietary index products that track emerging markets, government debt, and corporate debt asset classes. Some of these indices include the JPMorgan Emerging Market Bond Plus Index, JPMorgan Emerging Market Local Plus Index, JPMorgan Global Bond Non-US Index and JPMorgan Global Bond Non-US Index. See www.jpmorgan.com for more information.
Merrill Lynch high yield indices measure the performance of securities that pay interest in cash and have a credit rating of below investment grade. Merrill Lynch uses a composite of Fitch Ratings, Moody's and Standard and Poor's credit ratings in selecting bonds for these indices. These ratings measure the risk that the bond issuer will fail to pay interest or to repay principal in full. See www.ml.com for more information.
Morgan Stanley Capital International – MSCI is a series of indices constructed by Morgan Stanley to help institutional investors benchmark their returns. There are a wide range of indices created by Morgan Stanley covering a multitude of developed and emerging economies and economic sectors. See www.morganstanley.com for more information.
Russell Investments rank U.S. common stocks from largest to smallest market capitalization at each annual reconstitution period (May 31). The primary Russell Indices are defined as follows: 1) the top 3,000 stocks become the Russell 3000 Index, 2) the largest 1,000 stocks become the Russell 1000 Index, 3) the smallest 800 stocks in the Russell 1000 Index become the Russell Midcap index, 4) the next 2,000 stocks become the Russell 2000 Index, 5) the smallest 1,000 in the Russell 2000 Index plus the next smallest 1,000 comprise the Russell Microcap Index. See www.russell.com for more information.
S&P 500 Index consists of 500 stocks chosen for market size, liquidity and industry group representation, among other factors by the S&P Index Committee, which is a team of analysts and economists at Standard and Poor's. The S&P 500 is a market-value weighted index, which means each stock's weight in the index is proportionate to its market value and is designed to be a leading indicator of U.S. equities, and meant to reflect the risk/return characteristics of the large cap universe. See www.standardandpoors.com for more information.
Information on any indices mentioned can be obtained either through your consultant or by written request to information@feg.com.