Domestic economic fundamentals continued to strengthen in May, as the labor market witnessed further tightening, current-quarter GDP estimates reflected a nearly 5% growth rate, and most composite measures of business activity signaled an ongoing expansionary bias. Meanwhile, improving U.S. conditions appear to be in the early stages of potentially diverging from key international counterparts, such as the euro zone and Japan. Recent fundamental disparities have been corroborated by equity market returns, with year-to-date performance favoring domestic exposure and both international developed and emerging markets experiencing a modest loss of momentum in recent months. A flight-to-quality environment led to solid returns across the higher quality spectrum of the fixed income market during the month, while energy infrastructure assets saw a continuation of strong performance following April's impressive gain.


Economic Update
Economic Fundamentals Diverging Between U.S. and Europe, Japan
Over the 18-month period spanning first quarter 2016 to third quarter 2017, economic growth rates across the U.S., euro zone, and Japan generally trended higher in concert. The sustainability of the often-labeled "synchronized" global expansion has been called into question in recent quarters, however, as both realized measures of economic activity and survey-based measures have turned lower across both the euro zone and Japan. Through the first quarter of 2018, Japanese real GDP, for example, expanded at a modest 1.1% year-over-year (YoY) rate, the weakest annual pace since first quarter 2016. Euro zone real GDP growth has also cooled, although at a more measured pace, easing to 2.5% YoY through the quarter.

While throwing in the towel on ongoing global economic expansion is likely premature, the recent divergence in economic conditions comes at a pivotal time for each region's central monetary authorities, as the Federal Reserve (Fed), European Central Bank (ECB), and Bank of Japan (BOJ) attempt to shift their monetary policy postures more towards "normal."
Through May, these three key central banks maintained balance sheet assets in aggregate of $14.5 trillion, roughly $500 billion below levels witnessed in March. The rate-of-change, or "flow," of this staggering monetary support mechanism has slowed considerably since 2016, with a pronounced deceleration taking place since March of this year.
So far, the modest pullback in the collective stock of the Fed, ECB, and BOJ balance sheet assets has generally been well-absorbed by market participants with realized volatility, although elevated from recent levels, remaining low by historical standards. Asset valuations also appear stable, but remain potentially susceptible to further contraction in monetary accommodation. Domestic markets have proven particularly resilient, despite the Fed kick-starting the return to monetary normality. The recent introduction of U.S. fiscal stimulus, in the form of broad corporate and individual tax cuts, appears to be providing a solid buffer to the incrementally less-accommodative path of monetary conditions.

To summarize, a recent divergence has occurred between economic conditions in the U.S. and abroad, including an acceleration in improvement across many key domestic fundamental indicators, but a modest cooling in the euro zone and Japan. The potential for the Fed to follow a tighter path than previously communicated remains a risk, particularly in the event that ongoing fiscal tailwinds result in a disorderly increase in either inflation or the general level of interest rates.


Market Returns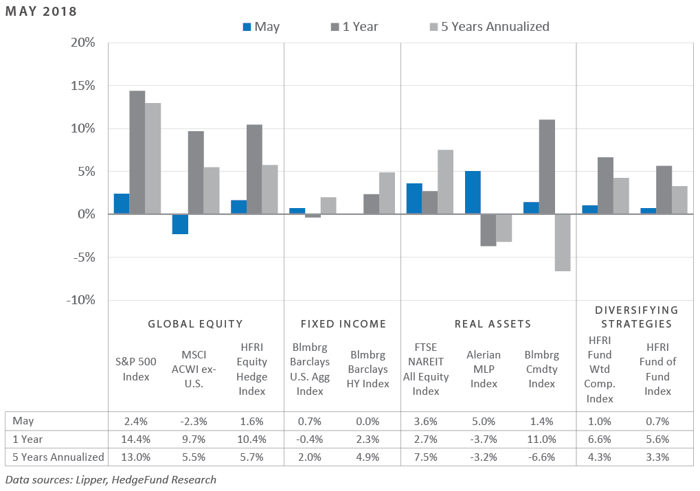 Global Equity
Volatility persisted in global markets during May. The Trump administration's global trade approach, the looming North Korean summit, and the U.S. withdrawal from the Iran nuclear deal contributed to uncertainty.

Continued benefits of economic growth and recent tax cuts contributed to strong earnings for U.S. companies. Returns across the Russell 3000 Index sectors were primarily positive in May. The information technology sector was the strongest performing sector, returning over 7%, while the telecommunication sector was the largest detractor, declining almost 3%.

The U.S. dollar appreciated approximately 2.0% when compared to other major world currencies, negatively impacting returns for U.S. Investors.

European markets experienced mixed results during May. European consumer confidence remained strong as the unemployment rate continued to fall to 8.5% in April, however, a looming trade war coupled with higher oil prices affected corporate sentiment.

Italian markets declined due to the blockage of the Italian president's attempt to form a coalition government. Due to skepticism of Italy's participation in the European Union among the political players, fears of an Italian exit from the Union detracted from the broader European region despite a political compromise by month end.

Emerging Markets faced adversity during the month of May, with the broad MSCI Emerging Markets Index declining over 3.0%. The MSCI Emerging Markets Latin America Index had the largest decline, as Brazil experienced a trucker strike in protest of rising fuel costs that hit the nation's state-owned oil company, Petrobras.

MSCI began their partial inclusion of 226 China large cap A shares into the MSCI Emerging Markets Index during May. The initial inclusion increased China's weight within the MSCI Emerging Markets Index by approximately one percentage point.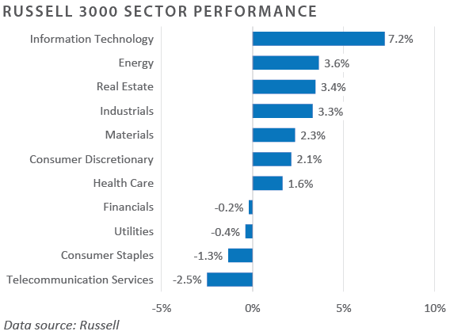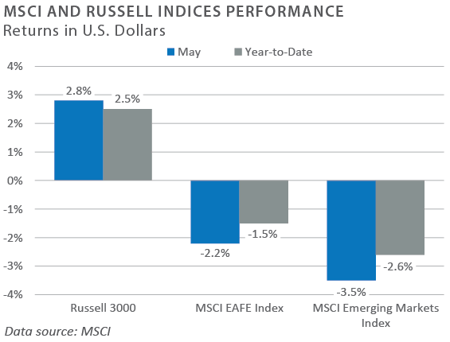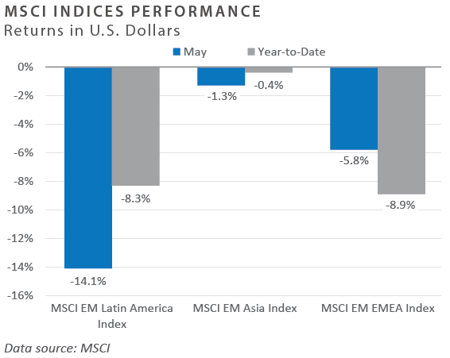 Fixed Income
The 10-year U.S. Treasury yield briefly spiked to 3.1%, the highest level since 2011, after positive data on February and March retail sales triggered fears of accelerating inflation.

By the end of the month, yields had fallen to 2.8%, after political fears in Europe triggered a flight to quality that supported fixed income returns for May but still left investors with negative returns for 2018.

The May 1-2 meeting of the Federal Open Market Committee FOMC) left the Federal Funds rate unchanged at 1.5-1.75%. Minutes from the meeting released on May 23 indicated that the FOMC would be comfortable with temporarily overshooting its 2% target for inflation. The minutes also suggested that the FOMC plans to continue the current path of gradual policy normalization.

Euro zone government bonds returned -1.2% during May, driven by uncertainty around Italian elections and fears of a populist Italian government voting to leave the European Union. Performance within the euro zone was widely dispersed, with Italian bonds falling 6.7% while German bunds, Europe's perceived safe haven, returned 1.7%.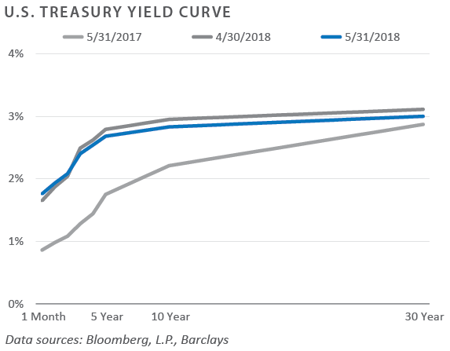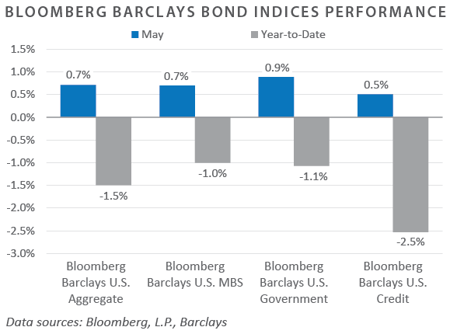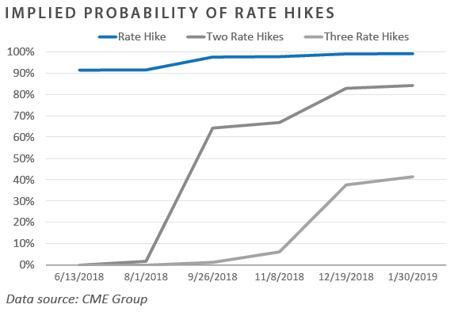 Real Assets
REAL ESTATE
U.S. REITs returned 3.6% in May on rising valuations across property sectors, as demand for real estate remained robust. Low vacancy rates have persisted as growing demand has kept pace with new construction.

While rising interest rates took a toll on yield-sensitive REITs in the first quarter of 2018, investors may be taking a different view on the prospects of real estate. Investors may be viewing slower rising rates as a sign of an improving economy, which allows landlords to raise rents to cover the rate increase. During the month, retail, self-storage, and health care were among the strongest performing property sectors.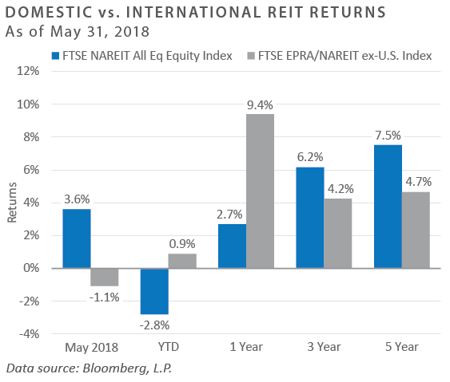 NATURAL RESOURCES
Crude oil prices increased to over $72 per barrel (WTI) in May, reaching a three-year high, as the U.S. pulled out of the Iran nuclear deal toward the beginning of the month and the prospects of renewed sanctions on Iran caused oil prices to rise.

Toward the end of May, however, oil prices started to decline amid reports that OPEC, Russia, and allied producers are discussing a plan to supply additional oil to the market by bringing output back in line with their original target. An agreement may be announced later in June.

Commodity markets gained during May, led by positive performance in both precious and industrial metals and agricultural products. The Trump administration recently announced tariffs on certain goods between the European Union, Canada, and Mexico, leading to increased fears of a global trade war; however, such an event may actually lift the prices of raw materials.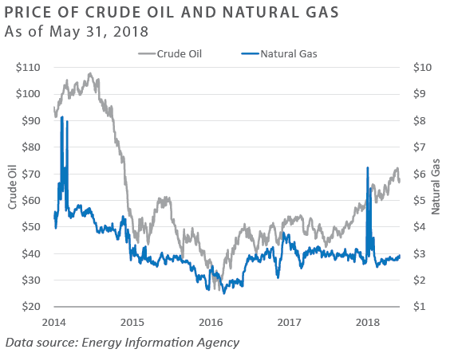 Diversifying Strategies
May was a strong month for hedge funds, which benefitted from encouraging economic data and strong corporate earnings. Investment gains were tempered by losses resulting from pockets of elevated volatility in certain financial markets, led by the largest single-day spike in Italian sovereign bond rates due to the uncertainty of the political landscape in the European Union.

Event-driven was the top performing strategy in May. Activist and special situations strategies benefited from rising stock prices and positive price action related to an increasing universe of corporate transactions.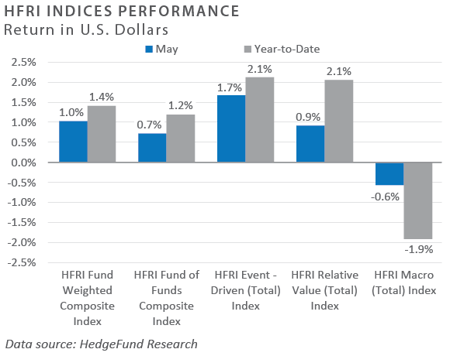 DISCLOSURES
This report was prepared by FEG (also known as Fund Evaluation Group, LLC), a federally registered investment adviser under the Investment Advisers Act of 1940, as amended, providing non-discretionary and discretionary investment advice to its clients on an individual basis. Registration as an investment adviser does not imply a certain level of skill or training. The oral and written communications of an adviser provide you with information about which you determine to hire or retain an adviser. Fund Evaluation Group, LLC, Form ADV Part 2A & 2B can be obtained by written request directly to: Fund Evaluation Group, LLC, 201 East Fifth Street, Suite 1600, Cincinnati, OH 45202, Attention: Compliance Department.
The information herein was obtained from various sources. FEG does not guarantee the accuracy or completeness of such information provided by third parties. The information in this report is given as of the date indicated and believed to be reliable. FEG assumes no obligation to update this information, or to advise on further developments relating to it. FEG, its affiliates, directors, officers, employees, employee benefit programs and client accounts may have a long position in any securities of issuers discussed in this report.
Index performance results do not represent any managed portfolio returns. An investor cannot invest directly in a presented index, as an investment vehicle replicating an index would be required. An index does not charge management fees or brokerage expenses, and no such fees or expenses were deducted from the performance shown.
Neither the information nor any opinion expressed in this report constitutes an offer, or an invitation to make an offer, to buy or sell any securities.
Any return expectations provided are not intended as, and must not be regarded as, a representation, warranty or predication that the investment will achieve any particular rate of return over any particular time period or that investors will not incur losses.
Past performance is not indicative of future results.
Investments in private funds are speculative, involve a high degree of risk, and are designed for sophisticated investors.
All data is as of May 31, 2018 unless otherwise noted.
INDICES
The Alerian MLP Index is a composite of the 50 most prominent energy Master Limited Partnerships that provides investors with an unbiased, comprehensive benchmark for this emerging asset class.
Barclays Capital Fixed Income Indices is an index family comprised of the Barclays Capital Aggregate Index, Government/Corporate Bond Index, Mortgage-Backed Securities Index, and Asset-Backed Securities Index, Municipal Index, High-Yield Index, and others designed to represent the broad fixed income markets and sectors within constraints of maturity and minimum outstanding par value. See https://ecommerce.barcap.com/indices/index.dxml for more information.
The CBOE Volatility Index (VIX) is an up-to-the-minute market estimate of expected volatility that is calculated by using real-time S&P 500 Index option bid/ask quotes. The Index uses nearby and second nearby options with at least 8 days left to expiration and then weights them to yield a constant, 30-day measure of the expected volatility of the S&P 500 Index. FTSE Real Estate Indices (NAREIT Index and EPRA/NAREIT Index) includes only those companies that meet minimum size, liquidity and free float criteria as set forth by FTSE and is meant as a broad representation of publicly traded real estate securities. Relevant real estate activities are defined as the ownership, disposure, and development of income-producing real estate. See www.ftse.com/Indices for more information.
HFRI Monthly Indices (HFRI) are equally weighted performance indexes, compiled by Hedge Fund Research Inc. (HFX), and are used by numerous hedge fund managers as a benchmark for their own hedge funds. The HFRI are broken down into 37 different categories by strategy, including the HFRI Fund Weighted Composite, which accounts for over 2000 funds listed on the internal HFR Database. The HFRI Fund of Funds Composite Index is an equal weighted, net of fee, index composed of approximately 800 fund- of- funds which report to HFR. See www.hedgefundresearch.com for more information on index construction.
J.P. Morgan's Global Index Research group produces proprietary index products that track emerging markets, government debt, and corporate debt asset classes. Some of these indices include the JPMorgan Emerging Market Bond Plus Index, JPMorgan Emerging Market Local Plus Index, JPMorgan Global Bond Non-US Index and JPMorgan Global Bond Non-US Index. See www.jpmorgan.com for more information.
Merrill Lynch high yield indices measure the performance of securities that pay interest in cash and have a credit rating of below investment grade. Merrill Lynch uses a composite of Fitch Ratings, Moody's and Standard and Poor's credit ratings in selecting bonds for these indices. These ratings measure the risk that the bond issuer will fail to pay interest or to repay principal in full. See www.ml.com for more information.
Morgan Stanley Capital International – MSCI is a series of indices constructed by Morgan Stanley to help institutional investors benchmark their returns. There are a wide range of indices created by Morgan Stanley covering a multitude of developed and emerging economies and economic sectors. See www.morganstanley.com for more information.
Russell Investments rank U.S. common stocks from largest to smallest market capitalization at each annual reconstitution period (May 31). The primary Russell Indices are defined as follows: 1) the top 3,000 stocks become the Russell 3000 Index, 2) the largest 1,000 stocks become the Russell 1000 Index, 3) the smallest 800 stocks in the Russell 1000 Index become the Russell Midcap index, 4) the next 2,000 stocks become the Russell 2000 Index, 5) the smallest 1,000 in the Russell 2000 Index plus the next smallest 1,000 comprise the Russell Microcap Index. See www.russell.com for more information.
S&P 500 Index consists of 500 stocks chosen for market size, liquidity and industry group representation, among other factors by the S&P Index Committee, which is a team of analysts and economists at Standard and Poor's. The S&P 500 is a market-value weighted index, which means each stock's weight in the index is proportionate to its market value and is designed to be a leading indicator of U.S. equities, and meant to reflect the risk/return characteristics of the large cap universe. See www.standardandpoors.com for more information.
Information on any indices mentioned can be obtained either through your consultant or by written request to information@feg.com.
Previous
Next