The strong risk-on tailwinds that have prevailed since late March showed no signs of letting up through July, as improving economic data, continued accommodative monetary and fiscal policy, and historically low interest rates counterbalanced potential volatility drivers, such as the ongoing COVID-19 crisis and the looming U.S. presidential election. Depreciating since March, the U.S. dollar (USD) recently declined to a greater than two-year low—by some common measures. This has supported a broad-based market rally, while driving notably strong returns across sectors with heightened USD sensitivity, such as commodities, precious metals, and emerging market equities.
U.S. interest rates also declined for the month, sending both nominal and real 10-year Treasury rates to fresh record lows through the early trading days of August.
Economic Update
Market Rally Accelerates as U.S. Dollar Declines to Multi-Year Low
The broad-based rally since the depths of the sell-off in March has driven a nearly 50% rebound for U.S. large cap equities, a greater than 25% total return across U.S. high yield bonds, and equally impressive performance across most major real assets sectors. In the process, valuations spanning the riskier corners of the market have ascended to at least historical average levels and, in some sectors, to secular highs.
Coinciding with the historic market rebound is a sharp decline of the USD, particularly versus European currencies, with some commonly referenced measures of the exchange rate value of the USD—such as the ICE U.S. Dollar Index (DXY)—slumping to their lowest levels since May 2018.

The DXY Index experienced a sharp move higher in early March, but has since declined by nearly 10%, as unprecedented fiscal and monetary stimulative measures taken by U.S. policymakers in the wake of immense COVID-19 growth headwinds and sharply declining real interest rates have placed downward pressure on the USD year-to-date.
Inflation-adjusted ("real") interest rates, as reflected by the U.S. Treasury Inflation-Protected Securities (TIPS) market, sank below -1% for the first time in the history of the TIPS market to close out July, with additional downward momentum in the first few trading days of August.
The convergence of a historically accommodative policy backdrop, a declining USD, and negative real interest rates have driven the spot price of gold to the highest nominal level on record and just shy of the inflation-adjusted record level of nearly $2,200/ounce in 1980. Additional factors likely aiding in gold's recent rally is the prospect for above-trend inflation–should economic data continue to surprise to the upside–and the potential for the smooth, ongoing re-opening of the economy if major speedbumps in that process can be avoided.
In summary, broad-based market gains continued to be generated by most major corners of the global investment universe in July, with key pillars of support including historically accommodative monetary and broader financial conditions, gradually improving economic data, stable—and historically low—interest rates, and a recent sharp decline in the USD. The rebound across risk assets since March has driven some valuation levels to secular highs.
Market Returns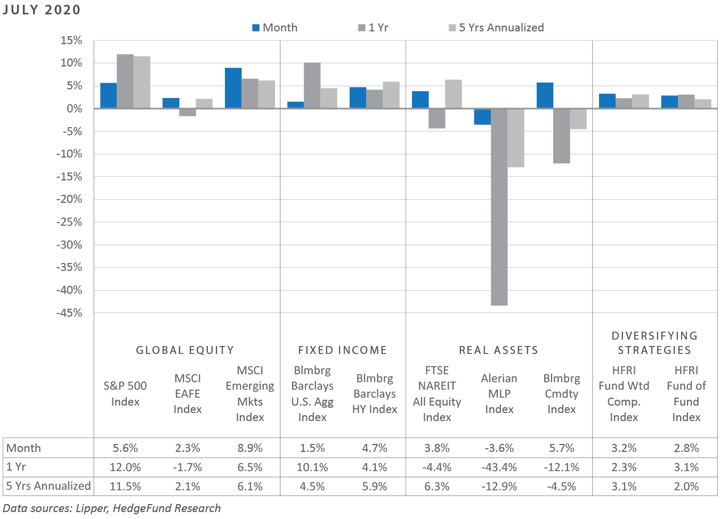 Global Equity
After significant central bank intervention in prior months, central banks around the world held steady during July and did not elect to significantly change their monetary policies. News around positive developments surrounding COVID-19 vaccine developments, improving economic activity since lockdowns, and continued market liquidity drove equity markets.

Internationally, Japanese equities traded lower during the month due to poor economic data and a lack of monetary policy from the Bank of Japan. News of an agreement across the EU regarding a fiscal stimulus package of approximately $750 billion drove European equities higher.

Second-quarter GDP fell 9.5% from the first quarter—32.9% on an annualized basis—making this period of economic weakness twice as bad as the economic decline of the 2008 recession, which was the worst since World War II. Nevertheless, the forward-looking markets rallied with expectations of improvements in economic activity, employment, and earnings.

The continued trend of growth stocks outperforming value stocks was supported by the top-five stocks in the S&P 500 Index continual strong performance that increased the weight of Microsoft, Apple, Amazon, Facebook, and Alphabet stocks to a peak of approximately 22% of the index.

Emerging markets led the month with a return of approximately 9%, with Chinese equities rallying over 8.5% despite a resurgence of geopolitical tensions between the U.S. and China, which included tit-for-tat closures of consulates throughout the month. Economic data in emerging markets began to improve, which has boosted sentiment.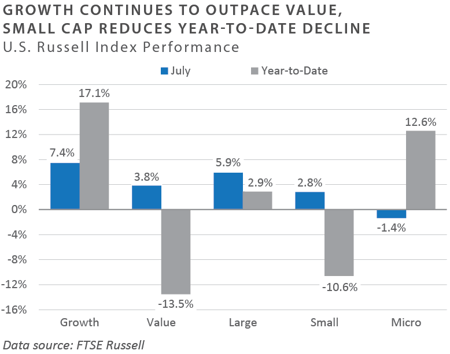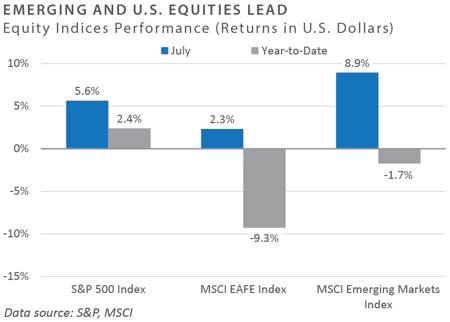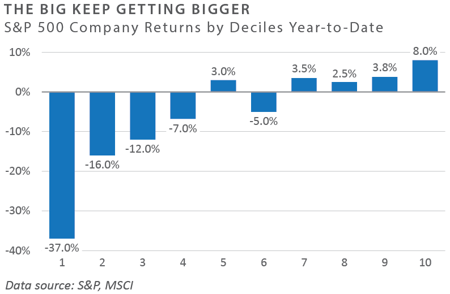 Fixed Income
The Federal Open Market Committee (FOMC) met on July 30 and 31 and opted not to change the current policy rate of 0.00%-0.25%, acknowledging that the economy is heavily dependent upon the course of the COVID-19 pandemic and reaffirming its "symmetric" 2% inflation target.

In addition to holding short-term interest rates near the zero-bound, the FOMC directed the open market desk to continue increasing the Federal Reserve's holdings of Treasuries and mortgage-backed securities at the current pace of $80 billion per month.

To further support market liquidity, the Federal Reserve extended its corporate credit facilities, as well as the term-asset-backed securities loan facility through the end of the year and extended its dollar swap line facilities through March 31, 2021.

High-yield bonds returned almost 5% in July, the asset class' highest monthly return since October 2011. Option-adjusted spreads tightened by 130 basis points as default concerns moderated.

Corporate credit issuance fell by more than 60% month-over-month to $93 billion following record issuance that spanned both investment-grade and high-yield credit during the second quarter.

Securitized credit markets continued to recover in July, with asset-backed security issuance rising for the third consecutive month. Liquidity has been slow to return to the non-investment-grade portions of the securitized market, particularly in commercial mortgage-backed securities where there are lingering concerns surrounding delinquencies in the retail sector.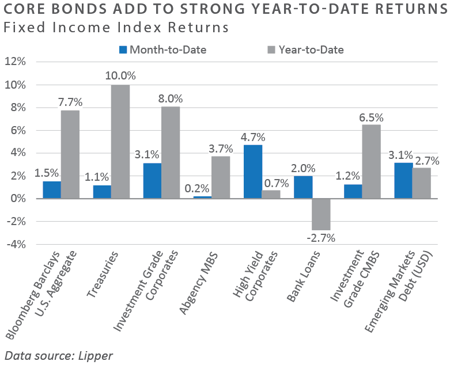 Real Assets
REAL ESTATE
Real estate investment trusts (REITs) continued to improve over the month, with a broad uplift across most U.S. property types.

The sectors most affected by COVID-19 in 2020 continued to trend negative in July. Lodging and retail ended the month well into negative territory, failing to rebound with other risk assets.

Data centers and industrial REITs continued their strong performance through July, as their defensive characteristics supporting the digital economy continued to shine in the face of the pandemic.

Developed European REITs led performance during July due in part to the large fiscal stimulus package approved by European Union leaders as well as improvements in European economic measures.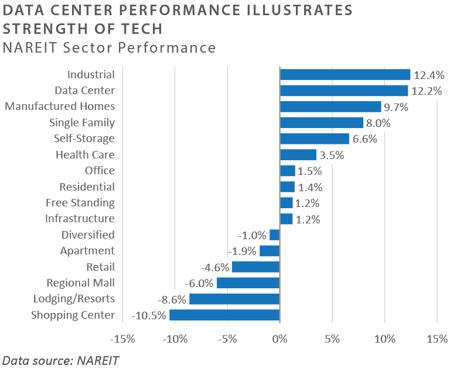 NATURAL RESOURCES
Daily WTI oil spot prices averaged $40 per barrel in July, up $2 per barrel from the June average and up roughly $24/b from the multi-year low monthly average price in April. Oil prices have been trading in a narrow range of around $40 per barrel since early June because the global increase in cases of COVID-19 have curbed the outlook for a swift recovery in demand.

The natural gas spot price averaged $1.76 per MMBtu in July, an increase of $0.13 from June in which natural gas recorded its lowest inflation-adjusted price since 1989.

For the time being, the EIA expects falling production to continue to stabilize WTI oil prices into the near future, putting slight upward pressure on both crude and natural gas prices through the end of 2021. The monthly WTI spot prices are expected to average $43/bbl during the second half of 2020 and average a price in the mid to low $40's/BBL in 2021.

According to Baker Hughes, the U.S. oil and gas rig count—an early indicator of future output—continued to fall in the month of July, standing at 251 at the end of the month, down roughly 5% from the end of June. This represents a total rig count decline of ~700 in rigs compared to end-of-July 2019.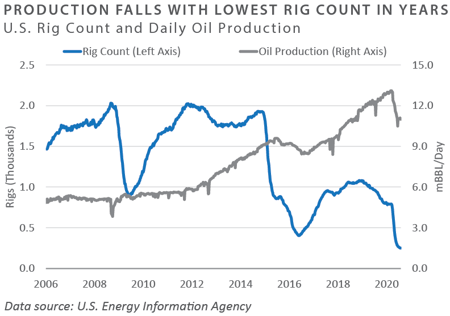 MASTER LIMITED PARTNERSHIPS
MLPs, as measured by the Alerian MLP Total Return Index, fell in July after two consistent months of gains. After the rebound in MLP prices peaking in early June, the AMZ total return is still down roughly 38% for 2020.
Diversifying Strategies
Hedge funds surged during July with positive returns in all main strategies, with gains led by equity hedge and global macro strategies.

Event-driven exposures were strongly positive for the month, with activist strategies seeing the greatest rise among the underlying strategies. The HFRI ED: Activist Index rose over 6% in the month.

Trend following strategies generally generated gains during July, with precious metals benefitting from rising gold prices. Bonds and equities also produced profits as trends were sustained through the month. Smaller loss were felt in energy and agricultural commodities due in part to stagnant oil prices and no expectations for substantial price increases. The overall trading environment was vastly improved compared to the end of the second quarter.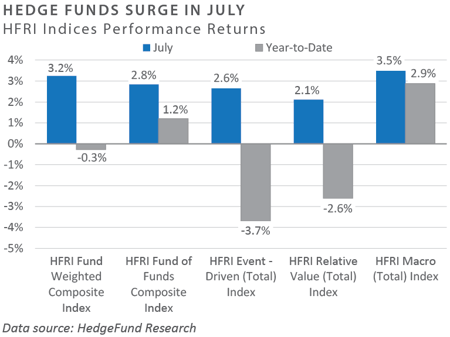 INDICES
The Alerian MLP Index is a composite of the 50 most prominent energy Master Limited Partnerships that provides investors with an unbiased, comprehensive benchmark for this emerging asset class.
Barclays Capital Fixed Income Indices is an index family comprised of the Barclays Capital Aggregate Index, Government/Corporate Bond Index, Mortgage-Backed Securities Index, and Asset-Backed Securities Index, Municipal Index, High-Yield Index, and others designed to represent the broad fixed income markets and sectors within constraints of maturity and minimum outstanding par value. See https://ecommerce.barcap.com/indices/index.dxml for more information.
The CBOE Volatility Index (VIX) is an up-to-the-minute market estimate of expected volatility that is calculated by using real-time S&P 500 Index option bid/ask quotes. The Index uses nearby and second nearby options with at least 8 days left to expiration and then weights them to yield a constant, 30-day measure of the expected volatility of the S&P 500 Index. FTSE Real Estate Indices (NAREIT Index and EPRA/NAREIT Index) includes only those companies that meet minimum size, liquidity and free float criteria as set forth by FTSE and is meant as a broad representation of publicly traded real estate securities. Relevant real estate activities are defined as the ownership, disposure, and development of income-producing real estate. See www.ftse.com/Indices for more information.
HFRI Monthly Indices (HFRI) are equally weighted performance indexes, compiled by Hedge Fund Research Inc. (HFX), and are used by numerous hedge fund managers as a benchmark for their own hedge funds. The HFRI are broken down into 37 different categories by strategy, including the HFRI Fund Weighted Composite, which accounts for over 2000 funds listed on the internal HFR Database. The HFRI Fund of Funds Composite Index is an equal weighted, net of fee, index composed of approximately 800 fund- of- funds which report to HFR. See www.hedgefundresearch.com for more information on index construction.
J.P. Morgan's Global Index Research group produces proprietary index products that track emerging markets, government debt, and corporate debt asset classes. Some of these indices include the JPMorgan Emerging Market Bond Plus Index, JPMorgan Emerging Market Local Plus Index, JPMorgan Global Bond Non-US Index and JPMorgan Global Bond Non-US Index. See www.jpmorgan.com for more information.
Merrill Lynch high yield indices measure the performance of securities that pay interest in cash and have a credit rating of below investment grade. Merrill Lynch uses a composite of Fitch Ratings, Moody's and Standard and Poor's credit ratings in selecting bonds for these indices. These ratings measure the risk that the bond issuer will fail to pay interest or to repay principal in full. See www.ml.com for more information.
Morgan Stanley Capital International – MSCI is a series of indices constructed by Morgan Stanley to help institutional investors benchmark their returns. There are a wide range of indices created by Morgan Stanley covering a multitude of developed and emerging economies and economic sectors. See www.morganstanley.com for more information.
Russell Investments rank U.S. common stocks from largest to smallest market capitalization at each annual reconstitution period (May 31). The primary Russell Indices are defined as follows: 1) the top 3,000 stocks become the Russell 3000 Index, 2) the largest 1,000 stocks become the Russell 1000 Index, 3) the smallest 800 stocks in the Russell 1000 Index become the Russell Midcap index, 4) the next 2,000 stocks become the Russell 2000 Index, 5) the smallest 1,000 in the Russell 2000 Index plus the next smallest 1,000 comprise the Russell Microcap Index. See www.russell.com for more information.
S&P 500 Index consists of 500 stocks chosen for market size, liquidity and industry group representation, among other factors by the S&P Index Committee, which is a team of analysts and economists at Standard and Poor's. The S&P 500 is a market-value weighted index, which means each stock's weight in the index is proportionate to its market value and is designed to be a leading indicator of U.S. equities, and meant to reflect the risk/return characteristics of the large cap universe. See www.standardandpoors.com for more information.
Information on any indices mentioned can be obtained either through your consultant or by written request to information@feg.com.
DISCLOSURES
This report was prepared by FEG (also known as Fund Evaluation Group, LLC), a federally registered investment adviser under the Investment Advisers Act of 1940, as amended, providing non-discretionary and discretionary investment advice to its clients on an individual basis. Registration as an investment adviser does not imply a certain level of skill or training. The oral and written communications of an adviser provide you with information about which you determine to hire or retain an adviser. Fund Evaluation Group, LLC, Form ADV Part 2A & 2B can be obtained by written request directly to: Fund Evaluation Group, LLC, 201 East Fifth Street, Suite 1600, Cincinnati, OH 45202, Attention: Compliance Department.
The information herein was obtained from various sources. FEG does not guarantee the accuracy or completeness of such information provided by third parties. The information in this report is given as of the date indicated and believed to be reliable. FEG assumes no obligation to update this information, or to advise on further developments relating to it. FEG, its affiliates, directors, officers, employees, employee benefit programs and client accounts may have a long position in any securities of issuers discussed in this report.
Index performance results do not represent any managed portfolio returns. An investor cannot invest directly in a presented index, as an investment vehicle replicating an index would be required. An index does not charge management fees or brokerage expenses, and no such fees or expenses were deducted from the performance shown.
Neither the information nor any opinion expressed in this report constitutes an offer, or an invitation to make an offer, to buy or sell any securities.
Any return expectations provided are not intended as, and must not be regarded as, a representation, warranty or predication that the investment will achieve any particular rate of return over any particular time period or that investors will not incur losses.
Past performance is not indicative of future results.
Investments in private funds are speculative, involve a high degree of risk, and are designed for sophisticated investors.
All data is as of July 31, 2020 unless otherwise noted.