The Federal Reserve lowered the federal funds rate for the first time since 2008 at their July policy meeting, representing a pivotal shift from their previous stance of normalizing policy. Despite paving the path for more accommodative financial conditions, the month of July ended with elevated market volatility that helped drive U.S. interest rates to their lowest level since 2016. Across the global investment landscape, equities generated mixed performance during the month, with domestic outperforming international developed and emerging markets, a theme that has largely been in place for the past year and a half. Fixed income returns were positive across both rate and credit-sensitive sectors, as core bonds narrowed the year-to-date performance gap with the stronger-performing high yield sector. In real assets, REITs continued to generate impressive performance, due in large part to the asset category's heightened sensitivity to changes in interest rates, while returns across commodities and energy infrastructure were slightly negative.


Economic Update
Federal Reserve Lowers Interest Rates for First Time Since 2008
July concluded with the announcement of an important shift in U.S. monetary policy, as the Federal Reserve (Fed) announced a 25-basis point (bp) decrease to the federal funds rate (FFR) — the first cut since December 2008 — placing the upper bound at 2.25%. Entering the meeting, market-based measures had fully priced in the rate decrease, with some market participants hoping for an even more aggressive dovish policy adjustment (e.g., policy guidance aimed at directly weakening the U.S. dollar, a potential 50 bp cut, etc.).
In addition to lowering the FFR, the Fed announced an earlier-than-anticipated end to their balance sheet winddown process (i.e., quantitative tightening), representing an additional pillar of near-term policy accommodation. Through the month, the balance sheet stood at $3.78 trillion, some $800 billion below peak levels, but more than four times larger than the balance sheet's size prior to entering the most recent recession.

In the press conference addressing the Fed's policy change announcement, Chairman Powell described the shift as a "midcycle adjustment" aimed at providing the Fed and the U.S. economy with "insurance" from overseas economic weakness, much of which has been trade war-induced.
What seems unusual about the Fed's latest dovish policy shift is that the United States currently has relatively solid economic standing, with one of the strongest GDP growth rates, a historically tight labor market, and inflation running at near-mandated levels.
Despite displaying relative fundamental strength, the anticipated path of policy rates — based on market-implied measures utilizing forward rates — is decidedly lower, with an additional 86 bps of policy easing priced in to the market over the next year.

A critical risk facing investors in the coming years is how the Fed plans to cushion the U.S. economy from the deflationary forces of a natural business cycle recession with policy rates slightly more than two percentage points above the zero-bound and a balance sheet nearly $4 trillion in size, while being forced to contend with volatile external forces such as a critical presidential administration and certain central bank counterparts that exhibit a broader toolkit to stimulate their respective economies.
In summary, July 2019 most likely marked the official end of the Fed's attempts at normalizing monetary policy after announcing the first interest rate cut since December 2008 at their July 30-31 meeting. Despite the rate cut and the U.S. economy displaying relative strength, market-implied measures point to an additional 86 bps of Fed easing over the coming year.
Market Returns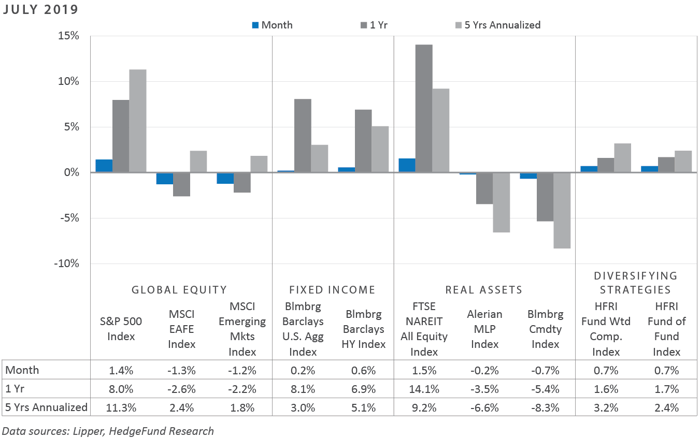 Global Equity
Global equity markets saw moderate returns in to both the positive and negative during the month of July. The U.S. market's positive returns were due in part to a recovery in the housing market, rising oil prices, and an increase in merger and acquisition (M&A) activity. International and emerging markets both struggled to keep pace, mostly driven by unresolved trade issues and geopolitical tensions, as well as global growth concerns that also influenced currencies. The strength of the U.S. dollar weighed on international equity returns for U.S. investors.

The S&P 500 reached a new all-time high during the month, posting a year-to-date return of 20% at the peak. Roughly 60% of the companies in the S&P 500 reported earnings in July and approximately 75% of them beat analyst estimates. The results were driven in part by share buybacks, but also reflect some analyst pessimism in earnings expectations.

All sectors have posted strong year-to-date returns; however, sector performance in July was mixed, with the energy, health care, materials, and utilities sectors declining. The energy sector was the biggest laggard, due partly to geopolitical headlines between the U.S. and Iran. The energy sector also suffered from rising oil inventories in the U.S. and slowing growth in global demand. Conversely, the information technology sector was the leader in July, due to strong consumer sentiment, mostly concentrated on consumer-focused technology.

European equities had a quiet month amid deteriorating economic data and weak earnings growth. In its July meeting, the ECB sent strong signals of a possible stimulus package. Also, former IMF Chairman, Christine Lagarde, was nominated to succeed Mario Draghi as ECB Chief in November.

The UK equity market delivered a modest return over the month despite a weaker pound, contracting retail sales, declining consumer sentiment, and an unstable political backdrop. Boris Johnson was elected as the UK's new Prime Minister and voiced a tough stance on Brexit, signaling a possible scenario in which the UK leaves the European Union without a deal, also known as a "No-Deal Brexit" or "Hard Brexit."

Emerging market equities were hit hardest during the month. The Indian stock market endured its worst July in 17 years amid concerns of weakening economic growth. In China, Beijing signaled intentions to ramp up stimulus to further address the economic slowdown. Emerging markets continued to suffer in the first few days of August from fresh tariff rhetoric and a devalued Chinese currency.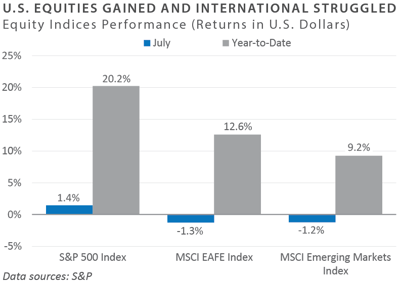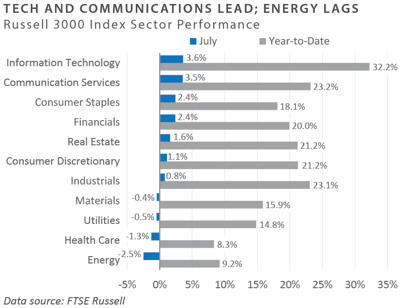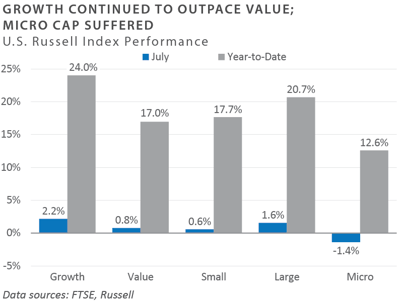 Fixed Income
At its July 30-31 meeting, the Fed was divided on cutting rates for the first time in 10 years, with two Fed presidents dissenting in favor of no rate cut. Fed Chair Jerome Powell explained the decision as a "mid-cycle" policy adjustment or insurance amid an environment of increased global risk and muted inflation. Additionally, the Fed announced it was ending the runoff of its balance sheet in August, two months earlier than planned, thus eliminating the implied tightening caused by the unwind of quantitative easing (QE).

Following the Fed's meeting, the implied probability of an additional rate cut in September increased from 52% on August 1 to 100% as of August 7. Subsequently, in a speech on August 7, Chicago Fed President Charles Evans reiterated that trade and global risks overall had increased and suggested that further monetary accommodation would be necessary in the coming months.

10-year Treasury yields fell to their lowest levels since 2016 in a flight-to-quality rally in early August, yielding a low of 1.6% as of August 7 amid increasing concerns about the U.S.-China trade war and surprisingly dovish policy moves made by three central banks in the Asia-Pacific region in early August.

As a result, the yield curve continued to invert, with the 3-month/10-year spread as low as -30 bps on August 5. The 2-year/10-year spread contracted over the month but did not invert and stood at 16 bps as of August 5.

Additionally, the volume and magnitude of negatively traded debt globally continues to increase, with roughly $15 trillion of government bonds trading with negative yields.¹ Notably, the 10-year German bund yield hit a new all-time low of -0.6% in early August.
¹ Federal Reserve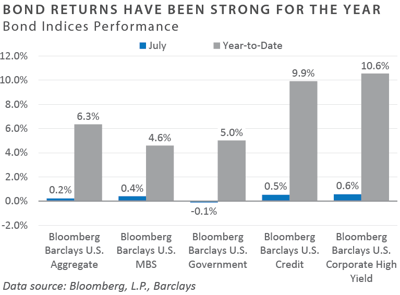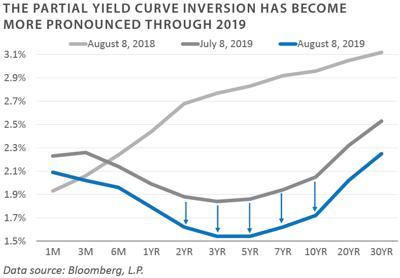 Real Assets
REAL ESTATE
During July, U.S. REITs continued to benefit from stable economic growth, low unemployment, and expectations for lower interest rates, which provided a favorable environment for real estate. U.S. REITs typically do better in low interest rate environments due to their relatively attractive yields.

The industrial sector continued to benefit from growth in online retailing. Demand for single-family rental homes, self-storage units, data center space, and cell towers drove performance in these sectors and contributed to REITs' outperformance year-to-date.

REITs have proven resilient through the market turmoil caused by the trade war with China and concerns about slower economic growth, in part because many areas of the REIT market are less economically sensitive to Chinese trade and also less reliant on leverage.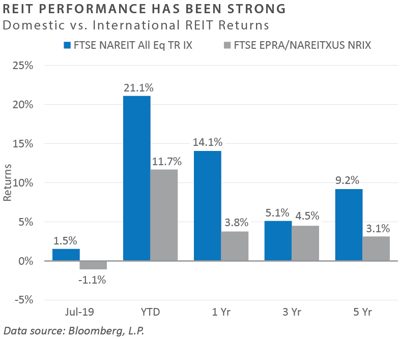 NATURAL RESOURCES
Oil prices were essentially flat to end July, trading up only 0.1% to close at $58.53/barrel.² Continued geopolitical uncertainty resulting from trade tensions along with significant U.S. liquid energy production were the key factors driving oil prices.

Tensions arising from supply cuts in the Strait of Hormuz and OPEC are not expected to overpower the growth of supply production in the U.S. when coupled with the growth of oil supply reserves maintained by the U.S. Department of Energy.

Amid a dampened supply outlook, lower demand from the global economic slowdown is expected by many to push energy prices lower for the remainder of the year.

Commodity prices, as measured by the Bloomberg Commodity Index (BCOM), decreased 0.7 % in July and were up 4.4% year-to-date. Strong price returns in industrial and precious metals resulted from the Fed's accommodative interest rate policy, which buoyed metal prices.

The agricultural sector declined markedly during the month as China began halting nearly all American grain products as part of the American-Sino trade skirmish. Hopes for a rebound in agricultural pricing are arising from a lowered corn yield resulting from poor weather earlier in the year.

2 Federal Reserve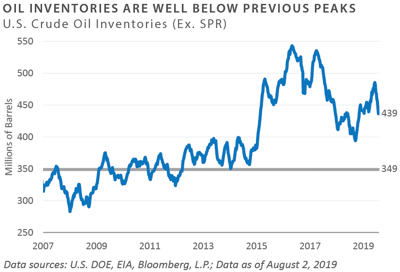 MASTER LIMITED PARTNERSHIPS
MLPs, as measured by the Alerian MLP Total Return Index, slightly decreased in July (-0.1%), reflective of ongoing negative sentiment in the energy space. With July's performance, MLPs have been negative three of the previous four months, however, MLPs have enjoyed a strong recovery in 2019, up 16.7% year-to-date

The midstream sector has proven to be more resilient than other energy companies, as midstream companies focus on fiscal discipline and are somewhat removed from the immediate effects of volatile energy prices.

MLP news during the month included a report from Bloomberg that Energy Transfer LP, a Dallas-based pipeline operator, is considering a sale of its 33% stake in the Rover pipeline carrying natural gas through the Appalachian region for as much as $2.5 billion. In capital markets news, Brookfield Infrastructure announced a concurrent public and private equity issuance which raised $750 million in early June. The current yield on MLPs stands at 8.1%.
Diversifying Strategies
Trend followers continued to rally during July as strong trends persisted in currencies and bonds. Long exposure to the U.S. dollar was profitable for the month, particularly against the euro. German and French bonds were also contributors. Year-to-date, rates and equities were key drivers of return for trend following managers.

Event-driven strategies were modestly positive in July, with the exception of those managers with allocations to distressed energy names. Merger arbitrage strategies were generally positive as an uptick in deals created opportunities.

Discretionary macro managers benefitted from volatility across equity, fixed income, currencies, and commodity markets. Trade wars, ongoing Brexit concerns, and U.S. Federal Reserve policies all contributed to increased market uncertainty and are anticipated to bring further opportunities to discretionary macro managers.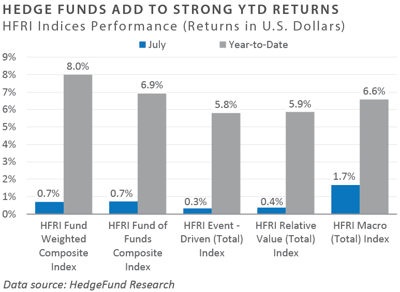 DISCLOSURES
This report was prepared by FEG (also known as Fund Evaluation Group, LLC), a federally registered investment adviser under the Investment Advisers Act of 1940, as amended, providing non-discretionary and discretionary investment advice to its clients on an individual basis. Registration as an investment adviser does not imply a certain level of skill or training. The oral and written communications of an adviser provide you with information about which you determine to hire or retain an adviser. Fund Evaluation Group, LLC, Form ADV Part 2A & 2B can be obtained by written request directly to: Fund Evaluation Group, LLC, 201 East Fifth Street, Suite 1600, Cincinnati, OH 45202, Attention: Compliance Department.
The information herein was obtained from various sources. FEG does not guarantee the accuracy or completeness of such information provided by third parties. The information in this report is given as of the date indicated and believed to be reliable. FEG assumes no obligation to update this information, or to advise on further developments relating to it. FEG, its affiliates, directors, officers, employees, employee benefit programs and client accounts may have a long position in any securities of issuers discussed in this report.
Index performance results do not represent any managed portfolio returns. An investor cannot invest directly in a presented index, as an investment vehicle replicating an index would be required. An index does not charge management fees or brokerage expenses, and no such fees or expenses were deducted from the performance shown.
Neither the information nor any opinion expressed in this report constitutes an offer, or an invitation to make an offer, to buy or sell any securities.
Any return expectations provided are not intended as, and must not be regarded as, a representation, warranty or predication that the investment will achieve any particular rate of return over any particular time period or that investors will not incur losses.
Past performance is not indicative of future results.
Investments in private funds are speculative, involve a high degree of risk, and are designed for sophisticated investors.
All data is as of July 31, 2019 unless otherwise noted.
INDICES
The Alerian MLP Index is a composite of the 50 most prominent energy Master Limited Partnerships that provides investors with an unbiased, comprehensive benchmark for this emerging asset class.
Barclays Capital Fixed Income Indices is an index family comprised of the Barclays Capital Aggregate Index, Government/Corporate Bond Index, Mortgage-Backed Securities Index, and Asset-Backed Securities Index, Municipal Index, High-Yield Index, and others designed to represent the broad fixed income markets and sectors within constraints of maturity and minimum outstanding par value. See https://ecommerce.barcap.com/indices/index.dxml for more information.
The CBOE Volatility Index (VIX) is an up-to-the-minute market estimate of expected volatility that is calculated by using real-time S&P 500 Index option bid/ask quotes. The Index uses nearby and second nearby options with at least 8 days left to expiration and then weights them to yield a constant, 30-day measure of the expected volatility of the S&P 500 Index. FTSE Real Estate Indices (NAREIT Index and EPRA/NAREIT Index) includes only those companies that meet minimum size, liquidity and free float criteria as set forth by FTSE and is meant as a broad representation of publicly traded real estate securities. Relevant real estate activities are defined as the ownership, disposure, and development of income-producing real estate. See www.ftse.com/Indices for more information.
HFRI Monthly Indices (HFRI) are equally weighted performance indexes, compiled by Hedge Fund Research Inc. (HFX), and are used by numerous hedge fund managers as a benchmark for their own hedge funds. The HFRI are broken down into 37 different categories by strategy, including the HFRI Fund Weighted Composite, which accounts for over 2000 funds listed on the internal HFR Database. The HFRI Fund of Funds Composite Index is an equal weighted, net of fee, index composed of approximately 800 fund- of- funds which report to HFR. See www.hedgefundresearch.com for more information on index construction.
J.P. Morgan's Global Index Research group produces proprietary index products that track emerging markets, government debt, and corporate debt asset classes. Some of these indices include the JPMorgan Emerging Market Bond Plus Index, JPMorgan Emerging Market Local Plus Index, JPMorgan Global Bond Non-US Index and JPMorgan Global Bond Non-US Index. See www.jpmorgan.com for more information.
Merrill Lynch high yield indices measure the performance of securities that pay interest in cash and have a credit rating of below investment grade. Merrill Lynch uses a composite of Fitch Ratings, Moody's and Standard and Poor's credit ratings in selecting bonds for these indices. These ratings measure the risk that the bond issuer will fail to pay interest or to repay principal in full. See www.ml.com for more information.
Morgan Stanley Capital International – MSCI is a series of indices constructed by Morgan Stanley to help institutional investors benchmark their returns. There are a wide range of indices created by Morgan Stanley covering a multitude of developed and emerging economies and economic sectors. See www.morganstanley.com for more information.
Russell Investments rank U.S. common stocks from largest to smallest market capitalization at each annual reconstitution period (May 31). The primary Russell Indices are defined as follows: 1) the top 3,000 stocks become the Russell 3000 Index, 2) the largest 1,000 stocks become the Russell 1000 Index, 3) the smallest 800 stocks in the Russell 1000 Index become the Russell Midcap index, 4) the next 2,000 stocks become the Russell 2000 Index, 5) the smallest 1,000 in the Russell 2000 Index plus the next smallest 1,000 comprise the Russell Microcap Index. See www.russell.com for more information.
S&P 500 Index consists of 500 stocks chosen for market size, liquidity and industry group representation, among other factors by the S&P Index Committee, which is a team of analysts and economists at Standard and Poor's. The S&P 500 is a market-value weighted index, which means each stock's weight in the index is proportionate to its market value and is designed to be a leading indicator of U.S. equities, and meant to reflect the risk/return characteristics of the large cap universe. See www.standardandpoors.com for more information.
Information on any indices mentioned can be obtained either through your consultant or by written request to information@feg.com.