Market performance was somewhat dispersed in the first month of 2021, following broad-based gains across most major corners of the market in 2020—particularly in the fourth quarter. Trends among incoming economic data appeared similarly scattered but took a back seat late in the month amid a historic squeeze among the most heavily shorted stocks, which drove market volatility sharply higher. Global equity performance was mixed, with modest negative performance across domestic and international developed large cap equities, strong positive returns in domestic small and micro cap, and solid positive performance in emerging markets. Despite elevated equity volatility, nominal interest rates continued their ascent—driven by rising inflationary expectations—putting pressure on the higher-quality and longer-duration sectors of the fixed income market. In real assets, positive momentum from fourth quarter 2020 across energy infrastructure persisted in January, with rising crude oil and natural gas spot prices serving as a tailwind during the month.
Economic Update
Improvement Across U.S. Labor Market Cools Further in January
The ever-critical U.S. labor market, which has rebounded meaningfully since the historic depths of spring 2020, displayed additional signs of cooling in January, following the 227,000 contraction in jobs in December. Nonfarm payrolls, for example, increased only 49,000 on the month, undercutting the Bloomberg median consensus estimate (+105,000) and falling significantly below levels witnessed last summer and fall.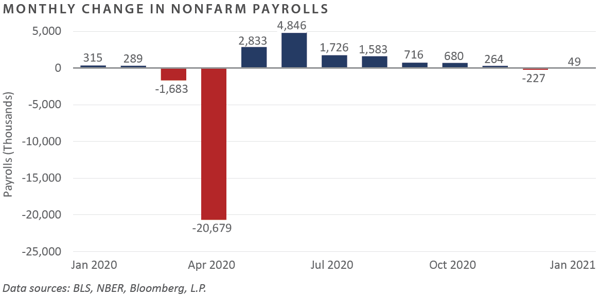 One bright spot was the headline (U-3) unemployment rate, which improved a solid 40 bps month-over-month to 6.3%, although a loss of positive momentum in labor force participation partially counterbalances improvement in the U-3 in recent months.
The number of unemployed persons declined to 10.1 million, nearly 13 million lower than peak levels witnessed in early 2020 but still elevated versus historical norms. Moreover, based on the most recent available data, the ratio of the number of available jobs to the number of unemployed persons ended the month nearly half of pre-COVID levels, although slightly above the historical average.
Should the recent slowdown in improvement across labor fundamentals continue, policymakers are likely to be met with immediate pressure for additional stimulative actions, which were instrumental in the initial recovery process. Currently, Congress is working towards an almost 2 trillion-dollar fiscal package, which would be the third such package in the last 12 months.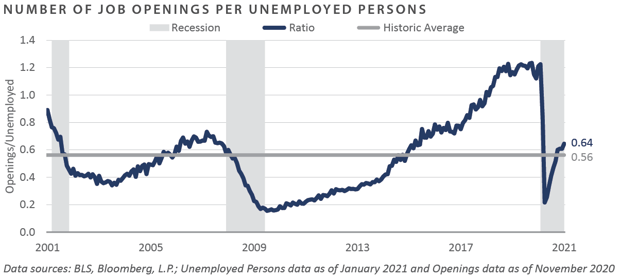 Longer-term structural changes are likely to take place in the coming years, as employers are forced to grapple with COVID-related social distancing measures and weather the impacts of the pandemic on staffing and office space requirements, as well as growing sentiment for a material rise in the federal minimum wage to $15 per hour.
Absent a sharp acceleration in current economic growth trends, the proposed minimum wage hike has the potential to not only hinder the ongoing labor market rebound, an increase could also pressure small businesses which, based on the NFIB Small Business Optimism Index, turned their least optimistic since May 2020 at year-end 2020.
To conclude, ongoing improvement across labor market fundamentals has lost some momentum in recent months with weak job growth readings in both December and January, but this has been partially offset by sharply falling headline unemployment. Policymakers may come under additional pressure to further ramp up their stimulative efforts, should the recent loss of positive momentum worsen.
Market Returns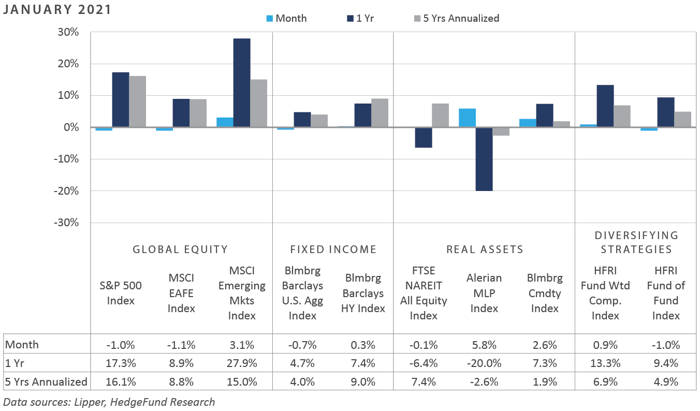 Global Equity
Global equities were mixed in January due in part to lingering concerns over the delayed distribution of COVID-19 vaccines and heightened volatility caused by retail investors bidding up heavily shorted stocks. Despite volatility in domestic markets, emerging markets continued to exhibit positive momentum, returning just over 3%.

The S&P 500 Index ended the month down nearly 1% despite intra-month rallies during the U.S. presidential inauguration and the pricing in of further economic stimulus.

Small cap stocks jumped 5% amid the earnest start of discussions for additional stimulus of $1.9 trillion. Small cap value stocks rallied since the trough in performance last year, with non-earning companies performing exceptionally well as prospects of outlasting the pandemic improved with vaccine news. The number of non-earning small cap value companies approximately doubled through the pandemic.

The energy and healthcare sectors were the best-performing sectors in the S&P 500 index. Energy was supported by signs of gradually improving COVID-19 numbers that should aid in the resumption of activity as well as declining foreign production.

In the euro zone, investors turned bearish for the month in the face of vaccine supply shortages, low vaccination rates, and increased COVID-19 cases amid the continuation of extended lockdowns in member states. Political instability following the resignation of Italy's prime minister also weighed on investor sentiment. The UK posted negative returns, as more virulent strains of COVID-19 were discovered in the country, dampening expectations of near-term reopening of the economy.

Emerging markets and Asian equities continued their rally during January. Equity markets within China and Taiwan pulled the broader emerging market equity index higher during January. Chinese economic demand and positive growth fueled a risk-on trade for Chinese investors. Latin American emerging market equities declined over 6% in a retreat which followed the fourth quarter rally that pulled Brazilian equites up almost 50% through December.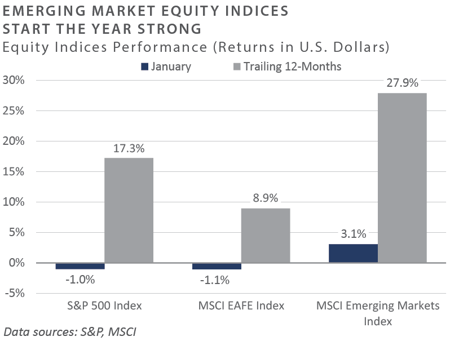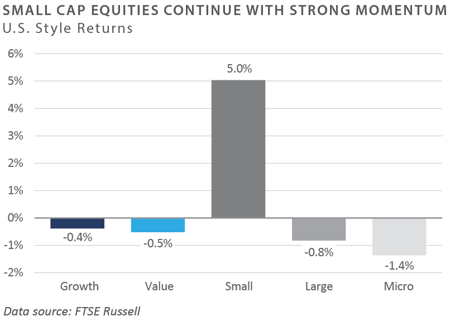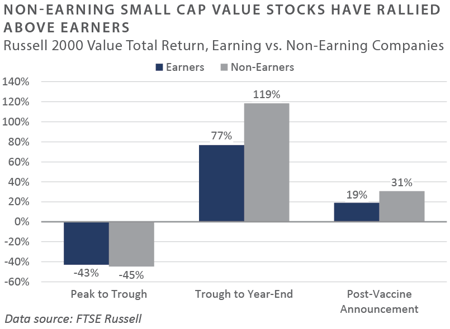 Fixed Income
10-year Treasury yields rose 18 bps during January, the largest upward move since September 2019, as expectations for growth and inflation for 2021 rose on the backs of the ongoing vaccine rollout and expectations of near-term fiscal stimulus. After bottoming at 0.5% in August 2020, 10-year Treasury yields more than doubled, ending January at 1.1%.

The Federal Reserve (Fed) met on January 26-27 and opted to leave both policy rates and the level of asset purchases unchanged. Chairman Powell acknowledged rising inflation expectations but maintained the Fed would remain accommodative as the recovery progresses.

With short-term interest rates pinned near zero by the Fed's policy, rising inflation expectations resulted in a steeper yield curve. The yield spread between 2-year and 10-year Treasuries ended the month at 1.0%, the widest spread since May 2017.

The European Central Bank (ECB) reaffirmed its commitment to accommodative monetary policy in January, leaving the deposit rate and asset purchase program unchanged. The ECB has committed to—at a minimum—maintaining its current balance sheet until at least the end of 2023.

Despite positive economic sentiment, the rally in credit-sensitive assets was confined to securitized markets, with corporate credit spreads remaining largely flat.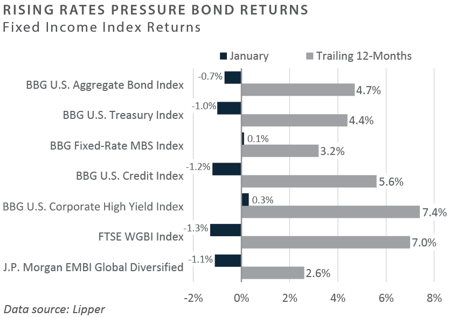 Real Assets
REAL ESTATE
U.S. REITs ended the month essentially flat, outperforming the losses seen in other geographies. This follows a slower than expected roll out of COVID-19 vaccines to address a pandemic that has significantly cut demand for many property types.

Real estate entered 2021 the same way it ended the fourth quarter, with strong performance from retail names. This was not due to strong fundamentals from the underlying businesses or improvements in near-term demand for the property type.

Regional malls, being lower quality than the rest of the index, were swept up in a short squeeze that started with GameStop. The second largest mall REIT, Macerich, had open short interest of about half its outstanding shares leading up to the squeeze, and traded up 43% over the last five days of the month.

Data centers returned 3.4% during January despite valuation concerns, as demand for data persists.

U.S. REITs, which include a larger allocation to technology real estate, outperformed global benchmarks which have larger tilts towards residential, retail, and lodging.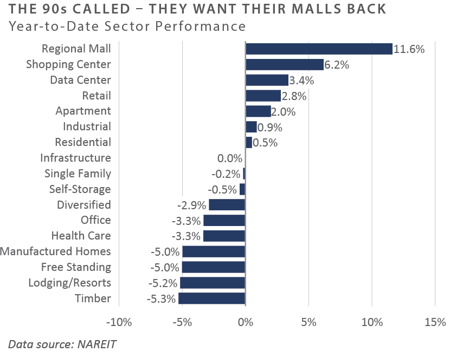 NATURAL RESOURCES
The average daily WTI oil front-month contract price was $52 per barrel in January, up 10.2% from $47 in December. Prices were largely supported by a voluntary production cut of one million barrels per day by Saudi Arabia, and lower than expected production targets for OPEC+ members. Further, U.S. production forecasts by the Energy Information Association (EIA) have been lowered on the expectation that current production will continue to decline faster than new wells can come into service.

Natural gas spot pricing averaged $2.64 per MMBtu in January, up 2.6% from December. This is despite a warmer than expected winter in the U.S. Liquid natural gas (LNG) exports to Asia continued to be strong into January due to impacts from production cuts in 2020 and the recent cold snap in the region. Prices for Asian February deliveries of LNG hit a record high of $32.5/MMBtu in mid-January.

The EIA expects oil prices to hover around $50/BBL through 2022, following some brief supply deficits in the first half of 2021. Afterwards, the EIA expects supply to stabilize and production from the U.S. to average around 11 million BBL/day.

Commodity prices, as measured by the Bloomberg Commodity Index (BCOM), ended January up 2.6% for the month.

INFRASTRUCTURE
Midstream energy finished the month up 5.8% for MLPs and up 5.4% for the broader Alerian Midstream Energy Index, which includes C-corps. The strong performance was influenced not only by gains in energy commodities, but also the infrastructure assets proved essential in delivering LNG exports to undersupplied Asian markets. Nearly half of the Alerian Midstream Energy Index constituents by market capitalization have announced share buy-back programs.

Nearly all other infrastructures contributed negative returns over the month, with airports and toll roads exhibiting the worst performance. Transportation has seen a slow recovery in demand from consumers, and the longer than expected timeframe to roll out vaccines has not improved prospects. Peak road congestion in January was 65% of January 2019 levels across Asia (ex. China) and Europe where privately operated toll roads are prevalent. Similarly, U.S. and European travel activity remained below 40% of the activity of January 2019.
Diversifying Strategies
Major hedge fund strategies ended the month positive; however, the underlying sub-strategies were fairly diverse in their results. Overall, hedge funds had a strong start to the year.

Despite the news surrounding GameStop and other stocks bid up among short-squeeze pressures, hedged equity returns were generally better than headlines would suggest. Several tech-focused and Asian equity managers posted positive returns and the HFRI Equity Hedge Index return was positive in January.

Credit-oriented event-driven managers fared better than those focused on equities. The volatility associated with the short squeeze later in the month negatively affected strategies with higher equity beta.

Trend following managers experienced mixed results in January as several trends reversed course. Long corn, crude oil, and soybean positions were profitable, while positions in long-term and short-term trend following generated losses in bonds and currencies.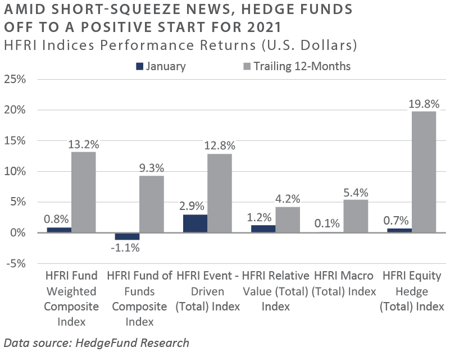 INDICES
The Alerian MLP Index is a composite of the 50 most prominent energy Master Limited Partnerships that provides investors with an unbiased, comprehensive benchmark for this emerging asset class.
Barclays Capital Fixed Income Indices is an index family comprised of the Barclays Capital Aggregate Index, Government/Corporate Bond Index, Mortgage-Backed Securities Index, and Asset-Backed Securities Index, Municipal Index, High-Yield Index, and others designed to represent the broad fixed income markets and sectors within constraints of maturity and minimum outstanding par value. See https://ecommerce.barcap.com/indices/index.dxml for more information.
The CBOE Volatility Index (VIX) is an up-to-the-minute market estimate of expected volatility that is calculated by using real-time S&P 500 Index option bid/ask quotes. The Index uses nearby and second nearby options with at least 8 days left to expiration and then weights them to yield a constant, 30-day measure of the expected volatility of the S&P 500 Index. FTSE Real Estate Indices (NAREIT Index and EPRA/NAREIT Index) includes only those companies that meet minimum size, liquidity and free float criteria as set forth by FTSE and is meant as a broad representation of publicly traded real estate securities. Relevant real estate activities are defined as the ownership, disposure, and development of income-producing real estate. See www.ftse.com/Indices for more information.
HFRI Monthly Indices (HFRI) are equally weighted performance indexes, compiled by Hedge Fund Research Inc. (HFX), and are used by numerous hedge fund managers as a benchmark for their own hedge funds. The HFRI are broken down into 37 different categories by strategy, including the HFRI Fund Weighted Composite, which accounts for over 2000 funds listed on the internal HFR Database. The HFRI Fund of Funds Composite Index is an equal weighted, net of fee, index composed of approximately 800 fund- of- funds which report to HFR. See www.hedgefundresearch.com for more information on index construction.
J.P. Morgan's Global Index Research group produces proprietary index products that track emerging markets, government debt, and corporate debt asset classes. Some of these indices include the JPMorgan Emerging Market Bond Plus Index, JPMorgan Emerging Market Local Plus Index, JPMorgan Global Bond Non-US Index and JPMorgan Global Bond Non-US Index. See www.jpmorgan.com for more information.
Merrill Lynch high yield indices measure the performance of securities that pay interest in cash and have a credit rating of below investment grade. Merrill Lynch uses a composite of Fitch Ratings, Moody's and Standard and Poor's credit ratings in selecting bonds for these indices. These ratings measure the risk that the bond issuer will fail to pay interest or to repay principal in full. See www.ml.com for more information.
Morgan Stanley Capital International – MSCI is a series of indices constructed by Morgan Stanley to help institutional investors benchmark their returns. There are a wide range of indices created by Morgan Stanley covering a multitude of developed and emerging economies and economic sectors. See www.morganstanley.com for more information.
Russell Investments rank U.S. common stocks from largest to smallest market capitalization at each annual reconstitution period (May 31). The primary Russell Indices are defined as follows: 1) the top 3,000 stocks become the Russell 3000 Index, 2) the largest 1,000 stocks become the Russell 1000 Index, 3) the smallest 800 stocks in the Russell 1000 Index become the Russell Midcap index, 4) the next 2,000 stocks become the Russell 2000 Index, 5) the smallest 1,000 in the Russell 2000 Index plus the next smallest 1,000 comprise the Russell Microcap Index. See www.russell.com for more information.
S&P 500 Index consists of 500 stocks chosen for market size, liquidity and industry group representation, among other factors by the S&P Index Committee, which is a team of analysts and economists at Standard and Poor's. The S&P 500 is a market-value weighted index, which means each stock's weight in the index is proportionate to its market value and is designed to be a leading indicator of U.S. equities, and meant to reflect the risk/return characteristics of the large cap universe. See www.standardandpoors.com for more information.
Information on any indices mentioned can be obtained either through your consultant or by written request to information@feg.com.
DISCLOSURES
This report was prepared by FEG (also known as Fund Evaluation Group, LLC), a federally registered investment adviser under the Investment Advisers Act of 1940, as amended, providing non-discretionary and discretionary investment advice to its clients on an individual basis. Registration as an investment adviser does not imply a certain level of skill or training. The oral and written communications of an adviser provide you with information about which you determine to hire or retain an adviser. Fund Evaluation Group, LLC, Form ADV Part 2A & 2B can be obtained by written request directly to: Fund Evaluation Group, LLC, 201 East Fifth Street, Suite 1600, Cincinnati, OH 45202, Attention: Compliance Department.
The information herein was obtained from various sources. FEG does not guarantee the accuracy or completeness of such information provided by third parties. The information in this report is given as of the date indicated and believed to be reliable. FEG assumes no obligation to update this information, or to advise on further developments relating to it. FEG, its affiliates, directors, officers, employees, employee benefit programs and client accounts may have a long position in any securities of issuers discussed in this report.
Index performance results do not represent any managed portfolio returns. An investor cannot invest directly in a presented index, as an investment vehicle replicating an index would be required. An index does not charge management fees or brokerage expenses, and no such fees or expenses were deducted from the performance shown.
Neither the information nor any opinion expressed in this report constitutes an offer, or an invitation to make an offer, to buy or sell any securities.
Any return expectations provided are not intended as, and must not be regarded as, a representation, warranty or predication that the investment will achieve any particular rate of return over any particular time period or that investors will not incur losses.
Past performance is not indicative of future results.
Investments in private funds are speculative, involve a high degree of risk, and are designed for sophisticated investors.
All data is as of January 31, 2021 unless otherwise noted.