Geopolitical concerns weighed on market sentiment in the first month of 2020, as late-year 2019 tensions between the U.S. and Iran spilled over into the early weeks of January, followed by a global outbreak of novel coronavirus. The associated latent headwinds to global growth—which have moderated since 2017—drove a flight-to-quality market environment, sending Treasury interest rates, the slope of the yield curve, and global equity returns lower, particularly in the emerging markets.
Some fundamental bright spots surfaced in January, including rebounding survey measures of the health of the U.S. manufacturing and services sectors, in addition to continued acceleration in the growth of the Federal Reserve's (Fed's) balance sheet, which increased to 3% on an annual basis through the month, the highest level since 2015.
Those asset classes/sectors with heightened sensitivity to changes in global growth expectations—namely emerging market equities, commodities, and energy-related sectors, among others—stumbled out of the gates to begin the year.
Economic Update
Coronavirus Fears Take Center Stage as Bright Spots Emerge in U.S. Data
The global outbreak of the novel coronavirus, which originated in Wuhan, the capital city of China's Hubei province, dominated headlines in January, sparking a risk-off market environment that led to sizable declines across global growth-sensitive corners of the market, such as commodities and emerging market equities.
At the time of publication of this review in early February, the virus has infected thousands and has been responsible for hundreds of deaths across the world, primarily in China. Large-scale quarantines, travel restrictions, supply chain disruptions, and other growth headwinds have led to sell-side downgrades of China's growth potential in 2020.
As investor fears permeated through the marketplace in late January, a strong risk-off market environment helped send Treasury yields toppling lower, as the yield on the 10-Year Treasury Note sunk to 1.5% to close out the month, the lowest yield level since September 2019 and just 15 basis points (bps) above the historical record low reached in July 2016.
Coinciding with the flight-to-quality rally in Treasuries included a re-inversion of the Treasury yield curve, with the yield spread between the 3-month Treasury bill and the 10-year Treasury note ending January 3 bps in negative territory.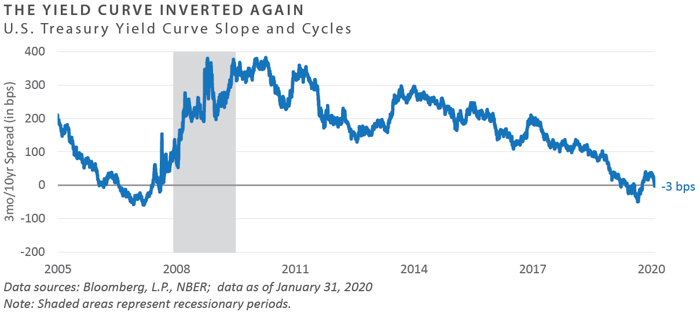 The inverted yield curve, which sparked recessionary fears in early 2019, may prove to be a transitory phenomenon in this instance, as the spread hovers near zero. A pause or reversal in the risk-off sentiment is possible if economic conditions show positive trends. Further, the economic implications of the coronavirus are still unfolding, and long-term impacts may be limited provided the global spread of the virus is contained, or better yet if a vaccine is successfully developed.
Coincidentally, certain bright spots that have recently appeared in select U.S. economic data may aid in keeping the U.S. economic expansion on track in the near term. The ISM reported both its Manufacturing and Non-Manufacturing Purchasing Manager Indices witnessed an impressive rebound in January, with the Manufacturing PMI experiencing its first expansionary (>50) reading since July 2019.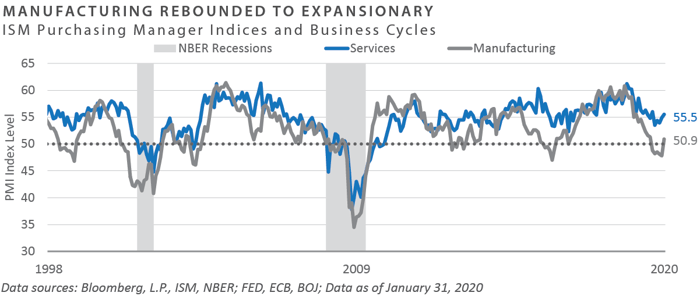 In summary, market volatility was elevated in January, as investors readjusted risk postures to reflect a potentially slower growth environment following the outbreak of China's coronavirus. The risk-off market environment sent Treasury yields and the slope of the yield curve lower, as investors fled growth-sensitive asset categories such as commodities and emerging market equities.
Market Returns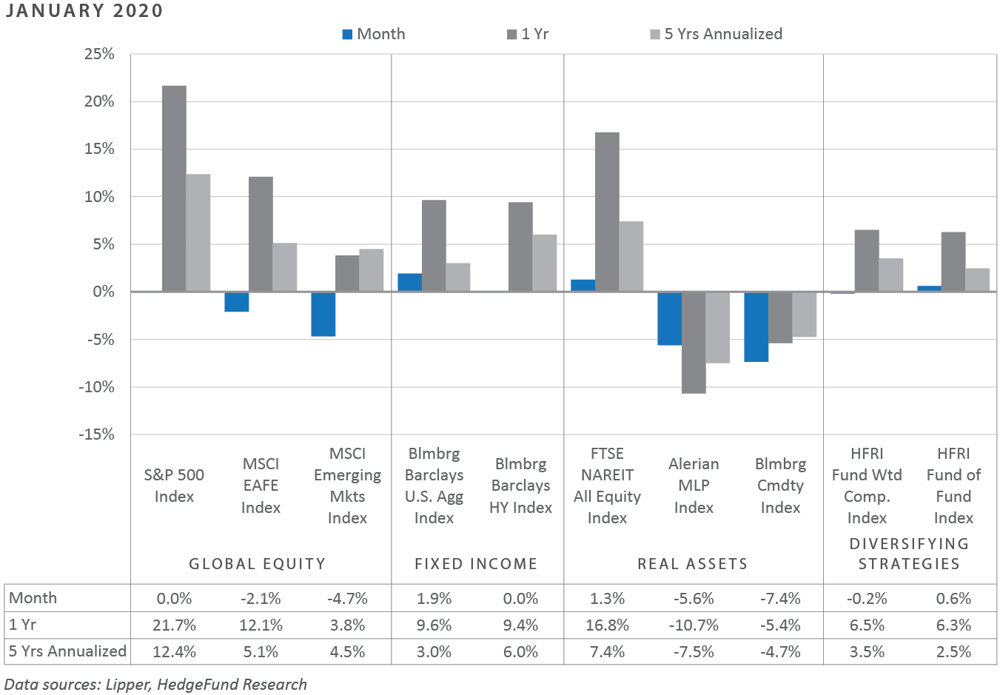 Global Equity
As Geoffrey Chaucer once said, "All good things must come to an end." Investors ended 2019 on a euphoric high with markets reaching new heights, but shortly into January, the markets began to experience heightened volatility as tensions between the U.S. and Iran escalated, fears around the impact of the coronavirus outbreak increased, and investors questioned the continued strength of global growth. However, with tensions between the U.S. and Iran de-escalating, economic data improving, and central banks taking some more accommodative measures, the peak of investor concerns showed signs of abating.

The majority of equity markets were down during January, but the ongoing monologue that "the S&P 500 can't be stopped" continued, as the index ended flat while others declined.

Growth stocks continued to outperform value stocks during the month, primarily due to the outperforming information technology sector and the underperforming energy sector. The energy sector moved toward bear market territory as concerns about China—the world's biggest energy market—and travel demand weighed on the sector.

The United Kingdom (UK) officially exited the European Union (EU) on January 31, 2020, without much fanfare despite the years of conflict and putting an end to a process that began in March 2017. The uncertainty continues, however, as the UK has just 11 months to negotiate a trade deal with the EU.

Emerging markets broadly—and more specifically, China—were among the worst-performing equity markets for the quarter as news of the coronavirus began to break. In addition to China, approximately 25 countries have confirmed coronavirus cases, including the U.S.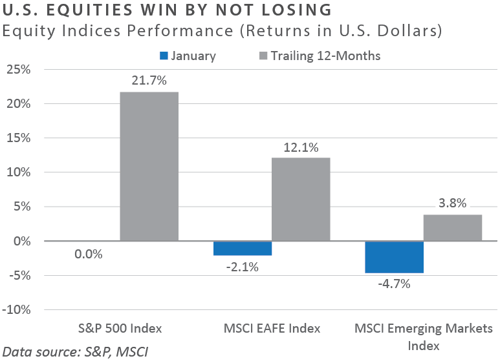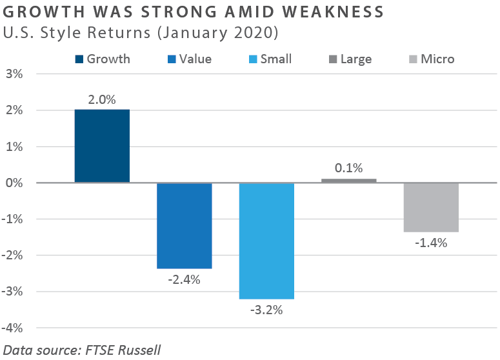 Fixed Income
Yields fell at the start of the year amid a flight-to-quality, as fears about the fast-spreading coronavirus escalated. The 10-year Treasury dipped to September 2019 levels (1.5%), and the 3-month/10-year Treasury spread moved into negative territory once again.

As a result, Treasuries outperformed corporates and securitized credit, and longer-duration assets largely outperformed their shorter-duration peers as yields moved lower. High yield exchange-traded funds (ETFs) saw significant outflows as further evidence of risk aversion.

Central banks globally are largely maintaining their accommodative posture. The People's Bank of China (PBoC) announced shortly after month-end that it would be injecting 150 billion yuan into Chinese money markets to support liquidity, representing the largest single-day action the PBoC has taken to-date.

At their meeting in late January, the Fed unanimously voted to keep the federal funds rate unchanged, at 1.5%-1.75%, in line with market expectations. Notably, the Fed did increase the interest paid on excess reserves by 5 bps, to 1.6%.

While much of the Fed's rhetoric remained consistent with that of prior meetings, Fed Chair Jerome Powell shared that the 2% inflation target was not a ceiling, but that inflation should be running symmetrically around 2%. His statement was widely interpreted to indicate the Fed's comfort with inflation running above the 2% target rate.

The U.S. Treasury also announced that it would once again begin issuing 20-year Treasury bonds, which were first issued in 1981 and discontinued in 1986 due to lack of investor demand.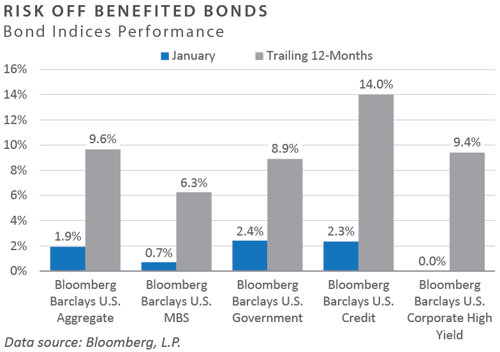 Real Assets
REAL ESTATE
U.S. REITs closed the month with positive returns despite broad market turmoil of the equity markets. REITs enjoyed continued macroeconomic support, including stable economic growth, low unemployment, and lower interest rates across longer duration treasuries.

Performance across subsectors was mixed, with many of the outperforming sectors in 2019—such as manufactured homes and industrial—continuing strong performance in the first month of 2020.

Free-standing shopping centers were a bright spot across retail-oriented REITs, returning 6.5% over the month, while regional malls and shopping center REITs continued to languish.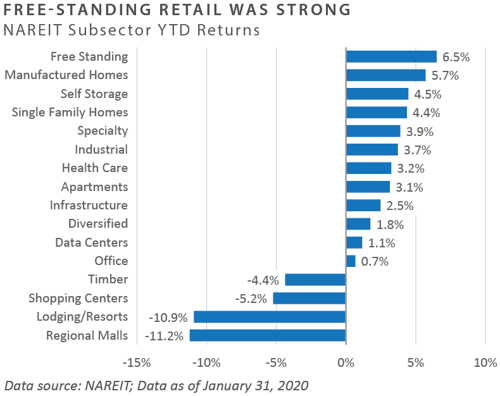 NATURAL RESOURCES
Crude saw declines over the month, closing at $51.56/bbl for a 1-month contract, down 15.6% from December's close. Oil pricing suffered from diminished demand in the face of concerns around the coronavirus.

The future pricing curve is seeing a falling spread between 1- and 3-month contracts, suggesting the market anticipates a short-term impact from the virus on oil demand.

Fears of the coronavirus trade impact were also clearly evident in commodity prices, which ended the month down over 7%.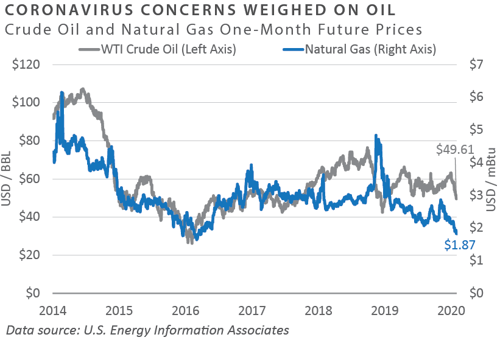 MASTER LIMITED PARTNERSHIPS
MLPs, as measured by the Alerian MLP Total Return Index, reversed their momentum from December and declined over 5%. The Alerian Midstream Index continued to show stronger resiliency due to its inclusion of C-corps midstream entities, declining only 3% over the month.

MLPs continue to face technical headwinds, with 2019 being the first year in nearly a decade with negative fund flows across MLP-oriented products amid reports of multiple public pensions and other institutions pulling out of the asset class.

The current yield on MLPs stands at 9.4% as of the end of January, and 6.7% for the broader Midstream Index.


Diversifying Strategies
Relative value strategies performed well during January, mainly due to posturing that served as a headwind in December. Long volatility in Asia benefitted from fears over the coronavirus. Long volatility positions were also strong in technology stocks and short-dated positions in the S&P 500 Index were also accretive amid January's volatility.

Discretionary macro strategies generally struggled during the month, while their systematic counterparts enjoyed strong gains. Within systematic strategies, gains were concentrated in long fixed income, which benefitted from the bond rally. Offsetting some of those gains were losses in equities, energy, and currencies.

Event-driven strategies experienced mixed performance in January, but the aggregate index ended the month lower. Activist strategies weighted on overall event-driven returns, while distressed/restructuring strategies performed well.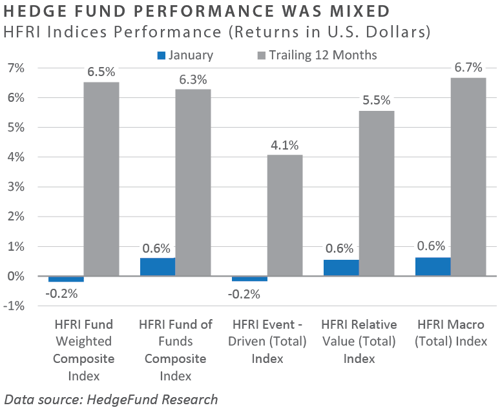 Special note:
In January—well before his time—we lost an alumni of FEG, PJ Neumann.
PJ started with FEG as an intern while pursuing his degree in finance and joined FEG's Research team after completing his studies. He brought his love of life and infectious spirit everywhere he went. His spirit drove him to pursue his long-time dream of a career in the restaurant industry, the industry that gave him the means to pursue his degree. Coupling his business skills with his passion, PJ founded a food truck with his brother before becoming the Proprietor of Boomtown Biscuits & Whiskey. His passion and vision are evident when walking through the doors of Boomtown.
We will always remember our friend and colleague and are thankful for the time we had with him.
DISCLOSURES
This report was prepared by FEG (also known as Fund Evaluation Group, LLC), a federally registered investment adviser under the Investment Advisers Act of 1940, as amended, providing non-discretionary and discretionary investment advice to its clients on an individual basis. Registration as an investment adviser does not imply a certain level of skill or training. The oral and written communications of an adviser provide you with information about which you determine to hire or retain an adviser. Fund Evaluation Group, LLC, Form ADV Part 2A & 2B can be obtained by written request directly to: Fund Evaluation Group, LLC, 201 East Fifth Street, Suite 1600, Cincinnati, OH 45202, Attention: Compliance Department.
The information herein was obtained from various sources. FEG does not guarantee the accuracy or completeness of such information provided by third parties. The information in this report is given as of the date indicated and believed to be reliable. FEG assumes no obligation to update this information, or to advise on further developments relating to it. FEG, its affiliates, directors, officers, employees, employee benefit programs and client accounts may have a long position in any securities of issuers discussed in this report.
Index performance results do not represent any managed portfolio returns. An investor cannot invest directly in a presented index, as an investment vehicle replicating an index would be required. An index does not charge management fees or brokerage expenses, and no such fees or expenses were deducted from the performance shown.
Neither the information nor any opinion expressed in this report constitutes an offer, or an invitation to make an offer, to buy or sell any securities.
Any return expectations provided are not intended as, and must not be regarded as, a representation, warranty or predication that the investment will achieve any particular rate of return over any particular time period or that investors will not incur losses.
Past performance is not indicative of future results.
Investments in private funds are speculative, involve a high degree of risk, and are designed for sophisticated investors.
All data is as of January 31, 2020 unless otherwise noted.
INDICES
The Alerian MLP Index is a composite of the 50 most prominent energy Master Limited Partnerships that provides investors with an unbiased, comprehensive benchmark for this emerging asset class.
Barclays Capital Fixed Income Indices is an index family comprised of the Barclays Capital Aggregate Index, Government/Corporate Bond Index, Mortgage-Backed Securities Index, and Asset-Backed Securities Index, Municipal Index, High-Yield Index, and others designed to represent the broad fixed income markets and sectors within constraints of maturity and minimum outstanding par value. See https://ecommerce.barcap.com/indices/index.dxml for more information.
The CBOE Volatility Index (VIX) is an up-to-the-minute market estimate of expected volatility that is calculated by using real-time S&P 500 Index option bid/ask quotes. The Index uses nearby and second nearby options with at least 8 days left to expiration and then weights them to yield a constant, 30-day measure of the expected volatility of the S&P 500 Index. FTSE Real Estate Indices (NAREIT Index and EPRA/NAREIT Index) includes only those companies that meet minimum size, liquidity and free float criteria as set forth by FTSE and is meant as a broad representation of publicly traded real estate securities. Relevant real estate activities are defined as the ownership, disposure, and development of income-producing real estate. See www.ftse.com/Indices for more information.
HFRI Monthly Indices (HFRI) are equally weighted performance indexes, compiled by Hedge Fund Research Inc. (HFX), and are used by numerous hedge fund managers as a benchmark for their own hedge funds. The HFRI are broken down into 37 different categories by strategy, including the HFRI Fund Weighted Composite, which accounts for over 2000 funds listed on the internal HFR Database. The HFRI Fund of Funds Composite Index is an equal weighted, net of fee, index composed of approximately 800 fund- of- funds which report to HFR. See www.hedgefundresearch.com for more information on index construction.
J.P. Morgan's Global Index Research group produces proprietary index products that track emerging markets, government debt, and corporate debt asset classes. Some of these indices include the JPMorgan Emerging Market Bond Plus Index, JPMorgan Emerging Market Local Plus Index, JPMorgan Global Bond Non-US Index and JPMorgan Global Bond Non-US Index. See www.jpmorgan.com for more information.
Merrill Lynch high yield indices measure the performance of securities that pay interest in cash and have a credit rating of below investment grade. Merrill Lynch uses a composite of Fitch Ratings, Moody's and Standard and Poor's credit ratings in selecting bonds for these indices. These ratings measure the risk that the bond issuer will fail to pay interest or to repay principal in full. See www.ml.com for more information.
Morgan Stanley Capital International – MSCI is a series of indices constructed by Morgan Stanley to help institutional investors benchmark their returns. There are a wide range of indices created by Morgan Stanley covering a multitude of developed and emerging economies and economic sectors. See www.morganstanley.com for more information.
Russell Investments rank U.S. common stocks from largest to smallest market capitalization at each annual reconstitution period (May 31). The primary Russell Indices are defined as follows: 1) the top 3,000 stocks become the Russell 3000 Index, 2) the largest 1,000 stocks become the Russell 1000 Index, 3) the smallest 800 stocks in the Russell 1000 Index become the Russell Midcap index, 4) the next 2,000 stocks become the Russell 2000 Index, 5) the smallest 1,000 in the Russell 2000 Index plus the next smallest 1,000 comprise the Russell Microcap Index. See www.russell.com for more information.
S&P 500 Index consists of 500 stocks chosen for market size, liquidity and industry group representation, among other factors by the S&P Index Committee, which is a team of analysts and economists at Standard and Poor's. The S&P 500 is a market-value weighted index, which means each stock's weight in the index is proportionate to its market value and is designed to be a leading indicator of U.S. equities, and meant to reflect the risk/return characteristics of the large cap universe. See www.standardandpoors.com for more information.
Information on any indices mentioned can be obtained either through your consultant or by written request to information@feg.com.