The start of the year witnessed a continuation of many of the dominant economic themes from 2017, including firming fundamentals, a flattening Treasury yield curve, ongoing labor market improvement, a weakening U.S. dollar, and increasing inflation expectations. Across the major asset categories, risk in general was rewarded during the month as global equities pushed higher, with impressive returns abroad and in domestic markets. A spike in nominal Treasury rates led to a sell-off in most high-quality segments of the fixed income market. Energy infrastructure assets experienced an extension of late-2017 positive momentum, posting strong returns for the month, while Real Estate Investment Trusts (REITs) declined meaningfully, likely fueled by a sharp increase in Treasury rates. However, early February's correction provided a sharp reversal to many of these market trends.
Economic Update
Early February market activity has exhibited unusually high levels of volatility, both in the equity and fixed income markets. While most signs point to idiosyncratic causes, such as large unwinding of short-volatility positions, markets have been quick to punish nearly every corner of the (liquid) investible universe. The recent shift upward in Treasury rates, a change of leadership at the Federal Reserve, and early warning signs of a potential shift in inflationary sentiment appear to have overshadowed positive fundamental developments—both domestically and abroad—leading to swift adjustments in the risk postures of global capital allocators.
Our Research Review normally highlights solely the activity of the prior month, but February's correction is meaningful, and thus, in this edition we address both January's activity and February's reversal to the extent possible.
Treasury Rates Spike to Near Taper Tantrum Levels, Sending Ripples Through the Markets
After concluding 2017 virtually unchanged for the calendar year, the yield on the 10-Year Treasury Note spiked significantly in January, concluding the month at 2.71%. The yield represented a monthly increase of 30 basis points (bps), the ascension of which went seemingly unperturbed through early-February trading activity. For example, as of February 7, the 10-Year Treasury Note Yield stood at 2.84% and was closing-in on May 2013 Taper Tantrum levels. Renewed inflationary sentiment, solid economic fundamentals, early effects of recently-introduced fiscal stimulus, and rumors of a reduction in China's holdings of Treasury securities are all possible candidates for the drivers behind the recent backup in yields. The 10-Year Treasury Note Yield Trend graph highlights the severity of the upward move in Treasury rates.

The secular trend of declining nominal Treasury rates, which has occurred from 1982 until present, appears to have potentially run its course if recent changes are not followed by a reversion to the trend. The 2.84% yield for the 10-Year Treasury note as of February 7 places the yield a mere 18 bps away from reaching the 2-sigma level above the 1982-to-present downward trend line. Late-cycle fiscal accommodation in the way of tax stimulus against a backdrop of an economy already exhibiting over-utilization of resources—based on the output gap, as well as some labor market measures—may prove to be the straw that breaks the camel's back. Admittedly, however, previous business cycle peaks were preceded by yield run-ups, only to be reset lower once the traditional disinflationary forces of recessions fed through the broader economy.
Regardless of whether or not the more than 35-year trend is coming to a close, the recent surge in rate volatility has wreaked havoc on corners of the market that tend to exhibit the most interest rate sensitivity, such as long duration bonds, REITs, and utility companies, to name a few. Moreover, and in contrast to the traditional negative correlation between Treasuries and equities, recent elevated downside volatility across most equity sectors may be a response to the prospective environment of materially higher borrowing costs. Alternatively, the recent sell-off in risk assets could be the long-overdue "pullback" that has been lurking in the shadows. The recent dislocation across risky asset markets has yet to be accompanied by a deterioration in underlying fundamentals, potentially providing investors some very modest comfort.
To summarize, U.S. interest rates increased materially at the beginning of the year, leading to elevated downside volatility across rate-sensitive asset classes and sectors, such as long duration bonds, REITs, utilities, and, more recently, equities as a whole. The prospect of higher domestic inflation rates has likely served as a driving force behind this increase. Traditional fundamental underpinnings of the broader economy appear sound at the current time, with metrics such as payrolls growth, GDP growth, leading economic indicators, and PMI gauges witnessing solid improvement in recent months.
Market Returns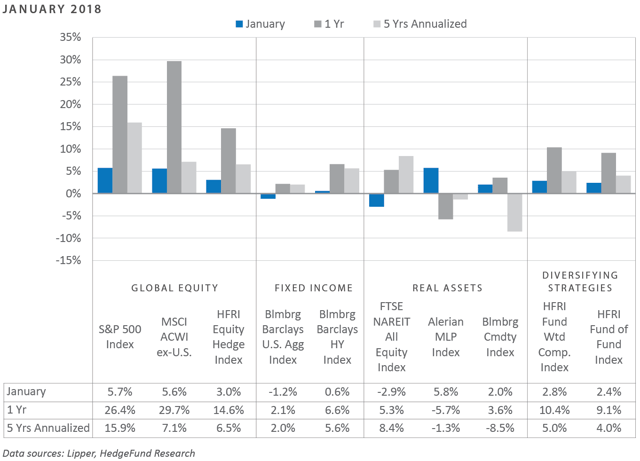 Global Equity
Global markets continued their ascent during January. A notable driver of returns for January was U.S. Treasury Secretary Steve Mnuchin's comment about a weak U.S. dollar being good for the economy, which some construed as potentially abandoning the historically strong dollar policy that has been in place in the U.S. since the 1990s.

January improved upon the strong returns investors saw during 2017. The S&P 500 posted 14 days of new highs out of 21 trading days, resulting in the largest gain to start the new year since 1997.

The first week of February brought some of the most volatile swings in equity prices in recent years. The Dow Jones Industrial Average fell by more than 1,179 points from February 2nd through the 6th—the largest sell-off in point-terms in history. Potential causes of the increased volatility include the fear of rising U.S. inflation based on a higher-than-expected wage report, increased use of algorithmic trading, and overreactions to declining markets.

During January, the House and Senate failed to pass a spending bill, which resulted in a partial government shutdown lasting three days. As indicated by the S&P 500, the market appeared unphased by this event and closed at record highs on Friday, January 19th, the day of the government shutdown. The S&P closed at another record high on the following Monday when Democrats and Republicans came to an agreement for a short-term funding bill.

The euro zone continued recovering in January, contributing to equity returns as the euro continued its trend of appreciating. When evaluated in trade-weighted terms, the appreciation of the euro has been modest, resulting in an increased share prices for exporters.

During the January 25th meeting, Mario Draghi highlighted the potential risk that inflation in Europe would not return to the European Central Bank's target in what appeared to be a counter to the recent rise in the euro.

Emerging markets returns were also supported by currency movement during the month of January. After strong returns in 2017, emerging market equities have garnered more investor attention from around the globe.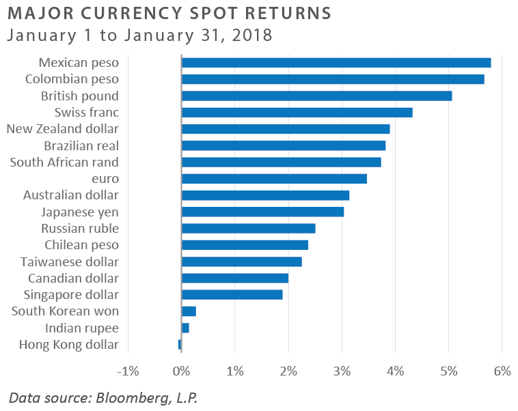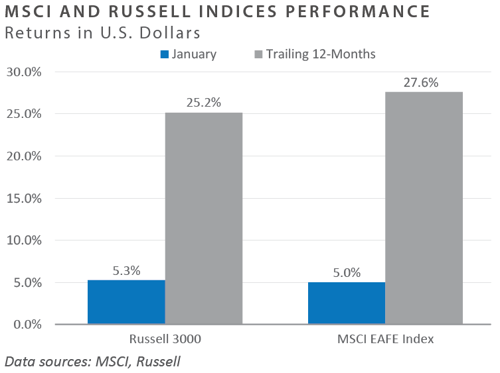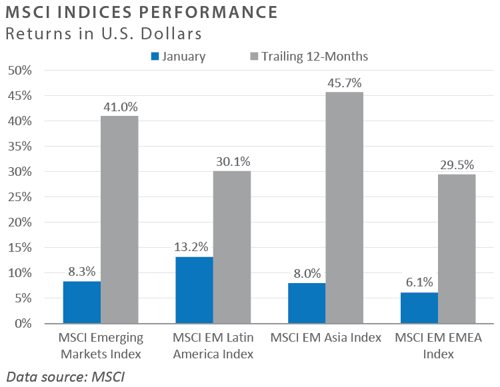 Fixed Income
MARKET DRIVERS
The Treasury curve steepened over the month, as 10-year rates rose more than two-year rates for the first time since July 2017.

Conversely, the spike in volatility in early February led to an intermittent flight-to-quality as investors rushed to Treasuries, resulting in a short-term increase in prices and causing a decrease in Treasury yields.

The U.S. dollar experienced a sharp decline in late January relative to other developed and emerging market currencies, contributing to the underperformance of dollar-denominated debt in comparison to that of locally-denominated debt.
MARKET MOVEMENT
Treasury yields spiked in mid-January, likely driven by renewed inflationary sentiment, solid economic fundamentals, and the initiation of tax stimulus in the U.S., leading to broadly negative fixed income returns.

High yield (HY) spreads continued to tighten in January, hitting a new cycle low of 323 bps at the end of the month, as HY yields remained stable, providing one area of positive performance in the fixed income markets.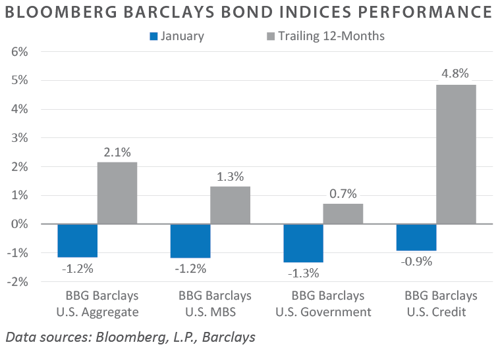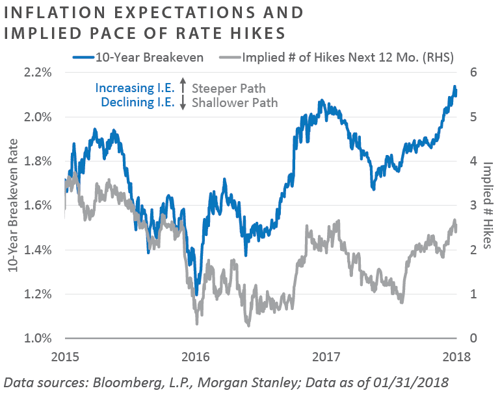 Real Assets
REAL ESTATE
U.S. REITs stumbled in January amid expectations of stronger economic growth and the potential for rising interest rates. Infrastructure REITs were one of the few bright spots, gaining 3% on anticipation that the Federal government will roll out new plans to increase infrastructure spending in 2018.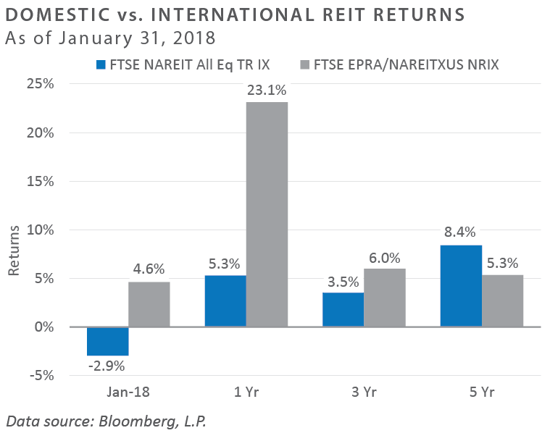 NATURAL RESOURCES
Oil prices had the strongest January in five years, driven in large part by the weakening U.S. dollar. A falling dollar makes it cheaper for non-U.S. investors to buy crude.

Despite generally bullish sentiment, analysts say the market had been dented by rising output in North America. U.S. crude production has grown to over 9.8 million barrels per day and output may break through 10 million barrels per day in the next few months.

Natural gas prices received a jolt from the wave of extreme cold weather sweeping over the Eastern half of the U.S. The effect has been twofold: on the supply side, the frigid temperatures have curtailed production in places like the North Dakota Bakken; on the demand side, the U.S. is burning through significantly more gas due to the extreme cold snap.

Commodity prices rose across the board in January, led by energy prices. A weaker dollar and improved economic growth helped boost raw material prices, in particular. Rising inflation is expected to feed back into the outlook for commodity prices.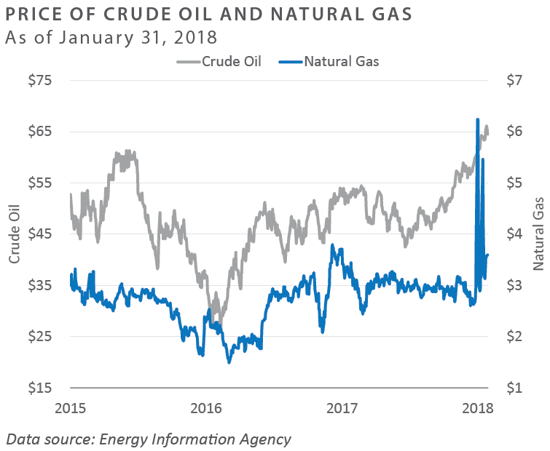 Diversifying Strategies
Global macro managers—both discretionary and systematic—generated strong returns to begin the year. Discretionary managers benefitted from the rise in global interest rates, as many were positioned for monetary policy tightening. Systematic managers continued their performance rebound as bullish trends in equities, energy, and currencies (vs. the U.S. dollar) persisted.

Event-driven idiosyncratic situations generated mixed results. Some notable merger arbitrage positions were profitable, whereas equity special situation trades—including Altaba and Naspers—were among the top detractors.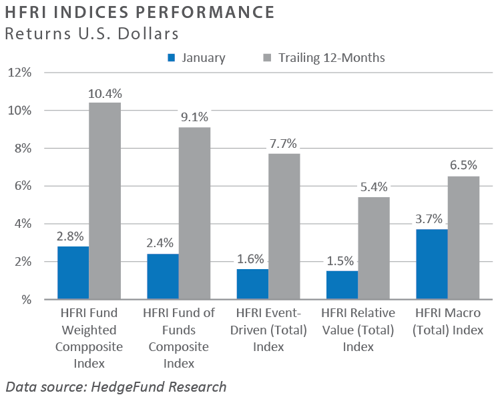 DISCLOSURES
This report was prepared by FEG (also known as Fund Evaluation Group, LLC), a federally registered investment adviser under the Investment Advisers Act of 1940, as amended, providing non-discretionary and discretionary investment advice to its clients on an individual basis. Registration as an investment adviser does not imply a certain level of skill or training. The oral and written communications of an adviser provide you with information about which you determine to hire or retain an adviser. Fund Evaluation Group, LLC, Form ADV Part 2A & 2B can be obtained by written request directly to: Fund Evaluation Group, LLC, 201 East Fifth Street, Suite 1600, Cincinnati, OH 45202, Attention: Compliance Department.
The information herein was obtained from various sources. FEG does not guarantee the accuracy or completeness of such information provided by third parties. The information in this report is given as of the date indicated and believed to be reliable. FEG assumes no obligation to update this information, or to advise on further developments relating to it. FEG, its affiliates, directors, officers, employees, employee benefit programs and client accounts may have a long position in any securities of issuers discussed in this report.
Index performance results do not represent any managed portfolio returns. An investor cannot invest directly in a presented index, as an investment vehicle replicating an index would be required. An index does not charge management fees or brokerage expenses, and no such fees or expenses were deducted from the performance shown.
Neither the information nor any opinion expressed in this report constitutes an offer, or an invitation to make an offer, to buy or sell any securities.
Any return expectations provided are not intended as, and must not be regarded as, a representation, warranty or predication that the investment will achieve any particular rate of return over any particular time period or that investors will not incur losses.
Past performance is not indicative of future results.
Investments in private funds are speculative, involve a high degree of risk, and are designed for sophisticated investors.
All data is as of January 31, 2018 unless otherwise noted.
INDICES
The Alerian MLP Index is a composite of the 50 most prominent energy Master Limited Partnerships that provides investors with an unbiased, comprehensive benchmark for this emerging asset class.
Barclays Capital Fixed Income Indices is an index family comprised of the Barclays Capital Aggregate Index, Government/Corporate Bond Index, Mortgage-Backed Securities Index, and Asset-Backed Securities Index, Municipal Index, High-Yield Index, and others designed to represent the broad fixed income markets and sectors within constraints of maturity and minimum outstanding par value. See https://ecommerce.barcap.com/indices/index.dxml for more information.
The CBOE Volatility Index (VIX) is an up-to-the-minute market estimate of expected volatility that is calculated by using real-time S&P 500 Index option bid/ask quotes. The Index uses nearby and second nearby options with at least 8 days left to expiration and then weights them to yield a constant, 30-day measure of the expected volatility of the S&P 500 Index. FTSE Real Estate Indices (NAREIT Index and EPRA/NAREIT Index) includes only those companies that meet minimum size, liquidity and free float criteria as set forth by FTSE and is meant as a broad representation of publicly traded real estate securities. Relevant real estate activities are defined as the ownership, disposure, and development of income-producing real estate. See www.ftse.com/Indices for more information.
HFRI Monthly Indices (HFRI) are equally weighted performance indexes, compiled by Hedge Fund Research Inc. (HFX), and are used by numerous hedge fund managers as a benchmark for their own hedge funds. The HFRI are broken down into 37 different categories by strategy, including the HFRI Fund Weighted Composite, which accounts for over 2000 funds listed on the internal HFR Database. The HFRI Fund of Funds Composite Index is an equal weighted, net of fee, index composed of approximately 800 fund- of- funds which report to HFR. See www.hedgefundresearch.com for more information on index construction.
J.P. Morgan's Global Index Research group produces proprietary index products that track emerging markets, government debt, and corporate debt asset classes. Some of these indices include the JPMorgan Emerging Market Bond Plus Index, JPMorgan Emerging Market Local Plus Index, JPMorgan Global Bond Non-US Index and JPMorgan Global Bond Non-US Index. See www.jpmorgan.com for more information.
Merrill Lynch high yield indices measure the performance of securities that pay interest in cash and have a credit rating of below investment grade. Merrill Lynch uses a composite of Fitch Ratings, Moody's and Standard and Poor's credit ratings in selecting bonds for these indices. These ratings measure the risk that the bond issuer will fail to pay interest or to repay principal in full. See www.ml.com for more information.
Morgan Stanley Capital International – MSCI is a series of indices constructed by Morgan Stanley to help institutional investors benchmark their returns. There are a wide range of indices created by Morgan Stanley covering a multitude of developed and emerging economies and economic sectors. See www.morganstanley.com for more information.
Russell Investments rank U.S. common stocks from largest to smallest market capitalization at each annual reconstitution period (May 31). The primary Russell Indices are defined as follows: 1) the top 3,000 stocks become the Russell 3000 Index, 2) the largest 1,000 stocks become the Russell 1000 Index, 3) the smallest 800 stocks in the Russell 1000 Index become the Russell Midcap index, 4) the next 2,000 stocks become the Russell 2000 Index, 5) the smallest 1,000 in the Russell 2000 Index plus the next smallest 1,000 comprise the Russell Microcap Index. See www.russell.com for more information.
S&P 500 Index consists of 500 stocks chosen for market size, liquidity and industry group representation, among other factors by the S&P Index Committee, which is a team of analysts and economists at Standard and Poor's. The S&P 500 is a market-value weighted index, which means each stock's weight in the index is proportionate to its market value and is designed to be a leading indicator of U.S. equities, and meant to reflect the risk/return characteristics of the large cap universe. See www.standardandpoors.com for more information.
Information on any indices mentioned can be obtained either through your consultant or by written request to information@feg.com.
Previous
Next