Amid several critical macro-related events—most notably the volatile U.S. presidential election and the Trump administration's subsequent challenges of the results—most major corners of the market continued to display positive momentum in the final quarter of 2020, which proved to be one of the most tumultuous years in recent memory. To cushion the impact of COVID-19, global policymakers introduced unprecedented levels of stimulus, which also served to boost confidence levels and ease financial and business conditions. Global equities advanced significantly during the quarter, particularly among the smaller cap and value-oriented indices within domestic sectors. On a regional basis, emerging market equities generated a near 20% return, essentially matching the performance of domestic markets for the year. Both U.S. Treasuries and the U.S. dollar (USD) suffered losses during the quarter, potentially reflective of shifting preferences amid the prospect for rebounding economic growth and inflation. Credit markets continued to rally, sending risk premiums below historical averages. Performance across real assets was broadly positive during the quarter, particularly among energy-related sectors, however, performance throughout 2020 was generally challenged.
Economic Update
U.S. Macro Data Cooling Despite Easiest Financial Conditions on Record
A dominant theme throughout 2020 was policymakers attempting to reverse the growth headwinds and disinflationary forces presented by COVID-19 through the introduction of unprecedented levels of monetary and fiscal stimulus. These initiatives helped to tighten credit risk premiums, drive price levels—and many valuation levels—to record highs across various major global equity markets, boost consumer and business confidence, and ease overall financial and business conditions. In the U.S., for example, some gauges have reflected the easiest set of financial conditions on record.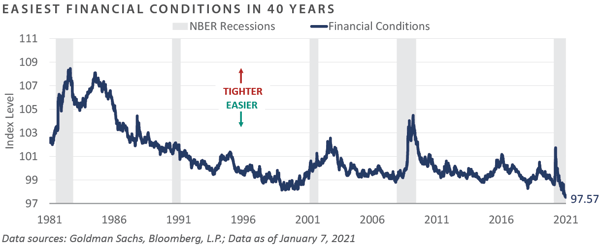 The Goldman Sachs U.S. Financial Conditions Index, which utilizes inputs such as high-quality interest rates, exchange rates, credit spreads, and equity valuations, sank to the lowest level on record on the last day of the year, implying the loosest set of financial conditions in at least 40 years.
In the U.S., the Federal Reserve (Fed) dropped interest rates to the zero-bound, initiated a new quantitative easing (QE) program, established numerous special purpose vehicles to supply liquidity to various sectors of the U.S. bond market, and provided forward guidance for low rates into 2023, among other accommodative actions. By the end of 2020, the Fed balance sheet had expanded a staggering $3.2 trillion year-over-year to $7.4 trillion.
On the fiscal front, Congress passed two separate fiscal stimulus packages, the first worth $2.2 trillion and the second $900 billion, with direct checks going to millions of Americans as part of both deals. These stimulative fiscal programs—in conjunction with a sharp drop off in economic activity—drove the budget deficit-to-gross domestic product (GDP) ratio above 15%, the highest level on record dating back to the late 1960s.
Despite the recent vaccine rollout, the second wave of COVID-19 and associated lockdown measures appear to be stalling the economic rebound that has taken place since spring 2020. In December, for example, both the Bureau of Labor Statistics (BLS) and Automatic Data Processing (ADP) reported a net loss of jobs during the month, predominantly in leisure and hospitality, with the BLS reporting a loss of 140,000 jobs and ADP reporting a loss of 123,000 positions. Sell-side estimates for first quarter 2021 real GDP growth have also soured, declining from an estimated pace of 5% this past summer to a current median estimate half of that rate.

In summary, 2020 presented immense challenges for asset allocators amid volatile price fluctuations, which included unusual structural events (e.g., negative oil spot prices), the unknowns around COVID-19's longevity; numerous monetary and fiscal directives, some of which were new and untested; and the volatility surrounding the U.S. presidential election. For the calendar year, however, substantial positive returns were generated among most major areas of the market—outside of the relatively small real assets complex—cushioning the blow that COVID-19 dealt to the country and the world on many unfortunate levels.
Market Returns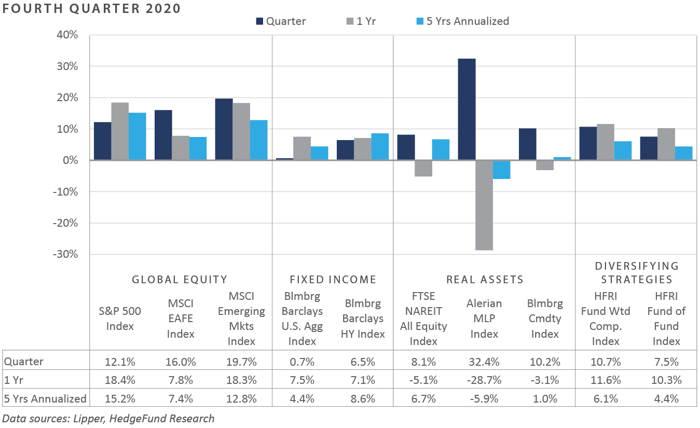 Global Equity
Global equity markets ended the fourth quarter on a positive note as vaccine distributions, coupled with finalized U.S. elections, boosted markets. The U.S. and emerging markets set record highs aided by rallies within cyclical and traditional value sectors. The S&P 500 returned 18.4% for the year, driven predominately by increasing valuation multiples. Furthermore, the S&P 500 soared nearly 70% from its March lows, brought on by the uncertainties around the COVID-19 virus. Fundamentals remain challenged going into 2021, as restrictions persist, and the world continues to navigate the global pandemic.

Sectors such as energy, financials, and industrials had the strongest positive reactions to the news of vaccine approvals, a modest increase in rates, and the recently announced $900 billion stimulus package. All 11 sectors in the S&P 500 Index posted positive returns for the quarter.

Additionally, small caps rallied on vaccine news, gaining 31.4% to record their best quarter in the history of the Russell 2000 Index. Despite the rally, large cap stocks still modestly outperformed small cap stocks for the full year. Small cap stocks were not alone in their outperformance, as value stocks recorded their strongest quarter since 2009.

Equities in the UK and Europe posted strong returns over the quarter, driven in part by the long-awaited finalization of the Brexit trade deal agreement. The European Union successfully approved a €1.8 trillion financial support package, helping bolster optimism in the region for continued policy support.

In emerging markets, the strong rally was led by Brazil, South Korea, and India. Asian equity markets witnessed strong investor inflows of nearly $26.8 billion during the fourth quarter, supporting the market rally. The returns in Chinese equities were also positive; however, anti-trust investigations and heightened tensions between the U.S. and China, as the deadline for the delisting of some Chinese companies on U.S. stock exchanges loomed closer, dampened investor sentiment in China.

The surge in commodity prices and a weaker U.S. dollar helped emerging markets equities outperform the U.S. and other regions during the quarter. The authorization of the AstraZeneca vaccine was an important development for emerging markets due to the vaccine's cheaper price and ease of storage compared to Pfizer's and Moderna's vaccines.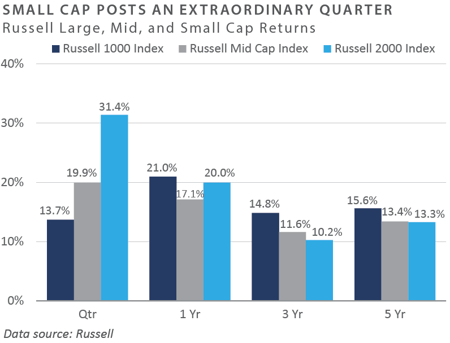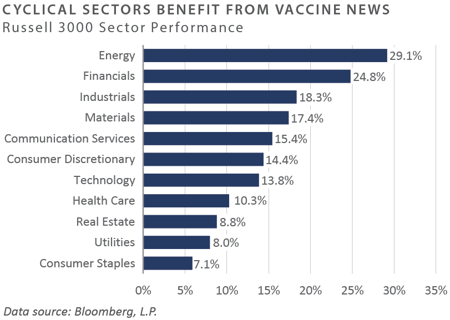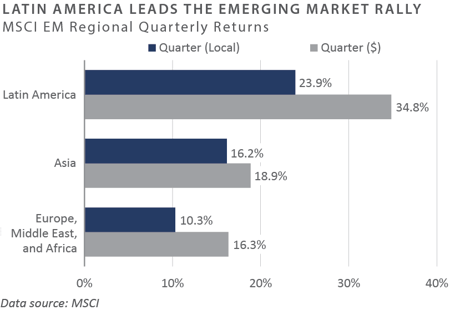 Fixed Income
The U.S. Treasury yield curve steepened during the quarter as long-term Treasury rates rose with inflation expectations and short-term rates were pinned near zero by the Fed. Even though Treasury yields rose, a sharp decline in credit spreads offset the rise in risk-free rates, resulting in lower nominal rates on risk assets.

Breakeven inflation rates rose through the fourth quarter to end the year at their highest level since November 2018. Notably, market-based measures of inflation expectations continue to materially outpace model-based estimates from the Fed.

Following positive vaccine news and an improved outlook for fiscal stimulus, credit-sensitive assets continued to rally, with higher beta and COVID-affected sectors, such as energy, credit, and subordinated tranches of commercial mortgage-backed securities (CMBS) seeing the greatest benefits.

A weakening dollar, combined with a global search for yield, provided dual tailwinds for emerging market debt. Local currency bonds received greater benefits from currency trends, resulting in outperformance versus their hard-currency counterparts.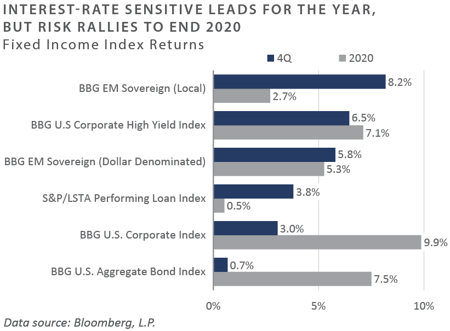 Real Assets
REAL ESTATE
News of effective COVID-19 vaccines during the quarter led to a reversal of the trends seen in the last year in real estate. Retail and lodging property types, which had been disproportionately affected by the pandemic, saw extremely strong returns over the fourth quarter. Regional malls, one of the most affected sectors, returned over 36% quarter-to-date on news of approved vaccines. While these businesses should continue to benefit through a return to normality, COVID-19 has materially impacted consumer shopping habits and business travel, making the future of retail and lodging uncertain.

Conversely, technology-related real estate—data centers and infrastructure—saw declines in the fourth quarter following outperformance in the first three quarters of 2020. These two sectors have generally benefitted from the further expansion of the digital economy throughout 2020, helping drive their valuations to significant premiums.

U.S. REITs, which include a larger allocation to technology real estate, underperformed global benchmarks which have larger tilts towards residential, retail, and lodging.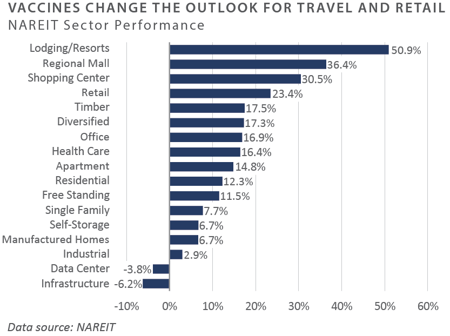 NATURAL RESOURCES
The average daily WTI oil spot price was approximately $47 per barrel in December, up from around $41 in November, as U.S. GDP began to rise during the third quarter. Global oil demand has recovered to approximately 96 million barrels per day, nearing the 100 million per day pre-COVID-19 levels and aiding price stabilization.

Uncertainties persist across the U.S. Energy Information Administration's (EIA) outlook for all energy sources, including liquid fuels, natural gas, electricity, coal, and renewables. Some forecasts have predicted that peak oil production has already occurred in 2019, with the expectation that increasing renewable adoption will reduce future demand.

For the quarter, natural gas' average price per MMBtu was up approximately 30% on the back of colder winter temperatures and reduced associated gas coming from lower production. With oil prices lingering at lower-than-ideal industry levels, reduced oil drilling and production activity has been a net positive for natural gas prices as associated gas production has fallen.

The EIA expects oil prices to edge higher in 2021 as oil inventories decline with rising demand and OPEC+ production moderation. As such, the monthly WTI spot prices are expected to remain in the high $40/bbl to the low $50/bbl throughout 2021.

INFRASTRUCTURE
Nearly all infrastructure sectors contributed positive performance in the fourth quarter. The midstream energy and transportation sectors performed well over the quarter, with performance buoyed by stronger energy prices accompanying a post-vaccine expectation of demand return.

Traffic volume at U.S. airports continues to recover, with traffic at ~37% of 2019 volumes in the fourth quarter, up from ~29% in the third quarter. Further, global toll road volumes continue to improve despite ongoing pandemic worries.

Master Limited Partnerships (MLPs), as measured by the Alerian MLP Total Return Index, underperformed their C-corps peers throughout the first three quarters of 2020. This trend reversed over the fourth quarter; however, with MLPs returning 32.4% compared to 20.1% for the Alerian Midstream Energy Index, which includes C-corps. The current yield on MLPs stands at 10.4% as of the end of December.

Midstream prospects appear to be improving; the COVID-19 crisis has driven capital expenditures and distributions down, leaving midstream businesses to focus on paying down debt. The incoming Democratic administration is expected to make in-place infrastructure more valuable, as future pipeline assets are likely to be harder to develop.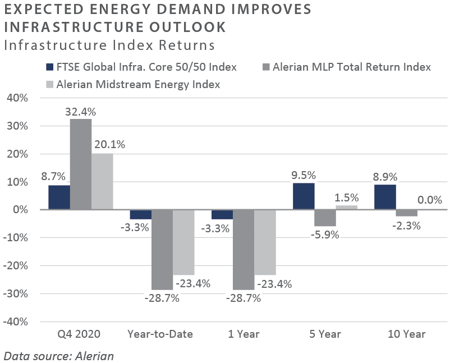 Diversifying Strategies
Hedge funds broadly produced strong gains for the fourth quarter, with a double-digit increase in returns. Performance was spread across strategies, including equity hedge, event-driven, relative value, and global macro.

Equity hedge was the best performer for the quarter, led by sector-dedicated strategies in energy, technology, and healthcare. Quantitative equity strategies also generated robust performance during the quarter.

Trend following managers ended the year with a large upswing led by trends in commodities, equities, and currencies. Discretionary macro strategies were also able to exploit market volatility to end 2020 with a strong quarter.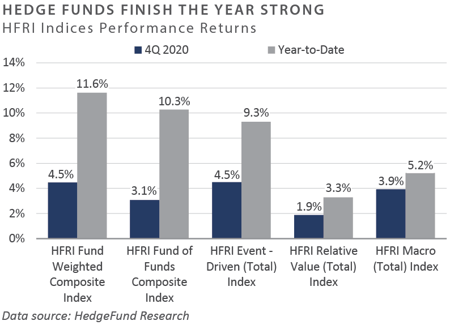 INDICES
The Alerian MLP Index is a composite of the 50 most prominent energy Master Limited Partnerships that provides investors with an unbiased, comprehensive benchmark for this emerging asset class.
Barclays Capital Fixed Income Indices is an index family comprised of the Barclays Capital Aggregate Index, Government/Corporate Bond Index, Mortgage-Backed Securities Index, and Asset-Backed Securities Index, Municipal Index, High-Yield Index, and others designed to represent the broad fixed income markets and sectors within constraints of maturity and minimum outstanding par value. See https://ecommerce.barcap.com/indices/index.dxml for more information.
The CBOE Volatility Index (VIX) is an up-to-the-minute market estimate of expected volatility that is calculated by using real-time S&P 500 Index option bid/ask quotes. The Index uses nearby and second nearby options with at least 8 days left to expiration and then weights them to yield a constant, 30-day measure of the expected volatility of the S&P 500 Index. FTSE Real Estate Indices (NAREIT Index and EPRA/NAREIT Index) includes only those companies that meet minimum size, liquidity and free float criteria as set forth by FTSE and is meant as a broad representation of publicly traded real estate securities. Relevant real estate activities are defined as the ownership, disposure, and development of income-producing real estate. See www.ftse.com/Indices for more information.
HFRI Monthly Indices (HFRI) are equally weighted performance indexes, compiled by Hedge Fund Research Inc. (HFX), and are used by numerous hedge fund managers as a benchmark for their own hedge funds. The HFRI are broken down into 37 different categories by strategy, including the HFRI Fund Weighted Composite, which accounts for over 2000 funds listed on the internal HFR Database. The HFRI Fund of Funds Composite Index is an equal weighted, net of fee, index composed of approximately 800 fund- of- funds which report to HFR. See www.hedgefundresearch.com for more information on index construction.
J.P. Morgan's Global Index Research group produces proprietary index products that track emerging markets, government debt, and corporate debt asset classes. Some of these indices include the JPMorgan Emerging Market Bond Plus Index, JPMorgan Emerging Market Local Plus Index, JPMorgan Global Bond Non-US Index and JPMorgan Global Bond Non-US Index. See www.jpmorgan.com for more information.
Merrill Lynch high yield indices measure the performance of securities that pay interest in cash and have a credit rating of below investment grade. Merrill Lynch uses a composite of Fitch Ratings, Moody's and Standard and Poor's credit ratings in selecting bonds for these indices. These ratings measure the risk that the bond issuer will fail to pay interest or to repay principal in full. See www.ml.com for more information.
Morgan Stanley Capital International – MSCI is a series of indices constructed by Morgan Stanley to help institutional investors benchmark their returns. There are a wide range of indices created by Morgan Stanley covering a multitude of developed and emerging economies and economic sectors. See www.morganstanley.com for more information.
Russell Investments rank U.S. common stocks from largest to smallest market capitalization at each annual reconstitution period (May 31). The primary Russell Indices are defined as follows: 1) the top 3,000 stocks become the Russell 3000 Index, 2) the largest 1,000 stocks become the Russell 1000 Index, 3) the smallest 800 stocks in the Russell 1000 Index become the Russell Midcap index, 4) the next 2,000 stocks become the Russell 2000 Index, 5) the smallest 1,000 in the Russell 2000 Index plus the next smallest 1,000 comprise the Russell Microcap Index. See www.russell.com for more information.
S&P 500 Index consists of 500 stocks chosen for market size, liquidity and industry group representation, among other factors by the S&P Index Committee, which is a team of analysts and economists at Standard and Poor's. The S&P 500 is a market-value weighted index, which means each stock's weight in the index is proportionate to its market value and is designed to be a leading indicator of U.S. equities, and meant to reflect the risk/return characteristics of the large cap universe. See www.standardandpoors.com for more information.
Information on any indices mentioned can be obtained either through your consultant or by written request to information@feg.com.
DISCLOSURES
This report was prepared by FEG (also known as Fund Evaluation Group, LLC), a federally registered investment adviser under the Investment Advisers Act of 1940, as amended, providing non-discretionary and discretionary investment advice to its clients on an individual basis. Registration as an investment adviser does not imply a certain level of skill or training. The oral and written communications of an adviser provide you with information about which you determine to hire or retain an adviser. Fund Evaluation Group, LLC, Form ADV Part 2A & 2B can be obtained by written request directly to: Fund Evaluation Group, LLC, 201 East Fifth Street, Suite 1600, Cincinnati, OH 45202, Attention: Compliance Department.
The information herein was obtained from various sources. FEG does not guarantee the accuracy or completeness of such information provided by third parties. The information in this report is given as of the date indicated and believed to be reliable. FEG assumes no obligation to update this information, or to advise on further developments relating to it. FEG, its affiliates, directors, officers, employees, employee benefit programs and client accounts may have a long position in any securities of issuers discussed in this report.
Index performance results do not represent any managed portfolio returns. An investor cannot invest directly in a presented index, as an investment vehicle replicating an index would be required. An index does not charge management fees or brokerage expenses, and no such fees or expenses were deducted from the performance shown.
Neither the information nor any opinion expressed in this report constitutes an offer, or an invitation to make an offer, to buy or sell any securities.
Any return expectations provided are not intended as, and must not be regarded as, a representation, warranty or predication that the investment will achieve any particular rate of return over any particular time period or that investors will not incur losses.
Past performance is not indicative of future results.
Investments in private funds are speculative, involve a high degree of risk, and are designed for sophisticated investors.
All data is as of December 31, 2020 unless otherwise noted.