MIXED RESULTS IN PRIVATE MARKETS
The second half of 2019 was a bit rocky for some of the private markets. Venture-backed companies that entered the public sphere had mixed results, which may have pulled down overall valuations for the sector. Credit funds were generally flat for the period and energy continued to be volatile, with private energy generally performing in line with its public market counterpart. Buyout funds and real estate funds provided positive returns in the quarter, but both lagged their public benchmarks.

While it is interesting to consider returns for the quarter, the longer trends are far more relevant. Long term, the private markets continue to demonstrate excess returns relative to public markets in all sectors except real estate.

The amount of capital raised in private markets continues to be concerning to long-term investors, although the depth and transparency in these markets continues to increase. It can be difficult to remember that poorly executed strategies or excess capital can be damaging to results in the current environment. In private equity, for example, the lost decade of venture capital investing that preceded the current one has been forgotten.
Looking back over the past 10-year period at the top-to-bottom quartile performance of venture and buyout strategies, performance appears similar. However, taking the longer 20-year view, the volatility is evident. (Note that the 10- and 20-year returns in the table represent pooled averages, while the private equity returns graph reflects median fund returns.).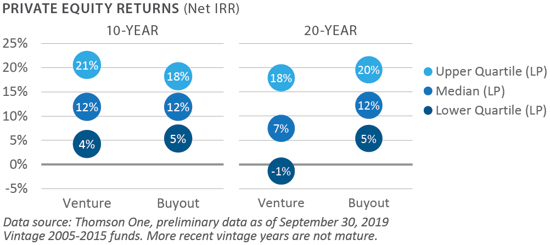 Looking forward, the dominance of growth investing, which is somewhat akin to venture investing, shows little signs of waning. Low interest rates and accommodative government policies support a "risk-on" market even if the duration of the current cycle is concerning.
Private Equity
Venture Capital
Executive Summary
Elevated fundraising and investing activity coinciding with high valuations give reason for concern, although the robust exit market is encouraging for investors who committed to venture funds earlier in the decade. Initial public offering and acquisition activity pushed up venture capital returns for the quarter, attracting the attention of capital allocators. Performance has been strong but remains meaningfully unrealized for more recent vintage years.
Fundraising and Investing
Globally, venture funds raised over $70 billion in commitments in 2019, off slightly from the record $83 billion raised in 2018.1 While below the prior year's level, fundraising in 2019 was a continuation of the long-term trend that began in 2013, as venture funds raised over $50 billion of assets for the sixth straight year. Investors continue to increase commitments to venture funds in search of opportunities for higher returns.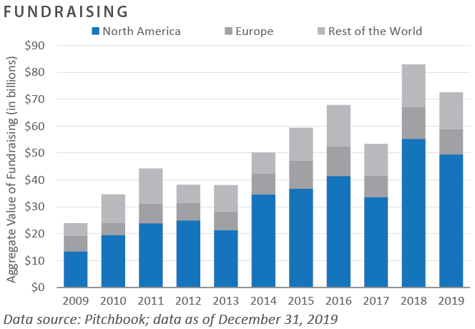 Investment Activity
Deal sizes and valuations continued to rise in 2019, coinciding with higher fundraising. Deal sizes of over $50 million accounted for over 50% of the capital invested in 2019, similar to last year's record level.2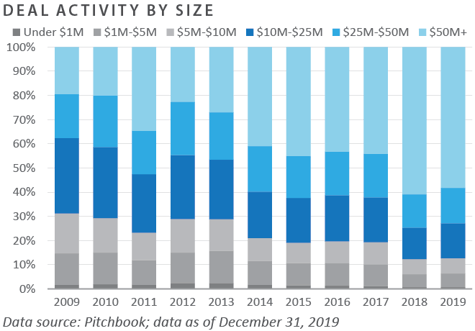 Pre-money valuations of venture-backed companies continued to increase across both early- and later-stage companies.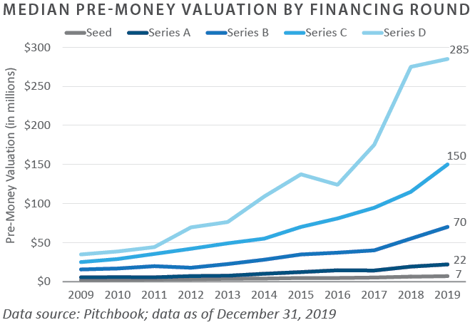 The larger deals and the late-stage pre-money valuations tend to get the most coverage, but recent data is showing some trends to watch in seed- and early-stage financings. According to the Pitchbook NVCA Venture Monitor, the average age of a company receiving seed-stage financing has nearly doubled from 1.5 years in 2012 to 2.9 years in 2019. The falling costs of cloud computing, SaaS pricing models, and social networks that drive brand awareness and sales are all factors that could enable companies to start up with less capital and grow without venture financing.
Venture-backed companies received $170 billion in funding through September, below the record level in 2018 though elevated compared to recent years.3 In their later stages, venture-backed companies receive funds from all types of investors, including mutual funds, hedge funds, corporate venture programs, and family offices. Amounts invested in these later-stage rounds far exceed the amounts raised by venture funds.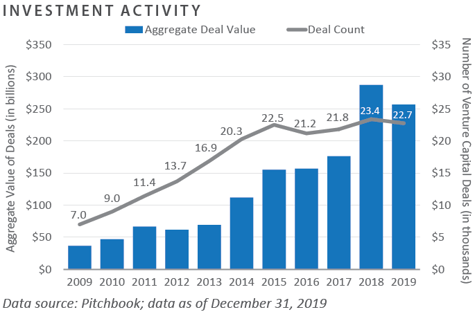 Exit Environment
The exit markets have been robust for venture-backed companies in recent years with respect to the number of exits and aggregate value. This year saw several highly publicized companies complete an initial public offering (IPO), including Uber, Lyft, Pinterest, Slack, and Zoom. Performance in the public market for these companies has been mixed, however, as several have struggled to maintain the valuation from their last private financing round.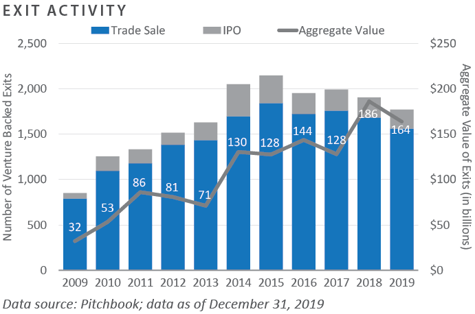 Performance
Venture fund performance by vintage year has risen steadily over the past decade. More recent vintages are not shown in the venture capital performance chart as they are not mature enough to reflect meaningful results. Much remains unrealized, as younger companies backed by venture funds take longer to mature. For example, the median distributed to paid-in capital (DPI) for venture capital funds raised was only 0.2x and 0.1x for funds raised in 2013 and 2014 respectively.4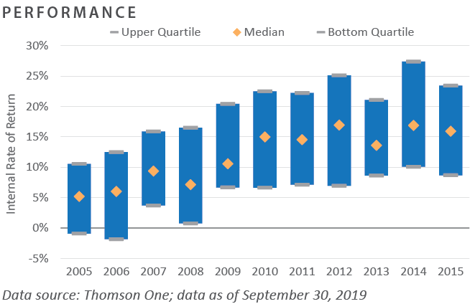 Buyouts
Executive Summary
Near-record levels of available capital—i.e., dry powder—combined with elevated purchase price multiples are reason for concern within the buyout strategy. Investors continue to concentrate their commitments among fewer managers, which contributes to higher median and average fund sizes. Increased competition, high valuations, and market volatility are weighing on private equity-backed exit activity.
Despite these trends, private equity fundraising remains constant and shows no sign of slowing. Limited partners continue to allocate capital to leveraged buyout strategies, with the bulk of the capital in vehicles raising more than $1 billion in aggregate capital commitments. The proliferation of capital allocated to middle market strategies may have have an impact on the lower middle market in the form of higher valuations and increased deal activity. The number of transactions between private equity firms—i.e., secondary buyouts or sponsor-to-sponsor—may increase.
Fundraising and Investing
Fundraising for global buyout strategies in 2019 surpassed the amount of capital raised in 2018. Global leveraged buyout funds raised roughly $381 billion of aggregate capital commitments in 2019, representing a year-over-year increase of nearly 42%.5

Approximately $270 billion, or 71% of the capital, was raised by North American-focused buyout funds. An additional $83 billion, or 22% of the capital, was raised for European-focused funds.6 The rest of the world represented approximately 7% of aggregate capital commitments raised.7 This is unsurprising given that control equity transactions are more common in North America and Europe.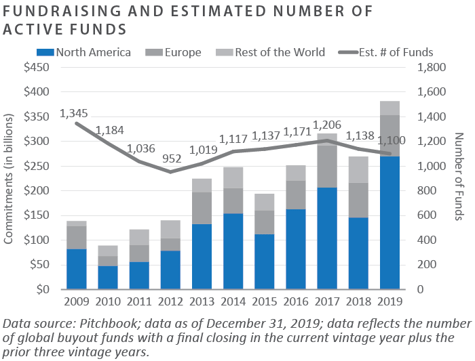 Investors continue to consolidate their list of manager relationships and their concentrated capital commitments are contributing to larger overall fund sizes. Since 2008, the average global buyout fund has grown from roughly $700 million to more than $1.5 billion.⁸ According to Pitchbook, over 95% of raised funds were larger than their predecessor funds, another record.⁹


Global private equity fundraising cycles remain shorter than in the past. In 2014, on average, the time taken between the final close of a predecessor and successor private equity fund was just over 59 months.10 As of year-end, the average time between fundraises was down to just 52 months.¹¹
Investment Activity
During 2019, the average purchase price multiple for middle market buyout transactions was 12.9x earnings before interest, taxes, depreciation and amortization (EBITDA). Leverage ratios remained relatively constant.¹² According to S&P Capital IQ, the average debt multiple for middle market LBOs was roughly 5.5x EBITDA, slightly below the 2007 peak of 5.8x EBITDA.¹³

Equity contributions in middle market transactions have grown to roughly 52%, reflecting equity sponsors' propensity to overcapitalize investments.14 Contributions for large buyout transactions remained steady at roughly 45%.15 For large market transactions, the peak was approximately 46% in 2009, when financing was scarce.16 The low point was in 2006, when the ratio dipped below 30%.17 It should be noted, however, that the S&P Capital IQ data only represents a sample set of leverage buyout transactions executed during a given time period.

Partially due to the current high-multiple environment, the "buy-and-build" strategy continues to proliferate, as it allows buyers to average down the blended multiple. In 2019, add-ons accounted for approximately 68% of all U.S.-based private equity transactions.18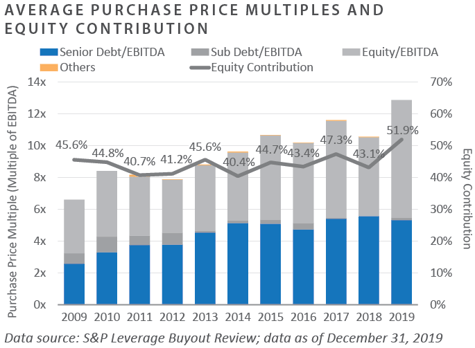 Exit Environment
Last year, approximately $907 billion in proceeds was generated by 2,516 private equity-backed exits.19 Year-over-year, aggregate value and volume fell 17% and 23%, respectively. Market volatility, geopolitical tensions, and uncertainty regarding trade tariffs likely contributed to a slowdown in exit volume.

Trade sales to strategic or financial acquirers represented the majority of global buyout-backed exits. Initial public offerings (IPOs) accounted for roughly 5% of the aggregate number of exits.20

Since the global financial crisis, median hold periods of private equity investments increased from roughly four years to six years.²¹ Longer hold periods are likely due to private equity firms' increased emphasis on add-ons and operational improvements to drive value creation. Additionally, GPs are holding on to their perceived winners longer and using partial sales to de-risk investments while retaining upside potential.

Performance
Global buyout performance has been strong. As of September 30, 2019, the 1-, 3-, 5-, and 10-year time-weighted returns were 9.8%, 15.5%, 12.8%, and 14.5%, respectively.²²



The dispersion of returns between top- and lower-quartile funds has consistently been over 800 basis points, demonstrating the importance of manager selection.
Private Debt
Executive Summary
Private debt fundraising is off its peak levels but remains strong, with direct lenders continuing to gather a large share of commitments versus other private debt strategies. Select managers are passing on more transactions than in the past, making it difficult for them to pick credits wisely and maintain the investment pace promised to investors. Fissures in the public credit markets may be forecasting future distressed opportunities, although false flags have been more prevalent in the recent past.
With select managers continuing to pass on more transactions than in the past, picking credits wisely and maintaining the investment pace promised to investors has proved an ongoing struggle. Fissures in the public credit markets could foreshadow a future distressed opportunity, although false signals have been more prevalent in the recent past.
Fundraising
Private debt fundraising declined versus 2018, which was already softened versus the 2017 peak in which more than 200 funds closed on approximately $130 billion. In 2019, the number of funds closed declined to 152, with just over $107 billion raised, according to Preqin.²³

The rationale for fewer funds closed and fewer dollars raised in 2019 versus the prior two years is the proliferation of new entrants into the direct lending space in recent years, which has led to saturation in the private lending marketplace.

At the start of 2020, however, there were 436 funds seeking a total of $192 billion from investors, up from the 399 funds seeking $168 billion at the beginning of 2019.

Despite the decline in private debt funds raised in 2019, direct lending, distressed debt, and mezzanine debt continue to comprise the majority of private debt capital.


Fundamentals and Activity
In middle market leveraged buyout (LBO) transactions, debt multiples (debt/EBITDA) declined to 5.5x, below the peak of 5.8x in 2007. However, recent purchase price multiples for middle market LBOs remain elevated at 12.9x.²⁴ While LBO deal volume in the middle market fell to 2016 levels, wide-open credit markets have been key to allowing deals to take place, as both public credit markets and private lending markets are open for business.
Distressed Update
U.S. credit markets remained strong throughout 2019, with high yield bonds posting a 14.3% return for the Bloomberg Barclays U.S. High Yield Index. A deeper look at this number reveals fissures under the surface, however, as CCC-rated bonds failed to keep pace, returning 9.5%.
2019 proved to be a challenging year for distressed managers, as Ca- and D-rated high yield bonds—representing companies in which default is imminent or that are already in default—lost 0.3% for the year.
Bifurcation in the credit markets is healthy, particularly late in the cycle, as investors have been adjusting from a "beta-driven" mindset in recent years to one more focused on credit quality.
Amid the bifurcation, a modest adjustment higher in the distressed ratio—that is, corporate bonds trading at 1000 basis points over U.S. Treasuries—has taken place, sending the ratio to 4.8%, up from recent lows.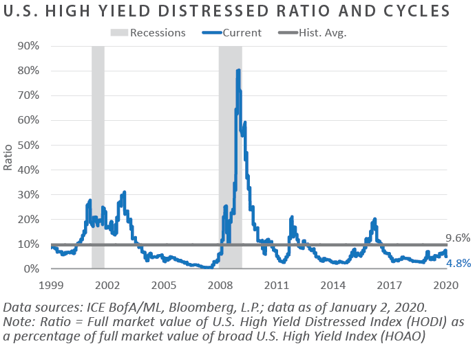 Private Real Estate
Executive Summary
Real Estate is now 10 years into recovery and, despite cap rates being near record-lows in many markets, commercial real estate continued to attract record levels of investment from institutional investors through 2019. The interest rate environment has been a key factor driving returns, as investors have come to view real estate as a "fixed income substitute" offering relatively attractive yield compared to government bonds. As noted below, broad demographic trends may continue to present opportunities within real estate, including growth in online retailing (industrial), shared work environments (co-working), and challenges for first-time homebuyers, which impacts residential housing.
Fundraising
According to data from Preqin, private real estate had a record fundraising year. Total funds raised surpassed $150 billion for the first time and the number of funds in market reached an all-time high, topping 900 by January 2020.

Large funds dominated the market, including Blackstone Real Estate Partners IX, which raised $20 billion, and Brookfield's latest real estate fund, which raised $15 billion.²⁵ As of January 2020, there were a record 918 private real estate funds in the market seeking a total of $281 billion. This is up significantly from the year-ago period, when there were 634 funds in the market.

Dry powder—that is, committed and undeployed capital—held by private real estate funds topped $300 billion as of year-end 2019.26 ²6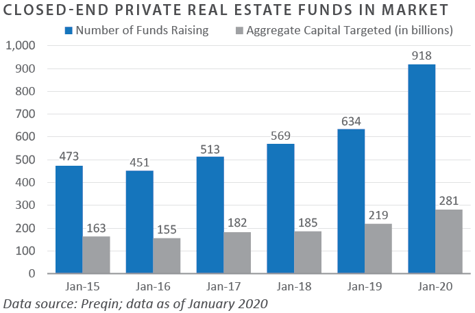 Market Returns
Real estate returns for "core" properties were mixed during the fourth quarter, with the National Council of Real Estate Investment Fiduciaries (NCREIF) Property Index (NPI), posting a gain of 1.5% during the fourth quarter, following a 1.4% gain in the third quarter of 2019.

On a trailing one-year basis, the index return was approximately 6.4% as of year-end 2019.²⁷ Alternatively, the NCREIF Transaction Based Index (NTBI) posted a -1.6% return for the quarter, although the total return for the year was positive.

In comparison, the public real estate market (REITs) declined in the fourth quarter but posted a 28% gain for the year.²⁸

The value-weighted cap rate for the index remained near a record low at 4.3%, and the occupancy rate reached approximately 94%, representing an all-time high.²⁹

The industrial sector continued to outperform—driven by demand for warehouse space—while retail suffered the impact of store closings and bankruptcies, which continued to negatively impact the sector throughout the year.

Property Sectors

OFFICE: While office remains the largest property type within the U.S. institutional real estate investment universe, investor interest continues to decline due to the capital requirements relative to net operating income. In 2019, Blackstone—through its subsidiary, EQ Office—led one of the largest transactions of the year, with the purchase of two office buildings in downtown Seattle in June for approximately $1.2 billion.³⁰ The failed initial public offering of WeWork emerged as the most high-profile story of the year. The office co-working company fell out of favor and nearly collapsed after details of its IPO filing revealed a myriad of conflicts and showed no clear path to profitability.³¹ Despite the WeWork debacle, co-working as a concept—with its flexible leasing options—remains attractive.

RETAIL: Store closings topped 9,000 in 2019, with one of the most notable headlines of the year being the announcement from Forever 21 in late September that it was filing for bankruptcy.³² This trend continued into 2020, with Macy's announcing 125 store closings in February as the company tries to restructure. Retail property values continued to decline and additional store closings are likely in 2020.³³ The average mall vacancy rate reached an eight-year high during the quarter, rising to 9.5%, with supply and demand for retail space both decelerating.³⁴ Within the retail sector, certain segments appear more stable than others. Lifestyle centers, for example, are experiencing better fundamentals than malls.

INDUSTRIAL: Industrial remains the top-performing real estate property type, driven by demand from institutional investors for warehouse assets. Key drivers include growth in online retailing, and demand in urban areas around large cities, otherwise known as the "last mile," where e-commerce is more concentrated. Blackstone remains a key buyer in the sector, announcing in June that it had agreed to acquire $18.7 billion of U.S.-based industrial properties from funds managed by global logistics firm GLP.³⁵ Despite impacts from the trade war with China, the industrial sector continued to post strong fundamentals for the quarter; however, the strong performance of the last several years is expected to moderate as new supply comes online and economic growth slows.³⁶

APARTMENT: The national apartment vacancy rate was 4.8% as of year-end 2019, unchanged from the third quarter and flat year-over-year from third quarter 2018.³⁷ The national average asking rent and effective rent, excluding landlord concessions, increased 0.5% to $1,498 per unit and $1,426 per unit, respectively, from the third quarter.³⁸ Lagging home sales and strong new household formation numbers continue to drive rental demand for apartments. With strong fundamentals, competition for apartment assets remains intense and could drive down future returns compared to those of the past 10 years.
Natural Resources
Executive Summary
The U.S. energy sector continued to face headwinds during 2019, driven by ongoing bankruptcies, volatile commodity prices, and the overhang of excessive leverage. Access to the capital markets for energy companies remained limited and public energy companies faced pressure from shareholders to preserve cash and right-size balance sheets. The result was widespread cuts in capital spending budgets for 2020 by most exploration and production (E&P) companies. Limited realizations and poor performance through the downturn have created headwinds for private energy fundraising. As a result, one of the emerging trends in private energy during 2019 was upstream managers pivoting to renewable energy through new fund offerings targeting investments in clean energy.
Oil Prices
Following a 2.8% decline during the third quarter of 2019, oil prices rose nearly 13% in the fourth quarter to close at $61.06/ barrel, compared to $54.07/barrel at the end of the third quarter.³⁹ For the full year, oil prices rose by over 30%.

Key factors impacting prices during the quarter included an announced trade deal with China and a December agreement from OPEC and other oil producers to reduce output by an additional 500,000 barrels per day beginning in early 2020.⁴⁰

Additionally, rising U.S. export demand contributed to higher prices. According to the EIA, annual average U.S. crude oil production reached a new record of 12.2 million barrels per day in 2019, up 1.3 million barrels per day from 2018.⁴¹
Natural Gas Prices
Natural gas prices fell 6.1% in the fourth quarter to close the year at $2.19/MMbtu, compared to $2.33/MMbtu at the end of the third quarter.⁴² For the full year, gas prices were down 25% and are now trading at multi-year lows.

Natural gas continues to be negatively impacted by growth in supply and inventories, driven in part by U.S.-associated gas production—natural gas produced as a result of oil drilling—in the Permian Basin. Natural gas output rose 10% in 2019 to almost 93 Bcf/day.

The latest Energy Information Agency (EIA) report showed U.S. working gas inventories 20% higher than fourth quarter 2018 and 2% higher than the five-year average.⁴³ While gas prices are expected to remain under pressure in the near term, longer term, the U.S. gas market may benefit from rising export demand, power generation, and manufacturing.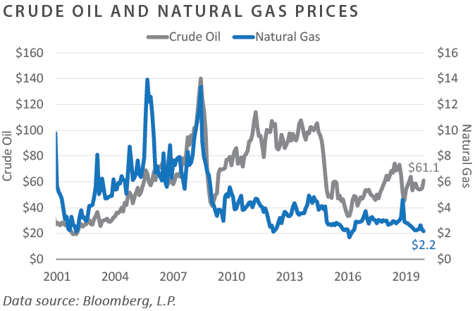 Energy Market Overview
The U.S. energy sector continued to face headwinds during 2019, driven by ongoing bankruptcies, volatile commodity prices, and the overhang of excessive leverage. Access to the capital markets for energy companies remained limited and public energy companies were under pressure from shareholders to preserve cash and right-size balance sheets. The result was widespread cuts in capital spending budgets for 2020 by most exploration and production (E&P) companies. According to Haynes and Boone Oil Patch Bankruptcy Monitor, the cumulative number of upstream bankruptcy filings since 2015 topped 200 as of year-end 2019 and included $122 billion in debt.⁴⁴ The number of filings decreased substantially in 2017 and 2018, with 24 and 28, respectively; however, following a sharp decline in oil prices in late 2018, the number of filings increased to 42 in 2019.⁴⁵ A recent example was the bankruptcy of EnCap-backed Southland Royalty in January 2020. In its bankruptcy filings the company cited lower natural gas prices and an inability to service debt with limited cash flow.⁴⁶ Many companies face mounting debt maturities during the next two-to-three years, which could result in further distress in the sector.


DRILLING ACTIVITY: Rig counts declined across the board in 2019, while production continued to grow, reflecting increased well efficiencies. According to data from Baker Hughes, the total U.S. rig count stood at 805 at year-end, a decline of 6% from the end of the third quarter when there were 860 rigs operating. The U.S. natural gas rig count ended the year at 125, down 14% from 146 at the end of the third quarter. The U.S. oil rig count stood at 677 at year-end, a 5% decrease from 713 at the end of the third quarter. From a longer-term perspective, the U.S. oil rig count peaked at 1,600 in the third quarter of 2014.⁴⁷

MERGERS AND ACQUISITIONS: Deal activity in the U.S. energy sector remained near multi-year lows through much of the year. The headline deal of 2019 in energy was Occidental Petroleum's corporate purchase of Anadarko after outbidding Chevron, which totaled nearly $60 billion. Backing out the Occidental/Anadarko deal, 2019 saw $39 billion in deals, or approximately half of the average $78 billion for the last 10 years.⁴⁸ Notable deals during the fourth quarter included WPX's acquisition of Felix Energy for $2.5 billion in a combination of cash and stock.⁴

⁹

The available capital that drove the shale revolution from 2009-2014 largely dried up in 2019, and the decrease in deal activity was attributable to increased skepticism from investors following the downturn of the last five years.⁵⁰


PRIVATE ENERGY FUNDS: One of the emerging trends in private energy during 2019 was upstream managers pivoting to renewable energy through new fund offerings targeting investments in clean energy. EnCap, Lime Rock, and Kayne Anderson all introduced funds with mandates to invest in what is broadly defined as the "energy transition." This trend reflects the growing interest of investors in renewable energy as well as challenges facing upstream funds seeking to raise capital. Limited realizations and poor performance through the downturn have created headwinds for private energy fundraising. Fundraising in private energy peaked in 2014, with 40 funds raising $31 billion, but has since fallen below $20 billion in the past two years.⁵

¹

.

1–3 Pitchbook, data as of December 31, 2019.
4 Thomson One.
5-11 Pitchbook, data as of December 31, 2019.
12–18 S&P Leveraged Buyout Review – Fourth Quarter 2019.
19–21 Pitchbook, data as of December 31, 2019.
22 McKinsey & Company, "Private Markets Come of Age," February 2019.
23 Preqin 2019 Private Debt Fundraising and Deals Update.
24 S&P Leveraged Buyout Review – Fourth Quarter 2019.
25–26 Preqin 2019 Private Debt Fundraising and Deals Update
27 NCREIF, January 24, 2020.
28 NREIT,December 31, 2019.
29 NCREIF, January 24, 2020.
30 Baltic, Scott, "EQ Office Grows Seattle Footprint in $1.2B Deal", Commercial Property Executive, July 2, 2019.
31 Aydin, Rebecca, The WeWork Fiasco of 2019, Business Insider, October 22, 2019.
32 Sapna Maheshwari, "Forever 21 Bankruptcy Signals a Shift in Consumer Tastes", The New York Times, September 29, 2019.
33www.blackstone.com.
34 Howland, Daphne, "Mall Vacancy at 8-Year High", RetailDive.com, October 3, 2019.
35 www.blackstone.com.
36 LaSalle, Investment Strategy Annual 2020.
37–38 Reis, January 2020, www.reis.com.
39 www.eia.gov December 30, 2019.
40 Core Commodity Management, Fourth Quarter 2019 Letter, January 2020.
41-43 www.eia.gov December 30, 2019.
44–45 Haynes & Boone Oil Patch Bankruptcy Monitor, Fourth Quarter 2019.
46 Garcia, Luis, "Energy Company Southland Royalty Nears Bankruptcy Filing", The Wall Street Journal, January 27, 2020.
47 All rig count data from www.bhge.com December 30, 2019.
48–50 Enverus, January 3, 2020.
51 Private Equity International, July 2019.


INDICES

Bloomberg Barclays US Corporate High Yield Index represents the universe of fixed rate, non-investment grade debt. Eurobonds and debt issues from countries designated as emerging markets are excluded but, Canadian and global bonds (SEC registered) of issuers in non-EMG countries are included. The index includes the corporate sectors: Industrials, Utilities, and Finance, encompassing both US and non-US Corporations. See www.bloomberg.com for more information

The Russell Indices are constructed by Russell Investment, There are a wide range of indices created by Russell covering companies with different market capitalizations, fundamental characteristics, and style tilts. See www.russellinvestments.com for more information.

The FTSE NAREIT Composite Index (NAREIT) includes only those companies that meet minimum size, liquidity and free float criteria as set forth by FTSE and is meant as a broad representation of publicly traded REIT securities in the U.S. Relevant real estate activities are defined as the ownership, disposure, and development of income-producing real estate. See www.ftse.com/Indices for more information. The S&P 500 Index is capitalization-weighted index of 500 stocks.

The S&P 500 Index is designed to measure performance of the broad domestic economy through changes in the aggregate market value of 500 stocks representing all major industries.

The NCREIF Property Index is a quarterly time series composite total rate of return measure of investment performance of a very large pool of individual commercial real estate properties acquired in the private market for investment purposes only.

HFRI ED: Distressed/Restructuring Index
Distressed/Restructuring strategies which employ an investment process focused on corporate fixed income instruments, primarily on corporate credit instruments of companies trading at significant discounts to their value at issuance or obliged (par value) at maturity as a result of either formal bankruptcy proceeding or financial market perception of near term proceedings. Managers are typically actively involved with the management of these companies, frequently involved on creditors' committees in negotiating the exchange of securities for alternative obligations, either swaps of debt, equity or hybrid securities. Managers employ fundamental credit processes focused on valuation and asset coverage of securities of distressed firms; in most cases portfolio exposures are concentrated in instruments which are publicly traded, in some cases actively and in others under reduced liquidity but in general for which a reasonable public market exists. In contrast to Special Situations, Distressed Strategies employ primarily debt (greater than 60%) but also may maintain related equity exposure.

Information on any indices mentioned can be obtained either through your consultant or by written request to information@feg.com.



DISCLOSURES

This report was prepared by Fund Evaluation Group, LLC (FEG), a federally registered investment adviser under the Investment Advisers Act of 1940, as amended, providing non-discretionary and discretionary investment advice to its clients on an individual basis. Registration as an investment adviser does not imply a certain level of skill or training. The oral and written communications of an adviser provide you with information about which you determine to hire or retain an adviser. Fund Evaluation Group, LLC, Form ADV Part 2A & 2B can be obtained by written request directly to: Fund Evaluation Group, LLC, 201 East Fifth Street, Suite 1600, Cincinnati, OH 45202, Attention: Compliance Department.


The information herein was obtained from various sources. FEG does not guarantee the accuracy or completeness of such information provided by third parties. The information in this report is given as of the date indicated and believed to be reliable. FEG assumes no obligation to update this information, or to advise on further developments relating to it. FEG, its affiliates, directors, officers, employees, employee benefit programs and client accounts may have a long position in any securities of issuers discussed in this report.


Index performance results do not represent any managed portfolio returns. An investor cannot invest directly in a presented index, as an investment vehicle replicating an index would be required. An index does not charge management fees or brokerage expenses, and no such fees or expenses were deducted from the performance shown.


Neither the information nor any opinion expressed in this report constitutes an offer, or an invitation to make an offer, to buy or sell any securities.

Any return expectations provided are not intended as, and must not be regarded as, a representation, warranty or predication that the investment will achieve any particular rate of return over any particular time period or that investors will not incur losses.

Past performance is not indicative of future results.


Investments in private funds are speculative, involve a high degree of risk, and are designed for sophisticated investors.


An investor could lose all or a substantial amount of his or her investment. Private capital funds' fees and expenses may offset private capital funds' profits. Private capital funds are not required to provide periodic pricing or valuation information to investors except as defined in the fund documents. Private capital funds may involve complex tax structures and delays in distributing important tax information. Private capital funds are not subject to the same regulatory requirements as mutual funds. Private capital funds are not liquid and require investors to commit to funding capital calls over a period of several years; any default on a capital call may result in substantial penalties and/or legal action. Private capital fund managers have total authority over the private capital funds. The use of a single advisor applying similar strategies could mean lack of diversification and, consequently, higher risk.


All data is as of December 31, 2019 unless otherwise noted..