The final quarter of 2018 concluded with strong "risk-off" movements, with nearly every major asset category outside of high quality fixed income witnessing sizable declines in December. Central to this weakness included concerns of overly tight U.S. monetary conditions, prompting the Federal Reserve to dial back expectations for interest rate hikes in 2019 and beyond. Global equities slumped during the quarter, with international equity markets experiencing outperformance versus domestic equity. The risk-off environment helped drive a flight-to-quality rally in fixed income, as the higher quality segments of the fixed income market outperformed below investment-grade sectors. Real assets also slumped, with particularly poor performance across commodities and energy-related infrastructure assets.


Economic Update
Portions of Treasury Yield Curve Invert and Fed Inches Closer to "Neutral"
The fourth quarter of 2018 was chock-full of attention-grabbing economic events, including large fluctuations in risky asset prices with a strong bias to the downside, growing signs of economic moderation—particularly abroad—and mounting evidence that an end to the ongoing U.S. Federal Reserve (Fed) tightening campaign may be in sight.
Most key economic data points continued to point to an expansionary bias throughout the fourth quarter, although pockets of moderation were evident among certain housing-related indicators and the pace of overall economic expansion appeared to have cooled somewhat.
Market-implied measures—such as the slope of the Treasury yield curve—continued to point in the direction of a potential near-term conclusion to both the ongoing Fed tightening cycle and possibly the current business cycle expansion. The slope of the Treasury yield curve, as proxied by the spread between the 2-Year and 5-Year Note yields (2s/5s), entered negative territory in early December, and the more commonly-referenced 2-Year, 10-Year spread (2s/10s) was not far behind.

Rounding-out their 2018 Federal Open Market Committee (FOMC) meeting schedule, the Fed hiked the federal funds rate by 25 basis points (bps) at their mid-December meeting to an upper bound of 2.50%, the fourth hike of 2018 and the ninth hike in their current tightening campaign. The Fed also updated their "dot plot," estimating two additional rate hikes in 2019, versus the previous forecast of three hikes in the September FOMC meeting. Importantly, the Fed lowered their estimate of the "neutral" federal funds rate—the rate at which monetary policy is neither accommodative nor restrictive—from an estimated 3.0% in September, to 2.8% at the December FOMC meeting.

The gap between the current federal funds rate and the theoretically "neutral" rate sits at just 30 bps, the narrowest spread in the current tightening cycle and an indication, similar to the yield curve, that the potential for a further significant tightening of monetary conditions is likely limited.
To summarize, performance in the fourth quarter was overwhelmingly negative for nearly every risky asset category, both domestic and international, with strong downside momentum witnessed in December. Certain market-implied and official sector indicators moved in favor of a potential near-term conclusion to the Fed's ongoing tightening efforts, which could coincide with a business cycle inflection from expansion to contraction.
Market Returns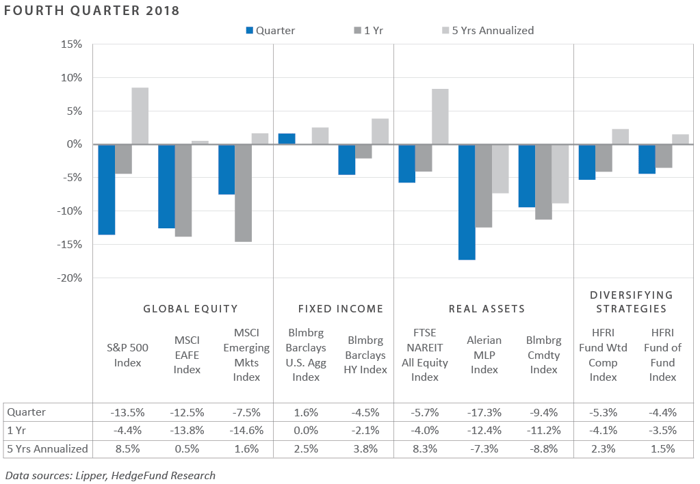 Global Equity
Volatility defined the fourth quarter of 2018 and the last month of the quarter was the worst December for stocks since the Great Depression. Geopolitical concerns—including trade tensions between the U.S. and China, Fed policy, uncertainty surrounding Brexit, political tensions in Italy, and a U.S. government shutdown—contributed to heightened volatility and to the erosion of market gains from the first three quarters of 2018.

The U.S. market continued to show signs of economic growth; however, earnings outlooks were lowered, most notably in the technology sector, due to trade tensions and rising rates. The weakness in technology stocks, among others, pressured growth stocks to suffer more substantial declines than value stocks for the quarter.

During the quarter, frontier, emerging markets, and developed equity markets outperformed the U.S. equity market.

Although EU leaders approved a Brexit plan, the plan found stiff opposition in the British Parliament, which caused Prime Minister May to delay the planned Parlimentary vote until January 2019.

European economic data pointed to weakening growth. Despite the economic slowdown, the European Central Bank ended quantitative easing in December. Japan, however, maintained accommodative policy but was not spared from market turmoil as energy and communication services companies declined.

Slow growth in China—one of the weakest- performing emerging equity markets—affected global exports, illustrated by Chinese imports decreasing from 37% year-on-year growth in January 2018 to only 3% in November. To stimulate its economy, the largest emerging market, China is planning on implementing both monetary and fiscal policy measures.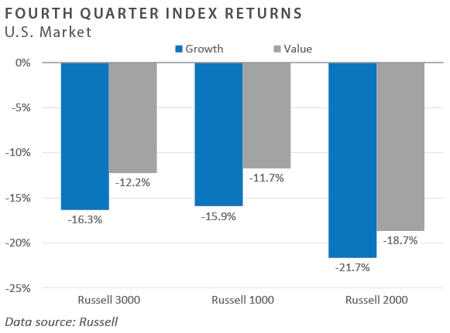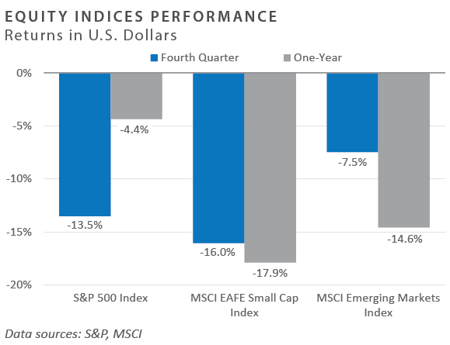 Fixed Income
Treasuries rallied amid an upsurge in volatility in December, outpacing all other fixed income sectors in terms of performance for the quarter. Overall, higher-quality securities continued to outperform their lower-quality counterparts as risk assets sold off.

Fed Chairman Jerome Powell's comments following the Fed's December 18-19 meeting—in which they raised rates to a range of 2.25-2.50%—were poorly received by the markets, leading to the continuation of market volatility.

As a result, Treasury yields ended the quarter significantly lower. Additionally, in early January, yields on the two- and five-year sectors fell compared to shorter-dated securities, causing portions of the curve to invert, resulting in a "humped" yield curve.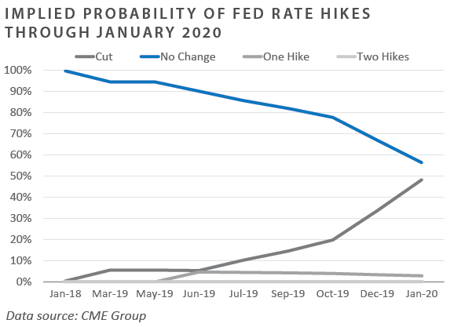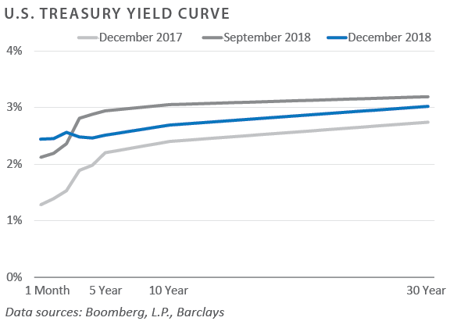 REAL ESTATE
Despite growing uncertainty, REIT analysts maintained an overall constructive outlook on the REIT industry, given the sector's modest leverage and contractual cash flow position. Net operating income continued to grow at a pace that is strong and sustainable due to the aforementioned factors.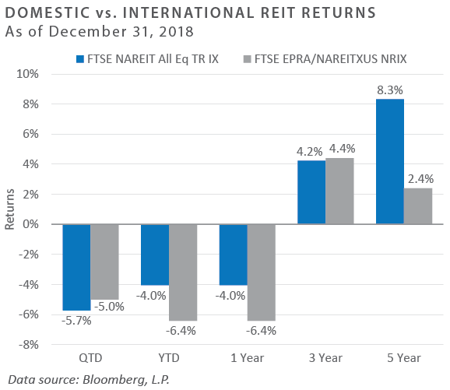 NATURAL RESOURCES
Oil prices fell 24% for the year and over 38% during the fourth quarter due to increased global supply and fears of slowing global economic growth. The quarterly oil price decline was the largest since 2014. The announced production cuts by OPEC in December failed to stabilize markets through year-end. Countering some of the other market forces, waivers for sanctions against Iran did not result in a release of as much supply from Iran as anticipated.
After rising sharply in November due to colder-than-normal weather, natural gas prices retreated in December as the early winter mellowed and was warmer than most years. This reduced demand for gas to heat homes and businesses. Still, stockpiles remain approximately 20% below levels from the year prior and below the five-year average. Natural-gas prices finished the year essentially flat (0.4%). On the final trading day of the year, prices fell below $3—the lowest level in more than three months—as a result of a bearish storage report.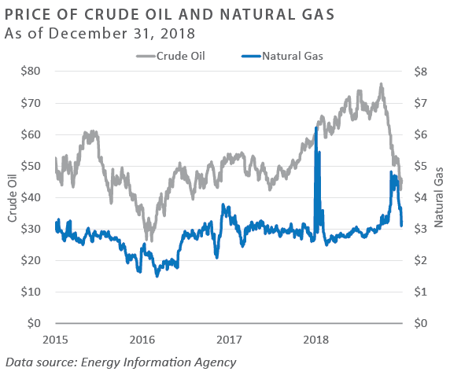 MLPs
In addition to declining oil prices and waning investor demand, the MLP market endured four instances of index rebalancing—one quarterly and three other special rebalances—that led to the removal of 12 names and the addition of 14 names to the index and created meaningful trading dispersion. At quarter-end, distribution yields for MLPs stood at over 9%.

Diversifying Strategies

Macro strategies experienced a turbulent year. Systematic strategies struggled due to the general lack of persistent trends and large market reversals. Jerome Powell's dovish comments, indicating that interest rates were close to neutral caused discretionary macro managers positioned for tighter monetary policy to give back earlier gains.

Year-end turbulence aided volatility strategies that benefit from market- and security-level dispersion, which eluded markets for the past several years.

Hedged equity managers reduced exposures leading the most-trafficked hedged equity names to experience large sell-offs, with growth/tech-oriented funds underperforming peers. Strategies with lower net exposure tended to outperform.

The mergers and acquisitions (M&A) pipeline remained robust providing 2018 the highest level of deal activity since 2007. On average, spreads were elevated due largely to the number of problematic deals with volatility also providing some trading opportunities. However, the universe of merger arbitrage trades declined materially after several large deals closed. Deals that traded wide, and skewed the average spreads upward, were the result of acquirer vote risk, the trade war with China, and broad antitrust risk.

DISCLOSURES

This report was prepared by FEG (also known as Fund Evaluation Group, LLC), a federally registered investment adviser under the Investment Advisers Act of 1940, as amended, providing non-discretionary and discretionary investment advice to its clients on an individual basis. Registration as an investment adviser does not imply a certain level of skill or training. The oral and written communications of an adviser provide you with information about which you determine to hire or retain an adviser. Fund Evaluation Group, LLC, Form ADV Part 2A & 2B can be obtained by written request directly to: Fund Evaluation Group, LLC, 201 East Fifth Street, Suite 1600, Cincinnati, OH 45202, Attention: Compliance Department.

The information herein was obtained from various sources. FEG does not guarantee the accuracy or completeness of such information provided by third parties. The information in this report is given as of the date indicated and believed to be reliable. FEG assumes no obligation to update this information, or to advise on further developments relating to it. FEG, its affiliates, directors, officers, employees, employee benefit programs and client accounts may have a long position in any securities of issuers discussed in this report.

Index performance results do not represent any managed portfolio returns. An investor cannot invest directly in a presented index, as an investment vehicle replicating an index would be required. An index does not charge management fees or brokerage expenses, and no such fees or expenses were deducted from the performance shown.

Neither the information nor any opinion expressed in this report constitutes an offer, or an invitation to make an offer, to buy or sell any securities.

Any return expectations provided are not intended as, and must not be regarded as, a representation, warranty or predication that the investment will achieve any particular rate of return over any particular time period or that investors will not incur losses.

Past performance is not indicative of future results.

Investments in private funds are speculative, involve a high degree of risk, and are designed for sophisticated investors.

All data is as of December 31, 2018 unless otherwise noted.

INDICES

The Alerian MLP Index is a composite of the 50 most prominent energy Master Limited Partnerships that provides investors with an unbiased, comprehensive benchmark for this emerging asset class.

Barclays Capital Fixed Income Indices is an index family comprised of the Barclays Capital Aggregate Index, Government/Corporate Bond Index, Mortgage-Backed Securities Index, and Asset-Backed Securities Index, Municipal Index, High-Yield Index, and others designed to represent the broad fixed income markets and sectors within constraints of maturity and minimum outstanding par value. See https://ecommerce.barcap.com/indices/index.dxml for more information.

The CBOE Volatility Index (VIX) is an up-to-the-minute market estimate of expected volatility that is calculated by using real-time S&P 500 Index option bid/ask quotes. The Index uses nearby and second nearby options with at least 8 days left to expiration and then weights them to yield a constant, 30-day measure of the expected volatility of the S&P 500 Index. FTSE Real Estate Indices (NAREIT Index and EPRA/NAREIT Index) includes only those companies that meet minimum size, liquidity and free float criteria as set forth by FTSE and is meant as a broad representation of publicly traded real estate securities. Relevant real estate activities are defined as the ownership, disposure, and development of income-producing real estate. See www.ftse.com/Indices for more information.

HFRI Monthly Indices (HFRI) are equally weighted performance indexes, compiled by Hedge Fund Research Inc. (HFX), and are used by numerous hedge fund managers as a benchmark for their own hedge funds. The HFRI are broken down into 37 different categories by strategy, including the HFRI Fund Weighted Composite, which accounts for over 2000 funds listed on the internal HFR Database. The HFRI Fund of Funds Composite Index is an equal weighted, net of fee, index composed of approximately 800 fund- of- funds which report to HFR. See www.hedgefundresearch.com for more information on index construction.

J.P. Morgan's Global Index Research group produces proprietary index products that track emerging markets, government debt, and corporate debt asset classes. Some of these indices include the JPMorgan Emerging Market Bond Plus Index, JPMorgan Emerging Market Local Plus Index, JPMorgan Global Bond Non-US Index and JPMorgan Global Bond Non-US Index. See www.jpmorgan.com for more information.

Merrill Lynch high yield indices measure the performance of securities that pay interest in cash and have a credit rating of below investment grade. Merrill Lynch uses a composite of Fitch Ratings, Moody's and Standard and Poor's credit ratings in selecting bonds for these indices. These ratings measure the risk that the bond issuer will fail to pay interest or to repay principal in full. See www.ml.com for more information.

Morgan Stanley Capital International – MSCI is a series of indices constructed by Morgan Stanley to help institutional investors benchmark their returns. There are a wide range of indices created by Morgan Stanley covering a multitude of developed and emerging economies and economic sectors. See www.morganstanley.com for more information.

Russell Investments rank U.S. common stocks from largest to smallest market capitalization at each annual reconstitution period (May 31). The primary Russell Indices are defined as follows: 1) the top 3,000 stocks become the Russell 3000 Index, 2) the largest 1,000 stocks become the Russell 1000 Index, 3) the smallest 800 stocks in the Russell 1000 Index become the Russell Midcap index, 4) the next 2,000 stocks become the Russell 2000 Index, 5) the smallest 1,000 in the Russell 2000 Index plus the next smallest 1,000 comprise the Russell Microcap Index. See www.russell.com for more information.

S&P 500 Index consists of 500 stocks chosen for market size, liquidity and industry group representation, among other factors by the S&P Index Committee, which is a team of analysts and economists at Standard and Poor's. The S&P 500 is a market-value weighted index, which means each stock's weight in the index is proportionate to its market value and is designed to be a leading indicator of U.S. equities, and meant to reflect the risk/return characteristics of the large cap universe. See www.standardandpoors.com for more information.

Information on any indices mentioned can be obtained either through your consultant or by written request to information@feg.com.