Introduction
" Capital is drawn to private investments for the premium return potential, often derived by flexibility and control. We believe those features may benefit investors through market cycles and political uncertainty." — Susan Mahan Fasig, CFA, Managing Principal, Director of Private Capital
Looking back, volatility and uncertainty appeared elevated at each of the past two year-ends. These elevated levels now appear to be the norm. Furthermore, based on year-end letters from a number of prominent investors, no one seems to have a clear read on the current environment—although most profess a cautious optimism, tempered by a new volatility factor for political leadership.1
Despite the uncertainty, 2016 ended with an optimistic bang. Our most recent figures are through September 30, and don't include a generally positive fourth quarter. A strong third quarter, however, brought natural resources funds back to neutral for the one-year period, reflecting the dramatic fall and partial rebound of oil prices. The quarter also provided venture capital a boost after three quarters of weakness that followed an exceptionally positive prior year period.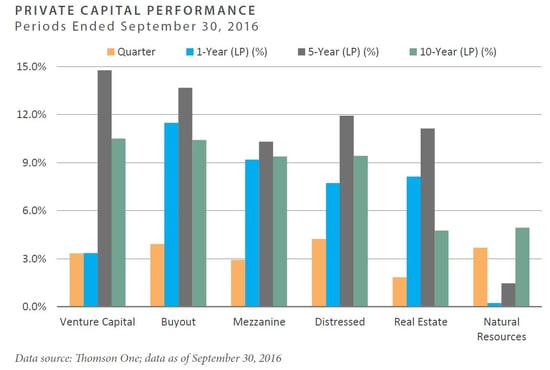 For our Focus Topic this quarter, we review the past and contemplate the future of private capital. The structure of most private capital investments (10+ years) spans multiple investment cycles. As such, while it is interesting to consider the current economic and political climate, private investments are generally underwritten with a longer term frame, and with an ample cushion for future unknowns. Short-term factors are mostly noise.
"Roll with it," was Charlie Munger's comment on how to manage in the current political climate.2
Focus Topic
"Moving forward with caution" is a phrase used by Oaktree Chairman Howard Marks in his most recent letter—a good read on the current market. Investors globally continued to target increased investments in private capital. Total assets under management in private capital funds (including debt, real estate and resources) was estimated at $4.5 trillion in mid-2016. Private equity funds—primarily buyout and venture funds—accounted for $2.5 trillion of the total.2 For all of 2016, private equity funds raised more than $300 billion for the third year in a row with distributed capital also hitting new records.2 Asia was the only market where fundraising slowed.
Private investing has become an increasingly accepted business model. Ample financing and lack of attractive alternatives support continued growth.
VENTURE CAPITAL AND GROWTH EQUITY
Following a stellar year-ago period, with a 25% one-year net internal rate of return (IRR),4 2016 was the year the 'Unicorns' took a side step. High valuations and volatile public markets dampened exit activity and enthusiasm and large public fund investors pulled back.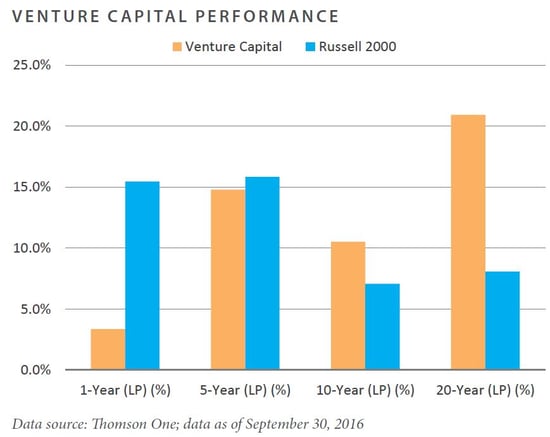 For the 12 months ended September 30, 2016 (the most recently available data), venture funds generated 3.4% net returns versus 15.5% for the Russell 2000 Index and 12.0% for the MSCI ACWI.5
Key drivers behind the need for and success of venture capital investing remain in place. The application of new technology to large market opportunities appears especially relevant to the mid-market enterprise sectors. An abundance of growth strategies focus on SAAS offerings in industrial, fintech and healthcare, for example. Hot sectors include cybersecurity and artificial intelligence (AI). Bessemer Ventures hails 2017 at the year of human assisted AI. They note 40% of healthcare providers are expanding IT budgets and $12.8 billion is being spent annually on sales acceleration technology.6
While the Internet of Things (IoT) was the buzzword of the past five years, artificial intelligence (AI) is likely the word for the next five. Paraphrasing a notable venture investor from a recent annual meeting, While it has been said that humanity is in trouble once AI masters self-learning, from the looks of the world today, AI may be the one thing that can save us!7
Returning to political leadership, the venture community has been vocal in its support of immigration as many tech companies rely on engineering talent drawn into the U.S. by our universities and entrepreneurial culture. It remains to be seen if new policies will dampen the ability to attract and retain this talent in the U.S.
On the positive side, large global technology companies continue to have large stockpiles of cash. Any ability to repatriate offshore cash at more favorable tax rates could encourage more M&A activity and boost venture-backed exits.
Outside the U.S., Asia remains the dominant player in venture and growth strategies. Activity appeared muted during the year as capital market volatility and exit opportunities have been limited. Slowing growth and currency concerns dampened enthusiasm for these markets. Longer term growth drivers for the developing parts of Asia remain attractive.
BUYOUTS
In the one- and five-year periods ended September 30, 2016, buyout fund returns lagged the public equity bull market. Competition for deal flow, high valuations, and a slower—but still attractive—exit environment kept a lid on returns. For the 10-year period, absolute returns were lower—impacted by the global financial crisis—but provided an attractive 300+ basis point spread to public market returns.
Valuations were the number one concern of U.S. and European private fund manager in a recent Preqin survey.8 This was not surprising given that annual fundraising for buyout funds reached over $200 billion in calendar 2016, largely from the U.S. and Europe. Asian fundraising declined for the second straight year.
As highlighted below, dry powder—the pool of committed but uncalled capital—reached new highs, surpassing the pre-global financial crisis peak for buyout funds set in 2009. At the same time, there appears to be no lack of interest in adding to private capital allocations among investors seeking higher return opportunities. The million-dollar question is should we be concerned?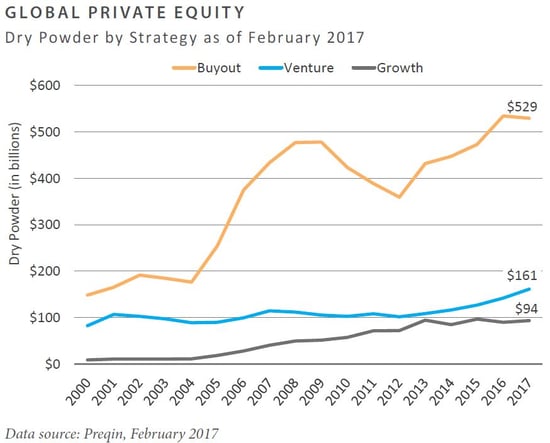 Maybe. Low interest rates have allowed many funds to finance their purchases on favorable terms. Investor interest in bank debt and private lending contribute to this favorable environment. Rising rates or increased defaults could curtail the availability of cheap credit. In the prior crisis, while there were bankruptcies, covenant-lite terms allowed many private equity investors to ride out the storm.
Today, fundamentals are weakening, but still reasonable. In 2016, transaction volume (just under $200 billion), purchase price multiples (around 10x), and debt multiples (5.5x) moderated slightly from 2015 levels. Only exits were weaker, largely due to a lack of IPO activity.9 Significant deal flow, considerable dry powder, and ample leverage means purchase price multiples are likely to remain high. We continue to emphasize smaller funds focused on operational factors in less competitive markets—not leverage—to generate attractive returns.
PRIVATE DEBT
The credit cycle gave something of a head fake in 2016, specifically for the one-year period ended September 30. Late cycle metrics—like increasing default rates and capital leaving the high yield market—made the next distressed cycle seem closer than it appeared. Instead, the one-year period saw a strong rebound in demand for credit and ended with limited visibility as to when the current cycle in the U.S. will shift.
Energy-related credit was volatile but rebounded with oil prices over the course of the year and ultimately left many of the large private funds raised to capitalize on distressed energy with a less robust opportunity set than expected.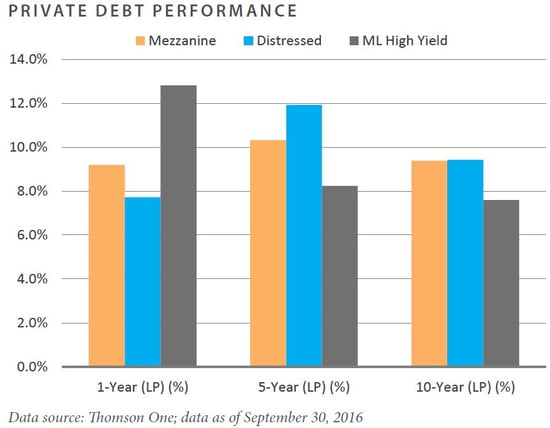 European credit markets continued to offer opportunity from slower growth, financial sector stress, and political uncertainty. Volatility in Europe gave managers an opportunity to load up early in the year.
Private direct lending strategies continued to attract capital, but at a much slower pace in 2016 than in prior years, raising roughly $10 billion versus $25 to $45 billion in each of the prior three years.10 These strategies support growth in the private equity market and offer an attractive floating rate structure. Mezzanine lending also benefits from the ongoing high level of private equity capital and has been a consistent player, particularly in the lower middle market financings, raising $20 billion in 2016.11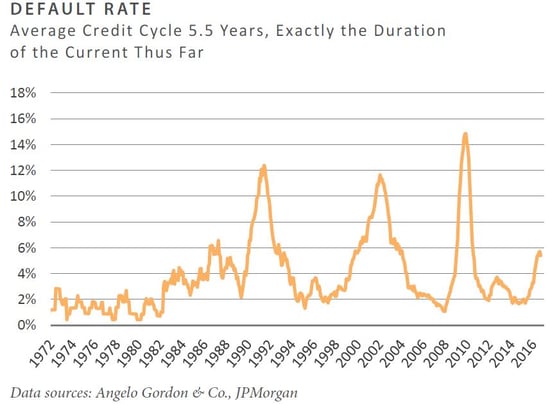 REAL ESTATE
Investing in real estate late in the economic cycle was a concern going into 2016. Early in the year, credit availability was constrained due to market volatility, but sector fundamentals remained reasonable and capitalization rates ended the year at or near historic lows. Private real estate funds raised over $100 billion in capital in 201612—slightly less than in 2015. Fundraising for real estate debt strategies also proliferated.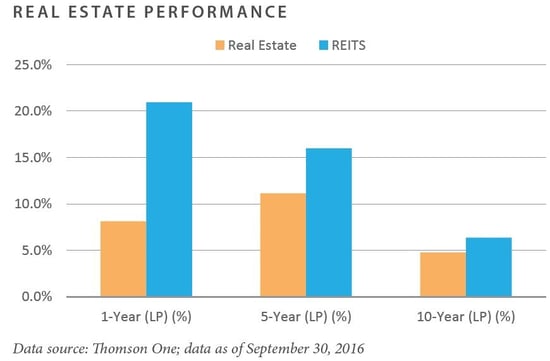 Private real estate fund performance reported by Thompson One was 8.1% for the year and 11.1% for the five-year period ended September 30, 2016. Private funds lagged public sector real estate, as measured by the FTSE NAREIT-Equity Index. Other private fund index measures have reported stronger returns, which may reflect varying mixes of underlying strategies.
Interestingly, in anticipation of rising interest rates, the public real estate index declined from August to early November, but rebounded in December following the FOMC interest rate increase. The compression in spread—demonstrated in the chart at left—was largely absorbed by the credit sector, but nudged up cap rates in the fourth quarter.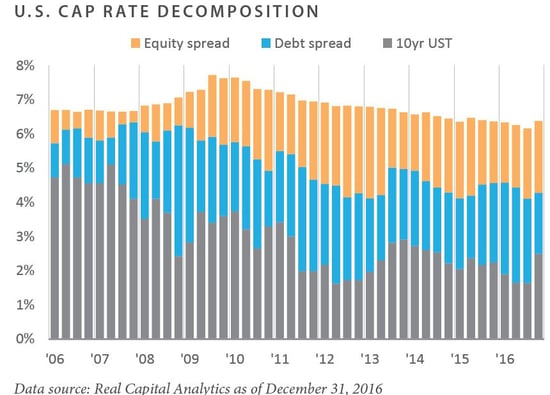 Globally, the volume of real estate activity remained high, although capital flows out of Asia and into major urban markets—particularly London—slowed in 2016.13
A recent Preqin report notes their performance index for private real estate has marked 20 consecutive quarters of increased returns. At the same time, 59% of fund managers surveyed believe it has become more difficult to source attractive investment opportunities than a year ago.14 We remain selective in our use of private real estate.
NATURAL RESOURCES
The resources sector was easily the most volatile in 2016. After bottoming in the first quarter, oil prices (WTI) rebounded and stabilized in the $50 range. Natural gas prices similarly posted strong returns in 2016. The rebound in the performance of private funds will be more evident next quarter, though significant value destruction occurred over the 12-month period due to the rapid decline in prices, dramatic cuts in capital expenditures, and leverage.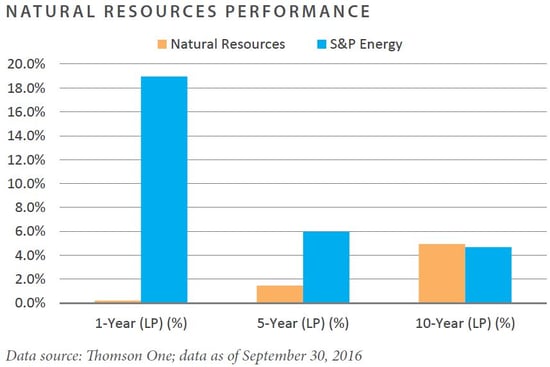 The flat one-year return for the Thomson One private natural resources sector masks a roughly 10% decline in the first two quarters (-8.2%, -1.9%, respectively), followed by a 10.5% rebound from April 1 to September 30. The comparable public energy sector returns reacted quickly to price changes.
Despite—or perhaps because of—this volatility, fundraising in the sector remained robust with just under $50 billion raised each year since 2013. Big players EnCap Investments, Alinda Capital, and Apollo all have $3–$6 billion fundraises in process for energy focused private funds, while The Energy & Minerals Group and a Goldman Sachs affiliate have $3+ billion diversified natural resource funds in the market.15 Banks may have limited incremental lending capacity for energy deals due to locked up commitments made at higher prices levels. More transactions are anticipated in 2017, and negotiations with bankers may be required.
More than any other, the resources sector is expected to benefit from the new administration's plans for deregulation and infrastructure spending. A wide range of strategies encompass infrastructure investing, but for much of the opportunity set, investing is a complicated proposal. There is appeal in long-term, lower, and stable returns that a toll-road or an airport might offer. Even with newly envisioned government support, however, is the return potential enough given the illiquidity and the untested exit market?
Paraphrasing a "get rich slow" private energy manager, A lot of money was raised for a distressed opportunity which never occurred; other money was raised for a 'build and flip' strategy of which most is still on the sidelines.16
MOVING FORWARD
Capital remains plentiful and the markets appear bullish. At the same time, we face rising rates and increased competition. In Oaktree Chairman Howard Marks' terms, we are "moving forward with caution."17
While not a complete description, our focus by strategy has not changed materially.

Private Equity
Venture Capital
"The weakening exit market could lead to a return to normalcy in the venture capital market." — Nathan Werner, CFA, CAIA Senior Vice President, Director of Private Equity
Globally, venture funds raised $56.6 billion in commitments in 2016.1 The capital committed to venture capital funds in 2016 is slightly above the 2015 level of $55.8 billion. This is the third consecutive year of fundraising above $50 billion.
Similarly, the number of active venture funds in 2016 remains at elevated levels.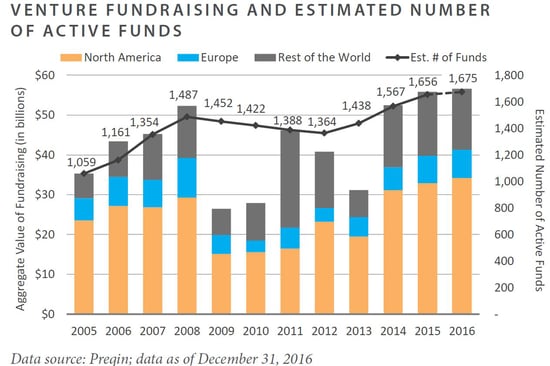 Median deal sizes were generally lower in 2016. Very late-stage investments—Series D and later—were down compared to prior year, though they remain at high levels. Series B round sizes declined, while Series C investments continued a sharp increase.2 Feedback from venture capital managers is that the public equity investors that fueled the late-stage boom over the last several years have withdrawn from the market. This is expected to pressure deal sizes in the coming quarters.
U.S. venture capital firms invested $69.1 billion in 7,751 companies in 2016. This amount of capital invested is the second highest level in the last 11 years, but still a 12% decline from the prior year.3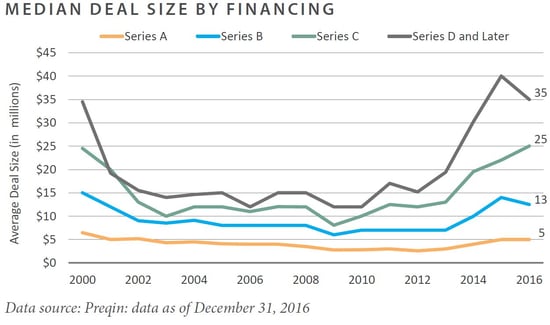 EXIT ENVIRONMENT
Exit activity slowed in 2016 following several years of peak exit volumes from 2013–2015.4 The volatile public equity markets slowed the initial public offering (IPO) market for venture-backed companies, while corporate acquisition activity also retreated off prior year levels.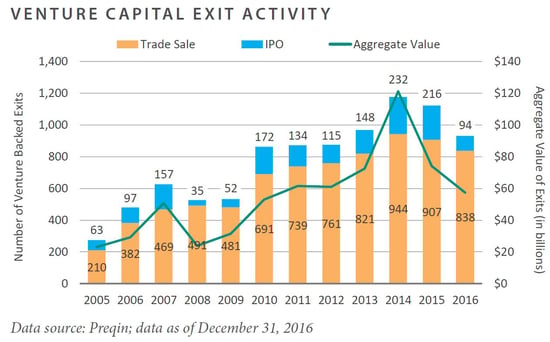 PERFORMANCE
Venture fund performance came down slightly in 2016. The pull back in the exit market combined with slower investment pace put downward pressure on valuations. Longer term performance remained strong for funds with vintage years of 2009–2012. Given the strong IPO and acquisition activity over the last three years, venture funds have posted double-digit median net internal rates of return and top quartile returns consistently above 20%. If volatility in the public market and weakness in late-stage financing continues, venture capital performance could trend lower.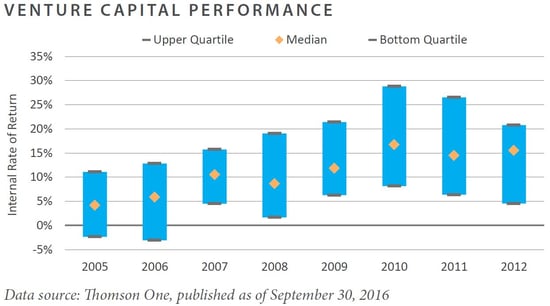 CONCLUSION
Venture capital metrics remain mixed. Fundraising and performance have been strong while exit opportunities have weakened. Softness in the IPO market and late-stage financings may lead to lower valuations and near-term performance. The data suggests that 2017 could be the year when activity begins returning to normalized levels.
Buyouts
"Equity contributions in large buyout transactions rose to 40%, well within a reasonable range." — G. Scott Tabor, CAIA, Senior Vice President, Private Equity
FUNDRAISING AND INVESTMENT
During 2016, global fundraising for buyout strategies reached more than $211 billion—the largest amount of capital raised since 2008. Year-over-year global fundraising for the strategy grew by nearly 33%.1
Year-over-year fundraising for European and North American buyout strategies grew by 47% and 42%, respectively. During the year, capital raised for emerging markets—including Latin America, Africa, and Asia—fell by more than 30%.2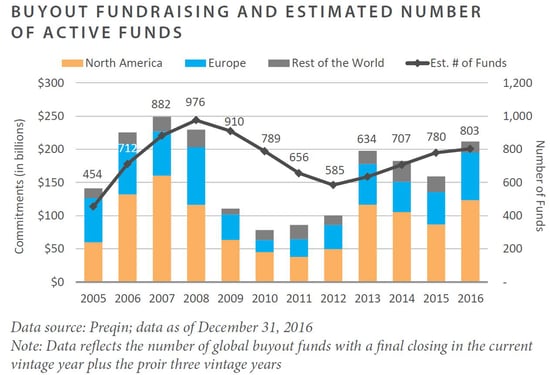 INVESTMENT ACTIVITY
During 2016, the average purchase price multiple for middle-market buyout transactions was 10.2x EBITDA. Leverage ratios remained relatively constant throughout the year. According to S&P Capital IQ, the average debt multiple for middle market LBOs was roughly 5.2x EBITDA, which was consistent with the 2015 annual average and still below the 2007 peak of 5.9x EBITDA.3
Equity contributions in large buyout transactions rose to 40%, well within a reasonable range. The peak was 46% in 2009 when financing was scarce. The low point was in 2007 when the ratio dipped below 30%. Equity contributions in middle market transactions were little changed at 43%.4 (Note that the S&P Capital IQ data only represents a sample set of leverage buyout transactions executed during a given time period.)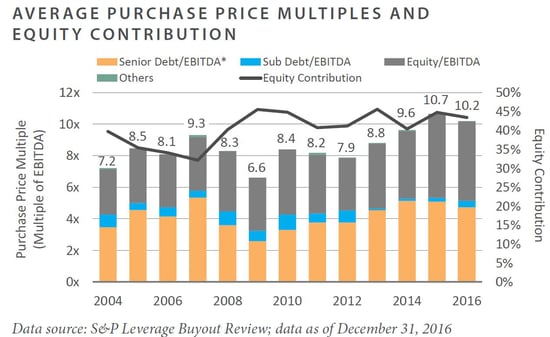 EXIT ACTIVITY
Exit activity during 2016 slowed modestly due in part to continued public market volatility and concerns regarding the U.S. election. Year-over-year exit volume and value were down nearly 10% and 25%, respectively. Exit value during the fourth quarter grew by 20% compared to the same period last year—likely due to greater certainty regarding the U.S. election.5
Trade sales continued to represent more than half of all buyout-related exit volume and values.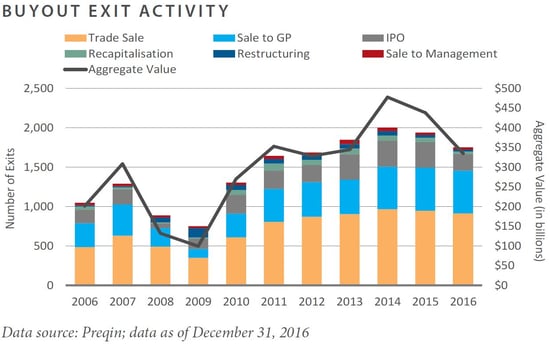 PERFORMANCE
Performance has been strong on a one-, three-, five-, and 10-year basis with time weighted returns of 11.5%, 12.0%, 13.7%, and 10.4%, respectively.6
The dispersion of returns between top- and bottom-quartile funds has consistently been over 950 basis points, demonstrating the importance of manager selection.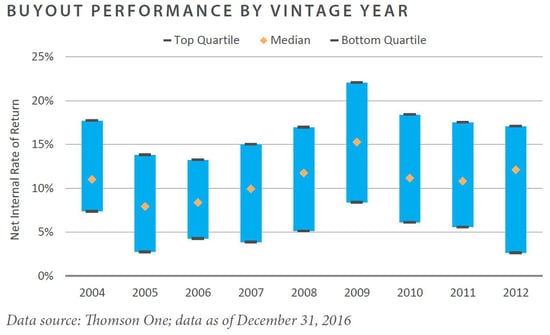 CONCLUSION
Elevated fundraising levels and purchase price multiples give reason for concern. Manager discipline is critical to making successful investments when the market is flush with capital. FEG continues to look for managers with clear competitive advantages and investment philosophies built on fundamental value.
Private Debt
"Continued strength in capital raising for direct lending has yet to impact pricing." — Keith Berlin, CFA, CAIA, Senior Vice President, Director of Global Fixed Income and Credit
FUNDRAISING
In its most recent interviews with institutional investors, Preqin noted that investor appetite for private debt was expected to remain strong in 2017, with the majority of respondents—57%—planning to invest more capital in private debt in the next year than they did in the previous 12 months.1
While interest in private debt among institutional investors has increased in recent years, the majority of investors have selected experienced fund managers versus first-time fund managers per the chart below.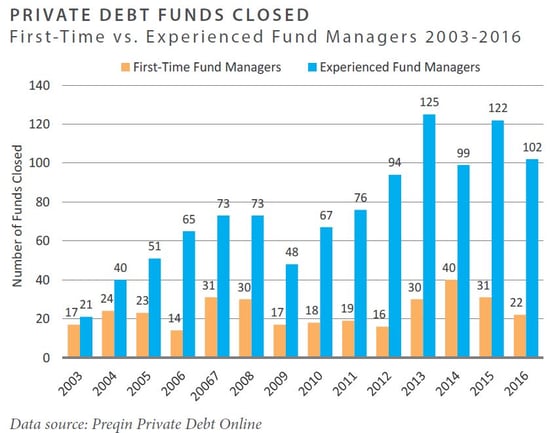 FUNDAMENTAL BACKDROP
Fundamentals in the lower middle market remained favorable at the end of 2016, particularly relative to the prior peak of 2007. The table below suggests strong fundamental improvement in 2016 versus the pre-crisis period. In 2007, investors paid "too much" for over-levered companies. Similar to 2007, investors paid higher prices in 2016, with many private equity sponsors incorporating "buy and build" strategies to justify these prices. This time, however, companies are less levered and benefit from significant support in the form or equity contribution and earnings.

Transaction volume in the U.S. middle market softened on a year-over-year basis as of December 31, 2016. Year-to-date total volume was $9.4 billion versus $9.7 billion in 2015, a 2.8% year-over-year decline. Additionally, volume in 2016 was 40% lower than the $15 billion transacted in 2014, which represented the highest level since the global financial crisis. Continued strength in capital raising in direct lending strategies has yet to have a material impact on pricing of deals. The average yield on first-lien debt financing for middle market borrowers rose 0.6% in the quarter to 6.6% as of year-end.2
DISTRESSED UPDATE
The European distressed opportunity set remains robust, particularly versus the U.S. Europe remains mired in a weak growth environment with significant central bank accommodation and lingering uncertainty regarding the timing of the UK's exit from the European Union. European bank loan sales have continued to increase in recent years and market observers anticipate continued selling pressure in 2017. Importantly, pressure to sell is likely to increase in the next few years as banks look to become fully compliant with Basel III requirements by 2019.
The U.S. credit cycle continued to be stretched further than anticipated. The rally in high yield bonds has pushed the distressed ratio—bonds trading at more than 1000 basis points over Treasuries—well below its historical average at 4.9% in early 2017.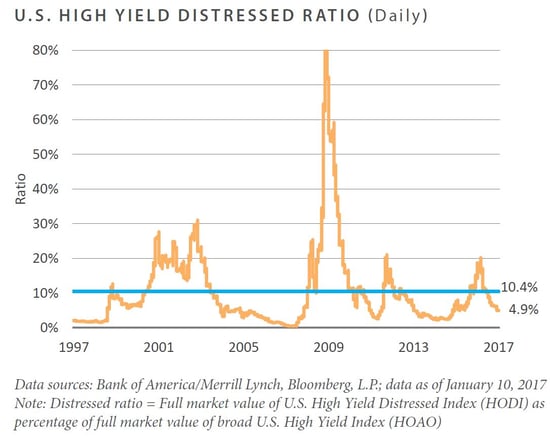 CONCLUSION
Private lending strategies continue to garner the most interest from investors looking to lock up capital in private debt space, with distressed and special situations also in the mix.
Middle market fundamentals remain reasonably healthy, reflecting a mixed bag of late cycle characteristics. Middle market volume has softened, however, which gives some pause.
European distressed opportunities remain prevalent with continued pressure from slow growth and Basel III deadlines. U.S. default expectations for 2017 remain elevated, but absent a U.S. recession, a broad-based U.S. distressed opportunity remains further down the horizon.
Private Real Esate
"The real estate markets experienced headwinds during the year..." — Christian Busken, Senior Vice President, Director of Real Assets
Real estate values, as measured by the National Council of Real Estate Investment Fiduciaries (NCREIF) Property Index (NPI), increased 1.7% during the fourth quarter following a 1.8% gain in the third quarter. On a trailing one-year basis, the index gained 8%, and the annualized five-year return was 10.9% as of December 31, 2016.1 For the fourth quarter, the industrial and retail sectors were the top performers, gaining 3.0% and 1.7%, respectively. Alternatively, hotels were the weakest performing property type with a return of just 70 basis points in the fourth quarter.
Property fundamentals were stable through year-end with occupancy for the NCREIF at a 15-year high of 93.2% and trailing year net operating income (NOI) growth of 5.3%.2 The implied valuation cap rate for the index declined to 4.4% in the fourth quarter, a new historical low. Cap rates are now sub-5% for all property types in the index.3
Global commercial real estate transaction volume totaled $1.3 trillion for 2016 and $394 billion for the fourth quarter. Total transaction volume for the year was down slightly from 2015, but was still the third strongest year since the Global Financial Crisis.4 For the fourth quarter, transaction volume declined 10% compared to fourth quarter 2015. The real estate markets experienced headwinds during the year, most notably, credit market distress early in the year, lower CMBS issuance, rising interest rates, and geopolitical uncertainty surrounding the Brexit vote in the UK and the presidential election in the U.S.5
From a regional standpoint, U.S. transaction volume in non-major metropolitan markets rose 2% year-over-year, while transaction volume in major metropolitan markets declined 9%.6 The decline in major metropolitan transaction volume was attributed to record valuation levels in those markets. In Europe, Germany was the most active market, while transaction volume in the UK fell 41% due in large part to the Brexit vote.7 From a property type standpoint, volume in the apartment sector in the U.S. was consistent with 2015 levels, while all other property types experienced declines. In Europe, more capital flowed into "alternative" sectors such as data centers, student housing, and senior housing.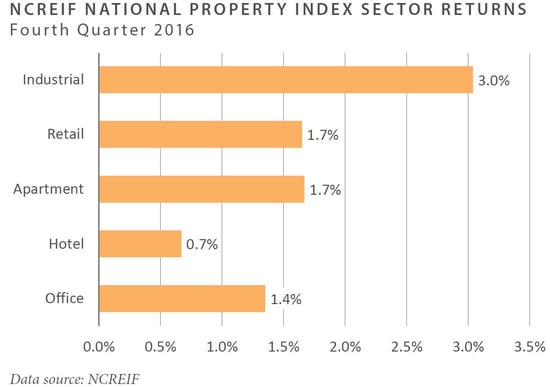 CAPITAL MARKETS
New CMBS issuance fell by nearly 30% in 2016 to $72.3 billion, the first annual decline in issuance since 2009. Projections in late 2015 were for new CMBS issuance of $100-125 billion; however, several headwinds contributed to declining volume.8 Among the factors contributing to the drop in new issuance were volatility in the credit markets, which led to widening spreads early in the year, as well as a drop in commercial mortgage originations from securitized lenders. Due to market volatility, only $9.5 billion of new issuance was completed in the second quarter, although the market strengthened later in the year with $11 billion of new issuance in November alone and an additional $5.3 billion in December.9
The volatility that prompted a pullback in CMBS in the first half of last year led other major lenders—life insurance companies, the housing finance agencies, and banks and thrifts—to step in and fill the gap. As result, financing for real estate remained widely available from a variety of sources. Additionally, many real estate debt funds launched in 2016, seeking to fill the gap for loans not readily available from traditional lenders and the CMBS market. These funds should provide additional sources of financing for real estate borrowers.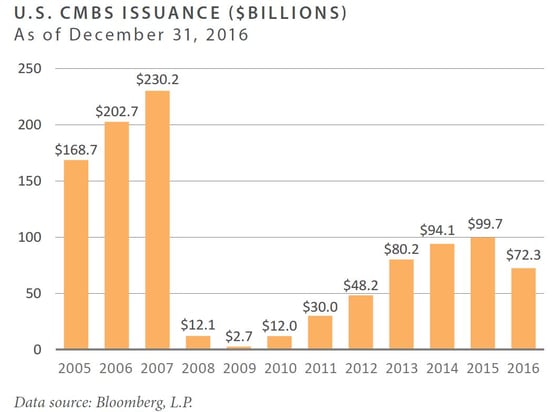 PROPERTY SECTORS
Apartments
Apartment values are up approximately 50% since the Global Financial Crisis, outperforming all other property types. After seven years of strong occupancy and rent growth, however, the apartment sector showed signs of slowing during 2016.10 Rent growth decelerated to 3.8% in 2016, down from 5.6% in 2015, and many markets are facing an increase in supply from new construction in the coming year. For 2017, more than 378,000 new apartment units are expected to be completed nationwide, 35% more than the 20-year average. Major U.S. cities such as New York, Dallas, Atlanta, and San Francisco are expected to see the largest number of apartments hitting the market. While much of the new supply is higher-end "luxury" apartments, the slowdown is also impacting more moderately-priced apartments.11 The overall vacancy rate for apartments remains low—4.1% at year-end—though some landlords at newly-constructed properties are offering rent concessions and other incentives to attract renters. Nationwide, apartment rents averaged $1,248 during the fourth quarter, with New York and San Francisco remaining the most expensive markets with effective monthly rents averaging around $3,400 per unit.12
Office
The U.S. office vacancy rate declined in the fourth quarter to 15.7% compared to 15.9% in the third quarter, the lowest level since the second quarter of 2009.13 Nevertheless, asking and effective rent growth decelerated in the fourth quarter, with asking rent growing by 0.3% and effective rents rising by 0.4%. Notably, the New York office market experienced its weakest year in leasing since 2009 and vacancies rose in all Manhattan sub markets (midtown, midtown south, and downtown).14 New construction in New York led to a rise in office vacancy from 10.4% in 2015 to 11.8% in 2016 and rents experienced only marginal increases.15
Retail
The U.S. retail sector showed signs of slowing in the fourth quarter, as retailers continue to face headwinds from online retailers and distress at department store tenants such as Sears and Macy's, both of whom announced hundreds of store closures. For regional malls, vacancy rates were unchanged at 7.8% in the fourth quarter, while rent growth slowed to 0.4% from 0.5% in 2015.16 Vacancy rates increased in 30 metropolitan markets in 2016, compared to 24 in 2015 and 19 in 2014. Mall owners continue to seek creative solutions for vacancies left by large retailers, such as adding restaurants and fitness centers, but the sector remains under pressure as consumers' shopping habits evolve.17
Natural Resources
"Despite the recent run up, most analysts believe oil prices will be relatively range bound for 2017." — Christian Busken, Senior Vice President, Director of Real Assets
After falling to multi-year lows early in the year, crude oil prices stabilized in the latter half of 2016 and posted a gain of 11% in the fourth quarter, finishing at $53.72/barrel compared to $48.24 at the end of the third quarter. For the full year, oil prices gained 45%.1 While concerns about oversupply dominated the oil markets in the first half of the year, attention shifted to OPEC during the fourth quarter, with an announcement in late November that an agreement had been reached to cut production by 1.2 million barrels per day. Additionally, non-OPEC oil producing countries pledged to reduce production by approximately 600,000 barrels per day. Oil prices surged on the news, as the announced cuts were the first for OPEC in eight years.2 Despite skepticism that the members of OPEC could comply with agreed production cuts, data for January 2017 showed cuts were being implemented with a high degree of compliance.3
While sentiment around oil prices shifted to a more positive tenor and supply/demand fundamentals for oil begin to stabilize, headwinds remain. One of the key issues is the supply overhang, estimated at over 500 million barrels, which is near record highs.4 Another potential concern is the increased risk that U.S. shale drillers may increase production, presenting another hurdle to rebalancing. U.S. producers are able to ramp up production faster when prices rise and additional supply from new wells drilled in 2016 could hit the market in 2017.
Despite the recent run up, most analysts believe oil prices will be relatively range bound for 2017. Longer term, the massive cuts in capex across the energy sector should set the stage for higher prices. A survey of 14 investment banks by The Wall Street Journal predicted West Texas Intermediate—the U.S. oil benchmark—to average $54/barrel in 2017.5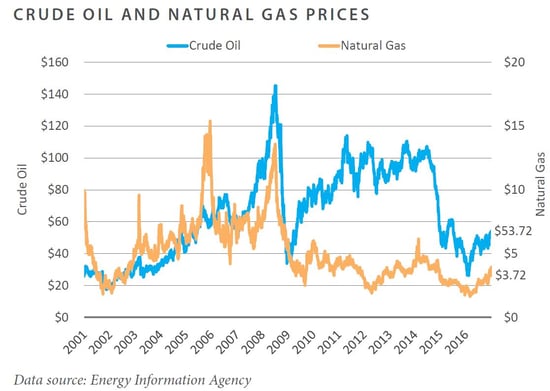 Natural gas prices increased 28% during the fourth quarter, closing at $3.72/MMBtu compared to $2.91/MMBtu at the end of the third quarter.6 For the full year, natural gas prices rose by 59%, driven by a combination of year-over-year production declines, increased exports of natural gas to Mexico, growth in LNG exports, and increased consumption levels from the power generation sector where natural gas is replacing coal.7 As of early 2017, however, natural gas prices were down nearly 20% due to warmer winter weather in much of the U.S.
According to energy services firm Baker Hughes, the U.S. oil rig count ended 2016 slightly below year-ago levels at 525, compared to 536 at the end of 2015. Drillers added over 200 rigs during the second half of the year, driven by the recovery in oil prices.8 After peaking at over 1,600 in the fall of 2014, the oil rig count plunged to a six-year low of 316 in May 2016. The natural gas rig count stood at 132 at year-end, up 37% from 96 at the end of the third quarter.9 At its low point in 2016, the U.S. natural gas rig count was 50% below 2016's starting level, hitting the lowest level since the late 1980s. For the full year, the natural gas rig count declined by 18.5%.
While total U.S. oil and gas transaction volume in 2016 was down 37% compared to 2015, total deal value was up 52%. The number of transactions fell from 894 deals in 2015 to 566 in 2016, though deal value increased by 52% to $215 billion for the year.10 Average transaction value increased across all sectors with the upstream sector leading with an increase of 223% from $42 million in 2015 to $137 million in 2016. Average transaction values for midstream increased 135% from $873 million in 2015 to $2.1 billion in 2016.11 Challenges faced by the U.S. oil and gas transaction market in 2015 and early 2016 gave way to optimism later in the year, with a flurry of activity in the fourth quarter.
Megadeals dominated the midstream and energy services sectors, with the merger of Energy Transfer Partners and Sonoco Logistics' ($51.2 billion), Enbridge's acquisition of Spectra Energy ($46.6 billion), and GE Oil & Gas' acquisition of Baker Hughes ($32 billion).12 Among the noteworthy upstream deals in the fourth quarter were Diamondback Energy's announced acquisition of Brigham Resources for $2.4 billion, a move to add to its oil assets in Texas, and Rice Energy's purchase of Vantage Energy in a cash-stock-and-debt deal worth $2.7 billion, expanding the company's presence in the Marcellus and Utica shales. Both Brigham and Vantage were originally private equity-backed companies.13
Deal data by region shows the recovery has been more concentrated in certain regions more than others, specifically the Permian Basin in western Texas where prolific reserves and low-breakeven costs of production have led to prices of $30,000-40,000/acre in core areas.14
Disclosures
This report was prepared by Fund Evaluation Group, LLC (FEG), a federally registered investment adviser under the Investment Advisers Act of 1940, as amended, providing non-discretionary and discretionary investment advice to its clients on an individual basis. Registration as an investment adviser does not imply a certain level of skill or training. The oral and written communications of an adviser provide you with information about which you determine to hire or retain an adviser. Fund Evaluation Group, LLC, Form ADV Part 2A & 2B can be obtained by written request directly to: Fund Evaluation Group, LLC, 201 East Fifth Street, Suite 1600, Cincinnati, OH 45202, Attention: Compliance Department.
The information herein was obtained from various sources. FEG does not guarantee the accuracy or completeness of such information provided by third parties. The information in this report is given as of the date indicated and believed to be reliable. FEG assumes no obligation to update this information, or to advise on further developments relating to it. FEG, its affiliates, directors, officers, employees, employee benefit programs and client accounts may have a long position in any securities of issuers discussed in this report.
Index performance results do not represent any managed portfolio returns. An investor cannot invest directly in a presented index, as an investment vehicle replicating an index would be required. An index does not charge management fees or brokerage expenses, and no such fees or expenses were deducted from the performance shown.
Neither the information nor any opinion expressed in this report constitutes an offer, or an invitation to make an offer, to buy or sell any securities.
Any return expectations provided are not intended as, and must not be regarded as, a representation, warranty or predication that the investment will achieve any particular rate of return over any particular time period or that investors will not incur losses.
Past performance is not indicative of future results.
This report is prepared for informational purposes only. It does not address specific investment objectives, or the financial situation and the particular needs of any person who may receive this report.
Investments in private funds are speculative, involve a high degree of risk and are designed for sophisticated investors.
INDICES
Barclays Capital Fixed Income Indices is an index family comprised of the Barclays Capital Aggregate Index, Government/Corporate Bond Index, Mortgage-Backed Securities Index, and Asset-Backed Securities Index, Municipal Index, High-Yield Index, and others designed to represent the broad fixed income markets and sectors within constraints of maturity and minimum outstanding par value. See https://ecommerce.barcap.com/indices/index.dxml for more information.
The FTSE NAREIT Composite Index (NAREIT Index) includes only those companies that meet minimum size, liquidity and free float criteria as set forth by FTSE and is meant as a broad representation of publicly traded REIT securities in the U.S. Relevant real estate activities are defined as the ownership, disposer, and development of income-producing real estate. See www.ftse.com/Indices for more information.
The MSCI ACWI (All Country World Index) Index is a free float-adjusted market capitalization weighted index that is designed to measure the equity market performance of developed and emerging markets. The MSCI ACWI consists of 46 country indexes comprising 23 developed and 23 emerging market country indexes.
Morgan Stanley Capital International – MSCI is a series of indices constructed by Morgan Stanley to help institutional investors benchmark their returns. There are a wide range of indices created by Morgan Stanley covering a multitude of developed and emerging economies and economic sectors. See www.morganstanley.com for more information.
The Moody's/RCA Commercial Property Price Indices measure price changes in US commercial real estate based on completed sales of the same commercial properties over time, or the "repeat-sales" methodology.
The NCREIF Property Index is a quarterly time series composite total rate of return measure of investment performance of a very large pool of individual commercial real estate properties acquired in the private market for investment purposes only.
The NCREIF Timberland Index is a quarterly time series composite return measure of investment performance of a large pool of individual timber properties acquired in the private market for investment purposes only. All properties in the Timberland Index have been acquired, at least in part, on behalf of tax-exempt institutional investors - the great majority being pension funds. As such, all properties are held in a fiduciary environment.
The Russell 2000 Index measures the performance of the small-cap segment of the U.S. equity universe. The Russell 2000 Index is a subset of the Russell 3000 Index representing approximately 10% of the total market capitalization of that index. It includes approximately 2000 of the smallest securities based on a combination of their market cap and current index membership. The Russell 2000 is constructed to provide a comprehensive and unbiased small-cap barometer and is completely reconstituted annually to ensure larger stocks do not distort the performance and characteristics of the true small-cap opportunity set.
The S&P 500 Energy Sector Index is an index containing energy companies that primarily develop and produce crude oil and natural gas, and provide drilling and other energy-related services.
The S&P 500 Index is capitalization-weighted index of 500 stocks. The S&P 500 Index is designed to measure performance of the broad domestic economy through changes in the aggregate market value of 500 stocks representing all major industries
Information on any indices mentioned can be obtained either through your consultant or by written request to information@feg.com.
RES-3122 03-03-2017 Exp. 09-30-2017