The dominant and somber market theme for the first quarter of 2020 was the global spread of novel coronavirus (COVID-19), which has infected nearly 2,000,000 and has taken the lives of more than 120,000 people around the world. The immediate and longer-lasting damage to the economy remains impossible to quantify, but has likely been curtailed to a meaningful degree thanks to the introduction of ultra-accommodative monetary and fiscal measures.
Downside volatility in global equity markets was immense, sending U.S. large cap returns to their lowest levels since fourth quarter 2008, albeit relatively outperforming both international developed and emerging markets. The longer-term theme of domestic outperformance vs. international, large cap outperformance vs. small cap, and growth outperformance vs. value, persisted in the quarter, despite a potential inflection in the business cycle. In fixed income, the highest quality sectors of the market posted positive performance, proving their worth in a broader portfolio of assets during periods of significant equity market volatility. Interest rates across nearly every key maturity along the Treasury yield curve collapsed to record low levels, while high yield credit spreads widened to more than 1,000 bps, a level historically consistent with recessions. Similar to that of equities and risky credit, real assets' performance was challenged, particularly among economic growth-sensitive sectors such as energy and broader commodities, as the decline in demand was augmented by the oil price war between Saudi Arabia and Russia.
Economic Update
COVID-19 Sends Economic Data Sharply Lower, Policy Makers Reeling
At last count, the confirmed number of global cases of COVID-19 stood just shy of 2,000,000, with the number of deaths at more than 120,000, resulting in a global mortality rate of approximately 6%. The immediate and longer-lasting shock to the global economy remains impossible to quantify, due to the unprecedented nature of the spread of the virus, as well as the shutdown and social distancing measures that have been in place for multiple weeks.
This heightened sense of uncertainty sent risky asset prices lower during the quarter, while supporting returns across the highest quality segments of the market, such as U.S. Treasuries, which witnessed fresh record low yield levels across many maturities along the yield curve.
An unfortunate real-time view of the virus's shock to the economic system is on display each Thursday morning, with the Department of Labor's (DOL) unemployment insurance weekly claims report. For the three-week period ended April 3, for instance, the DOL reported 16.8 million jobs were lost, which propelled the continuing claims gauge to 7.5 million unemployed persons, the highest in the 50+ year history of the data.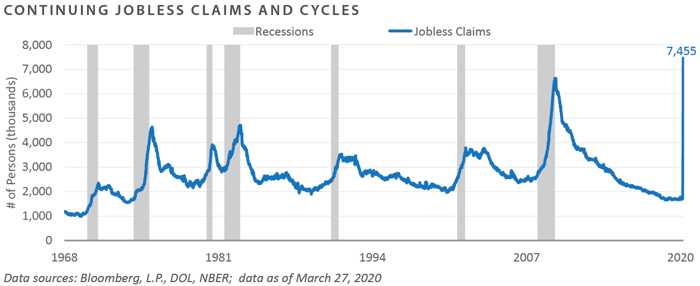 The depths of near-term economic weakness provoked ultra-accommodative and unprecedented policy responses by both the Federal Reserve (Fed) and the U.S. Congress.
Within weeks, the Fed announced two consecutive emergency interest rate cuts. The latter cut announced on March 15, sent the federal funds rate (FFR) back to the zero bound, at a targeted range of 0% - 0.25%. The Fed also announced a $700 billion quantitative easing (QE) program, consisting of Treasury and agency mortgage-backed securities (MBS) purchases. The Fed later expanded the list of purchases further under the scope of a new special purpose vehicle, which retains the ability to purchase both investment-grade and below investment-grade corporate bonds, as well as commercial mortgage-backed securities (CMBS).
The drastic accommodative measures taken during the quarter drove the size of the Fed's balance sheet to more than $6 trillion, the highest on record and a staggering increase of $1.1 trillion in March alone.
Significant relief measures were also set forth on the fiscal front during the quarter. The U.S. Congress passed the CARES Act, which, at $2 trillion in size, will extend aid to small businesses and the healthcare industry, expand unemployment benefits, and send direct cash payments to millions of Americans. Rumors of further fiscal stimulus targeted at America's infrastructure surfaced late in the quarter. The combined monetary and fiscal measures extended during the quarter lead to speculation that the U.S. Treasury and Fed have been enacting "modern monetary theory" practices.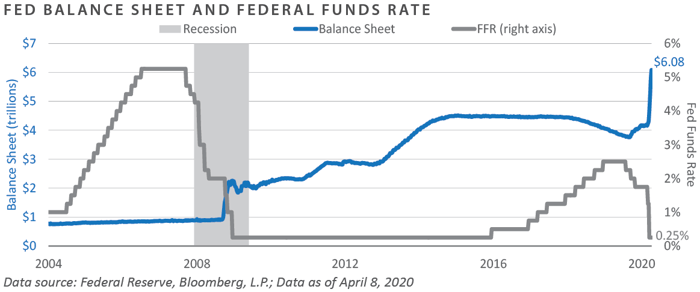 In summary, the first quarter of 2020 was mired in the saddening global spread of COVID-19, which has infected nearly 2,000,000 people and taken the lives of more than 120,000 around the world. The shock to the economic system, brought on by the deflationary forces of business closures, mass layoff activity, missed rent/lease payments, etc., was met with swift accommodative policy responses by both monetary and fiscal authorities, which helped stem the market's steep decline late in the quarter.
Market Returns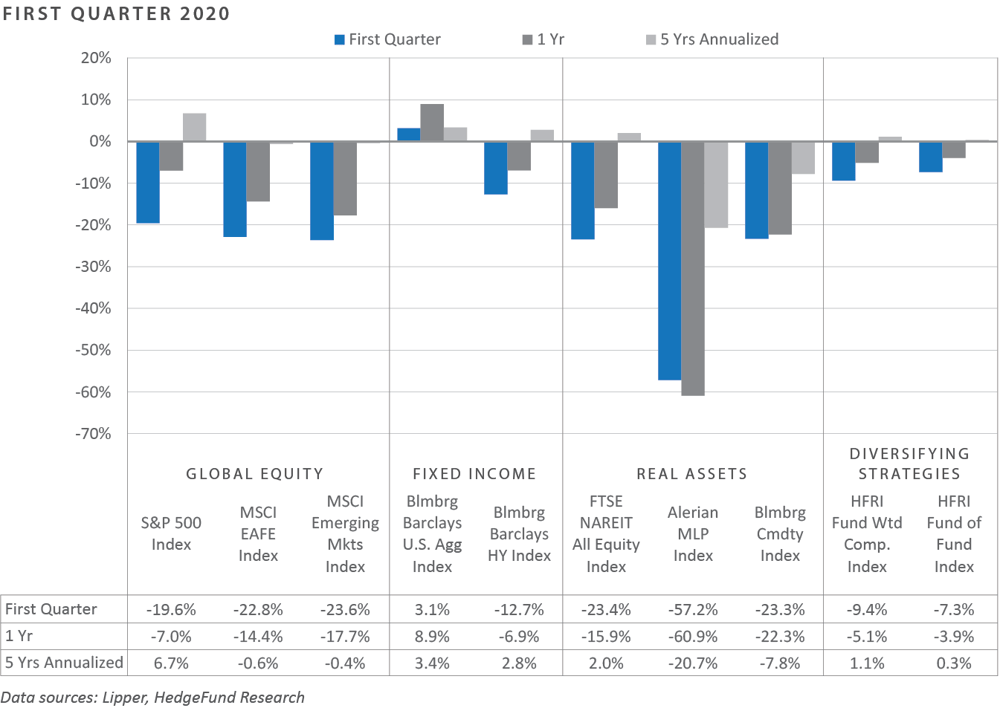 Global Equity
The equity markets reacted sharply to the "black swan event" of the COVID-19 pandemic, which was further exacerbated by the oil price war between Saudi Arabia and Russia.

The S&P 500 fell over 20% during the quarter, with small-weighted sectors detracting the most from performance. The energy sector was the worst-performing sector and traded down over 50%, followed by financials, which fell over 30%. The information technology and healthcare sectors held up the strongest.

One of the more interesting takeaways from the downturn, albeit one that is not often discussed, is that global themes have remained consistent and large cap and growth stocks continue to outperform small and value stocks, respectively. Conversely, during the past two major downturns—the 2001 Tech Bubble and the 2008 Great Financial Crisis—stock leadership changed, as high‐flying market segments suffered the worst declines in those instances.

International developed markets out-performed emerging markets during the quarter as developed market governments such as the United Kingdom and Germany were fast to react to the spread of the virus and the economic downturn. Both countries' governments enacted strong stimulus efforts to counteract the negative economic effects of COVID-19.

Despite being the original epicenter of the COVID-19 outbreak, Asia was the best performing region around the globe due to the strength of the Chinese equity markets, which fell only approximately 10% amid expectations of economic activity resuming. Most other primary Asian emerging markets were down 20% to 30%.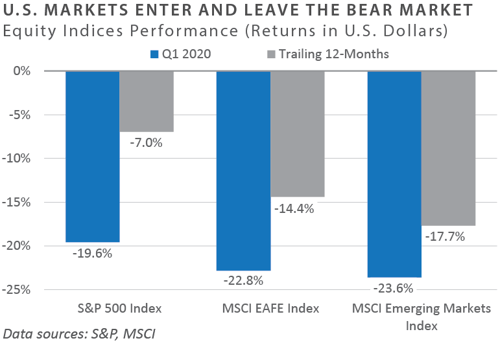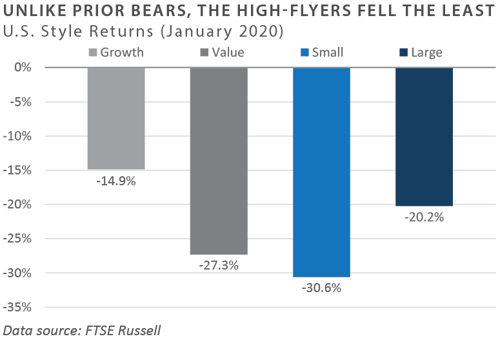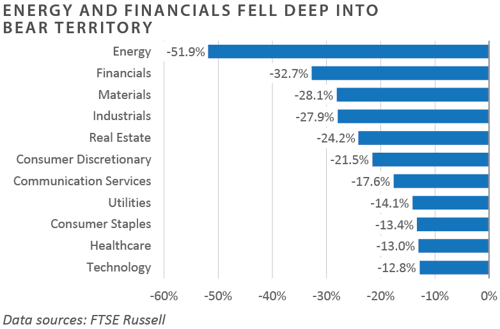 Fixed Income
Fixed income was a tale of two markets in the first quarter of 2020. January and February were characterized by a rapid fall in U.S. Treasury yields, while March saw credit markets plummet and then recover slightly, with the Bloomberg Barclays U.S. Corporate Index experiencing its two most extreme weeks of spread widening and spread tightening on record.

Fed intervention made headlines in March as the Fed started the month with two emergency rate cuts in quick succession, followed by announcements of additional stimulus programs to support Treasury and credit markets. The monetary stimulus was unprecedented in terms of both scale and speed, but it was viewed by market participants as necessary amid an environment of low liquidity that was largely driven by the limited market-making activities of banks unprepared to deal with COVID-19-related social distancing measures.

Impacts on credit markets were bifurcated at first, limited to those sectors directly impacted by shutdowns: travel, leisure, and energy. However, the week of March 23 witnessed indiscriminate selling of all credit risk, causing over 30% of the high yield market to trade at distressed levels—1,000 bps over Treasuries, or more.

Investment-grade credit, high yield, and bank loans funds saw huge withdrawals starting in mid-March, as investors continued to seek liquidity in a turbulent market environment. Investment-grade funds collectively witnessed their largest outflows on record and the month of worst excess return in March.

While new issuance in the high yield market slowed to a trickle, issuance in the investment-grade markets boomed, as high-quality issuers were able to access the markets. Issuance of investment-grade-rated bonds exploded in March, making it the month of highest issuance on record.

Securitized credit markets—particularly lower-rated tranches—suffered large losses as liquidity in the markets deteriorated. This was further exacerbated by forced sellers facing margin calls.

Overall, higher quality assets outperformed their lower quality peers for the quarter, and assets supported by the Fed—either explicitly or implicitly—outperformed those not addressed in the Fed's recently announced programs.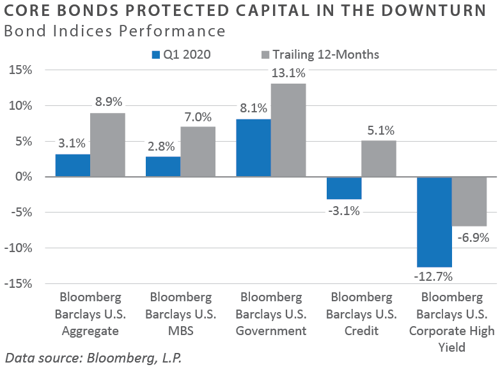 Real Assets
REAL ESTATE
Stay-at-home orders and a broad suspension of economic activity due to COVID-19 has significantly impacted nearly all areas of the REIT market.

Retail and lodging have been keenly affected by the virus, with nearly all travel suspended, and over 70,000 national retail stores temporarily closing. This comes on the back of sluggish performance through 2019 for both sectors. The expectation of investors is that many tenants will require lease payment deferrals or forgiveness to weather the impact of the virus.

Data centers was the only positive sector for U.S. REITs, as it was better able to weather the volatility of the pandemic due to its more defensive characteristics and the need for many businesses to have employees work from home.

International REITs lagged over the quarter as European and Asian countries instituted similar measures to combat COVID-19.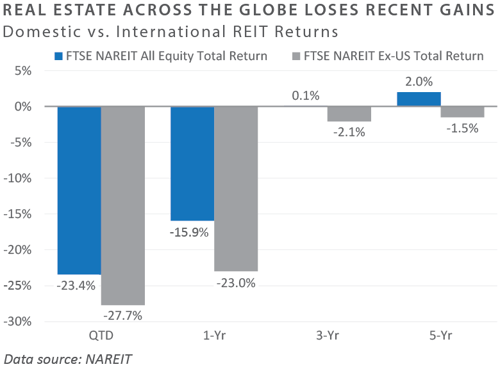 NATURAL RESOURCES
Crude oil experienced significant volatility over the quarter, with COVID-19 materially reducing expectations for demand and Russia and Saudi Arabia entering a price war after breaking negotiations for production cuts. Both events triggered a crude oil supply glut. Crude prices declined over the quarter, closing at $20.48/barrel for a one-month contract, down 66.5% from December.

The entire futures strip for crude oil has fallen, with expectations that crude will remain under $40/BBL through the next 12 months.

Natural gas closed the month at $1.64/MMBtu for a 1-month contract, down 25.1% from December.

Commodity prices, as measured by the Bloomberg Commodity Index (BCOM), ended the quarter down 23.3%, which was mostly attributable to declines in energy and livestock commodities.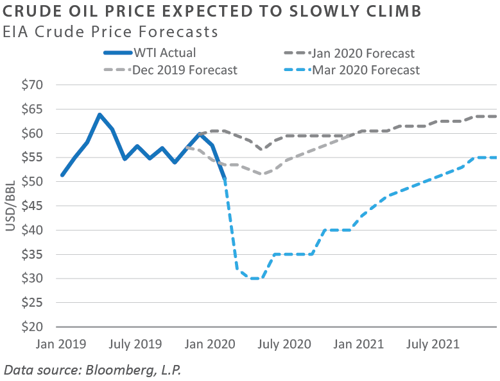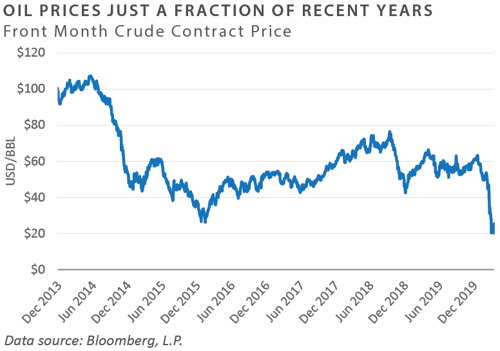 MASTER LIMITED PARTNERSHIPS
MLPs, as measured by the Alerian MLP Total Return Index, dropped 57.2% over the quarter, trading largely in line with crude oil over the same timeframe. The Alerian Midstream Index showed more resiliency due to its inclusion of C-corps midstream entities.

One contributing factor to this decline was forced selling by levered, closed-end funds, which exasperated the initial sell-off for the asset class.

The current yield on MLPs stands at 21.4% as of the end of March, though broad distribution cuts are expected.


Diversifying Strategies
In the face of severe drawdowns in nearly every other strategy and asset class, trend following managers were able to exploit recent negative market trends. The largest gains resulted from short crude oil followed by short equities, which occurred once models flipped fund positioning from long to short.

Event-driven managers faced headwinds in merger arbitrage, as spreads widened during the quarter. Deals were either postponed or potentially cancelled altogether given the significant market uncertainty.

Credit strategies struggled as unprecedented moves occurred in municipal bonds, structured credit, and investment-grade paper. While painful in the short-term, many managers believe this will open up a broad distressed cycle as corporate credit defaults increase.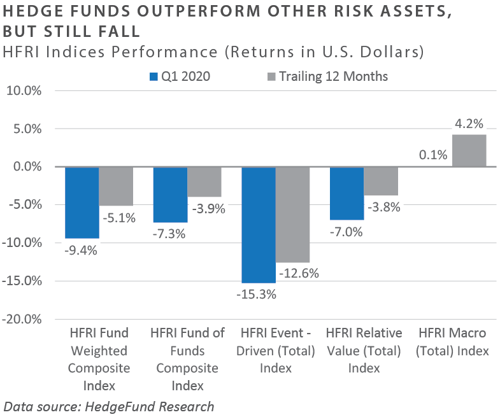 DISCLOSURES
This report was prepared by FEG (also known as Fund Evaluation Group, LLC), a federally registered investment adviser under the Investment Advisers Act of 1940, as amended, providing non-discretionary and discretionary investment advice to its clients on an individual basis. Registration as an investment adviser does not imply a certain level of skill or training. The oral and written communications of an adviser provide you with information about which you determine to hire or retain an adviser. Fund Evaluation Group, LLC, Form ADV Part 2A & 2B can be obtained by written request directly to: Fund Evaluation Group, LLC, 201 East Fifth Street, Suite 1600, Cincinnati, OH 45202, Attention: Compliance Department.
The information herein was obtained from various sources. FEG does not guarantee the accuracy or completeness of such information provided by third parties. The information in this report is given as of the date indicated and believed to be reliable. FEG assumes no obligation to update this information, or to advise on further developments relating to it. FEG, its affiliates, directors, officers, employees, employee benefit programs and client accounts may have a long position in any securities of issuers discussed in this report.
Index performance results do not represent any managed portfolio returns. An investor cannot invest directly in a presented index, as an investment vehicle replicating an index would be required. An index does not charge management fees or brokerage expenses, and no such fees or expenses were deducted from the performance shown.
Neither the information nor any opinion expressed in this report constitutes an offer, or an invitation to make an offer, to buy or sell any securities.
Any return expectations provided are not intended as, and must not be regarded as, a representation, warranty or predication that the investment will achieve any particular rate of return over any particular time period or that investors will not incur losses.
Past performance is not indicative of future results.
Investments in private funds are speculative, involve a high degree of risk, and are designed for sophisticated investors.
All data is as of March 31, 2020 unless otherwise noted.
INDICES
The Alerian MLP Index is a composite of the 50 most prominent energy Master Limited Partnerships that provides investors with an unbiased, comprehensive benchmark for this emerging asset class.
Barclays Capital Fixed Income Indices is an index family comprised of the Barclays Capital Aggregate Index, Government/Corporate Bond Index, Mortgage-Backed Securities Index, and Asset-Backed Securities Index, Municipal Index, High-Yield Index, and others designed to represent the broad fixed income markets and sectors within constraints of maturity and minimum outstanding par value. See https://ecommerce.barcap.com/indices/index.dxml for more information.
The CBOE Volatility Index (VIX) is an up-to-the-minute market estimate of expected volatility that is calculated by using real-time S&P 500 Index option bid/ask quotes. The Index uses nearby and second nearby options with at least 8 days left to expiration and then weights them to yield a constant, 30-day measure of the expected volatility of the S&P 500 Index. FTSE Real Estate Indices (NAREIT Index and EPRA/NAREIT Index) includes only those companies that meet minimum size, liquidity and free float criteria as set forth by FTSE and is meant as a broad representation of publicly traded real estate securities. Relevant real estate activities are defined as the ownership, disposure, and development of income-producing real estate. See www.ftse.com/Indices for more information.
HFRI Monthly Indices (HFRI) are equally weighted performance indexes, compiled by Hedge Fund Research Inc. (HFX), and are used by numerous hedge fund managers as a benchmark for their own hedge funds. The HFRI are broken down into 37 different categories by strategy, including the HFRI Fund Weighted Composite, which accounts for over 2000 funds listed on the internal HFR Database. The HFRI Fund of Funds Composite Index is an equal weighted, net of fee, index composed of approximately 800 fund- of- funds which report to HFR. See www.hedgefundresearch.com for more information on index construction.
J.P. Morgan's Global Index Research group produces proprietary index products that track emerging markets, government debt, and corporate debt asset classes. Some of these indices include the JPMorgan Emerging Market Bond Plus Index, JPMorgan Emerging Market Local Plus Index, JPMorgan Global Bond Non-US Index and JPMorgan Global Bond Non-US Index. See www.jpmorgan.com for more information.
Merrill Lynch high yield indices measure the performance of securities that pay interest in cash and have a credit rating of below investment grade. Merrill Lynch uses a composite of Fitch Ratings, Moody's and Standard and Poor's credit ratings in selecting bonds for these indices. These ratings measure the risk that the bond issuer will fail to pay interest or to repay principal in full. See www.ml.com for more information.
Morgan Stanley Capital International – MSCI is a series of indices constructed by Morgan Stanley to help institutional investors benchmark their returns. There are a wide range of indices created by Morgan Stanley covering a multitude of developed and emerging economies and economic sectors. See www.morganstanley.com for more information.
Russell Investments rank U.S. common stocks from largest to smallest market capitalization at each annual reconstitution period (May 31). The primary Russell Indices are defined as follows: 1) the top 3,000 stocks become the Russell 3000 Index, 2) the largest 1,000 stocks become the Russell 1000 Index, 3) the smallest 800 stocks in the Russell 1000 Index become the Russell Midcap index, 4) the next 2,000 stocks become the Russell 2000 Index, 5) the smallest 1,000 in the Russell 2000 Index plus the next smallest 1,000 comprise the Russell Microcap Index. See www.russell.com for more information.
S&P 500 Index consists of 500 stocks chosen for market size, liquidity and industry group representation, among other factors by the S&P Index Committee, which is a team of analysts and economists at Standard and Poor's. The S&P 500 is a market-value weighted index, which means each stock's weight in the index is proportionate to its market value and is designed to be a leading indicator of U.S. equities, and meant to reflect the risk/return characteristics of the large cap universe. See www.standardandpoors.com for more information.
Information on any indices mentioned can be obtained either through your consultant or by written request to information@feg.com.