Trade war fears, rising U.S. Treasury rates, and a disorderly unwinding of levered short-volatility equity positions helped drive an increase in market volatility in the first quarter. While most major equity indices experienced a strong start to the year, by late-January, that positive momentum began to fade. Nevertheless, emerging and frontier market equities witnessed modestly positive performance, with domestic and international developed equities concluding the quarter slightly in negative territory. In fixed income, rate-sensitive sectors such as core bonds and longer-duration Treasuries underperformed credit-oriented sectors such as high yield. Within real assets, energy infrastructure assets slumped, despite a modest gain in energy spot prices, and Real Estate Investment Trusts (REITs) declined amid an increase in interest rates.


Economic Update
Major Global Central Banks Shift Gears to Tighter Monetary Policy
More than a half-decade of ultra-loose monetary policy across the world's major central banks appears to be coming to a close. After multiple quantitative easing (QE) programs, the Federal Reserve (Fed) was the first major central bank to embark on this tightening path, beginning in December 2015, with a 25 basis point (bps) increase to the federal funds rate. Since then, and multiple rate hikes later, the Fed has initiated the partial balance sheet wind down process by allowing more than $100 billion of maturing notes and bonds to roll off its nearly $4.5 trillion balance sheet, placing the balance sheet more than two percentage points (ppts) lower than it was one year prior.

With an economic recovery less mature than that in the United States, the European Central Bank (ECB) has followed in the footsteps of the Fed. Albeit at a delayed pace, the ECB is tapering the pace of their current monthly asset purchases, a process that began in January, and is expected to conclude QE altogether by late-2018/early-2019. Market-implied measures that seek to estimate the timing of the ECB's first policy rate hike concluded the quarter with a forecasted rate hike sometime in mid-2019.
In early March, Bank of Japan (BOJ) Governor Haruhiko Kuroda announced the BOJ will begin thinking about how to most appropriately exit their ultra-accommodative monetary policy measures beginning in April 2019, provided Japanese inflation rates cooperate. Kuroda's comments were particularly meaningful, as this occasion marked the first time the BOJ has provided market participants with forward guidance related to the possible timing of their exit from QE.
The incremental tightening of the monetary reigns by the Fed, ECB, and BOJ comes at a time when global economic growth, while moderate, has improved since 2015 and inflation rates have modestly increased. Should the spike in volatility that took place during the quarter across most risk sectors fail to subside, however, developed market central banks may find it increasingly difficult to implement their tightening plans.
To summarize, volatility spiked across both equities and bonds during the first quarter, driven by several fears, including tit-for-tat trade wars, a prolonged rising rate environment, disorderly exits by speculators in levered short-volatility strategies, among others. Meanwhile, the Fed, ECB, and BOJ each took steps to gradually exit their post-Global Financial Crisis monetary policy accommodation, a theme presumably in place for at least the next few years and one with far-ranging implications across asset valuations, volatility levels, and investor confidence.


Market Returns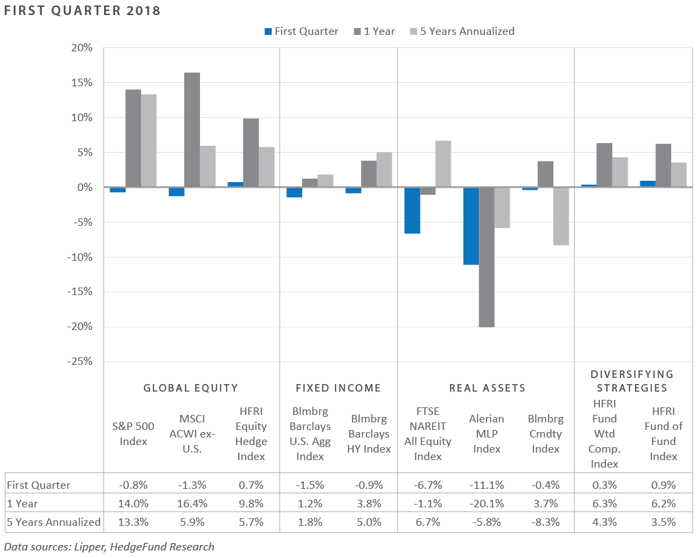 Global Equity
Markets continued their rally during January but experienced sharp declines throughout February and March, eventually ending in almost the same spot where markets started the quarter. The quarter reminded investors how quickly volatility can return to the markets.

Markets reacted sharply to macro and micro events. For example, technology stocks fluctuated near the quarter end, as investors feared that tighter regulation within the industry could stunt growth. More specifically, Facebook and Alphabet stock prices fell as the two companies faced scrutiny over privacy and data protection.

The S&P 500 fell 1.2%, representing the first quarterly decline since 2015. Despite a tumultuous start to the year, major indices posted double digits returns over the trailing 12-month period.

Currency movements had a significant impact on returns for U.S. investors. The U.S. dollar fell to its lowest level in three years, as measured by the U.S. dollar index (DXY), providing a positive impact to non-U.S. equity returns. The euro appreciated as European countries, such as Germany and France, showed attractive signs of economic growth. However, the euro zone and the U.K. markets both ended the quarter with declines despite those countries experiencing falling unemployment rates and increased wage growth.

A primary driver of the decline in European equity markets was President Trump's trade plan. According to the Office of the United States Trade Representative, the total value of goods and services traded between Europe and the U.S. in 2016 was over $1 trillion. Investors feared that new tariffs and quotas would stifle European exporters and cripple a major part of the region's gross domestic product.

Emerging markets, as measured by the MSCI Emerging Markets Index, continued their climb during the first quarter, despite heightened uncertainty surrounding a potential trade war between China and the United States, two of the world's largest economies. The United States and China have announced tariffs on imported goods ranging from Chinese steel and aluminum to the United States' agricultural products. In aggregate, however, emerging markets continued to show healthy growth.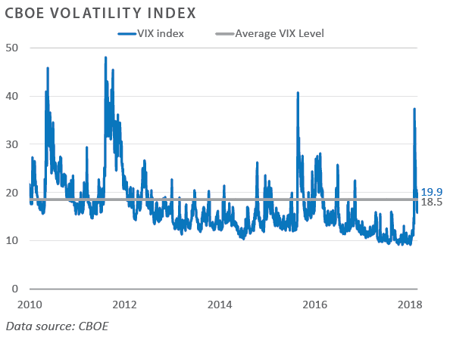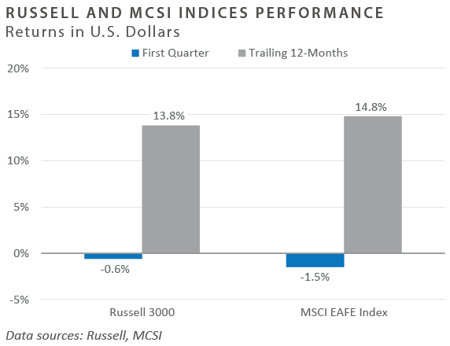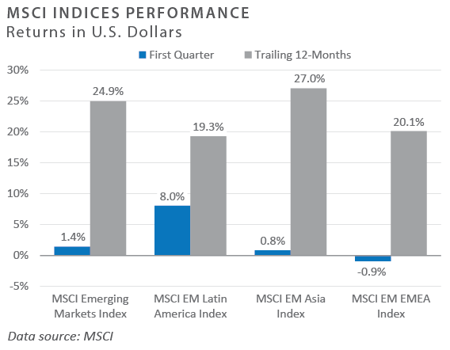 Fixed Income
Citing an improved economic outlook, the Federal Reserve (Fed) raised interest rates by 25 basis points in March and raised their median expectations for the number of rate hikes in 2018, as expressed by the dot plot, from two to three. Market expectations for monetary policy began catching up to the median expectations of the dot plot, triggering a rise in U.S. Treasury yields.

Tax reform passed near the end of 2017, combined with increased spending, created a fiscal deficit that led to February and March seeing the largest levels of net issuance of Treasury Bills since October and November of 2008. This issuance, combined with Fed actions, pressured short-term Treasury yields higher, resulting in positive real-yields for the first time since the Global Financial Crisis.

Strong U.S. wage growth numbers in February sparked fears of inflation and subsequent tightening of monetary policy, which supported rate increase as market volatility increased.

In credit, high yield bonds outperformed investment grade credit, indicating that markets were more concerned about rising interest rates and inflation than about credit deterioration.

Local currency denominated emerging market debt proved resilient to broad market volatility in February and March due to both a weakening U.S. dollar as well as generally more accommodative monetary policies relative to those in developed markets.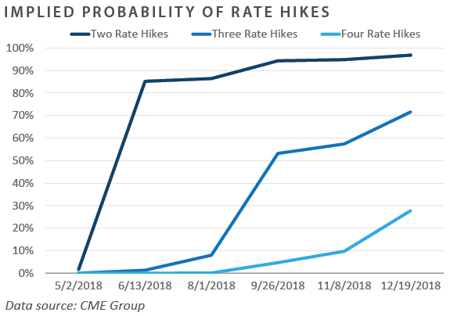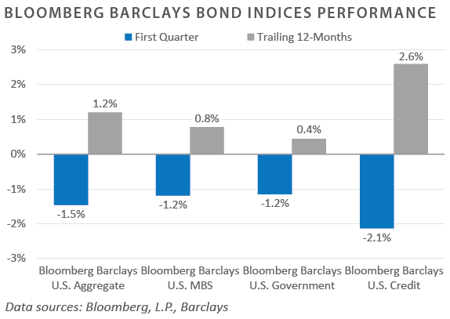 Real Assets
REAL ESTATE
U.S. REIT returns gained 3% in March on the continuation of the downward trend in cap rates and positive fundamentals across different property types. While the Fed rate hike provided some market volatility to REIT returns, stronger growth in the U.S. economy is viewed as a positive for real estate markets.

Some REITs managers have prepared for a slow rising interest rate environment by maintaining conservative leverage ratios; aggregate interest expense—as a share of net operating income—is just above record lows seen in mid-2016.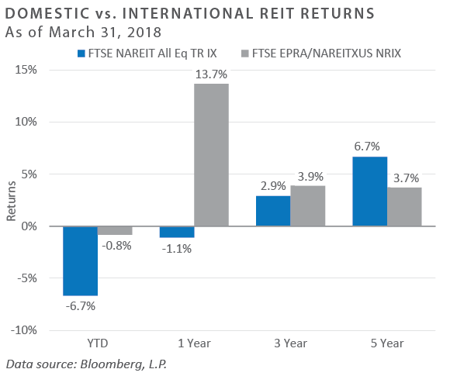 NATURAL RESOURCES
Oil prices gained in March on the news that production cuts from OPEC and its allies would be maintained through the end of 2018. Geopolitical risk continues to hang over global oil markets as investors watch for developments in the trade tension between the U.S. and China, and for clues on whether the newly-appointed National Security Advisor, John Bolton, will take a tough stance against OPEC-producer Iran. Markets are also watching global supply and inventories after rig counts increased to a three-year high (804) in March.

Commodity prices were negatively impacted by the escalation of trade friction between the U.S. and China. A trade protectionism move by the Trump administration is widely seen as putting pressure on global commodity markets and negatively impacting economic growth.

Industrial metals experienced high volatility during March, as Trump's recent imposition on steel and aluminum imports brought fear that a global trade war could be on the horizon. While copper prices recovered over the month, aluminum prices declined on the tariff news in addition to lower manufacturing demand.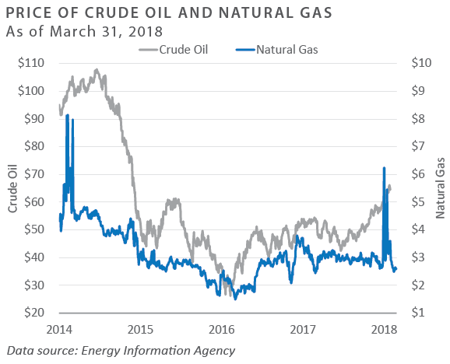 MLPs
Despite having a strong start to the year, the midstream sector suffered in March, due to a negative reaction towards a FERC announcement. This announcement was loosely regarding income tax allowance and pipeline rates that will affect a small subset of MLPs, but the majority of the space was impacted by the market reaction.

Throughout the quarter there were announcements of simplifications and corporate conversions, which assisted performance, as the sector continued its conversion to a self-funding mode.
Diversifying Strategies
Discretionary macro managers benefitted from higher rates in the first quarter as tighter global monetary policy, particularly in the U.S., has been a common theme across managers. Conversely, systematic macro strategies endured losses, predominately due to trend reversals in equities and commodities in late-January/early-February.

Event-driven managers faced headwinds due to mark-to-market losses in some widely-held merger deals. Headlines regarding a potential trade war between the U.S. and China led to uncertainty around the impact such an event might have on deal activity.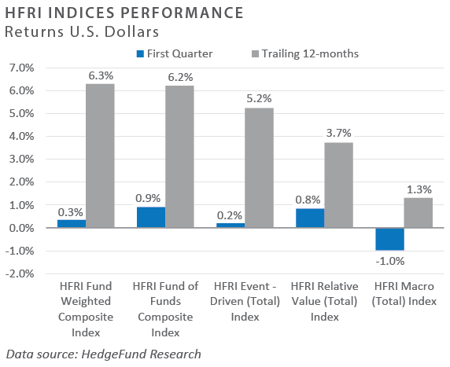 DISCLOSURES
This report was prepared by FEG (also known as Fund Evaluation Group, LLC), a federally registered investment adviser under the Investment Advisers Act of 1940, as amended, providing non-discretionary and discretionary investment advice to its clients on an individual basis. Registration as an investment adviser does not imply a certain level of skill or training. The oral and written communications of an adviser provide you with information about which you determine to hire or retain an adviser. Fund Evaluation Group, LLC, Form ADV Part 2A & 2B can be obtained by written request directly to: Fund Evaluation Group, LLC, 201 East Fifth Street, Suite 1600, Cincinnati, OH 45202, Attention: Compliance Department.
The information herein was obtained from various sources. FEG does not guarantee the accuracy or completeness of such information provided by third parties. The information in this report is given as of the date indicated and believed to be reliable. FEG assumes no obligation to update this information, or to advise on further developments relating to it. FEG, its affiliates, directors, officers, employees, employee benefit programs and client accounts may have a long position in any securities of issuers discussed in this report.
Index performance results do not represent any managed portfolio returns. An investor cannot invest directly in a presented index, as an investment vehicle replicating an index would be required. An index does not charge management fees or brokerage expenses, and no such fees or expenses were deducted from the performance shown.
Neither the information nor any opinion expressed in this report constitutes an offer, or an invitation to make an offer, to buy or sell any securities.
Any return expectations provided are not intended as, and must not be regarded as, a representation, warranty or predication that the investment will achieve any particular rate of return over any particular time period or that investors will not incur losses.
Past performance is not indicative of future results.
Investments in private funds are speculative, involve a high degree of risk, and are designed for sophisticated investors.
All data is as of March 31, 2018 unless otherwise noted.
INDICES
The Alerian MLP Index is a composite of the 50 most prominent energy Master Limited Partnerships that provides investors with an unbiased, comprehensive benchmark for this emerging asset class.
Barclays Capital Fixed Income Indices is an index family comprised of the Barclays Capital Aggregate Index, Government/Corporate Bond Index, Mortgage-Backed Securities Index, and Asset-Backed Securities Index, Municipal Index, High-Yield Index, and others designed to represent the broad fixed income markets and sectors within constraints of maturity and minimum outstanding par value. See https://ecommerce.barcap.com/indices/index.dxml for more information.
The CBOE Volatility Index (VIX) is an up-to-the-minute market estimate of expected volatility that is calculated by using real-time S&P 500 Index option bid/ask quotes. The Index uses nearby and second nearby options with at least 8 days left to expiration and then weights them to yield a constant, 30-day measure of the expected volatility of the S&P 500 Index. FTSE Real Estate Indices (NAREIT Index and EPRA/NAREIT Index) includes only those companies that meet minimum size, liquidity and free float criteria as set forth by FTSE and is meant as a broad representation of publicly traded real estate securities. Relevant real estate activities are defined as the ownership, disposure, and development of income-producing real estate. See www.ftse.com/Indices for more information.
HFRI Monthly Indices (HFRI) are equally weighted performance indexes, compiled by Hedge Fund Research Inc. (HFX), and are used by numerous hedge fund managers as a benchmark for their own hedge funds. The HFRI are broken down into 37 different categories by strategy, including the HFRI Fund Weighted Composite, which accounts for over 2000 funds listed on the internal HFR Database. The HFRI Fund of Funds Composite Index is an equal weighted, net of fee, index composed of approximately 800 fund- of- funds which report to HFR. See www.hedgefundresearch.com for more information on index construction.
J.P. Morgan's Global Index Research group produces proprietary index products that track emerging markets, government debt, and corporate debt asset classes. Some of these indices include the JPMorgan Emerging Market Bond Plus Index, JPMorgan Emerging Market Local Plus Index, JPMorgan Global Bond Non-US Index and JPMorgan Global Bond Non-US Index. See www.jpmorgan.com for more information.
Merrill Lynch high yield indices measure the performance of securities that pay interest in cash and have a credit rating of below investment grade. Merrill Lynch uses a composite of Fitch Ratings, Moody's and Standard and Poor's credit ratings in selecting bonds for these indices. These ratings measure the risk that the bond issuer will fail to pay interest or to repay principal in full. See www.ml.com for more information.
Morgan Stanley Capital International – MSCI is a series of indices constructed by Morgan Stanley to help institutional investors benchmark their returns. There are a wide range of indices created by Morgan Stanley covering a multitude of developed and emerging economies and economic sectors. See www.morganstanley.com for more information.
Russell Investments rank U.S. common stocks from largest to smallest market capitalization at each annual reconstitution period (May 31). The primary Russell Indices are defined as follows: 1) the top 3,000 stocks become the Russell 3000 Index, 2) the largest 1,000 stocks become the Russell 1000 Index, 3) the smallest 800 stocks in the Russell 1000 Index become the Russell Midcap index, 4) the next 2,000 stocks become the Russell 2000 Index, 5) the smallest 1,000 in the Russell 2000 Index plus the next smallest 1,000 comprise the Russell Microcap Index. See www.russell.com for more information.
S&P 500 Index consists of 500 stocks chosen for market size, liquidity and industry group representation, among other factors by the S&P Index Committee, which is a team of analysts and economists at Standard and Poor's. The S&P 500 is a market-value weighted index, which means each stock's weight in the index is proportionate to its market value and is designed to be a leading indicator of U.S. equities, and meant to reflect the risk/return characteristics of the large cap universe. See www.standardandpoors.com for more information.
Information on any indices mentioned can be obtained either through your consultant or by written request to information@feg.com.
Previous
Next