Volatility and Private Markets
The first quarter of 2018 saw a spike in the VIX index and a sharp fall-off in public stock and bond markets from a January peak. While economic growth appears positive across the globe, rising interest rates, rising leverage, and higher valuations put the capital markets in risky territory. In the face of volatility, the illiquid private partnership structure has value. Private capital investors can benefit from being a source of patient capital, although they too may face short-term valuation risk.
Global private equity investments have recorded annual valuation increases every year since 2008. Valuation adjustments typically reflect changes in market multiples based on public market peers, earnings increases, earnings decreases, or both. In venture-backed investments valuations typically reflect the latest round of financing. In 2017, Burgiss reported a $224 billion increase in the value of global private equity to $1.3 trillion, a 19% increase over 2016.1 Private debt and private real assets were similarly positive, each up approximately 10% in the year to $211 billion and $459 billion, respectively.2
What happens if market multiples decline? Absent other factors, valuations will likely be marked down. Unlike the sharp public market declines in February, however, private market adjustments occur in a more muted fashion. Private valuations are recorded quarterly, and the time-lagged process offers more perspective in determining the appropriate metric.
As highlighted in the following chart, through the last cycle, private fund internal rates of return (IRRs) were pressured, but remained positive.3 On average, private funds came through the crisis with positive returns and were sharply more positive in the years that followed.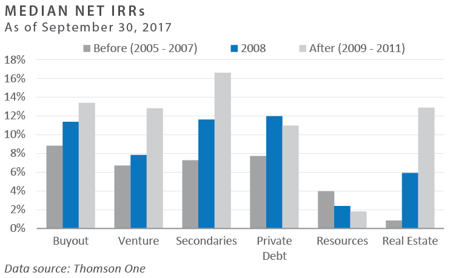 It's during volatile times that the private fund structure prevents selling into down markets and provides companies capital to weather a downturn or take advantage of stressed competitors. Alignment (personal investment) and incentives (carried interest) are key factors in keeping private managers focused on taking measured risks, adjusting to market conditions, and emphasizing long-term performance. With a selective approach, private capital can be a solid place to invest in volatile times.
Performance – Year End 2017
Public markets provided strong across-the-board performance in 2017–a rare event–with equities, bonds, commodities, gold, and real estate all positive.4 Preliminary reports indicate private markets also were solidly positive, in both the fourth quarter and for the year. Despite strength in prices during the fourth quarter, upstream energy was the laggard for the year.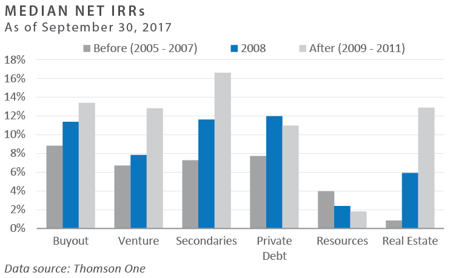 1, 2 Burgiss Manager Universe Q4 2017 Global Private Capital Review, May 2018
3 Thomson One, data as of September 30, 2018
4 David A. Rosenberg, Glusken Sheff + Associates, Paradigm Shift, April 2018
Private Equity
Venture Capital
Fundraising and Investing
Globally, venture funds raised approximately $10.8 billion in commitments in the first quarter of 2018.1 The fundraising market has slowed meaningfully for venture funds since peaking in 2016 at $65 billion. While the trend is down, the annualized pace in the first quarter of 2018 remained well ahead of 2009-2013 post global financial crisis levels.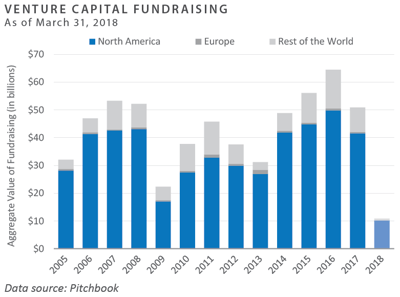 Investment Activity
Reflective of the fundraising environment, median deal sizes rose in 2018, with late-stage financing rounds at a 10-year peak. Notably, venture-backed companies have shifted towards remaining private longer, which has pushed up the size of the average investment in late-stage deals.2 The size of Series A and Series B rounds are also creeping up as funds deploy more capital into these transactions. Anecdotally, fund managers indicate that companies are able to achieve greater size and scale before venture funds invest, which may explain some of the increase.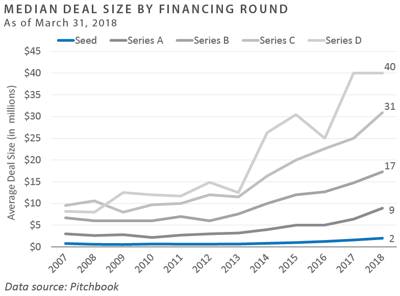 Pre-money valuations of venture-backed companies continued to increase across both early- and later-stage companies. The median pre-money valuation for Series A, B, and C rounds increased between 18% and 22% compared to 2017, while Series D rounds dropped below the 2017 levels but remained high relative to prior years.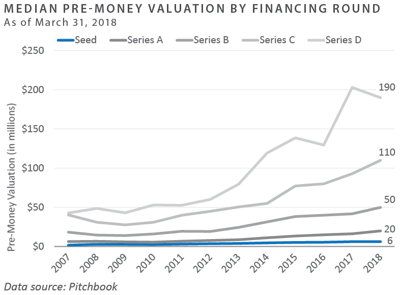 Venture funds invested $52 billion across nearly 2,300 companies in the first quarter of 2018. This amount puts 2018 on a pace well ahead of recent years. The number of companies receiving funding remained relatively steady over the last four years, reflecting the larger financings and increasing involvement of other sources of funding for venture-backed companies. These include strategic or corporate investment, public equity funds making crossover investments in private companies, co-investments, and other sources of capital.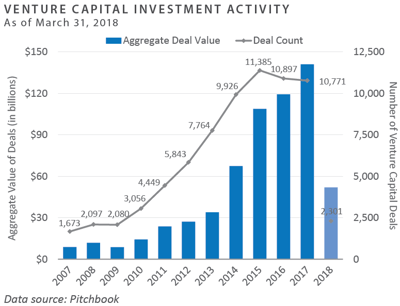 Exit Environment
Exit activity in venture-backed companies slowed in the first quarter of 2018, continuing the decline since the 2015 peak. Both the number of acquisitions (trade sales) and the number of initial public offerings (IPOs) were down from last year's level. While the number of exits declined, the aggregate value of those exits in the first quarter was strong and slightly ahead of 2017. There are also signs of a strong pipeline of IPO activity in the coming quarters.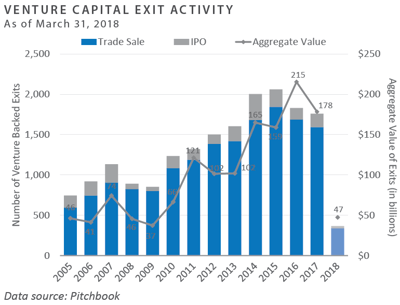 Performance
Venture fund performance by vintage year rose steadily from 2005 to 2011, but has since moderated. More recent vintages are not yet fully realized, and the most recent vintages are not yet fully deployed.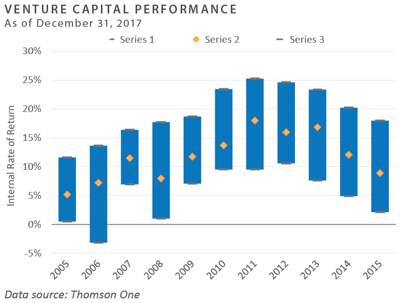 Conclusion
Valuations and financing rounds have increased significantly in recent years as investor capital has flowed into venture funds. Performance in the post-Global Financial Crisis vintage years has been solid but remains significantly unrealized. Longer hold periods have been supported by large venture funds and other sources of capital.
1, 2 Pitchbook, data as of December 31, 2017
Buyouts
Fundraising and Investments
During the first quarter of 2018, global leveraged buyout funds raised more than $64 billion of aggregate capital commitments, which was roughly in line with fundraising data during same time period in 2017.1

Approximately $23 billion, or 35% of the capital, was raised by North American-focused buyout funds. Roughly $34 billion, or 52% of the capital, was raised for European-focused funds. The rest of world represented approximately 12% of aggregate capital commitments raised. This is not surprising given that control equity transactions are more common in North America and Europe.2

Over the last 10 years, capital commitments have become more concentrated in the largest funds. Since 2008, the average global buyout fund raised has grown from roughly $650 million to $1.4 billion.³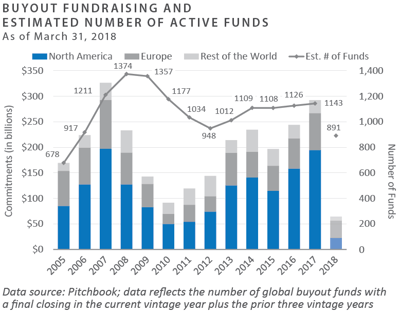 Investment Activity
During the first quarter, the average purchase price multiple for middle-market buyout transactions was 10.5x earnings before interest, taxes, depreciation and amortization (EBITDA). Leverage ratios remained relatively constant. According to S&P Capital IQ, the average debt multiple for middle market LBOs was roughly 5.4x EBITDA, below the 2007 peak of 5.9x EBITDA.4

Equity contributions in large buyout transactions remained steady for the quarter at roughly 40%. The peak was 46% in 2009 when financing was scarce, and the low point was in 2007 when the ratio dipped below 30%. Equity contributions in middle market transactions were little changed for the quarter, at 43%.5 It is important to note, however, that the S&P Capital IQ data represents only a sample set of leverage buyout transactions executed during a given time period.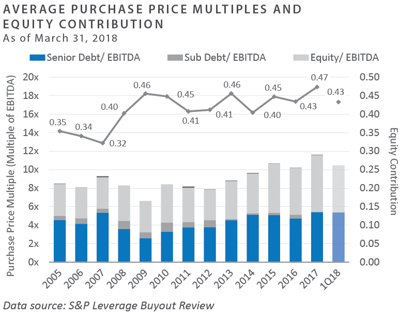 Exit Activity
Approximately $134 billion of value was generated by 510 private equity-backed exits during the first quarter. Despite a much slower exit market than in recent years, activity is still on par with the 10-year average. According to Pitchbook, one reason for the decline is that private equity sponsors are struggling to find strategic acquirers for portfolio companies.6

Trade sales to strategic or financial acquirers represented the majority of global buyout-backed exits for the quarter. Initial public offerings (IPO) accounted for roughly 7% of the aggregate number of exits.7

Since the Global Financial Crisis, median hold periods of private equity investments have increased from roughly three-to five years. Longer hold periods are likely due to private equity firms' increased emphasis on add-ons and operational improvements to drive value creation.8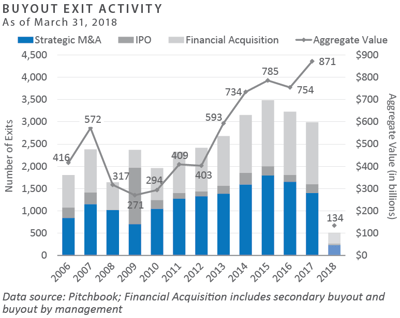 Performance
Performance has been strong on a one-, three-, five-, and 10-year basis, with time-weighted returns of 18.5%, 12.2%, 14.1%, and 9.0%, respectively.9

The dispersion of returns between top- and lower-quartile funds has consistently been over 800 basis points, demonstrating the importance of manager selection.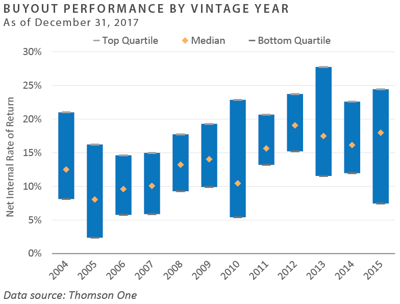 Conclusion
Robust fundraising and elevated purchase price multiples give reason for concern. Manager discipline and operational/sector expertise is critical to generating premium returns, which is why FEG continues to look for managers with clear competitive advantages and investment philosophies built on fundamental value.
1, 2, 3, 6, 7, 8 Pitchbook, data as of March 31, 2018
4, 5 S&P Leveraged Buyout Review – First Quarter 2018
9 Thomson One – Horizon Summary Report as of September 30, 2017
Private Debt
Fundraising
According to a 2018 Preqin Global Private Debt Report, as of January 2018, there were 335 private debt funds in the market seeking $149 billion across all private credit strategies, including a $10 billion vehicle offered by Goldman Sachs. At the other end of the spectrum, regional and strategic specialization has led to targeted fundraises from managers with expertise in a given region or target industry. While the level of competition for institutional capital remains as high as ever, private debt managers are benefitting from an unprecedented level of positive sentiment and increasing allocations from an expanding investor base. While insurance companies and pension funds have long been interested in private debt, interest has recently expanded to include endowments and foundations, healthcare organizations, family offices, and other yield seeking investors.

From a contrarian perspective, the amount of capital being raised for "direct lending" strategies can be cause for concern, as too much money chasing too few opportunities can lead to weak performance; however, the recognition that private lenders are merely replacing a portion of the capital previously provided by public financial institutions somewhat mitigates this concern. Although aggressive players at the margin will always push the limits, FEG believes that the opportunity for continued growth in private lending brought about by the secular change in risk activities undertaken by financial institutions remains robust.
Fundamental Backdrop
Fundamentals in the lower middle market remain favorable, although there has been a meaningful increase in purchase price multiples over the past decade. Earnings remain robust and well-supported by strong equity contributions. Rising interest rates could pressure future earnings of highly leveraged companies.

First quarter transaction volume in the U.S. middle market reached its highest level since 2014. Despite this strength, middle market volume remains significantly below the peak years of the late 1990s, and roughly a third of the pre-crisis (2007) pace.
Distressed Update
Distressed managers have been raising "war chests" over the past few years in preparation for the next distressed cycle, although many have wisely refrained from calling capital amid the strength of the current bull market. Indeed, the distressed ratio—bonds trading at more than 10% over Treasuries—remains well below historical average, measured at 3.0% as of April 27, 2018. Corporate balance sheets, however, may be vulnerable to a downturn. Nearly half of investment-grade companies are rated BBB, which is a record, and up from roughly one-third in 2009.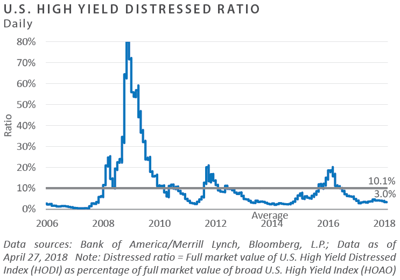 Conclusion
Demand for private debt strategies remains robust, as institutional investors continue to embrace the strategy amid lackluster return potential from public credit instruments.

Middle market fundamentals remain reasonably healthy, reflecting late cycle characteristics, and middle market volume remains well below peak volume/pre-recession years.

European distressed opportunities remain prevalent and growth has improved markedly. U.S. defaults for 2017 remained soft during the quarter, and a broad-based U.S. distressed opportunity remains in the offing absent a U.S. recession.
Private Real Estate
Real estate values, as measured by the National Council of Real Estate Investment Fiduciaries (NCREIF) Property Index (NPI), increased 1.7%, during the first quarter, following a 1.8% gain in the fourth quarter. On a trailing one-year basis, the index gained 7.1%, and the annualized five-year return was 10.1% as of March 31, 2018.1 The industrial sector led performance, with a 3.3% return for the quarter, exceeding all other major property types, including office (+1.8%), apartment (+1.5%), and hotels (+1.0%). The retail group was the weakest performing property type with a return of 0.7% in the first quarter.2

The most notable trend from a sector standpoint is the wide disparity in performance between retail and industrial properties. The industrial sector continues to benefit from strong demand for warehouse space from online retailers, while the retail sector has suffered from broad-based weakness due to store closures.

Property fundamentals were stable in the first quarter, with occupancy for the underlying NCREIF properties at 93.5%, a 16-year high.3 Similar to year-end 2017, industrial had the highest occupancy rate, at 96.4%, followed by retail at 93.0%. During the first quarter, rental rates declined 3.2% and net operating income (NOI) also fell by 2.5%, with office experiencing the largest decline in rental rates at 7.8%. Ultimately, declines in rents and NOI will begin to impact returns.4

A key theme in real estate over the past year has been the growing disparity between valuations for public and private real estate. Publicly-traded real estate securities (REITs) declined nearly 7% in the first quarter due primarily to concerns about the impact of rising interest rates. In aggregate, REITs now trade at high single-digit discounts to net asset value (NAV) and equity REITs are yielding more than BBB corporate bonds for the first time in a decade.5 Private real estate, on the other hand, continues to post positive returns with strong capital inflows, as seen by the $33 billion in new capital raised by private real estate funds during the first quarter.6 Going forward, private real estate funds could seek to leverage their dry powder to potentially take positions in, or take private, underperforming real estate securities and narrow the valuation gap.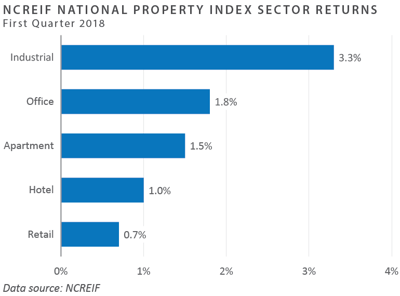 Capital Markets
New CMBS issuance rose 39% during the first quarter to $19.4 billion, compared to the $14 billion in issuance during the same period a year ago.7 Part of the reason for the increase compared to 2017 was uncertainty in the market related to risk retention rules that went into effect at the beginning of last year. New CMBS issuance dropped precipitously in the wake of the financial crisis after 2007, which has caused a decline in CMBS maturities and resulted in far fewer 10-year loans coming due this year.8 CMBS remains an attractive financing option for borrowers who want to maximize leverage, and with the recovery in the market, CMBS has become more competitive compared to agency debt on multifamily properties. In some cases, CMBS is the only option for borrowers seeking full-term interest-only debt at moderate leverage.9

Tighter bank regulations have constrained the financing available to certain commercial real estate projects, fostering an environment where specialty lenders such as real estate debt funds are tapped to provide tailored financing solutions to fill the gap in areas previously filled by other real estate lenders, including CMBS.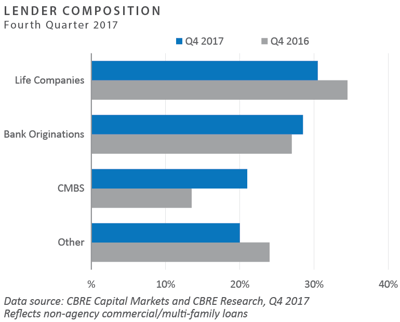 1, 2, 3, 4 www.ncreif.com April 25, 2018
5 Carlyle Group – 2018 Real Estate Outlook, April 2018
6 Preqin, April 2018
7 Trepp CMBS Research: Q1-2018 Issuance Recap, April 2018
8, 9 Teig, Beth, "CMBS Lenders Are Hungry For Deals"; Institutional Real Estate Investor, April 25, 2018
Natural Resources
Oil prices rose by 16.9% in the fourth quarter 2017 and by an additional 7.5% in the first quarter 2018, closing the first quarter at $64.94/ barrel, up from $60.42/barrel at the end of 2017.1 Tensions in the Middle East continued to influence the market's bullish sentiment. Oil price volatility has been fueled by the likelihood that President Trump will pull out of the Iranian nuclear deal and reinstate energy sanctions on Iran.2 The International Energy Agency's (IEA) overall view of global demand and supply growth in 2018 was unchanged. Early in 2018, stronger growth in the U.S. was partially offset by weaker growth in China. Globally, the IEA expects oil demand to grow 1.5 mb/d in 2018. In terms of supply, IEA's outlook for non-OPEC growth remains unchanged at 1.8 mb/d. Finally, IEA forecasts that U.S. crude production in 2018 will increase by 1.3 mb/d versus 2017.3

Natural gas prices declined 7.5% during the first quarter, closing at $2.73/MMBtu, compared to $2.95/MMBtu at the end of the 2017.4 For 2018, the market is cautious about natural gas prices due to the wave of upcoming infrastructure buildouts expected in the Appalachian Basin. Approximately 8.6 Bcf/d of new pipeline infrastructure is currently under construction in the Appalachian Basin, with another 4 Bcf/d authorized. Additionally, the ramp-up in oil drilling is expected to drive substantial associated gas growth, causing downward pressure on gas prices. In the medium to long term, supply and demand support may become more balanced due to rising industrial demand, LNG exports, increased power demand (coal-to-gas switching), and increased exports to Mexico.5

According to energy services firm Baker Hughes, the U.S. oil rig count ended the first quarter at 797 rigs, compared to 747 at the end of the year.6 On a year-over-year basis, the total U.S. oil rig count increased 20% to 135. Drillers have followed through on plans to boost spending on new wells, encouraged by crude prices rising toward their highest levels in nearly three years. Despite the increase, the rig count remains well below the peak of over 1,600 rigs in the fall of 2014. Technological advances and enhanced completion techniques have increased the number of wells per rig, however, which has increased the drilling efficiency. The U.S. total natural gas rig count rose slightly from 182 rigs at year-end to 194 at the end of the first quarter.7

The total number of mergers and acquisitions deal volume declined by 63 deals in the first quarter 2018, a 7% decrease from the fourth quarter. However, year-over-year, the first quarter deal volume rose 19%, making it the strongest first quarter deal volume since 2015. The most significant difference between this first quarter 2018 and first quarter 2017 is that the risk tolerance for transformational deals has softened. Historically, the first quarter is a slow quarter for deal volume. One notable transaction in the first quarter was Concho's purchase of RSP Permian for $9.5 billion.8 The fundraising environment for private energy continues to see increasing concentration in larger energy managers. Firms like EnCap, Natural Gas Partners, and EIG are in the market, raising multi-billion dollar funds.9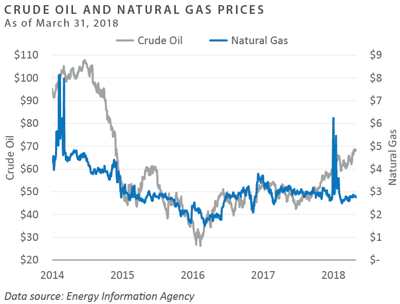 1, 4 CoreCommodity Quarterly Letter – March 31, 2018
2, 5 EnCap Quarterly Letter,March 31, 2018
3 International Energy Agency, www.iea.org
6, 7 www.bakerhughes.com
8 PWC Insights – U.S. Oil and Gas Deals – March 2018
9 Preqin Quarterly Update, Q1 2018
This report was prepared by Fund Evaluation Group, LLC (FEG), a federally registered investment adviser under the Investment Advisers Act of 1940, as amended, providing non-discretionary and discretionary investment advice to its clients on an individual basis. Registration as an investment adviser does not imply a certain level of skill or training. The oral and written communications of an adviser provide you with information about which you determine to hire or retain an adviser. Fund Evaluation Group, LLC, Form ADV Part 2A & 2B can be obtained by written request directly to: Fund Evaluation Group, LLC, 201 East Fifth Street, Suite 1600, Cincinnati, OH 45202, Attention: Compliance Department.
The information herein was obtained from various sources. FEG does not guarantee the accuracy or completeness of such information provided by third parties. The information in this report is given as of the date indicated and believed to be reliable. FEG assumes no obligation to update this information, or to advise on further developments relating to it. FEG, its affiliates, directors, officers, employees, employee benefit programs and client accounts may have a long position in any securities of issuers discussed in this report.
Index performance results do not represent any managed portfolio returns. An investor cannot invest directly in a presented index, as an investment vehicle replicating an index would be required. An index does not charge management fees or brokerage expenses, and no such fees or expenses were deducted from the performance shown.
Neither the information nor any opinion expressed in this report constitutes an offer, or an invitation to make an offer, to buy or sell any securities.
Any return expectations provided are not intended as, and must not be regarded as, a representation, warranty or predication that the investment will achieve any particular rate of return over any particular time period or that investors will not incur losses.
Past performance is not indicative of future results.
Investments in private funds are speculative, involve a high degree of risk, and are designed for sophisticated investors.
An investor could lose all or a substantial amount of his or her investment. Private capital funds' fees and expenses may offset private capital funds' profits. Private capital funds are not required to provide periodic pricing or valuation information to investors except as defined in the fund documents. Private capital funds may involve complex tax structures and delays in distributing important tax information. Private capital funds are not subject to the same regulatory requirements as mutual funds. Private capital funds are not liquid and require investors to commit to funding capital calls over a period of several years; any default on a capital call may result in substantial penalties and/or legal action. Private capital fund managers have total authority over the private capital funds. The use of a single advisor applying similar strategies could mean lack of diversification and, consequently, higher risk.
The S&P 500 Index is capitalization-weighted index of 500 stocks. The S&P 500 Index is designed to measure performance of the broad domestic economy through changes in the aggregate market value of 500 stocks representing all major industries.
The NCREIF Property Index is a quarterly time series composite total rate of return measure of investment performance of a very large pool of individual commercial real estate properties acquired in the private market for investment purposes only.
HFRI ED: Distressed/Restructuring Index
Distressed/Restructuring strategies which employ an investment process focused on corporate fixed income instruments, primarily on corporate credit instruments of companies trading at significant discounts to their value at issuance or obliged (par value) at maturity as a result of either formal bankruptcy proceeding or financial market perception of near term proceedings. Managers are typically actively involved with the management of these companies, frequently involved on creditors' committees in negotiating the exchange of securities for alternative obligations, either swaps of debt, equity or hybrid securities. Managers employ fundamental credit processes focused on valuation and asset coverage of securities of distressed firms; in most cases portfolio exposures are concentrated in instruments which are publicly traded, in some cases actively and in others under reduced liquidity but in general for which a reasonable public market exists. In contrast to Special Situations, Distressed Strategies employ primarily debt (greater than 60%) but also may maintain related equity exposure.
All data is as of March 31, 2018 unless otherwise noted.
Previous
Next