The spread of the novel coronavirus (COVID-19) and its accompanying headwinds to near-term global growth prospects sent ripples throughout the global investment landscape in late February, sparking a risk-off environment that helped send U.S. longer-term Treasury rates to fresh record lows.
The Federal Reserve (Fed) acted in early March by announcing an emergency 50 basis point (bp) cut to the federal funds rate (FFR) in order to ease financial conditions and stem looming disinflationary forces. The expected policy path implied by the bond market, however, points to additional near-term policy easing, with Treasury futures pointing the FFR back to the zero-bound in the coming months.
Domestic large cap (core) indices peaked on February 19 and experienced a sharp double-digit decline through early March, with similar downward pressure experienced across international equities. Fixed income markets have been the beneficiary of recent safe haven capital flows, particularly among rate-sensitive and longer duration sectors, while credit risk premiums have increased to near historical average norms. Real asset performance (ex-precious metals)—particularly among growth-sensitive sectors such as energy and industrial metals—continued to face challenges as investors recalibrated their risk exposures downward.
Market Outlook
AS OF MARCH 16, 2020
Given the rapidly changing news surrounding Covid-19 and the reactions of the markets and responses of global central banks, we are including the following updates to our Research Review:
For the second time in two weeks, the Federal Reserve (Fed) announced an emergency reduction in the federal funds rate, with a 100 bp decrease announced Sunday evening, March 15, bringing the updated range to 0.00 – 0.25%. The Fed also announced $700 billion of QE ($500 billion in Treasuries, $200 billion in mortgage-backed securities). U.S. equities reflected the market's panic at the news and made Monday, March 16 the second worst day in the history of the Dow Jones Industrial Average.
Already-elevated global equity volatility increased further last week, as global equities entered a technical bear market, declining at least 20% since peaking in mid-February. On a normalized cycle basis, the S&P 500 Index's recent sharp retracement has taken the index from more than three standard deviations above the bull market trend from 2009 to nearly two standard deviations below-trend through Friday.
The aggressive policy responses by the Fed amid the spread of COVID-19 have helped intensify the ongoing rally across U.S. Treasuries. As market participants have priced-in 0% short-term rates, a "bull steepening" of the yield curve has surfaced, a phenomenon that has historically preceded recessions.
The ongoing Treasury rally accelerated meaningfully last week, as well as into the early hours of futures trading on Monday morning, with newly-established record low yields across the longer-term portions of the Treasury yield curve. As of Sunday evening, the yield on the 10-Year Treasury Note had declined to 0.68%.
Credit markets have experienced YTD weakness, with the Bloomberg Barclays U.S. High Yield Index posting a total return loss of 8.8% through Friday, versus a gain of 2.4% for core bonds. High yield credit spreads have widened to more than 180 bp above the historical average, but below levels witnessed during the peak of the energy patch's 2015 – 2016 downturn.
The CBOE Volatility Index (VIX) closed Thursday at 75.47, the highest closing level since the Global Financial Crisis, before settling slightly to end the week. With Monday's trading, the VIX has remained elevated. Global equities have recently entered into a technical bear market, declining at least 20% since peaking in mid-February for both U.S. Large Cap and the MSCI ACWI.

The following information follows the typical format and is as of February 29, 2020, unless noted otherwise.
Economic Update
Federal Reserve Announces Emergency Rate Cut for the First Time Since 2008
On the morning of March 3, the Federal Reserve announced a 50 bp emergency reduction in the FFR, marking the first cut to the policy rate outside of a scheduled policy meeting since October 2008. The cut brings the new target range to 1.00–1.25% and represents 125 bp of policy easing by the Fed since launching their "mid cycle adjustment" in policy in July 2019. Fed Chairman Jerome Powell noted:
"The fundamentals of the U.S. economy remain strong. However, the coronavirus poses evolving risks to economic activity. In light of these risks and in support of achieving its maximum employment and price stability goals, the Federal Open Market Committee decided today to lower the target range for the federal funds rate by 1/2 percentage point, to 1 to 1-1/4 percent."
Despite the surprise reduction, prices on Treasury futures at the time of this publication have discounted a policy path by the Fed that is expected to take the FFR back to the zero-bound by summer and potentially stay near that level for the intermediate horizon.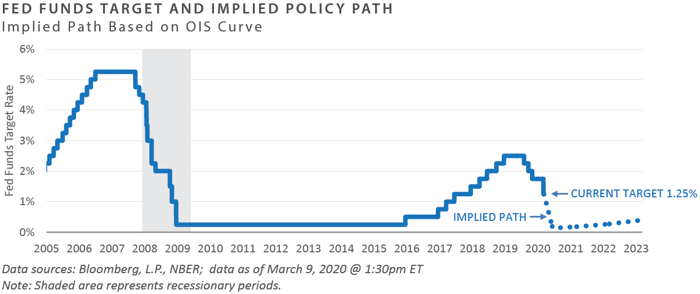 Both the Fed and market participants appear pessimistic that the global spread of COVID-19 will soon abate, with growing fears that the already shaky and historically lengthy economic expansion will falter in the coming months, as much of the angst has only recently begun to surface in survey-based sentiment measures. The disinflationary forces that accompany a growth slowdown—particularly if already elevated equity valuations witness a disorderly decline—have sent yields across the entire U.S. Treasury curve below 1% for the first time on record, and 10-year implied inflation expectations below 1% for the first time since 2009.
The recent U.S. economic data releases have painted a solid picture of where the economy has been, but where the economy is headed is what investors allocating incremental capital are most concerned about. Indeed, through February, the U.S. labor market reflected notable strength, with a 3.5% unemployment rate—a 50-year low—solid wage growth, and a robust payrolls backdrop. All eyes will be set on the coming months' key data releases for indications of whether investors—and the Fed—have overreacted to the spread of COVID-19, or whether the bond market is accurately reflecting a potential near-term turn in the U.S. business cycle from expansion to contraction.

To conclude, as the global spread of COVID-19 has intensified, risk markets have responded accordingly, punishing those asset classes and categories which seem to exhibit the most sensitivity to a protracted global economic slowdown despite a 50 bp emergency rate cut by the Fed. The ongoing rally across the Treasury market has accelerated meaningfully, sending longer-term Treasury yields to fresh record lows, with the potential to decline even further, should current futures positioning prove accurate.
Market Returns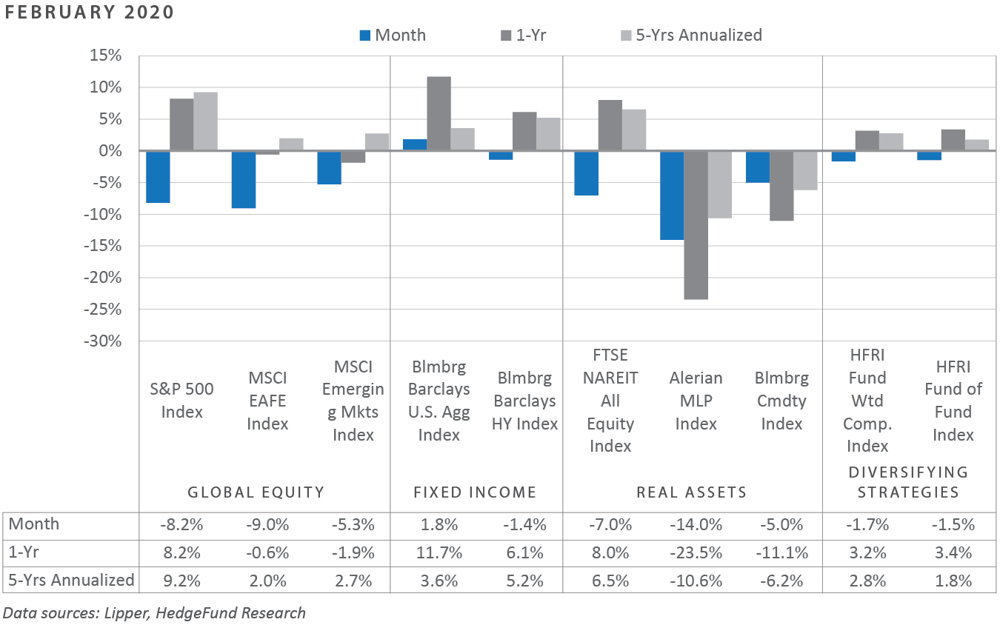 Global Equity
January's volatility continued through February, mostly due to sentiment around COVID-19. The MSCI ACWI and S&P 500 Index reached record highs on February 17 and February 19, respectively, but both steeply declined into correction territory by month-end—the worst decline for these indices since October 2008.

All global indices posted negative returns for the month, with Japan bearing the brunt of the pain and the rest of Asia shouldering the least. Chinese stocks were more resilient in part due to the partial containment of the virus. The economic data from Japan surprised to the downside, with GDP falling at an annualized rate of 6.3%. COVID-19 is expected to further affect the economy in terms of tourism and trade, the anticipation of which caused investor sentiment to worsen during the month.

While economic data was healthy in the U.S., equity market sentiment was negative due to fear over the virus. All sectors in the Russell 3000 Index posted negative returns; however, the energy sector fared much worse due to falling oil prices as a result of the virus induced demand shock.

The eurozone had a mild decline, reflecting the trend of GDP growth as concerns eased around the trade war, Brexit, and emission concerns in the auto industry; however, uncertainty is expected to increase given the vulnerability of Europe's economy to global supply chain disruptions. COVID-19 has yet to significantly impact the UK, but there is ongoing uncertainty regarding the post-Brexit trade negotiations which begin this month.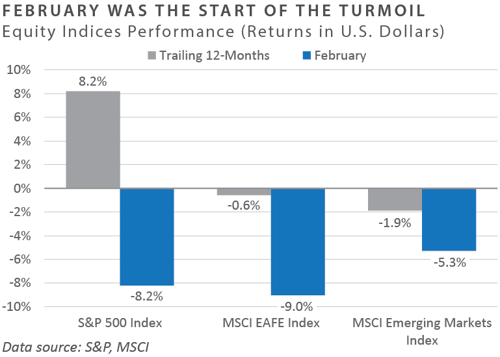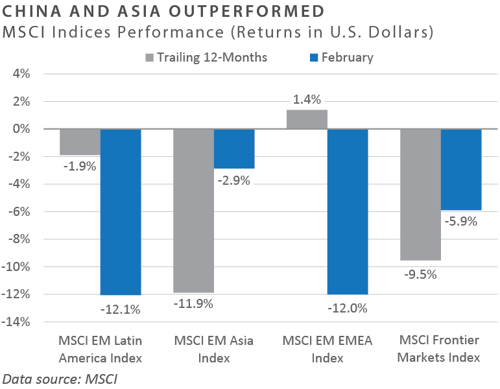 Fixed Income
U.S. Treasury yields plummeted in February and early March amid a flight-to-quality, as investors sought the safety of the U.S. government in an environment otherwise clouded by unknowns related to COVID-19.

The evolving market conditions prompted an emergency inter-meeting 50 bp rate cut by the Fed, the first cut of this magnitude since the Great Financial Crisis in 2008. While yields increased momentarily, they quickly continued their downward trend in the days that followed. Further Fed action remains unknown, though market participants are pricing in multiple additional cuts in 2020.

As expected in such an environment, government securities have outperformed all other fixed income sectors, particularly lower quality segments of the market such as high yield and bank loans.

In spite of the falling yields, credit spreads have been slow to react; much of the spread widening has been caused by the movement of the base—or Treasury yields—lower. The remainder of the move can largely be attributed to specific sectors of the high yield market, such as energy.

Investors reacted by pulling over $4 billion out of high-yield funds the week ending February 26, with HYG and JNK—two of the largest high-yield exchange-traded funds (ETFs)—experiencing their biggest redemption requests ever, at $1.6 billion and nearly $900 million, respectively.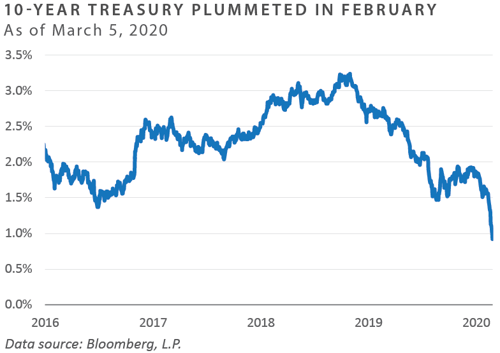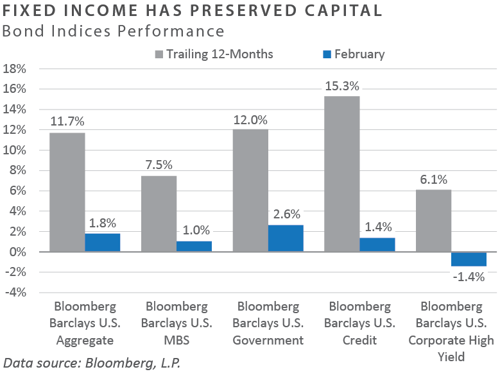 Real Assets
REAL ESTATE
U.S. REITs closed the month with negative returns due to continued economic uncertainty and the yet-to-be-determined effects of COVID-19.

YTD performance across subsectors has been negative across the board, with the exception of infrastructure.

Lodging/resorts was greatly affected by COVID-19, and retail continued to struggle with declining consumer spending at traditional retail outlets.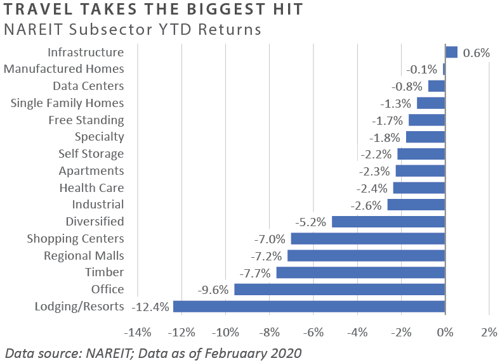 NATURAL RESOURCES
Crude oil saw declines over the month, closing at $49.78/bbl for a one-month contract, which was down 3.5% from January's close. Oil pricing continued to suffer from supply/demand concerns and in early March, a breakdown in production talks between Saudi Arabia and Russia sent oil prices plummeting.

The future pricing curve is seeing a fairly flat spread between one- and three-month contracts, suggesting the market's view of a short-term impact from the virus on oil demand in an already soft price environment.

Natural gas closed the month at $1.68/MMBtu for a one-month contract, down 8.5% from January.

Commodity prices, as measured by the Bloomberg Commodity Index (BCOM), ended the month down 5.1%, attributable to a broad decline in the commodities outlook.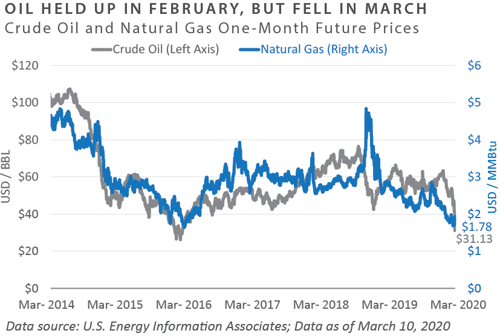 MASTER LIMITED PARTNERSHIPS
MLPs, as measured by the Alerian MLP Total Return Index, fell 14% in February on the back of continued commodity market weakness, but fell much further in early March with intra-day swings of 10%+ to both the upside and downside.

Despite positive inventory reports that lifted both oil and natural gas prices, midstream joined one of the biggest and broadest equity selloff events in the recent past in late February.

As of the end of February, the current yield stood at approximately 11% for MLPs and 7% for the broader midstream index, but those yields spiked in early March amid the drop in oil prices.


Diversifying Strategies
Market volatility spiked in February as concerns over COVID-19 introduced significant headwinds. The VIX breached the 40-point mark, its highest level since August 2015. Relative value managers with short positions in equity volatility suffered losses towards the end of the month.

Global macro strategies were adversely impacted by exposure to rates and emerging markets within the discretionary space. Trend followers finished the month on a low note, impacted by the severe market swings affecting equity markets in the last week of February.

The merger pipeline experienced a significant decrease in deal progress due to limited announcements and postponed closure dates. The uncertainty sparked by COVID-19 shook the confidence of corporations. Ultimately, event-driven managers saw their opportunity set compress for the foreseeable future.
DISCLOSURES
This report was prepared by FEG (also known as Fund Evaluation Group, LLC), a federally registered investment adviser under the Investment Advisers Act of 1940, as amended, providing non-discretionary and discretionary investment advice to its clients on an individual basis. Registration as an investment adviser does not imply a certain level of skill or training. The oral and written communications of an adviser provide you with information about which you determine to hire or retain an adviser. Fund Evaluation Group, LLC, Form ADV Part 2A & 2B can be obtained by written request directly to: Fund Evaluation Group, LLC, 201 East Fifth Street, Suite 1600, Cincinnati, OH 45202, Attention: Compliance Department.
The information herein was obtained from various sources. FEG does not guarantee the accuracy or completeness of such information provided by third parties. The information in this report is given as of the date indicated and believed to be reliable. FEG assumes no obligation to update this information, or to advise on further developments relating to it. FEG, its affiliates, directors, officers, employees, employee benefit programs and client accounts may have a long position in any securities of issuers discussed in this report.
Index performance results do not represent any managed portfolio returns. An investor cannot invest directly in a presented index, as an investment vehicle replicating an index would be required. An index does not charge management fees or brokerage expenses, and no such fees or expenses were deducted from the performance shown.
Neither the information nor any opinion expressed in this report constitutes an offer, or an invitation to make an offer, to buy or sell any securities.
Any return expectations provided are not intended as, and must not be regarded as, a representation, warranty or predication that the investment will achieve any particular rate of return over any particular time period or that investors will not incur losses.
Past performance is not indicative of future results.
Investments in private funds are speculative, involve a high degree of risk, and are designed for sophisticated investors.
All data is as of February 29, 2020 unless otherwise noted.
INDICES
The Alerian MLP Index is a composite of the 50 most prominent energy Master Limited Partnerships that provides investors with an unbiased, comprehensive benchmark for this emerging asset class.
Barclays Capital Fixed Income Indices is an index family comprised of the Barclays Capital Aggregate Index, Government/Corporate Bond Index, Mortgage-Backed Securities Index, and Asset-Backed Securities Index, Municipal Index, High-Yield Index, and others designed to represent the broad fixed income markets and sectors within constraints of maturity and minimum outstanding par value. See https://ecommerce.barcap.com/indices/index.dxml for more information.
The CBOE Volatility Index (VIX) is an up-to-the-minute market estimate of expected volatility that is calculated by using real-time S&P 500 Index option bid/ask quotes. The Index uses nearby and second nearby options with at least 8 days left to expiration and then weights them to yield a constant, 30-day measure of the expected volatility of the S&P 500 Index. FTSE Real Estate Indices (NAREIT Index and EPRA/NAREIT Index) includes only those companies that meet minimum size, liquidity and free float criteria as set forth by FTSE and is meant as a broad representation of publicly traded real estate securities. Relevant real estate activities are defined as the ownership, disposure, and development of income-producing real estate. See www.ftse.com/Indices for more information.
HFRI Monthly Indices (HFRI) are equally weighted performance indexes, compiled by Hedge Fund Research Inc. (HFX), and are used by numerous hedge fund managers as a benchmark for their own hedge funds. The HFRI are broken down into 37 different categories by strategy, including the HFRI Fund Weighted Composite, which accounts for over 2000 funds listed on the internal HFR Database. The HFRI Fund of Funds Composite Index is an equal weighted, net of fee, index composed of approximately 800 fund- of- funds which report to HFR. See www.hedgefundresearch.com for more information on index construction.
J.P. Morgan's Global Index Research group produces proprietary index products that track emerging markets, government debt, and corporate debt asset classes. Some of these indices include the JPMorgan Emerging Market Bond Plus Index, JPMorgan Emerging Market Local Plus Index, JPMorgan Global Bond Non-US Index and JPMorgan Global Bond Non-US Index. See www.jpmorgan.com for more information.
Merrill Lynch high yield indices measure the performance of securities that pay interest in cash and have a credit rating of below investment grade. Merrill Lynch uses a composite of Fitch Ratings, Moody's and Standard and Poor's credit ratings in selecting bonds for these indices. These ratings measure the risk that the bond issuer will fail to pay interest or to repay principal in full. See www.ml.com for more information.
Morgan Stanley Capital International – MSCI is a series of indices constructed by Morgan Stanley to help institutional investors benchmark their returns. There are a wide range of indices created by Morgan Stanley covering a multitude of developed and emerging economies and economic sectors. See www.morganstanley.com for more information.
Russell Investments rank U.S. common stocks from largest to smallest market capitalization at each annual reconstitution period (May 31). The primary Russell Indices are defined as follows: 1) the top 3,000 stocks become the Russell 3000 Index, 2) the largest 1,000 stocks become the Russell 1000 Index, 3) the smallest 800 stocks in the Russell 1000 Index become the Russell Midcap index, 4) the next 2,000 stocks become the Russell 2000 Index, 5) the smallest 1,000 in the Russell 2000 Index plus the next smallest 1,000 comprise the Russell Microcap Index. See www.russell.com for more information.
S&P 500 Index consists of 500 stocks chosen for market size, liquidity and industry group representation, among other factors by the S&P Index Committee, which is a team of analysts and economists at Standard and Poor's. The S&P 500 is a market-value weighted index, which means each stock's weight in the index is proportionate to its market value and is designed to be a leading indicator of U.S. equities, and meant to reflect the risk/return characteristics of the large cap universe. See www.standardandpoors.com for more information.
Information on any indices mentioned can be obtained either through your consultant or by written request to information@feg.com.