February market activity witnessed converging correlations to the downside across nearly every corner of the global investment landscape, as global equities, fixed income (both high quality and below investment grade), and real assets generally produced negative returns. Weak performance across both risk and high-quality sectors was likely fueled by the spike in U.S. Treasury rates, as well as the early-February short squeeze in levered short-volatility strategies despite ongoing indications that underlying economic fundamentals remain in relatively healthy standing. Asset categories that tend to exhibit the most interest rate sensitivity, such as Real Estate Investment Trusts (REITs), utilities, and long duration government bonds, witnessed the most elevated downside volatility during the month.


Economic Update
Trade War Fears Permeate Global Investment Markets
President Donald Trump announced trade tariffs on imports of steel and aluminum on March 1, following through on presidential campaign promises aimed at cracking down on "unfair" trade practices. The White House announced a 25% tariff will be levied on steel imports and a 10% tariff placed on aluminum imports. The newly-announced tariffs have the potential to lead to tit-for-tat trade wars, particularly with counties with economic sensitivities to U.S.-related trade, such as China, Canada, Mexico, as well as European countries.
The import tariffs are likely to serve as a tailwind behind import price inflation, which tends to have a fairly high correlation with broader consumer price inflation, as the U.S. perennially runs large trade deficits (i.e., importing more than exporting). However, higher import prices may lead to incrementally slowing growth in the pace of aggregate import volume, in turn narrowing the trade deficit and supporting the net-export component of
U.S. GDP.
As global trade is a zero-sum dynamic, the potential for narrower trade deficits in the U.S. comes at the expense of the U.S.'s trading partners, who are likely to witness headwinds to current trade surplus levels. For instance, China has already witnessed substantial downward pressure on their current account balance, which has declined from more than 10% of GDP in 2007, to just 1.4% by the end of 2017. Meanwhile the U.S.'s current account (deficit) has narrowed greatly during the same period. A further narrowing of the U.S. current account balance, driven by tariff-influenced contraction in the trade deficit, has the potential to apply additional downward pressure to China's current account surplus.

The micro implications of higher steel and aluminum import prices are more nuanced, but may manifest in higher building costs for both residential and commercial structures, potentially impacting real estate related investments. Additionally, increasing industrial metals prices may impact energy-related assets, as the incremental costs to build the heavy machinery used in the exploration of petroleum and natural gas may rise further. Moreover, as both steel and aluminum are heavily used in the auto manufacturing process, the U.S. auto industry is likely to witness input price inflation, which will potentially pass on to the consumer.
In summary, President Trump announced trade tariffs on imports of steel and aluminum on March 1, sparking renewed concerns for global "trade wars." Higher import costs may lead to a narrowing of the U.S. trade deficit, likely at the expense of certain U.S. trading partners. Higher import costs for the U.S. have the likelihood of supporting broader consumer price inflation, which could drive nominal interest rates higher.


Market Returns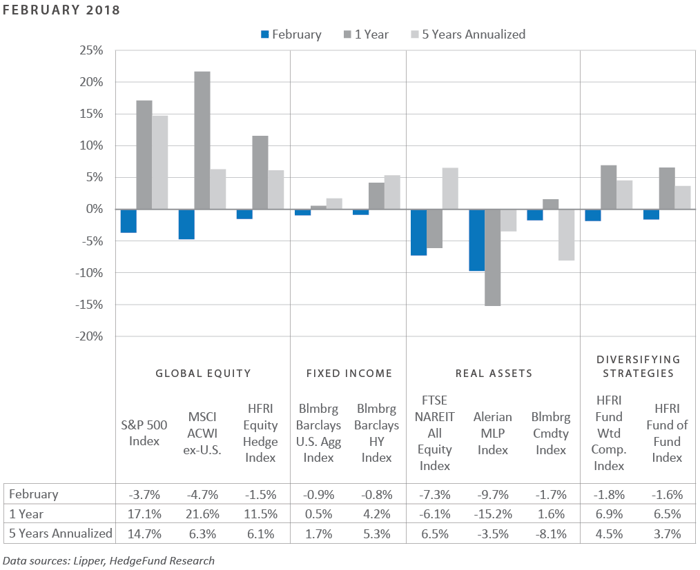 Global Equity
February served as a reminder to investors that what goes up must come down. The VIX, which measures the market's expectations for future 30-day volatility, increased to its highest levels since 2015. Of the 12 major stock exchanges around the world, 10 ended the month in negative territory following a global sell-off in the beginning of February. For example, the Japanese stock market fell 4.7% on February 6, its biggest one-day fall since 1990. The S&P 500 Index declined 10.1% during the first week of February; the last correction was February 2016, when the S&P 500 declined 10.5%.

The U.S. markets were spooked in early February by signs of inflationary pressure given drastic corporate tax cuts, which some corporations passed onto employees via higher wages or one-time bonuses. Fears of higher inflation caused investors to worry that the Federal Reserve would take a more hawkish stance and raise rates at a pace higher than previously expected.

Many investors expressed that the recent market volatility was a return to normality rather than a deterioration of an economic variable causing a deeper market sell-off.
The rally that directly followed the sell-off and mitigated some of the early-February declines served as evidence that investor sentiment had not turned to fear.

During the Bank of England's February inflation report press conference, officials sent a hawkish signal to the market by mentioning that interest rates would need to rise "somewhat earlier and by a somewhat greater extent." This statement indicated that the Fed's British counterpart may not want to fall too far behind the Fed's rate hikes and weighed on international equity markets.

Emerging market equities were not immune to the U.S. equity market declines during the first half of February. The MSCI Emerging Markets Index was down nearly 3.3%, with Asian stocks leading the fall and declining around 4% amid increasing trade tensions between China and the U.S. In India, concerns over the quality of loans and a $2 billion fraud revelation sent financial stocks downward.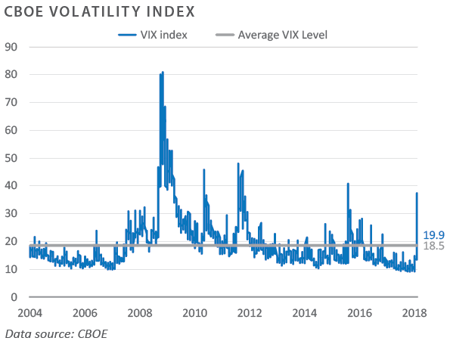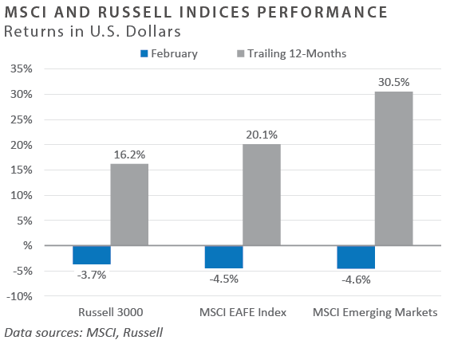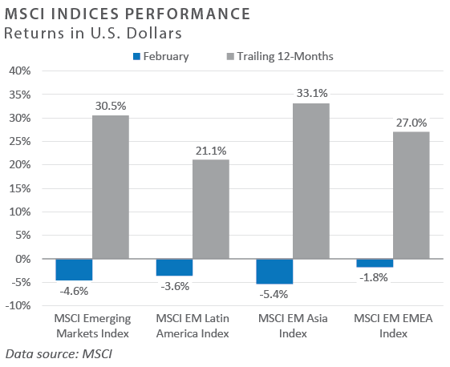 Fixed Income
Market volatility early in the month that stemmed from concerns of more aggressive actions by the Fed affected most fixed income sectors, leading to negative returns throughout fixed income markets.

The minutes of the Federal Open Market Committee, released in the middle of the month, suggested an optimistic outlook and supported gradual normalization of monetary policy.

Internationally, the impact of U.S. tax reform continued to affect the market, as short maturity government securities and corporate fixed income experienced selling pressures as cash has begun to be repatriated to the U.S.

Credit spread levels remained relatively stable over the month in spite of the increase in Treasury yields at the start of the month.

Early in the month, fixed income strategies in the U.S. saw inflows into both "risk-on" and higher quality assets, while European high yield saw fund outflows accelerate over the month.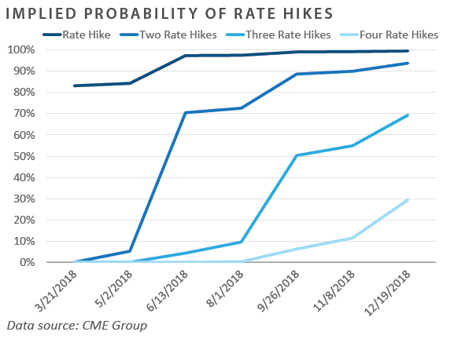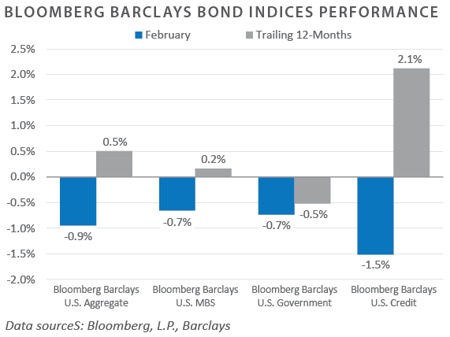 Real Assets
REAL ESTATE
U.S. REIT returns declined in February, amid expectations for rising short-term interest rates that have the potential to reduce the attractiveness of REITs as fixed income substitutes. Additionally, negative fund flows and an emphasis on sentiment regarding the maturity of the real estate cycle affected the market.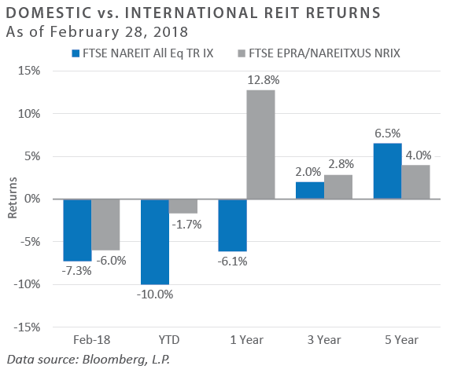 NATURAL RESOURCES
Commodity prices declined slightly due in part to the similarly slight gain in the U.S. dollar, in which commodities are priced.

February saw gains in agriculture, which has notably been the major sector left behind in the commodity recovery. The shift in U.S. grain production that favored soybeans and corn ethanol production over animal feed has helped stabilize prices.

The energy complex struggled during the month due to abnormally warm weather that pressured natural gas and heating oil prices following a frigid January.

The metals sector was essentially unchanged through February, but turmoil is expected in March following the March 1 tariff announcement.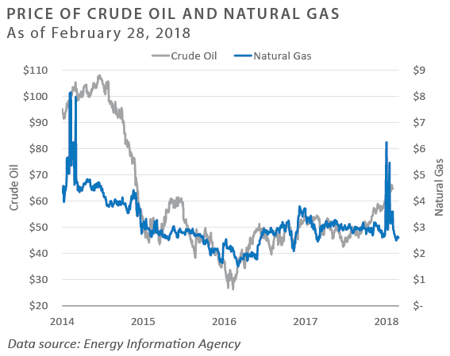 Diversifying Strategies
Global macro managers generated disparate performance for the month, with discretionary strategies tending to outperform systematic strategies. Discretionary managers broadly benefited from higher global rates, while systematic trend followers were whipsawed by the early February reversals across asset classes.

Event-driven managers benefited from exposures to two merger arbitrage deals. The takeover target of a media merger received a competing bid that represented a significant increase over the initial suitor's offer. Additionally, exposure to a semiconductor company that received an increased takeover bid profited as the deal became more likely.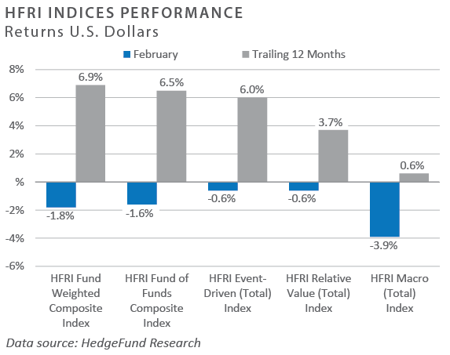 DISCLOSURES
This report was prepared by FEG (also known as Fund Evaluation Group, LLC), a federally registered investment adviser under the Investment Advisers Act of 1940, as amended, providing non-discretionary and discretionary investment advice to its clients on an individual basis. Registration as an investment adviser does not imply a certain level of skill or training. The oral and written communications of an adviser provide you with information about which you determine to hire or retain an adviser. Fund Evaluation Group, LLC, Form ADV Part 2A & 2B can be obtained by written request directly to: Fund Evaluation Group, LLC, 201 East Fifth Street, Suite 1600, Cincinnati, OH 45202, Attention: Compliance Department.
The information herein was obtained from various sources. FEG does not guarantee the accuracy or completeness of such information provided by third parties. The information in this report is given as of the date indicated and believed to be reliable. FEG assumes no obligation to update this information, or to advise on further developments relating to it. FEG, its affiliates, directors, officers, employees, employee benefit programs and client accounts may have a long position in any securities of issuers discussed in this report.
Index performance results do not represent any managed portfolio returns. An investor cannot invest directly in a presented index, as an investment vehicle replicating an index would be required. An index does not charge management fees or brokerage expenses, and no such fees or expenses were deducted from the performance shown.
Neither the information nor any opinion expressed in this report constitutes an offer, or an invitation to make an offer, to buy or sell any securities.
Any return expectations provided are not intended as, and must not be regarded as, a representation, warranty or predication that the investment will achieve any particular rate of return over any particular time period or that investors will not incur losses.
Past performance is not indicative of future results.
Investments in private funds are speculative, involve a high degree of risk, and are designed for sophisticated investors.
All data is as of February 28, 2018 unless otherwise noted.
INDICES
The Alerian MLP Index is a composite of the 50 most prominent energy Master Limited Partnerships that provides investors with an unbiased, comprehensive benchmark for this emerging asset class.
Barclays Capital Fixed Income Indices is an index family comprised of the Barclays Capital Aggregate Index, Government/Corporate Bond Index, Mortgage-Backed Securities Index, and Asset-Backed Securities Index, Municipal Index, High-Yield Index, and others designed to represent the broad fixed income markets and sectors within constraints of maturity and minimum outstanding par value. See https://ecommerce.barcap.com/indices/index.dxml for more information.
The CBOE Volatility Index (VIX) is an up-to-the-minute market estimate of expected volatility that is calculated by using real-time S&P 500 Index option bid/ask quotes. The Index uses nearby and second nearby options with at least 8 days left to expiration and then weights them to yield a constant, 30-day measure of the expected volatility of the S&P 500 Index. FTSE Real Estate Indices (NAREIT Index and EPRA/NAREIT Index) includes only those companies that meet minimum size, liquidity and free float criteria as set forth by FTSE and is meant as a broad representation of publicly traded real estate securities. Relevant real estate activities are defined as the ownership, disposure, and development of income-producing real estate. See www.ftse.com/Indices for more information.
HFRI Monthly Indices (HFRI) are equally weighted performance indexes, compiled by Hedge Fund Research Inc. (HFX), and are used by numerous hedge fund managers as a benchmark for their own hedge funds. The HFRI are broken down into 37 different categories by strategy, including the HFRI Fund Weighted Composite, which accounts for over 2000 funds listed on the internal HFR Database. The HFRI Fund of Funds Composite Index is an equal weighted, net of fee, index composed of approximately 800 fund- of- funds which report to HFR. See www.hedgefundresearch.com for more information on index construction.
J.P. Morgan's Global Index Research group produces proprietary index products that track emerging markets, government debt, and corporate debt asset classes. Some of these indices include the JPMorgan Emerging Market Bond Plus Index, JPMorgan Emerging Market Local Plus Index, JPMorgan Global Bond Non-US Index and JPMorgan Global Bond Non-US Index. See www.jpmorgan.com for more information.
Merrill Lynch high yield indices measure the performance of securities that pay interest in cash and have a credit rating of below investment grade. Merrill Lynch uses a composite of Fitch Ratings, Moody's and Standard and Poor's credit ratings in selecting bonds for these indices. These ratings measure the risk that the bond issuer will fail to pay interest or to repay principal in full. See www.ml.com for more information.
Morgan Stanley Capital International – MSCI is a series of indices constructed by Morgan Stanley to help institutional investors benchmark their returns. There are a wide range of indices created by Morgan Stanley covering a multitude of developed and emerging economies and economic sectors. See www.morganstanley.com for more information.
Russell Investments rank U.S. common stocks from largest to smallest market capitalization at each annual reconstitution period (May 31). The primary Russell Indices are defined as follows: 1) the top 3,000 stocks become the Russell 3000 Index, 2) the largest 1,000 stocks become the Russell 1000 Index, 3) the smallest 800 stocks in the Russell 1000 Index become the Russell Midcap index, 4) the next 2,000 stocks become the Russell 2000 Index, 5) the smallest 1,000 in the Russell 2000 Index plus the next smallest 1,000 comprise the Russell Microcap Index. See www.russell.com for more information.
S&P 500 Index consists of 500 stocks chosen for market size, liquidity and industry group representation, among other factors by the S&P Index Committee, which is a team of analysts and economists at Standard and Poor's. The S&P 500 is a market-value weighted index, which means each stock's weight in the index is proportionate to its market value and is designed to be a leading indicator of U.S. equities, and meant to reflect the risk/return characteristics of the large cap universe. See www.standardandpoors.com for more information.
Information on any indices mentioned can be obtained either through your consultant or by written request to information@feg.com.
Previous
Next