Generally, making asset allocation decisions on potential policy changes

as a consequence of

an election

is less than prudent, and we do not advocate portfolio changes on the basis of potential election outcomes. Nevertheless, elections set the fundamental tone of policy that dictates the playing field in which commerce and investment occur, so understanding policy is important.
Readers should understand that no political party has a monopoly on success of the United States and markets have performed well regardless of who is in charge. If any message is to be received from this presentation, this is the most important one.
To aid in the understanding of the fundamental underpinnings of the implications of the election, we address: Polls, Markets, and Party Control; and Economic Concerns and Policy Implications.
Polls, Markets, and Party Control
THE EQUITY MARKET AS A POLITICAL PUNDIT?
The return of the S&P 500 Index has been a better predictor of presidential election results than the pundits.

Since 1984, a positive return in the three months prior to election has preceded the incumbent party's reelection and a negative return has preceded a loss.

The accuracy of the S&P 500's return as a predictor has been 87% when going back to 1928.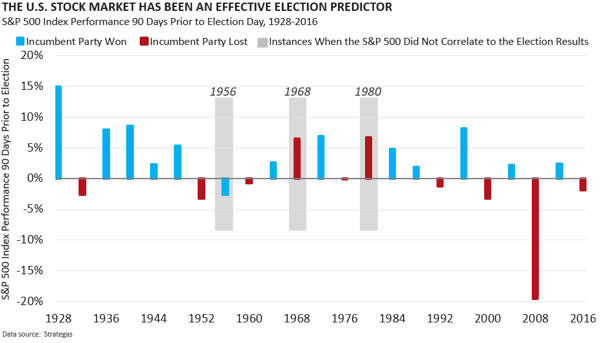 DOES PARTY CONTROL MATTER TO EQUITY MARKETS?
Investors should take solace in knowing that in most cases, equity market performance has been strong regardless of who controls the White House.

Having some level of partisan divide has historically been good in most cases, as negotiation is required to enact public policy and drastic changes are constrained.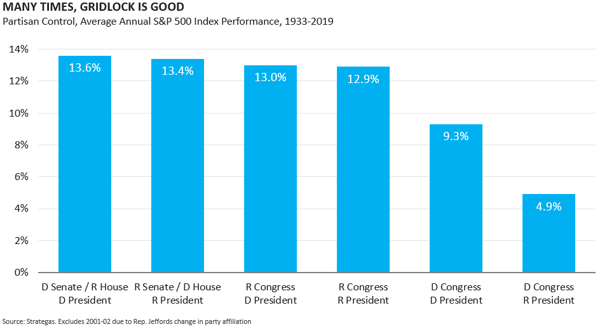 VOTING ABSENTEE or MAIL-IN BALLOT
Due to the COVID-19 pandemic, many more voters are expected to use absentee or mail-in voting, potentially delaying clarity in the results of the election.

The infrastructure and procedures to support absentee voting vary between the states, with some that have sound capabilities due to a long history of absentee voting, and other states with limited experience.

In 2000, during the "hanging chad" debate, the U.S. equity market declined approximately 5% before resolution of the presidential election. This market decline was vastly overshadowed by the bursting of the technology bubble earlier in 2000 and the recession that followed in 2001.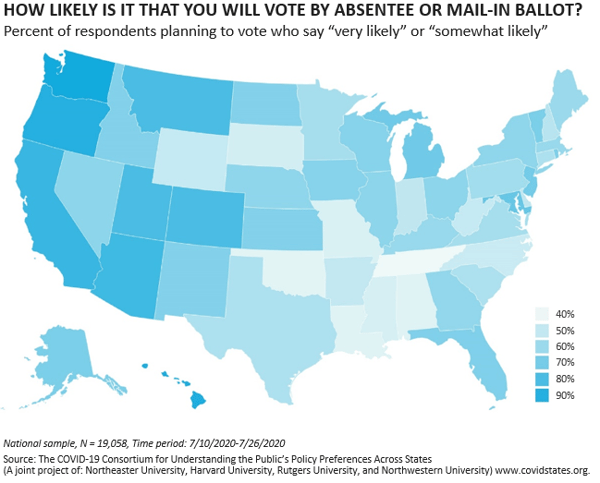 MARKETS PAUSE TO FIND FOOTING POST-ELECTION
Market performance has tended to be weak on average surrounding an election, albeit across a wide performance range, as results and potential policy changes are considered.

The underlying contributors to market volatility and weakness are likely not limited to the change in the occupant of the White House, but also affected by the political composition of both houses of Congress.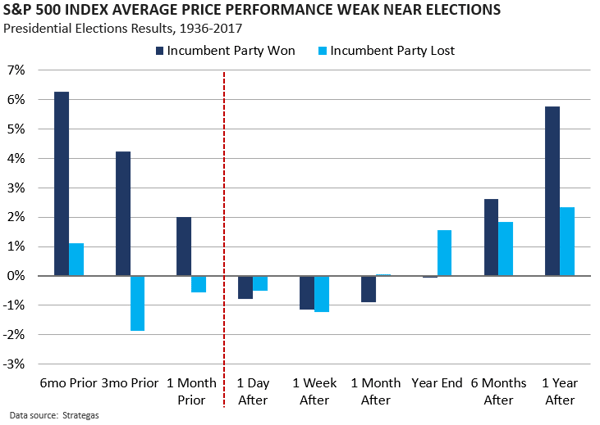 Economic Concerns and Policy Implications
IT'S THE ECONOMY, STUPID
James Carville coined the phrase, "It's the economy, stupid" when directing Bill Clinton's campaign in the run against President George H.W. Bush, whose reelection campaign was plagued by the early-1990's recession.

Historically, an economic recession in the final two years of a presidency has resulted in the incumbent party's defeat. Only President Coolidge broke this streak in the 1920s.

Prior to the pandemic, the U.S. economy was strong and impressive household income growth spanned all demographics, especially among some that traditionally have heavily favored Democratic candidates.

The pandemic triggered a massive rise in unemployment. Although household income losses were offset by the CARES Act, furloughed employees have become permanently unemployed and greater attention is now also given to other social issues.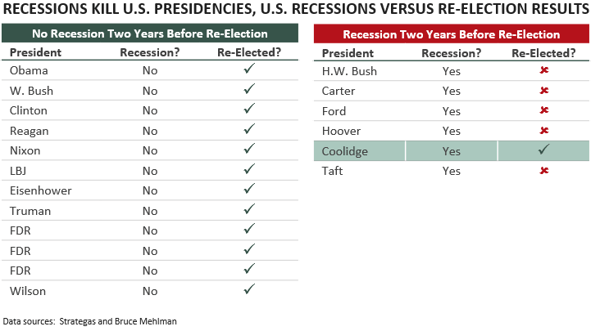 ISSUES ON VOTERS' MINDS
Healthcare and the economy were the dominant issues occupying voters' minds prior to the pandemic.

As the worst of the first wave subsided and the economy started to show signs of improvement, the favorability of congressional Republicans started to improve.

Now, issues surrounding the recent social unrest and violent protests have become increasing concerns of the important suburban women voter demographic.

Healthcare has waned as a concern among voters, but the SCOTUS confirmation process and the looming arguments over ACA may bring healthcare issues back to the forefront.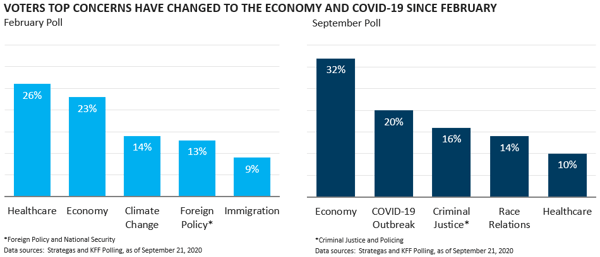 ECONOMIC APPROVAL VERSUS JOB APPROVAL
Economic approval generally falls heavily along party lines in approval of a U.S. President. President Trump has generally received a higher economic approval rating, but a lower job approval rating.

The COVID-19 pandemic was a unique trigger for economic recession, as the economy was running well prior to the pandemic. Thus, voters may assign less blame to President Trump for the economic downturn but consider the handling of the pandemic and other social issues more heavily when voting.

The higher unemployment rate, especially in areas that were harmed by the trade war and the pandemic's impact on manufacturing, could aid former Vice President Biden.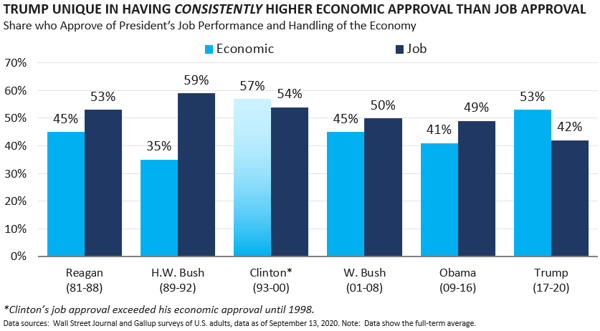 REGULATORY ENVIRONMENT
Early in the Trump presidency, the administration pushed for a reduction in regulatory rules with what became the "one in, two out" policy, requiring that for new "incremental costs" resulting from new regulations, equivalent costs associated with two existing regulations must be repealed.

Under a Biden administration, expectations that a deregulatory environment would persist are unlikely.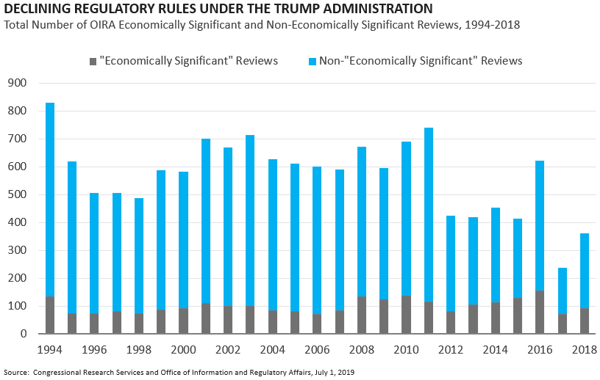 RENEWABLE ENERGY CONTINUED GROWTH?
Renewable energy growth has accelerated over the past decade and is forecasted to continue growing.

Under Democratic control of both the White House and Congress, renewable energy is likely to benefit from incentives and restrictions that promote green energy use and disincentivize tradition fossil-fuel use.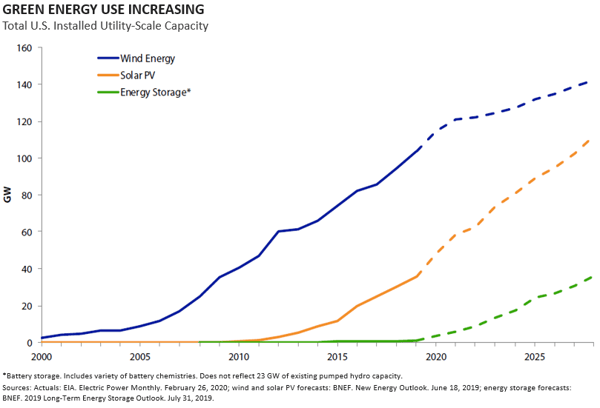 TECHNOLOGY BUSINESSES TOO LARGE
One area of agreement between voters of both parties has been the concern that large technology and tech-enabled businesses are "too large."

Expectations are that the Trump administration would push this issue harder than a Biden administration.

Reasons for the public's concern with the dominance of large technology companies varies, and encompasses issues such as privacy, profitability, competitiveness, manipulating information flow, national security, and censorship.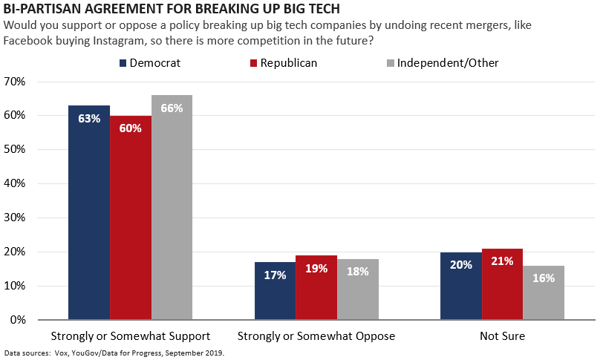 INFLATION CONCERNS
Democratic presidencies tend to push for policies that further federal spending on social programs and infrastructure, in addition to further stimulus desired by both parties in response to COVID-19.

Presidential party affiliations have little to do with the management of gross federal debt. Nevertheless, many worry that this expansion of federal spending, and thereby debt, may lead to inflation concerns.

Recent research by a Hoover Institute fellow suggests that large federal deficits do not typically create unexpected inflation. Rather, the level of and expected changes to the discount rate on government debt tend to create fiscally-driven inflation by decreasing the total market value of debt. The research suggests this contributed to the lack of inflation following the monetary and fiscal response to the Global Financial Crisis.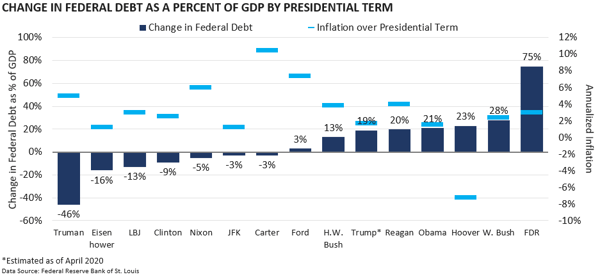 Conclusion
"Too often, we judge other groups by their worst examples—while judging ourselves by our best intentions. And this has strained our bonds of understanding and common purpose. But Americans, I think, have a great advantage. To renew our unity, we only need to remember our values. We have never been held together by blood or background. We are bound by things of the spirit—by shared commitments to common ideals."

~President George W. Bush

"There is not a liberal America and a conservative America - there is the United States of America. There is not a black America and a white America and Latino America and Asian America - there's the United States of America."

~President Barack Obama
No party has a monopoly on the success of the U.S. economy and markets and investors should generally not make substantial asset allocation changes based on election forecasts, which like any forecast, are typically inaccurate. One hopes that there is not a strained period of uncertainty, the markets will digest the results and refocus on the fundamentals of the economy and commerce. Markets can respond well regardless of who controls public policy.
The economy is clearly hampered by the pandemic, but the trajectory is positive and the U.S. benefits from being on sound economic footing prior to the pandemic. Although the pace of new regulations may change, the drivers of inflation remain subdued, and renewable energy and technology companies will likely face the same opportunities and challenges that they face today.
DISCLOSURES
This report was prepared by Fund Evaluation Group, LLC (FEG), a federally registered investment adviser under the Investment Advisers Act of 1940, as amended, providing non-discretionary and discretionary investment advice to its clients on an individual basis. Registration as an investment adviser does not imply a certain level of skill or training. The oral and written communications of an adviser provide you with information about which you determine to hire or retain an adviser. Fund Evaluation Group, LLC, Form ADV Part 2A & 2B can be obtained by written request directed to: Fund Evaluation Group, LLC, 201 East Fifth Street, Suite 1600, Cincinnati, OH 45202 Attention: Compliance Department.
The information herein was obtained from various sources. FEG does not guarantee the accuracy or completeness of such information provided by third parties. The information in this report is given as of the date indicated and believed to be reliable. FEG assumes no obligation to update this information, or to advise on further developments relating to it. FEG, its affiliates, directors, officers, employees, employee benefit programs and client accounts may have a long position in any securities of issuers discussed in this report.
Neither the information nor any opinion expressed in this report constitutes an offer, or an invitation to make an offer, to buy or sell any securities.
Past performance is not indicative of future results.
This report is intended for informational purposes only. It does not address specific investment objectives, or the financial situation and the particular needs of any person who may receive this report.
Published October 2020