The information below is adapted from an FEG presentation published on March 4. Please contact us if you would like to receive the full presentation.
What is the Coronavirus?
The respiratory disease now known as the coronavirus COVID-19 was first detected in the Hubei province of Wuhan City, in China – China's sixth most densely populated city. It has since spread to tens of thousands of people, killing over three thousand.1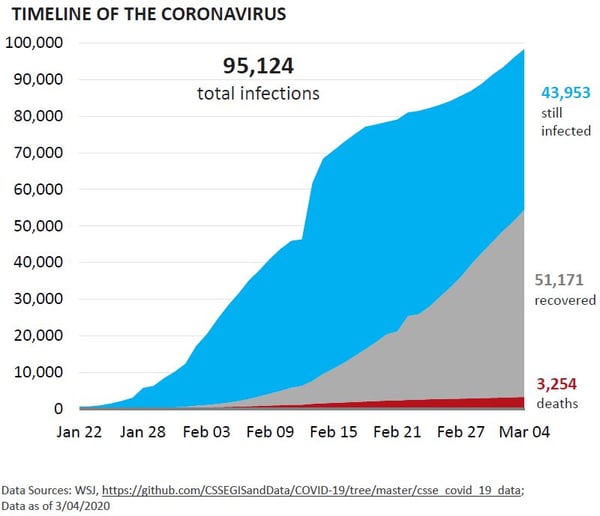 Global market reactions have varied through 2020 as the perceived economic impacts of the Coronavirus were assessed. While concerns appeared largely muted until the sell-off on February 24, 2020, we have since seen global equities enter correction territory, the China PMI report an historic drop, and the Federal Reserve (Fed) slash interest rates by 50 bps in an attempt to keep the U.S. economy strong in the face of the Coronavirus outbreak.

Investors should expect markets to stabilize and normalize if the virus is contained quickly. If containment lags, longer-term implications could stress financial markets and cause lasting impact.
TRACKING THE CORONAVIRUS
Coronavirus infections have grown quickly in February following the first virus death outside of China. While new cases in mainland China have been slowing, the pace has been steadily rising outside of China. Recovery rates were outpacing new confirmed cases since mid-february; however, this has recently seen a reversal as new cases increase.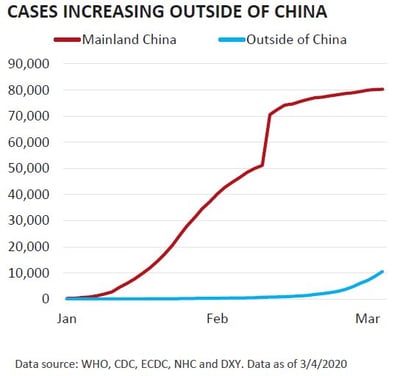 Impact on Markets
THE UNITED STATES AND THE GLOBAL ECONOMY
Global and U.S. equities reached a record high in mid-February and have since declined into correction territory, falling more than 10%
Last week marked the worst weekly performance for U.S. equities since October 2008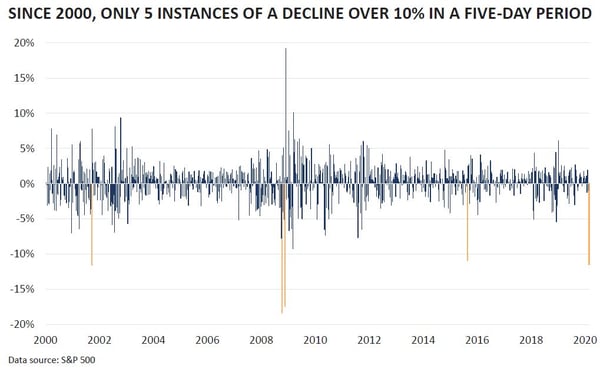 The World Bank is expected to lower global growth forecasts due to the Coronavirus outbreak for the first half of 2020. Some economists are curbing global growth expectations by 0.2%-0.3% and some forecasts have U.S. growth dropping to 1% real for the first half of 2020. If global growth does fall, the U.S. could be among the least affected, while the EU could be the most affected.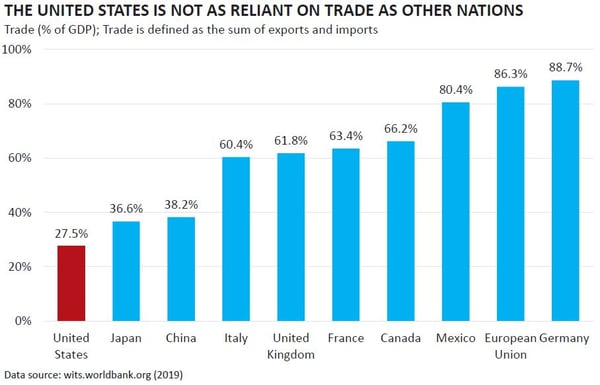 At its peak on February 19, the S&P 500 Index appeared significantly extended versus the current trend—at more than 3.5 standard deviations above the trend.
The recent correction has pulled the index back to its nearly 11-year uptrend.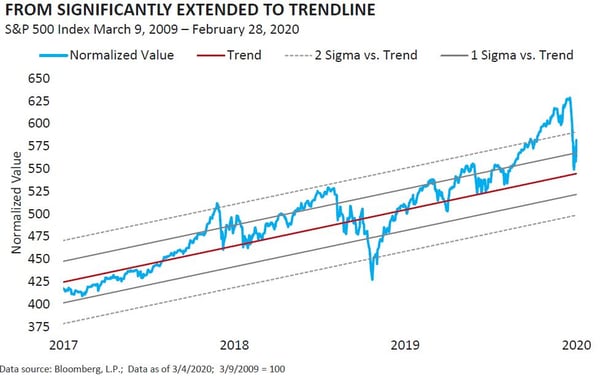 CHINA PMI DATA SHOWED HISTORIC DROP IN FEBRUARY
On Saturday, February 29, China released the Chinese Purchasing Manager Index (PMI) data for February, which showed a collapse across both the manufacturing and non-manufacturing (i.e., services) PMI readings to record low levels.
The manufacturing and services PMI were substantially below the expansion/contraction threshold of 50, and both missed sell-side estimates by a wide margin.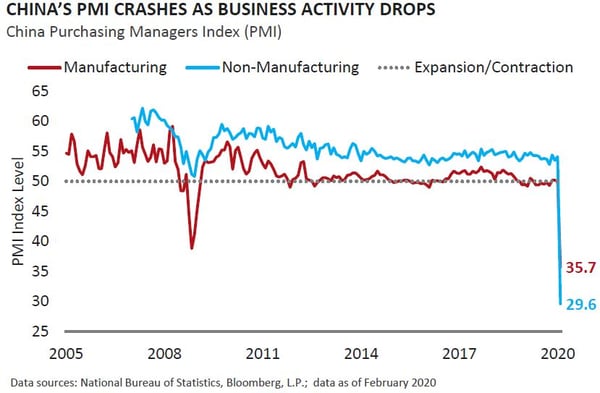 TREASURY YIELDS CONTINUE TO MOVE LOWER
During the week of March 2, U.S. 30-year Treasury rates established a new record low, while the 10-year Treasury fell to a record low below 1%.
As the 3m/10-year curve shifts around inverted territory, investors should keep in mind that it is typically a sustained yield curve inversion that foreshadows recessions.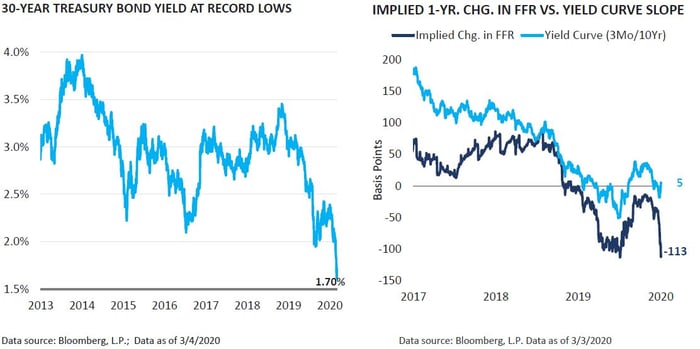 THE FED RESPONDS
On March 3, the Fed announced an emergency half-percentage-point reduction of the federal funds rate to a range of 1.00%-1.25% in an effort to stave off recession risks cascading from the coronavirus outbreak extending across the globe.
The market's initial reaction to the cut was positive, but quickly turned negative.
The effectiveness of the rate cuts made by the Fed and other central banks globally has been called into question given that pre-existing low rates were not hampering corporate access to capital.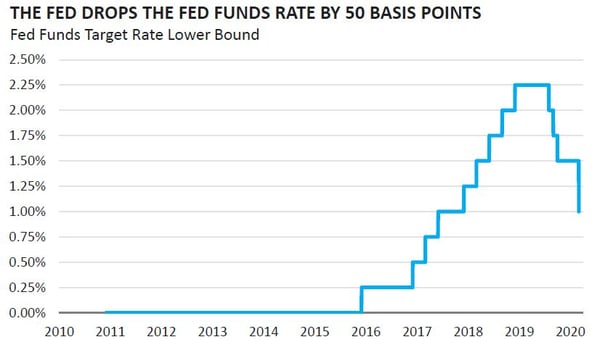 FURTHER FED RESPONSE REMAINS UNKNOWN
Despite the Fed announcing a 50 bps emergency rate cut, the bond market is still implying significant near-term cuts to the policy rate, including more than 100 bps of policy easing priced-in over the next year.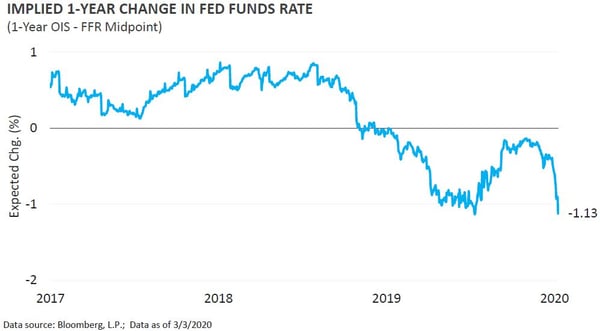 Conclusion
There are many unknowns regarding the Coronavirus outbreak that started last December.
With new cases appearing outside of China, the Coronavirus is likely to spread further before it is contained.
The U.S. economy had initially remained somewhat sheltered as a result of its relatively limited reliance on trade to China, but U.S. markets have more recently started to falter. If the outbreak worsens, investors should expect increased volatility.
The Fed has made an emergency cut of 50 bps for the first time since 2008. Potential further Fed intervention remains unknown.
FEG believes investors are best served by maintaining a long-term perspective and staying prepared for increased volatility in the short-to-intermediate term, which may create pockets of opportunity.
FOOTNOTES
1 As of the first week of March 2020
DISCLOSURES
This presentation was prepared by FEG (also known as Fund Evaluation Group, LLC), a federally registered investment adviser under the Investment Advisers Act of 1940, as amended, providing non-discretionary and discretionary investment advice to its clients on an individual basis. Registration as an investment adviser does not imply a certain level of skill or training. The oral and written communications of an adviser provide you with information about which you determine to hire or retain an adviser. FEG Form ADV Part 2A & 2B can be obtained by written request directed to: FEG, 201 East Fifth Street, Suite 1600, Cincinnati, OH 45202 Attention: Compliance Department.
The information herein was obtained from various sources. FEG does not guarantee the accuracy or completeness of such information provided by third parties. The information in this presentation is given as of the date indicated and believed to be reliable. FEG assumes no obligation to update this information, or to advise on further developments relating to it.
Neither the information nor any opinion expressed in this presentation constitutes an offer, or an invitation to make an offer, to buy or sell any securities.
Past Performance is not indicative of future results.
Index performance results do not represent any portfolio returns. An investor cannot invest directly in a presented index, as an investment vehicle replicating an index would be required. An index does not charge management fees or brokerage expenses, and no such fees or expenses were deducted from the performance shown.
This presentation is prepared for informational purposes only. It does not address specific investment objectives, or the financial situation and the particular needs of any person who may receive this presentation.
Any return expectations provided are not intended as, and must not be regarded as, a representation, warranty or predication that the investment will achieve any particular rate of return over any particular time-period or those investors will not incur losses.
Standard deviation is a measure of the dispersion of a set of data from its mean.
The S&P 500 Index is capitalization-weighted index of 500 stocks. The S&P 500 Index is designed to measure performance of the broad domestic economy through changes in the aggregate market value of 500 stocks representing all major industries.