The rebound across risk assets since March—fueled by expansionary monetary and fiscal stimulus and a revival in economic activity—persisted in August, with notably strong performance generated by domestic risk assets. Concerns of positive inflation surprises came to the forefront, as surging money supply growth, a ballooning budget deficit, and, more recently, a weakening U.S. dollar (USD) have incited fears of rising consumer prices. Federal Reserve (Fed) Chairman Jerome Powell introduced new inflation control measures, representing a potentially pivotal shift in the Fed's management of inflation and inflationary expectations. Tailwind factors such as rising nominal interest rates and a steepening of the Treasury yield curve failed to translate into relative outperformance on behalf of the financials-heavy domestic equity value indices, with growth strongly outperforming value in August. The rise in rates served as a performance headwind to the rate-sensitive sectors of the bond market, while credit-sensitive sectors continued their positive momentum, sending risk premiums to below historical averages. In real assets, most major sectors registered positive performance—particularly in commodities—thanks to a rise in energy prices.
Economic Update
Federal Reserve Announces Adjustments to Inflation Control Strategy
At the Fed's virtual annual Jackson Hole symposium in late August, Chairman Powell announced changes to the Fed's management of their inflation mandate, representing a potentially material change to their adjustment of policy rates during periods of significant trend deviations in the Fed's 2% inflation target. Specifically, the formal statement read:

"On price stability, the FOMC adjusted its strategy for achieving its longer-run inflation goal of 2 percent by noting that it 'seeks to achieve inflation that averages 2 percent over time.' To this end, the revised statement states that 'following periods when inflation has been running persistently below 2 percent, appropriate monetary policy will likely aim to achieve inflation moderately above 2 percent for some time.'" (FOMC – 8/27/2020)

In essence, the Fed has increased their flexibility around the management of short-term policy rates if/when annual inflation rates finally rise above the stated 2% target in light of today's environment of inflationary rates hovering near just 1%. In the future, the Fed is likely to allow inflation to run "hotter" than the targeted 2% before adjusting policy rates higher in an effort to regain lost ground on their inflation mandate following the disinflationary forces due to COVID-19.

The Fed can confidently point to the past 10 years of inflationary data to confirm their desire for inflation to rise above 2%, as their preferred inflationary measure, the core personal consumption expenditure (Core PCE), has spent the majority of the past decade below 2%, with the most recent print of 1.3% lying 70 bps below the target.

A potential above-trend rise in inflation would have cascading effects on asset class relative performance, particularly should higher inflation translate into higher nominal interest rates and a steepening of the term structure, both of which would be supportive for net income margins for financial institutions that "borrow short and lend long." Higher interest rates could also spell trouble for the trillions of dollars in assets parked in longer-term, rate-sensitive fixed income assets and bond surrogates.

The duration of the U.S. Bloomberg Barclays Aggregate Bond Index, for example, currently stands at more than six years, and the duration of the U.S. investment-grade corporate bond market has drifted to near nine years. With interest rates at all-time lows, even a modest move higher would place immense pressure on total returns against a backdrop of trivial current coupon levels.

Despite an increase in inflationary "ingredients," secular headwinds to economic growth—and thus inflation—such as an aging population, a secular decline in population growth, and a surge in both public debt levels and the federal budget deficit could potentially lead to further disappointment in the Fed's achievement of their inflation bogey over the coming years, with experimental monetary and fiscal measures likely to lead to increased volatility along this path.

In summary, August brought further gains across the risk universe, with a modest rise in interest rates serving as a headwind to performance across rate-sensitive sectors of the market. The prospect for above-average inflation without an automatic upward adjustment to policy rates was heralded as a potential scenario for the U.S. economy in the coming years, given the Fed's flexing of their control over inflation announced at their annual Jackson Hole symposium.
Market Returns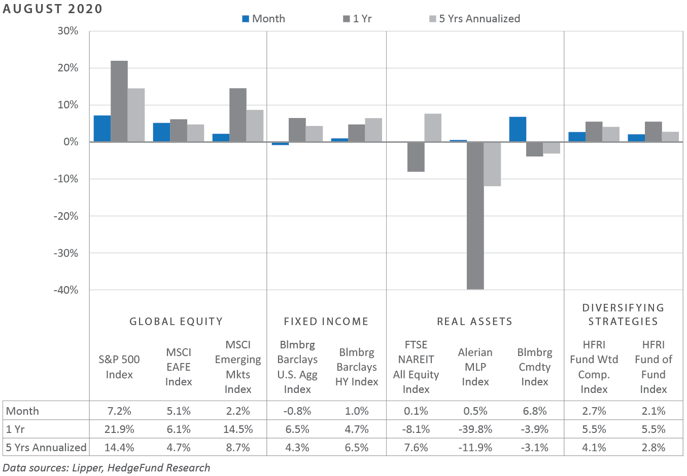 Global Equity
With increased optimism surrounding potential COVID-19 treatments and vaccine development, global stocks continued to climb higher throughout August. Continued signs of global economic recovery supported the rally in higher beta sectors. In the U.S., the Fed announced a shift to average inflation targeting, confirming that monetary policy will remain supportive for the foreseeable future, while the markets awaited fresh fiscal stimulus from Washington after the CARES Act expired at the end of July.

Internationally, despite many European countries seeing a second wave of COVID-19, European stocks advanced due to support from economic stimulus plans, the reopening of economies, and increased optimism for a vaccine. Japanese equities rose during August but were volatile towards the end of the month due to the surprise resignation of Prime Minister Shinzo Abe due to health concerns. Other Asia-Pacific equity markets, such as Singapore and Australia, continued their strong rally overcoming a resurgence in COVID-19 infections and the reintroduction of lockdown measures in some states.

In the UK, second-quarter GDP declined 20.4% quarter-over-quarter, with overall output remaining 26% below pre-crisis level. Unemployment in the country remained low due to a furlough scheme protecting nearly nine million workers. Concerns about a fiscal cliff in October and stalling Brexit negotiations have weighed on investors' appetite for risk assets within the UK.

Growth stocks continued to outperform value stocks through August, supported by a second-quarter earnings season which surprised on the upside relative to weak analyst expectations. Despite lower year-over-year earnings per share overall, 84% of companies beat expectations. The S&P 500 and the NASDAQ rallied 7.2% and 9.7%, respectively, over the month, with the health care and information technology sectors posting the strongest gains.

Emerging market equities ended August higher, as economies continued to gradually reopen and inject new stimulus measures. Chinese equities led the rally with a return of 5.4%. Despite second-quarter GDP plunging 23.9% year-over-year and renewed tensions with China, Indian equities rose 4.4% over the month. Russian equities also observed a modest gain after the country became the first to grant regulatory approval to a COVID-19 vaccine, although many outside of Russia question the vaccine's efficacy.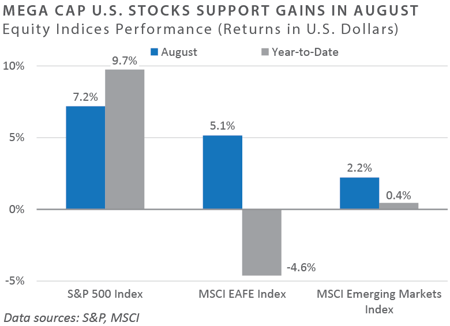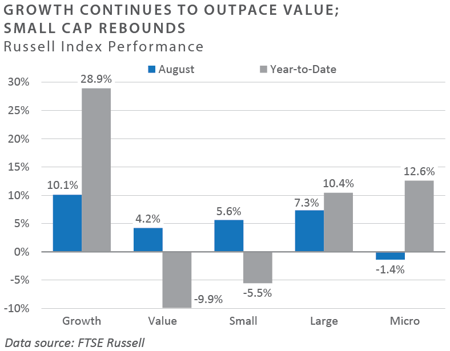 Fixed Income
The Fed returned to dominating headlines in the second half of August. Minutes of their July 28-29 meeting were released mid-month, indicating ongoing discussions about yield curve control. Fed Chair Jerome Powell's speech at the Fed's virtual annual Jackson Hole Symposium garnered more attention, however, as the Fed announced unanimous approval of a shift towards "average inflation targeting."

In spite of the initial response, the overall market reaction was somewhat muted, which is not surprising. The switch to average inflation targeting implies that the Fed will be less inclined to raise rates should inflation rise above 2%; however, it was already anticipated that the Fed would keep rates low for the foreseeable future.

The yield curve did steepen in response to the announcement, with markets driving long-term Treasury yields higher in anticipation of future inflation.

Although a number of indicators continue to indicate higher bond yields, such as the Institute for Supply Management (ISM) and copper futures prices, yields have generally remained low.

Risk-on sentiment prevailed in August as lower quality issues outperformed their higher quality peers. Investment-grade bonds gave back some early gains later in the month as Treasury yields rose, though high yield bonds were less impacted.

Following a month-over-month lull in July, corporate bond issuance picked up once again in August across both investment-grade and high yield issuers. In August 2020, investment-grade issuance was nearly double that of August 2019, while high yield issuance nearly quadrupled year-over-year. Notably, corporate issuance in 2020 thus far has been dominated by larger companies.

Securitized credit spreads continued to grind tighter, resulting in marginally positive performance for the month.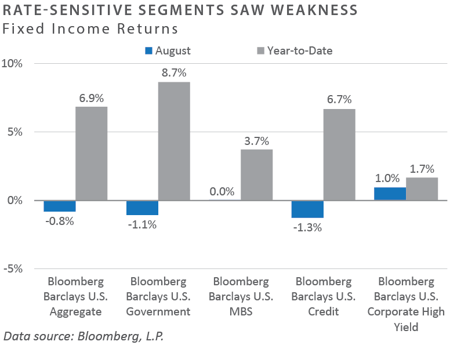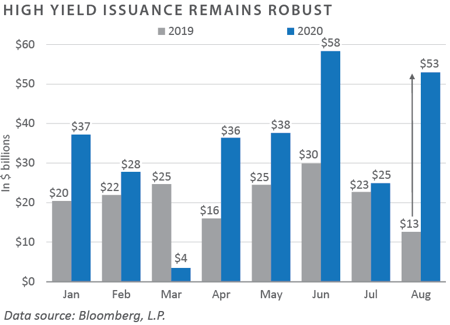 Real Assets
REAL ESTATE
REITs continued their positive performance trend over the month, with a broad uplift across most U.S. property types. As COVID-19 concerns and uncertainty persist, retail, shopping centers, and office continued to show poor performance quarter-to-date (QTD). Shopping centers have proven to be the most negatively affected, down 42.0% year-to-date (YTD).

The sectors most affected by COVID-19 continued to trend negative during the month of August. Retail and apartments continued to experience negative YTD performance at -37.3% and -22.7%, respectively. Across the U.S., questions remain about when and how retail properties may reopen, and the extent to which consumers will utilize these facilities.

Data centers and industrial REITs' defensive characteristics supporting the digital economy continued to shine in the face of the COVID-19 pandemic.

Developed European REITs have led performance during the quarter, while U.S. REITs have outperformed international REITs through most trailing periods.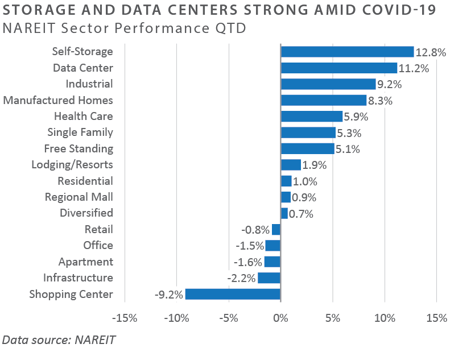 NATURAL RESOURCES
Daily WTI oil spot prices averaged $42 per barrel in August, up $2 per barrel from the July average and up roughly $26/BBL from the multi-year low monthly average price in April. Oil prices have been trading in a narrow range of around $40-$43 per barrel since early June, with a global rise in COVID-19 cases curbing the outlook for a swifter demand recovery.

The EIA's Short-Term Energy Outlook remains subject to significant uncertainty as both mitigation and reopening efforts related to COVID-19 continue to evolve. As such, uncertainties persist across the EIA's outlook for all energy sources.

The natural gas spot price averaged $2.34 per MMBtu in August, an increase of $0.58 per MMBtu from July. Natural gas pricing has proven to be resilient given the hotter than average summer temperatures and lower associated gas production.

The EIA expects falling production to continue to stabilize WTI oil prices into the near future, putting slight upward pressure on both crude and natural gas prices through the end of 2021.

According to Baker Hughes, the U.S. oil and gas rig count—an early indicator of future output—remained relatively flat for the month, standing at 254 at the end of August. This represents a total rig count decline of ~700 rigs compared to end-of-July 2019.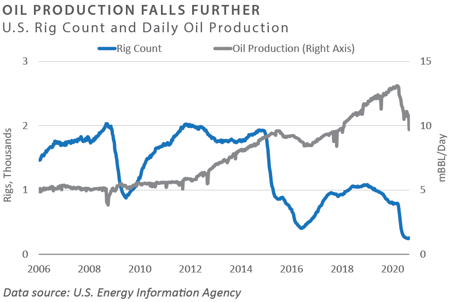 MASTER LIMITED PARTNERSHIPS
MLPs were slightly positive in August, returning roughly 0.5%. After a very strong second quarter in which the AMZ returned 47.6%, the AMZ is currently down 3.1% QTD.

Midstream—more broadly (AMNA)—had a better month than MLPs. Strength from large corporations in the U.S. and Canada have helped push AMNA past the MLP Index.

The current yield on MLPs stands at 13.13% as of the end of August.
Diversifying Strategies
Hedge funds continued their strong run in August led by equity hedge strategies, with quantitative, large-cap technology, and specialized energy exposures providing the strongest returns.

Event-driven exposures generated gains during the month, with activist managers and special situation strategies lifting the broader index. Merger arbitrage was less of a performance driver compared to other areas within the strategy.

Trend following strategies were mixed in August depending on asset class exposures. Those managers with higher exposure to equities, major currencies, and metals benefitted from continued trends. Conversely, those managers with tilts towards fixed income, energy, and grains faced headwinds. Longer-term trend followers generally performed better than their short-term focused brethren.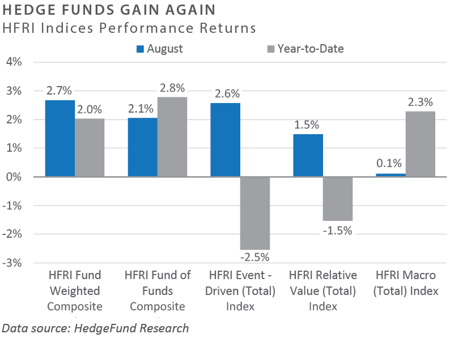 INDICES
The Alerian MLP Index is a composite of the 50 most prominent energy Master Limited Partnerships that provides investors with an unbiased, comprehensive benchmark for this emerging asset class.
Barclays Capital Fixed Income Indices is an index family comprised of the Barclays Capital Aggregate Index, Government/Corporate Bond Index, Mortgage-Backed Securities Index, and Asset-Backed Securities Index, Municipal Index, High-Yield Index, and others designed to represent the broad fixed income markets and sectors within constraints of maturity and minimum outstanding par value. See https://ecommerce.barcap.com/indices/index.dxml for more information.
The CBOE Volatility Index (VIX) is an up-to-the-minute market estimate of expected volatility that is calculated by using real-time S&P 500 Index option bid/ask quotes. The Index uses nearby and second nearby options with at least 8 days left to expiration and then weights them to yield a constant, 30-day measure of the expected volatility of the S&P 500 Index. FTSE Real Estate Indices (NAREIT Index and EPRA/NAREIT Index) includes only those companies that meet minimum size, liquidity and free float criteria as set forth by FTSE and is meant as a broad representation of publicly traded real estate securities. Relevant real estate activities are defined as the ownership, disposure, and development of income-producing real estate. See www.ftse.com/Indices for more information.
HFRI Monthly Indices (HFRI) are equally weighted performance indexes, compiled by Hedge Fund Research Inc. (HFX), and are used by numerous hedge fund managers as a benchmark for their own hedge funds. The HFRI are broken down into 37 different categories by strategy, including the HFRI Fund Weighted Composite, which accounts for over 2000 funds listed on the internal HFR Database. The HFRI Fund of Funds Composite Index is an equal weighted, net of fee, index composed of approximately 800 fund- of- funds which report to HFR. See www.hedgefundresearch.com for more information on index construction.
J.P. Morgan's Global Index Research group produces proprietary index products that track emerging markets, government debt, and corporate debt asset classes. Some of these indices include the JPMorgan Emerging Market Bond Plus Index, JPMorgan Emerging Market Local Plus Index, JPMorgan Global Bond Non-US Index and JPMorgan Global Bond Non-US Index. See www.jpmorgan.com for more information.
Merrill Lynch high yield indices measure the performance of securities that pay interest in cash and have a credit rating of below investment grade. Merrill Lynch uses a composite of Fitch Ratings, Moody's and Standard and Poor's credit ratings in selecting bonds for these indices. These ratings measure the risk that the bond issuer will fail to pay interest or to repay principal in full. See www.ml.com for more information.
Morgan Stanley Capital International – MSCI is a series of indices constructed by Morgan Stanley to help institutional investors benchmark their returns. There are a wide range of indices created by Morgan Stanley covering a multitude of developed and emerging economies and economic sectors. See www.morganstanley.com for more information.
Russell Investments rank U.S. common stocks from largest to smallest market capitalization at each annual reconstitution period (May 31). The primary Russell Indices are defined as follows: 1) the top 3,000 stocks become the Russell 3000 Index, 2) the largest 1,000 stocks become the Russell 1000 Index, 3) the smallest 800 stocks in the Russell 1000 Index become the Russell Midcap index, 4) the next 2,000 stocks become the Russell 2000 Index, 5) the smallest 1,000 in the Russell 2000 Index plus the next smallest 1,000 comprise the Russell Microcap Index. See www.russell.com for more information.
S&P 500 Index consists of 500 stocks chosen for market size, liquidity and industry group representation, among other factors by the S&P Index Committee, which is a team of analysts and economists at Standard and Poor's. The S&P 500 is a market-value weighted index, which means each stock's weight in the index is proportionate to its market value and is designed to be a leading indicator of U.S. equities, and meant to reflect the risk/return characteristics of the large cap universe. See www.standardandpoors.com for more information.
Information on any indices mentioned can be obtained either through your consultant or by written request to information@feg.com.
DISCLOSURES
This report was prepared by FEG (also known as Fund Evaluation Group, LLC), a federally registered investment adviser under the Investment Advisers Act of 1940, as amended, providing non-discretionary and discretionary investment advice to its clients on an individual basis. Registration as an investment adviser does not imply a certain level of skill or training. The oral and written communications of an adviser provide you with information about which you determine to hire or retain an adviser. Fund Evaluation Group, LLC, Form ADV Part 2A & 2B can be obtained by written request directly to: Fund Evaluation Group, LLC, 201 East Fifth Street, Suite 1600, Cincinnati, OH 45202, Attention: Compliance Department.
The information herein was obtained from various sources. FEG does not guarantee the accuracy or completeness of such information provided by third parties. The information in this report is given as of the date indicated and believed to be reliable. FEG assumes no obligation to update this information, or to advise on further developments relating to it. FEG, its affiliates, directors, officers, employees, employee benefit programs and client accounts may have a long position in any securities of issuers discussed in this report.
Index performance results do not represent any managed portfolio returns. An investor cannot invest directly in a presented index, as an investment vehicle replicating an index would be required. An index does not charge management fees or brokerage expenses, and no such fees or expenses were deducted from the performance shown.
Neither the information nor any opinion expressed in this report constitutes an offer, or an invitation to make an offer, to buy or sell any securities.
Any return expectations provided are not intended as, and must not be regarded as, a representation, warranty or predication that the investment will achieve any particular rate of return over any particular time period or that investors will not incur losses.
Past performance is not indicative of future results.
Investments in private funds are speculative, involve a high degree of risk, and are designed for sophisticated investors.
All data is as of August 31, 2020 unless otherwise noted.