A collapse in trade talks between the world's two largest economies helped spark a safe haven rally in August, leading to strong downward pressure on global interest rates. During the month, the yield on the 10-Year Treasury Note declined to just above record-low levels, while the yield on the long bond established a new record low of 1.95% in late-August. A continued unsettling global economic backdrop served as a key headwind to equity performance during the month, particularly in the emerging markets, where liquid emerging market currencies dropped to the lowest level on record, according to the JP Morgan Emerging Market Currency Index. In the fixed income market, performance across both interest rate and credit-sensitive sectors continued to be robust, with high yield generating a double-digit year-to-date (YTD) gain and core bonds on the verge of achieving similar results. REITs continued to generate impressive performance — due in large part to the asset category's heightened sensitivity to changes in interest rates — while returns across the economically-sensitive commodities and energy infrastructure categories were negative for the month.


Economic Update
Almost One-Third of Global Debt has a Negative Yield
In August, a number of global macro developments helped drive a safe-haven rally that pushed long-term U.S. interest rates to record low levels. Primary drivers behind the rally across global high quality bonds were tit-for-tat trade tariff announcements by the U.S. and China, increasing odds of a "hard" Brexit, and an ongoing slowdown across key areas of the U.S. economy.
While U.S. Treasuries continue to exhibit positive nominal yields, the same cannot be said for a growing share of international bonds, notably in Europe and Japan. During the month, the portion of global investment-grade debt that exhibited a negative yield spiked to a new record high, at 30% of the overall Bloomberg Barclays Global Aggregate Bond Index.

Notably, the 10-Year Treasury Inflation-Protected Security (TIPS) — which, unlike its 10-Year Nominal Treasury counterpart, measures inflation-adjusted or "real" rates — displayed a negative yield in August. This real rate of interest dipped into negative territory for the first time since 2016 in August, reflectiving of the broad-based demand for U.S. Treasuries and serving as a key pillar of support for discounted future corporate cash flows.
Whether in nominal or inflation-adjusted terms, the immense downward pressure on U.S. interest rates in 2019 — including a greater than 50 basis point yield decline on the 10-Year Treasury Note in August — may foreshadow softer domestic economic conditions, a stark contrast to the fundamental backdrop just one year ago.
The U.S. labor market, which has displayed incredible strength in recent years — including headline unemployment near its lowest level in half a century — appears to be at risk of rolling over. Through August, for example, certain labor market fundamental gauges, such as the Conference Board's Employment Trends Index, declined on a year-over-year basis. Negative annual growth readings have rarely occurred outside of recessionary environments, so further deterioration would be concerning.

Expectations for lower global policy rates should help keep near-term business cycle risks at bay. Indeed, through August, forward rates implied 100 basis points of policy easing (i.e., four 25 basis point rate cuts) over the next 12 months in the U.S., with a similar easing bias priced-in abroad as well. Prospects for softer economic conditions, along with swift accommodative responses by policymakers, have aided in supporting returns across the riskiest corners of the market as well as the highest quality segments — a phenomenon which is unlikely to persist into perpetuity.
In summary, August was characterized by safe-haven market conditions placing pronounced downward pressure on global interest rates. Fueling the risk-off theme included a strained U.S.-China trade relationship, elevated Brexit uncertainty, and continued weakness among numerous critical areas of the domestic economy. Recognizing these headwinds, among others, policymakers are expected to meaningfully ease monetary policy in the coming quarters in a bid to stave off recessionary pressures.
Market Returns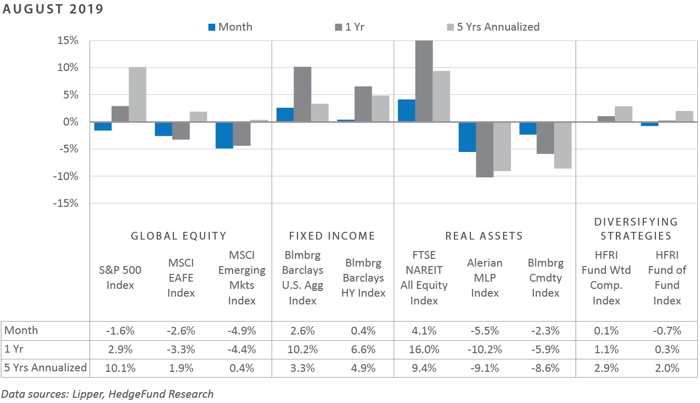 Global Equity
Equity markets in August were defined by volatility. Investors immediately experienced this volatility on the first trading day of the month as President Trump announced via Twitter that the U.S. would be putting a 10% tariff on another $300 billion worth of Chinese goods. This announcement took markets by surprise, as the U.S. and China had mutually agreed to a truce during the G20 Summit in May.

Earnings season for the second quarter of 2019 approached completion with 75% of companies have reported a positive earnings-per-share surprise.

Both growth and large capitalization stocks continued to outperform value and small capitalization stocks despite a volatile month for Facebook, Alphabet, Apple, Netflix, and Google — key stocks in both the large cap and growth indices.

Most global equity markets' returns were negative during the month. Specifically, developed markets dropped approximately 2%, but outperformed their U.S. small cap, U.S. value, and emerging market peers.

The UK ended the month down approximately 4.2%, as Boris Johnson's first full month as the UK prime minister came to a close. Similar to their expectations of his predecessor, investors are looking to Johnson for a resolution of the ongoing uncertainty surrounding Brexit.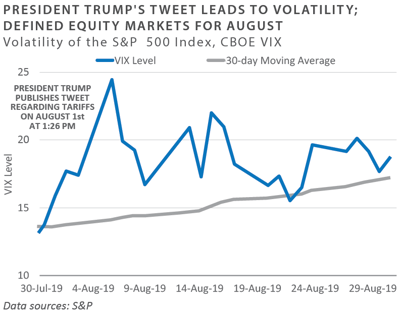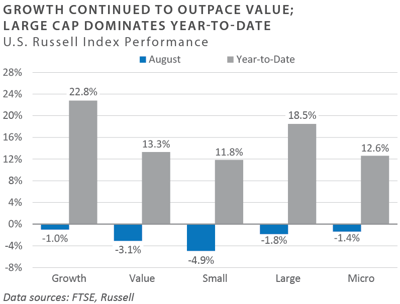 Fixed Income
The yield curve made headlines in August, as the 2-year/10-year spread inverted for the first time since the financial crisis in 2007-08. While this spread is often seen as an indicator of a potential recession, it is typically a sustained inversion that foreshadows recessions.

Additionally, 30-year U.S. Treasury yields fell below 2% for the first time in August, as the continuation of U.S.-China trade tensions led to a flight-to-quality. Yields rebounded in early September, however, following news of a continuation of trade talks between the countries.

Minutes from the Federal Reserve's (Fed's) July meeting, when the Fed cut rates for the first time in more than 10 years, revealed that the Fed was divided not only in the members' decision to cut rates, but in the magnitude of the cut as well. Fed Chair Jerome Powell touched on the dissension in a speech in early September, calling the differences "healthy" in a "murky" market environment.

The market was recently pricing in a 100% chance of an additional rate cut at the Fed's October meeting and multiple rate cuts in 2020.

Due in part to the uncertainty during the month, higher-quality segments of the credit markets largely outperformed their lower-quality peers. However, the bank loan market witnessed significant outflows over the month, as selling pressures mounted in this floating rate space amid an environment of falling rates.

While unemployment remains low, inflation remains below the Fed's 2% target, with core PCE coming in at 1.6% for the trailing year. The magnitude of negative yielding debt continued to increase through August, with over $17 trillion of global debt trading at negative yields as of the end of the month.¹
¹ Bloomberg, L.P.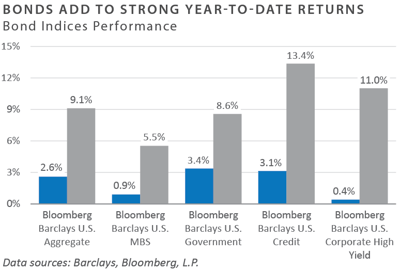 Real Assets
REAL ESTATE
August saw the largest returns for U.S. REITs since the first quarter of 2019 supported by strong macro-economic factors, including stable economic growth, low unemployment, and lower interest rates across longer duration Treasuries.

The industrial sector continues to benefit from growth in online retailing and demand for single-family rental homes, self-storage units, data center space, and cell towers drove performance in these sectors.

Despite posting positive returns in August (0.5%), international REITs have a number of challenges on the horizon. The UK, for example, faces a hard Brexit in two months — barring any political or negotiation changes. European REITs ended the month trading at a 6% discount to NAV. In Asia, protests in Hong Kong have challenged office and residential development, while ongoing U.S.-China trade issues have impacted growth across the region.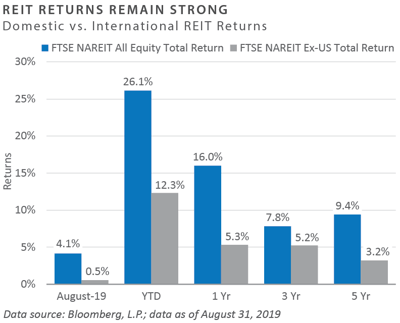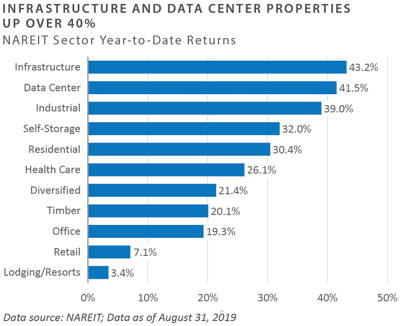 NATURAL RESOURCES
Oil prices ended August down 5.9%, closing at $55.10/barrel. Despite expected OPEC supply cuts, OPEC increased crude oil production in August, ending the month at a four-month high. However, Saudi Arabia announced at month-end that it will be replacing its energy minister in September and redoubling its commitment to further supply cuts across the OPEC constituents.

Commodity prices, as measured by the Bloomberg Commodity Index (BCOM), decreased 2.3% in August and were up 1.9% year-to-date. Agriculture commodities were driven down by stronger-than-expected corn production across the U.S. and the softening of the Brazilian real versus the dollar.

The decline in crude oil and agriculture prices was somewhat offset by a 7.6% gain for precious metals in the month due to negative bond yields, European Central Bank easing, and the Fed's accommodative interest rate policy.
MASTER LIMITED PARTNERSHIPS
MLPs — as measured by the Alerian MLP Total Return Index — tracked oil prices downwards, slipping 5.5% in August, reflective of ongoing negative sentiment in the energy space. MLPs have declined from peak levels earlier this year, despite exhibiting stronger fundamentals than the rest of the energy sector with improvements in cash flows and deleveraging of balance sheets.

In August, Blackstone Infrastructure Partners announced its intention to take Tallgrass Energy private, at a 35.9% premium. This follows Blackstone's purchase of its current controlling interest in Tallgrass back in March. Bloomberg estimates the deal to represent a 10.0x multiple to consensus 2020 EBITDA.
Diversifying Strategies
Trend followers enjoyed another strong month, generating gains across fixed income and rates. Other safe-haven assets, such as gold and silver, also produced profits, as investors sought shelter from escalating China-U.S. trade tensions.

Distressed managers' performance was the result of idiosyncratic positions — both positive and negative. Performance was relatively dispersed for the month depending on the success of individual trades.

Discretionary macro managers with a focus on emerging markets were caught wrong-footed following the poll results for the Argentine election. Current president, economy-friendly Mauricio Macri, saw his re-election bid take an enormous hit. The poll showed little support for President Macri in favor of his opposition, causing Argentine markets to sell-off in earnest.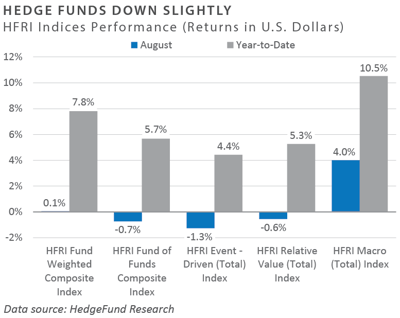 DISCLOSURES
This report was prepared by FEG (also known as Fund Evaluation Group, LLC), a federally registered investment adviser under the Investment Advisers Act of 1940, as amended, providing non-discretionary and discretionary investment advice to its clients on an individual basis. Registration as an investment adviser does not imply a certain level of skill or training. The oral and written communications of an adviser provide you with information about which you determine to hire or retain an adviser. Fund Evaluation Group, LLC, Form ADV Part 2A & 2B can be obtained by written request directly to: Fund Evaluation Group, LLC, 201 East Fifth Street, Suite 1600, Cincinnati, OH 45202, Attention: Compliance Department.
The information herein was obtained from various sources. FEG does not guarantee the accuracy or completeness of such information provided by third parties. The information in this report is given as of the date indicated and believed to be reliable. FEG assumes no obligation to update this information, or to advise on further developments relating to it. FEG, its affiliates, directors, officers, employees, employee benefit programs and client accounts may have a long position in any securities of issuers discussed in this report.
Index performance results do not represent any managed portfolio returns. An investor cannot invest directly in a presented index, as an investment vehicle replicating an index would be required. An index does not charge management fees or brokerage expenses, and no such fees or expenses were deducted from the performance shown.
Neither the information nor any opinion expressed in this report constitutes an offer, or an invitation to make an offer, to buy or sell any securities.
Any return expectations provided are not intended as, and must not be regarded as, a representation, warranty or predication that the investment will achieve any particular rate of return over any particular time period or that investors will not incur losses.
Past performance is not indicative of future results.
Investments in private funds are speculative, involve a high degree of risk, and are designed for sophisticated investors.
All data is as of August 31, 2019 unless otherwise noted.
INDICES
The Alerian MLP Index is a composite of the 50 most prominent energy Master Limited Partnerships that provides investors with an unbiased, comprehensive benchmark for this emerging asset class.
Barclays Capital Fixed Income Indices is an index family comprised of the Barclays Capital Aggregate Index, Government/Corporate Bond Index, Mortgage-Backed Securities Index, and Asset-Backed Securities Index, Municipal Index, High-Yield Index, and others designed to represent the broad fixed income markets and sectors within constraints of maturity and minimum outstanding par value. See https://ecommerce.barcap.com/indices/index.dxml for more information.
The CBOE Volatility Index (VIX) is an up-to-the-minute market estimate of expected volatility that is calculated by using real-time S&P 500 Index option bid/ask quotes. The Index uses nearby and second nearby options with at least 8 days left to expiration and then weights them to yield a constant, 30-day measure of the expected volatility of the S&P 500 Index. FTSE Real Estate Indices (NAREIT Index and EPRA/NAREIT Index) includes only those companies that meet minimum size, liquidity and free float criteria as set forth by FTSE and is meant as a broad representation of publicly traded real estate securities. Relevant real estate activities are defined as the ownership, disposure, and development of income-producing real estate. See www.ftse.com/Indices for more information.
HFRI Monthly Indices (HFRI) are equally weighted performance indexes, compiled by Hedge Fund Research Inc. (HFX), and are used by numerous hedge fund managers as a benchmark for their own hedge funds. The HFRI are broken down into 37 different categories by strategy, including the HFRI Fund Weighted Composite, which accounts for over 2000 funds listed on the internal HFR Database. The HFRI Fund of Funds Composite Index is an equal weighted, net of fee, index composed of approximately 800 fund- of- funds which report to HFR. See www.hedgefundresearch.com for more information on index construction.
J.P. Morgan's Global Index Research group produces proprietary index products that track emerging markets, government debt, and corporate debt asset classes. Some of these indices include the JPMorgan Emerging Market Bond Plus Index, JPMorgan Emerging Market Local Plus Index, JPMorgan Global Bond Non-US Index and JPMorgan Global Bond Non-US Index. See www.jpmorgan.com for more information.
Merrill Lynch high yield indices measure the performance of securities that pay interest in cash and have a credit rating of below investment grade. Merrill Lynch uses a composite of Fitch Ratings, Moody's and Standard and Poor's credit ratings in selecting bonds for these indices. These ratings measure the risk that the bond issuer will fail to pay interest or to repay principal in full. See www.ml.com for more information.
Morgan Stanley Capital International – MSCI is a series of indices constructed by Morgan Stanley to help institutional investors benchmark their returns. There are a wide range of indices created by Morgan Stanley covering a multitude of developed and emerging economies and economic sectors. See www.morganstanley.com for more information.
Russell Investments rank U.S. common stocks from largest to smallest market capitalization at each annual reconstitution period (May 31). The primary Russell Indices are defined as follows: 1) the top 3,000 stocks become the Russell 3000 Index, 2) the largest 1,000 stocks become the Russell 1000 Index, 3) the smallest 800 stocks in the Russell 1000 Index become the Russell Midcap index, 4) the next 2,000 stocks become the Russell 2000 Index, 5) the smallest 1,000 in the Russell 2000 Index plus the next smallest 1,000 comprise the Russell Microcap Index. See www.russell.com for more information.
S&P 500 Index consists of 500 stocks chosen for market size, liquidity and industry group representation, among other factors by the S&P Index Committee, which is a team of analysts and economists at Standard and Poor's. The S&P 500 is a market-value weighted index, which means each stock's weight in the index is proportionate to its market value and is designed to be a leading indicator of U.S. equities, and meant to reflect the risk/return characteristics of the large cap universe. See www.standardandpoors.com for more information.
Information on any indices mentioned can be obtained either through your consultant or by written request to information@feg.com.