MCSI added China's mainland equity market—China's A-shares—to the MSCI Emerging Market Index (MSCI EM) in 2018 and 2019. This market is expected to increase access to and investment in domestic Chinese markets and further strengthen the nation's relevance in the global equity markets, which will in turn impact performance, benchmarking, and portfolio exposures in the global markets.
Chinese retail investors largely dominate this inefficient market which contains thousands of stocks and a market capitalization greater than many developed markets. Investors must be vigilant of the ever-present geopolitical and investing risks of the Chinese market .
A-SHARES INCLUSION
CHINA'S EQUITY MARKETS AND ECONOMY
China has one of the world's largest and fastest-growing economies, yet the country's representation in global equity indices is comparatively small. The opening of China's A-share market and its inclusion in MSCI's indices is evidence of the country's existing, and ever-growing, global importance.
IMPACT OF MSCI INCLUSION
The initial inclusion of A-shares in the MSCI EM Index was small; however, China's weight in indices with full A-shares inclusion has reached nearly 60% and Asia comprises nearly 80% of the MSCI EM + China A Index, as of September 30, 2020.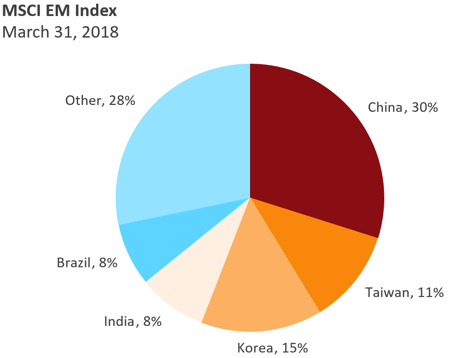 Data Source: MSCI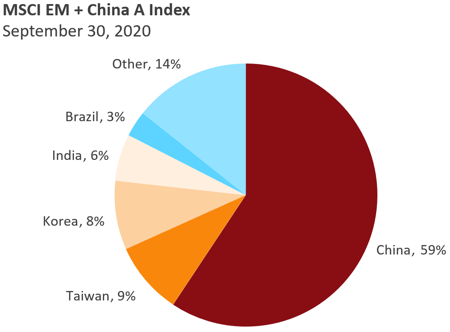 Data Source: MSCI
FOREIGN OWNERSHIP IS LIMITED
Foreign public equity investment in China is a small fraction of the foreign ownership in the Asian emerging markets of South Korea and Taiwan; A-shares trading has been dominated by local retail investors, providing a large and liquid—yet volatile—market.
COMPARING CHINA'S MARKET
EXPOSURES
Sector exposures differ materially between the domestic A-shares market and the offshore Chinese markets, as consumer and communications technology stocks comprise a significant portion of offshore Chinese equity markets but are a much smaller part of A-shares.
CHINESE EQUITY MARKETS vs. THE WORLD
Despite a lack of significant foreign investment, the market capitalization of China A-shares eclipses that of Japan and the United Kingdom and has doubled in the last 10 years.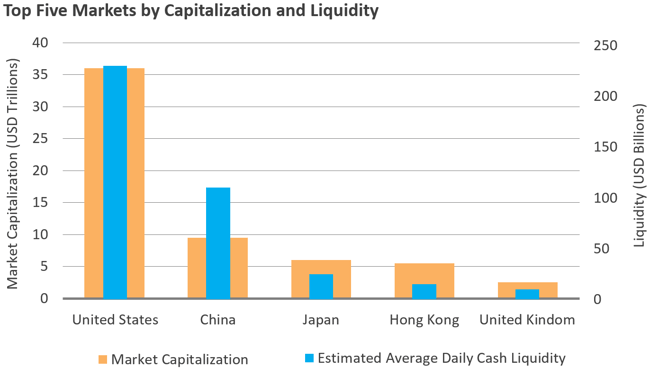 Data Source: Man Numeric, as of September 30, 2020
CHARACTERISTICS
Equity investors could realize diversification benefits by investing in China's A-share market, which has exhibited lower correlation to other major equity markets than those markets to one another.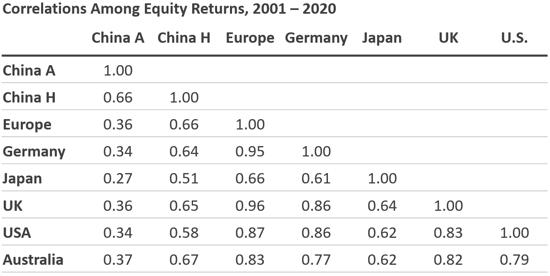 Data Source: Rayliant, as of September 30, 2020
ACTIVE MANAGEMENT AND CHINA'S LOCAL MARKET
ACTIVE MANAGEMENT
Inefficiencies in China's market may create opportunities for skilled active managers. For example, companies are often listed on both the domestic exchanges and Hong Kong's exchange, allowing active managers to move between domestic A-share and offshore equity markets as a potential source of value.
GOVERNMENT EQUITY OWNERSHIP
While retail investors account for the vast majority of trading, historically A-shares were predominately owned by the Chinese government and Chinese government-associated individuals. Recently, China has launched a significant initiative to increase the privatization of businesses, which has already led to a decline in the number of state-owned enterprises.
RETAIL INVESTORS
Chinese retail investors provide considerable liquidity to the market, but have been characterized as having a more speculative view of equity investing. As institutional investment grows, volatility could decline to similar levels as other markets where institutional investors have greater influence on markets.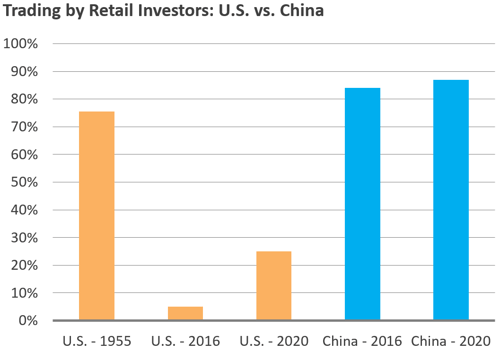 Data Source: Rayliant, as of September 30, 2020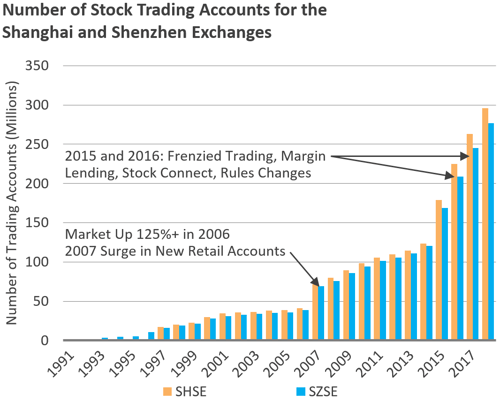 Data Source: Rayliant, as of September 30, 2020
RISKS AND ANOMALIES
RISKS
Although the universe of companies trading on domestic Chinese exchanges is vast, China is an authoritarian government which has shown an interest and willingness in the past to exert some level of control over equity markets. Moreover, macro and geopolitical risks remain and range from trade disputes to capital controls and China's unique relationships with nations like North Korea and Russia.
There are also risks in terms of the structure and regulation of Chinese businesses. Historically, China has not been known for strong corporate governance, many Chinese companies have had short operating histories and China's frequently changing regulations have proven difficult for some companies to navigate .
TRADING SUSPENSIONS LESS OF A PROBLEM?
Historically, the suspension of stocks trading on exchanges has been more frequent among China A-shares than other global equity markets; however, Chinese authorities have worked to reduce trading suspensions as part of improvements sought by MSCI prior to the inclusion of A-shares in the MSCI indices.
SUMMARY
Going forward, investors should expect to see more active and passive emerging markets managers adding exposure to China, as well as more dedicated China funds and A-shares funds. Because the China A-shares market has characteristics of a less efficient market, there are opportunities for active equity managers. That said, China is a large and liquid market that retains many of the risks that are present in smaller, less liquid equity markets.
DISCLOSURES
This report was prepared by FEG (also known as Fund Evaluation Group, LLC), a federally registered investment adviser under the Investment Advisers Act of 1940, as amended, providing non-discretionary and discretionary investment advice to its clients on an individual basis. Registration as an investment adviser does not imply a certain level of skill or training. The oral and written communications of an adviser provide you with information about which you determine to hire or retain an adviser. Fund Evaluation Group, LLC, Form ADV Part 2A & 2B can be obtained by written request directly to: Fund Evaluation Group, LLC, 201 East Fifth Street, Suite 1600, Cincinnati, OH 45202, Attention: Compliance Department.
The information herein was obtained from various sources. FEG does not guarantee the accuracy or completeness of such information provided by third parties. The information in this report is given as of the date indicated and believed to be reliable. FEG assumes no obligation to update this information, or to advise on further developments relating to it. FEG, its affiliates, directors, officers, employees, employee benefit programs and client accounts may have a long position in any securities of issuers discussed in this report.
Neither the information nor any opinion expressed in this report constitutes an offer, or an invitation to make an offer, to buy or sell any securities.
Past performance is not indicative of future results.
This report is prepared for informational purposes only. It does not address specific investment objectives, or the financial situation and the particular needs of any person who may receive this report.
Published November 2020