The U.S. economy was the bright spot in a global economy plagued by ongoing growth concerns in April. Both the labor market and broader measures of the health of the U.S. economy, such as GDP growth, witnessed further strengthening, including the lowest unemployment rate in nearly 50 years.
Domestic economic conditions and risky asset returns shared a similar trajectory during the month. Global equities — most notably domestic — generated solid returns in April, with a similar risk-on theme observed in the fixed income markets as below investment-grade credit outperformed rate-sensitive sectors. Performance across most major real assets sectors was mixed, as strong year-to-date momentum moderated.


Economic Update
U.S. Economy Gathers Pace as the Labor Market Tightens Further
A major theme throughout 2018 and 2019 has been the U.S. economy's resilience amid a broader global slowdown. Not only has the U.S. economy weathered choppy waters — much of which has been driven by trade-related growth concerns — the economy also appears to be flourishing.
In April, the release of the first estimate of first quarter GDP showed that growth accelerated at an annualized pace of 3.2% during the first 3 months of the year, exceeding sell-side expectations and propelling year-over-year growth to 3.2% as well, the strongest pace since second quarter 2015. U.S. business activity and financial asset returns alike have generally outpaced their international counterparts since early 2018.

The real GDP growth chart highlights the growing divergence between U.S. and international economic activity, with U.S. year-over-year growth through the first quarter exceeding that of the euro zone by two percentage points and coming in nearly three percentage points stronger than Japan's pace through year-end 2018.
Key tailwinds behind the growing divergence in economic conditions include an increasingly less hawkish Federal Reserve (Fed), unrelenting trade tensions that continue to weigh on export-oriented economies, and a robust U.S. labor market.
During the month, nonfarm payrolls increased an impressive 263,000, bringing the trailing 6-month average to 207,000. The combination of solid growth in payrolls and historically low first-time filings for unemployment benefits aided in driving the headline unemployment rate to 3.6%, the lowest level since December 1969.

Despite tight labor conditions, realized inflation levels—particularly those that exclude food and energy price fluctuations — remained modest. As an example, the Fed's preferred gauge of inflation, the core personal consumption expenditure, slowed to a 1.6% annual pace through March, the index's lowest point since fall 2017.
The confluence of solid and accelerating GDP growth, a tight and strengthening labor market, and subdued and slowing inflation helped place the Fed in a comfortable position. This is a likely driver behind its current "patient" approach to monetary policy.
To conclude, market performance and economic fundamentals favored the U.S. through the first four months of 2019. A historically tight labor market has failed to stoke inflationary pressures, while GDP growth marched higher through the first quarter, the convergence of which is likely to bolster the Fed's wait-and-see approach.
Market Returns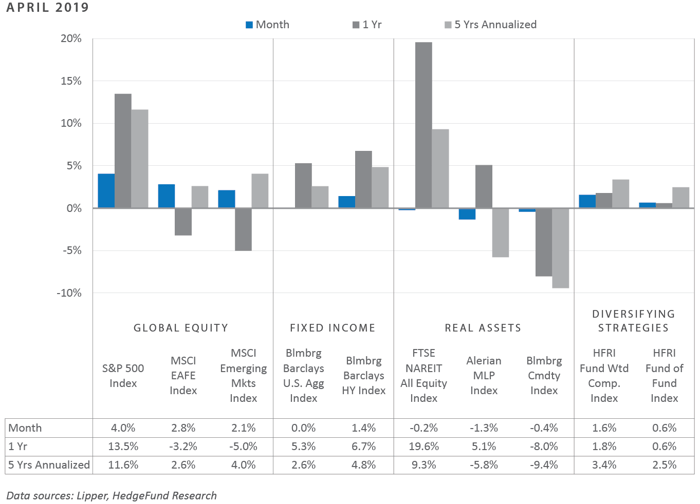 Global Equity
Following a strong first quarter, equity markets continued to rally in April, making the first four months of 2019 the best start to a year since 1999. On April 30, the S&P 500 reached a new all-time high. Strong performance in the U.S. market can be attributed to a reversal in recession expectations due to better-than-expected corporate earnings and the delay in tightening monetary policy.

Across the market cap spectrum, stocks in the financials and communication services sectors drove performance in April. Stable interest rates eased credit conditions, which had previously pressured financials. Three sectors posted negative absolute returns, with health care displaying the most material decline. The changing health-policy landscape weighed on healthcare services and pharmaceutical companies as "Medicare for All" plans and lower drug prices were major items being discussed in the political arena.

Manufacturing continued to weaken in Europe, although the data has not shown negative impacts to the labor market. Italy, Spain, and the United Kingdom (UK) released economic data that surprised to the upside, and offset some of the deflationary pressures in Europe.

Although the region posted positive absolute returns for April, emerging markets continued to have challenges. After a strong rally in the first quarter showed improved growth in the region, China lost some momentum over concerns of a lightened government stimulus package.

U.S. waivers on oil sanctions in Iran was a tailwind for net oil-exporting countries such as Russia and Saudi Arabia, and was a headwind for oil-importing countries such as Argentina and Turkey, which showed signs of macroeconomic instability in April. A relatively strong U.S. dollar was also a headwind for emerging markets.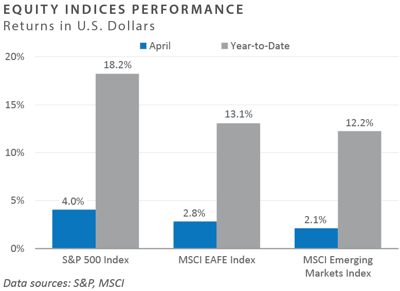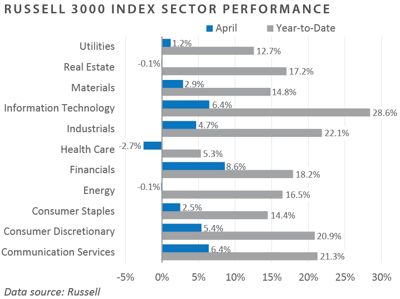 Fixed Income
At the April 30 – May 1 meeting, the Fed voted unanimously to keep the federal funds rate unchanged, with Fed officials stating they were "comfortable" with their current policy stance. Fed Chair Jerome Powell described recent weakness in inflation as "transitory" and "not persistent" as the Fed's preferred measure of inflation — core PCE — fell to 1.6% during the first quarter of 2019.

Although the markets had been pricing in a potential rate cut by the Fed as early as October 2019 prior to the Fed's most recent meeting, the market expectation of a rate cut declined and only rose to above 50% for the December meeting following Powell's press conference on May 1.

Major central banks across the world echoed the Fed's relatively accommodative sentiment, with the European Central Bank and the Bank of Japan also leaving interest rates unchanged at their April meetings and indicating a similar policy stance through 2019.

Risk assets continued their rally through the month, evidenced by the strong performance of credit-sensitive and lower quality sectors, such as high yield.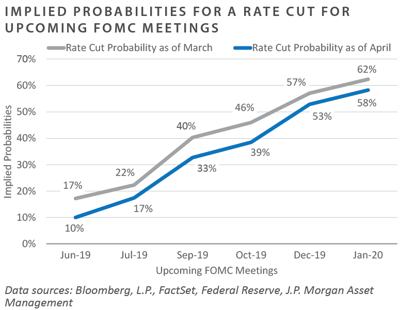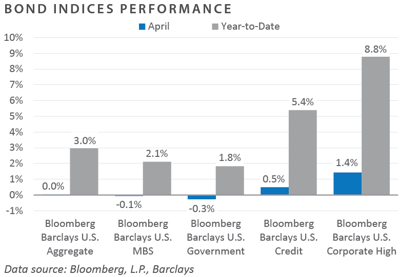 Real Assets
REAL ESTATE
U.S. REITs edged slightly lower in April, despite a solid start to earnings season. Rising growth expectations have been good news for the housing market, which continued to show signs of reacceleration.

In April, the largest gains across the different REIT property sectors came from industrial, self-storage, data centers, and residential properties. REITs appear to have sound fundamentals, however, should U.S. and global growth pick up and lift commodity prices and inflation expectations higher, positive future REIT performance could be challenged.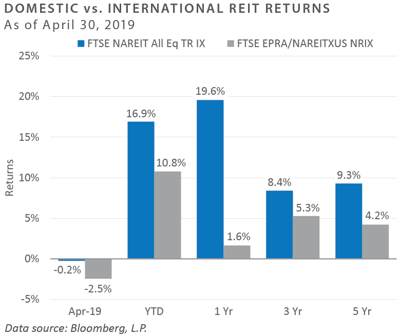 NATURAL RESOURCES
Oil prices rose over most of April, as the Saudis maintained that they would adhere to the production cut agreement led by the Organization of the Petroleum Exporting Countries (OPEC) and that the Saudis may extend the agreement — which currently expires in June — to the end of the year.

OPEC oil supply hit a 4-year-low of 30.2 million barrels a day in April, as lower supply from two producers exempt from the OPEC pact — Iran and Venezuela — more than offset gains elsewhere.

Oil prices declined toward the end of the month, as U.S. crude supplies posted their biggest weekly climb of the year. The Energy Information Administration reported that U.S. crude supplies rose by 9.9 million barrels for the last week of April, substantially surpassing analyst expectations of an increase of 6.8 million barrels.

In other commodities, agriculture and industrial metal prices dragged on overall performance for the month. Any further delays in a positive outcome on a U.S.-China trade agreement may have negative ramifications for agricultural commodities like U.S. soybean exports and industrial metals prices such as aluminum, nickel, and copper. Similarly, gold prices gave back all year-to-date gains, as the supportive backdrop for risky assets curtailed investor interest in safe haven assets.




MLPs

MLPs, as measured by the Alerian MLP Index, declined slightly in April after enjoying a strong recovery in 2019 — up over 15% year-to-date.

Williams and Canada Pension Plan Investment Board agreed to establish a $3.8 billion joint venture in the Marcellus and Utica basins and a private equity firm agreeing to acquire Oryx Midstream — the largest privately held midstream crude operator in the Permian Basin — for $3.6 billion.

Continued consolidation is expected along with increased private equity interest in purchasing midstream assets. The current yield on MLPs stands at 7.8%.

Diversifying Strategies

Emerging markets strategies, particularly those focused on Asia, endured a challenging month following a strong first quarter. The largest headwind to performance was China, as the trade outlook became murkier when a deal that had largely been priced into markets was not completed.

Latin America also posed a challenge for certain strategies. Argentina struggled to keep inflation in check, potentially jeopardizing current President Mauricio Macri's re-election chances, while Brazilian policymakers hit a speed bump in pension reform progress.

California utility PG&E Corporation (PG&E), a widely held holding across event-driven strategies, expanded its recovery since filing for bankruptcy in January. Notable events during the month included key leadership appointments and new capital allocation plans, particularly funding for enhanced safety measures. Securities rallied across the company's capital structure, including a 26% increase in PG&E common stock.

DISCLOSURES

This report was prepared by FEG (also known as Fund Evaluation Group, LLC), a federally registered investment adviser under the Investment Advisers Act of 1940, as amended, providing non-discretionary and discretionary investment advice to its clients on an individual basis. Registration as an investment adviser does not imply a certain level of skill or training. The oral and written communications of an adviser provide you with information about which you determine to hire or retain an adviser. Fund Evaluation Group, LLC, Form ADV Part 2A & 2B can be obtained by written request directly to: Fund Evaluation Group, LLC, 201 East Fifth Street, Suite 1600, Cincinnati, OH 45202, Attention: Compliance Department.

The information herein was obtained from various sources. FEG does not guarantee the accuracy or completeness of such information provided by third parties. The information in this report is given as of the date indicated and believed to be reliable. FEG assumes no obligation to update this information, or to advise on further developments relating to it. FEG, its affiliates, directors, officers, employees, employee benefit programs and client accounts may have a long position in any securities of issuers discussed in this report.

Index performance results do not represent any managed portfolio returns. An investor cannot invest directly in a presented index, as an investment vehicle replicating an index would be required. An index does not charge management fees or brokerage expenses, and no such fees or expenses were deducted from the performance shown.

Neither the information nor any opinion expressed in this report constitutes an offer, or an invitation to make an offer, to buy or sell any securities.

Any return expectations provided are not intended as, and must not be regarded as, a representation, warranty or predication that the investment will achieve any particular rate of return over any particular time period or that investors will not incur losses.

Past performance is not indicative of future results.

Investments in private funds are speculative, involve a high degree of risk, and are designed for sophisticated investors.

All data is as of April 30, 2019 unless otherwise noted.

INDICES

The Alerian MLP Index is a composite of the 50 most prominent energy Master Limited Partnerships that provides investors with an unbiased, comprehensive benchmark for this emerging asset class.

Barclays Capital Fixed Income Indices is an index family comprised of the Barclays Capital Aggregate Index, Government/Corporate Bond Index, Mortgage-Backed Securities Index, and Asset-Backed Securities Index, Municipal Index, High-Yield Index, and others designed to represent the broad fixed income markets and sectors within constraints of maturity and minimum outstanding par value. See https://ecommerce.barcap.com/indices/index.dxml for more information.

The CBOE Volatility Index (VIX) is an up-to-the-minute market estimate of expected volatility that is calculated by using real-time S&P 500 Index option bid/ask quotes. The Index uses nearby and second nearby options with at least 8 days left to expiration and then weights them to yield a constant, 30-day measure of the expected volatility of the S&P 500 Index. FTSE Real Estate Indices (NAREIT Index and EPRA/NAREIT Index) includes only those companies that meet minimum size, liquidity and free float criteria as set forth by FTSE and is meant as a broad representation of publicly traded real estate securities. Relevant real estate activities are defined as the ownership, disposure, and development of income-producing real estate. See www.ftse.com/Indices for more information.

HFRI Monthly Indices (HFRI) are equally weighted performance indexes, compiled by Hedge Fund Research Inc. (HFX), and are used by numerous hedge fund managers as a benchmark for their own hedge funds. The HFRI are broken down into 37 different categories by strategy, including the HFRI Fund Weighted Composite, which accounts for over 2000 funds listed on the internal HFR Database. The HFRI Fund of Funds Composite Index is an equal weighted, net of fee, index composed of approximately 800 fund- of- funds which report to HFR. See www.hedgefundresearch.com for more information on index construction.

J.P. Morgan's Global Index Research group produces proprietary index products that track emerging markets, government debt, and corporate debt asset classes. Some of these indices include the JPMorgan Emerging Market Bond Plus Index, JPMorgan Emerging Market Local Plus Index, JPMorgan Global Bond Non-US Index and JPMorgan Global Bond Non-US Index. See www.jpmorgan.com for more information.

Merrill Lynch high yield indices measure the performance of securities that pay interest in cash and have a credit rating of below investment grade. Merrill Lynch uses a composite of Fitch Ratings, Moody's and Standard and Poor's credit ratings in selecting bonds for these indices. These ratings measure the risk that the bond issuer will fail to pay interest or to repay principal in full. See www.ml.com for more information.

Morgan Stanley Capital International – MSCI is a series of indices constructed by Morgan Stanley to help institutional investors benchmark their returns. There are a wide range of indices created by Morgan Stanley covering a multitude of developed and emerging economies and economic sectors. See www.morganstanley.com for more information.

Russell Investments rank U.S. common stocks from largest to smallest market capitalization at each annual reconstitution period (May 31). The primary Russell Indices are defined as follows: 1) the top 3,000 stocks become the Russell 3000 Index, 2) the largest 1,000 stocks become the Russell 1000 Index, 3) the smallest 800 stocks in the Russell 1000 Index become the Russell Midcap index, 4) the next 2,000 stocks become the Russell 2000 Index, 5) the smallest 1,000 in the Russell 2000 Index plus the next smallest 1,000 comprise the Russell Microcap Index. See www.russell.com for more information.

S&P 500 Index consists of 500 stocks chosen for market size, liquidity and industry group representation, among other factors by the S&P Index Committee, which is a team of analysts and economists at Standard and Poor's. The S&P 500 is a market-value weighted index, which means each stock's weight in the index is proportionate to its market value and is designed to be a leading indicator of U.S. equities, and meant to reflect the risk/return characteristics of the large cap universe. See www.standardandpoors.com for more information.

Information on any indices mentioned can be obtained either through your consultant or by written request to information@feg.com.