With the recent market volatility, we are offering additional context on the energy market and the recent plummet in oil prices.
Oil Markets in Turmoil
Below is a brief timeline of the events that led to turmoil in the oil markets.
December 31, 2019 - First Coronavirus Case Reported
China reported the first case of the Coronavirus (COVID-19). Since that time, markets have experienced significant turmoil in response to global economic slowdown expectations.
March 2, 2020 - OPEC Meets to Respond


Prior to the meeting, the market had anticipated additional production cuts, along with an extension of those previously agreed to cuts, which expire at the end of March.

OPEC and certain non-OPEC countries (collectively known as OPEC+) met in Vienna but failed to reach an agreement on production cuts due to Russia's actions to stall a decision. Notably, Russia refused to agree to additional production cuts, a decision that could be aimed at adding pressure to the U.S. shale producers and capturing additional market share.

March 6, 2020 - A Price War Ensues
Meeting for a second time during the week, Russia refuses deeper production cuts or an extension of those currently in place due.



Subsequently, Saudi Arabia announced cuts to its pricing for crude oil and indicated it would boost production, effectively entering a price war with Russia.

March 9, 2020 - Oil Prices Collapse
In response to these events and concerns that energy markets could suffer from a demand shock driven in part by the Coronavirus, oil prices plunged 25% to close at approximately $31/barrel. This represented the largest one-day decline since 1991.

The implications of sharply lower oil prices are potentially far reaching for the global economy. Energy companies could cut production, leading to layoffs and banks holding loans to energy companies could be negatively impacted.
Demand and Supply Shocks
Markets expected deeper OPEC cuts prior to the March 9 decision by Saudia Arabia and Russia.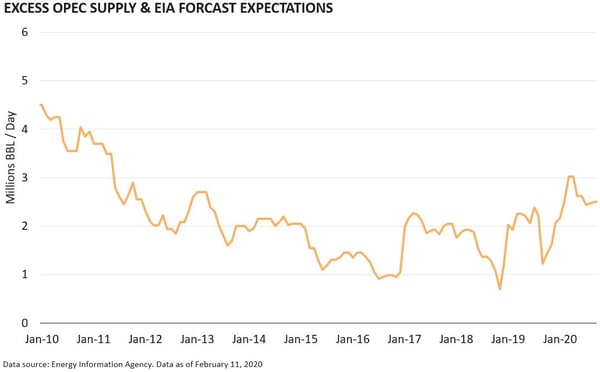 March 9 saw a 25% single-day decline and a 49% decline year to date.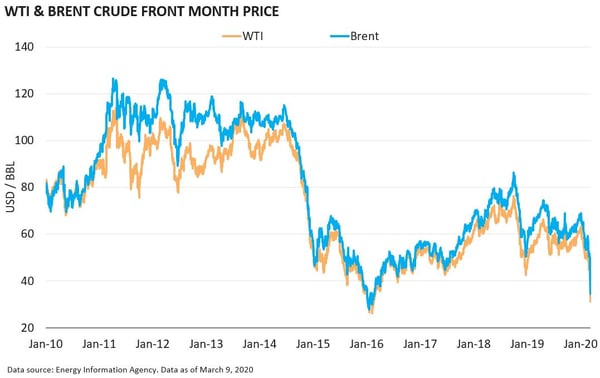 Oil began trading in contango in February, expecting some relief for future pricing. (Contango is when the futures price is higher than the spot price, indicating that asset price is expected to rise over time.)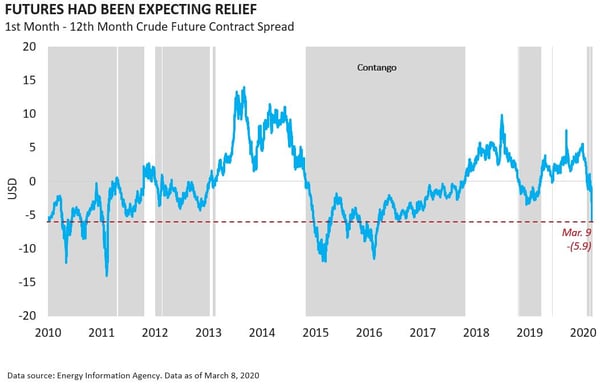 However, the recent price war only deepened pricing expectations.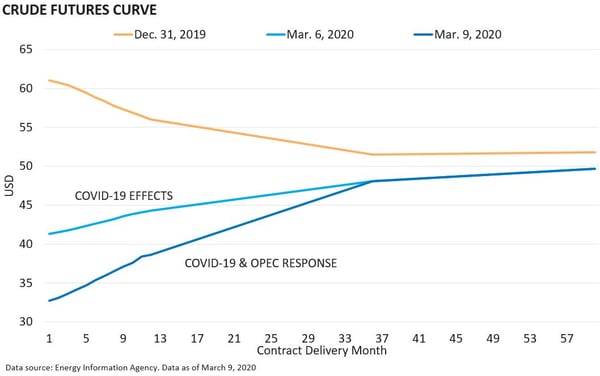 Demand Destruction Likely To Be Led By China
China is one of the primary consumers of liquid fuels, and has been the primary driver of consumption growth.
In 2019, China consumed nearly 15% of global liquid fuels for use in their industrial and manufacturing processes and transportation end use.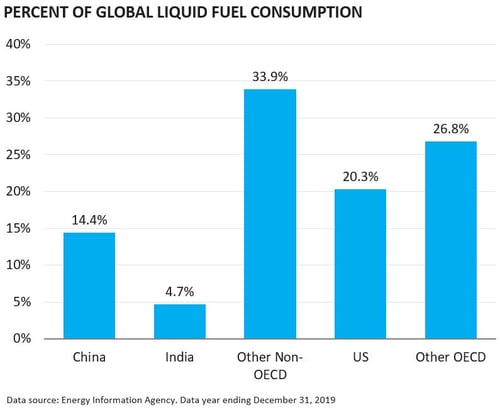 Further, China has grown its fuel consumption considerably over the past five years, with the expectation this trend continues. A disruption in China's fuel consumption can and has had an outsized impact on energy commodity prices.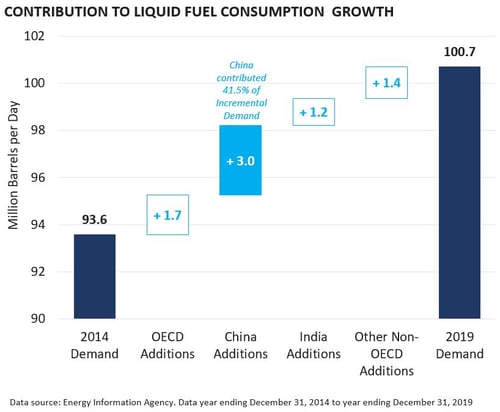 Current Price Levels Are Unsustainable in the Long-Term
Current oil prices are not sustainable for new projects within the U.S., and most other geographies.
Saudi Arabia has the lowest cost of crude oil extraction, but this does not consider the commonly quoted breakeven figure that the country would need to balance its budget.
In the short term, it may be important to consider drilled but uncompleted wells in the U.S. that may have a lower breakeven point when sunk costs are disregarded.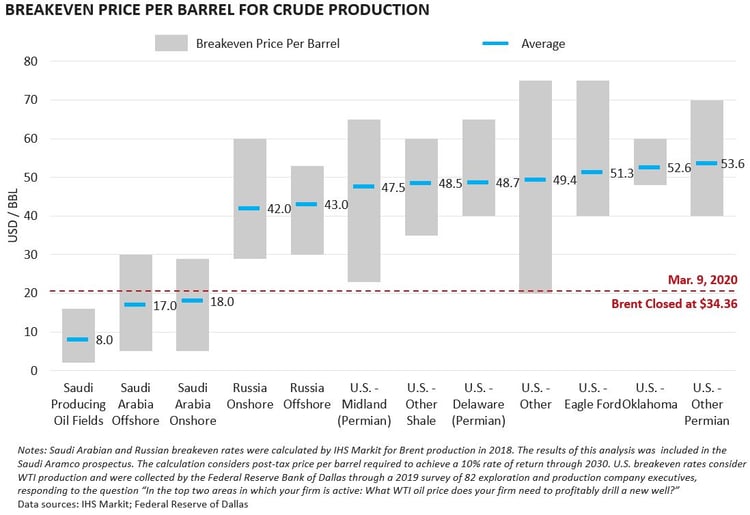 Midstream Energy and Commodity Prices
Oil volatility has bled into the midstream and was seen in the recent collapse.
While midstream is a "volume business" that paid based on the throughput of their infrastructure, it has historically traded in-line with oil in times of excessive volatility – a relationship that is not present in broader equity markets.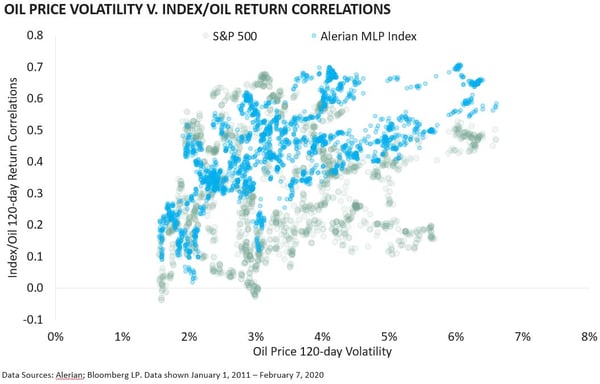 Midstream was already off to slow start this year, particularly MLPs. With the collapse in oil prices, MLPs and C-corps experienced a sell off on general sentiment around the commodity and potential declines in future throughput.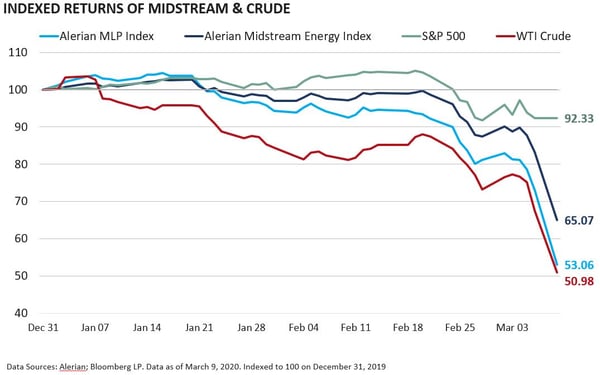 Conclusion
Expect mark-downs in asset values in private energy funds for first quarter 2020.
Managers use a number of inputs into their valuation process. Apart from commodity prices, these include reserves, production rates, operating costs, and estimated capital expenditures.
Estimates and assumptions apply a discount rate commensurate with production profile. A discount rate of 10% will typically be used for proved reserves.
Managers also calculate values based on the three-year NYMEX (New York Mercantile Exchange) strip. In this case, the NYMEX forward curves for oil and gas prices as of the end of the current quarter are applied to the production forecast for the next three years.
"Resource Funds" – those that own and operate oil and gas properties

–

are more exposed to commodity price movements.
Energy services companies may be particularly vulnerable to cutbacks in drilling activity.
DISCLOSURES
This presentation was prepared by FEG (also known as Fund Evaluation Group, LLC), a federally registered investment adviser under the Investment Advisers Act of 1940, as amended, providing non-discretionary and discretionary investment advice to its clients on an individual basis. Registration as an investment adviser does not imply a certain level of skill or training. The oral and written communications of an adviser provide you with information about which you determine to hire or retain an adviser. FEG Form ADV Part 2A & 2B can be obtained by written request directed to: FEG, 201 East Fifth Street, Suite 1600, Cincinnati, OH 45202 Attention: Compliance Department.
The information herein was obtained from various sources. FEG does not guarantee the accuracy or completeness of such information provided by third parties. The information in this report is given as of the date indicated and believed to be reliable. FEG assumes no obligation to update this information, or to advise on further developments relating to it.
FEG, its affiliates, directors, officers, employees, employee benefit programs and client accounts may have a long position in any securities of issuers discussed in this presentation.
Neither the information nor any opinion expressed in this report constitutes an offer, or an invitation to make an offer, to buy or sell any securities.
Past performance is not indicative of future results.
Index performance results do not represent any managed portfolio returns. An investor cannot invest directly in a presented index, as an investment vehicle replicating an index would be required. An index does not charge management fees or brokerage expenses, and no such fees or expenses were deducted from the performance shown.
This presentation is prepared for informational purposes only. It does not address specific investment objectives, or the financial situation and the particular needs of any person who may receive this presentation.
Any return expectations provided are not intended as, and must not be regarded as, a representation, warranty or predication that the investment will achieve any particular rate of return over any particular time period or that investors will not incur losses.
The S&P 500 Index is a capitalization-weighted index of 500 stocks representing all major industries and designed to measure the performance of the broad domestic economy through changes in aggregate market value. For more information, see us.spindices.com
The Alerian MLP Index is a float-adjusted, capitalization-weighted index, whose constituents earn the majority of their cash flow from midstream activities involving energy commodities. See www.alerian.cim for more information.
The Alerian US Midstream Energy Index is comprised of energy infrastructure companies whose constituents earn the majority of their cash flow from midstream activities involving energy commodities. This index is based on market capitalization and float adjusted and assumes the reinvestment of distributions. For more information see www.alerian.com.