Considering the recent market volatility, this update is meant to serve as additional context to the FEG Insight: 2020 Fixed Income Outlook published in January 2020.
Of the takeaways we offered investors to consider, we want to focus on the following:
Reducing the duration of the traditional fixed income portfolio from core to intermediate
Focusing on fees being paid for active management in the overall fixed income portfolio, particularly in the traditional and semi-liquid segments
Reduce Duration
While the 2019 fixed income experience for investors using "core" strategies as their primary fixed income proved exceptional—the Bloomberg Barclays Aggregate Bond Index (AGG) returned 8.7% in 2019 and the COVID-19 pandemic has driven additional year-to-date gains of 4.9% as of May 15, 2020—the asymmetry of U.S. Treasuries, which were referenced in the original outlook, has dipped even further as a result of the bond rally. Treasuries illustrate how low rates in intermediate bonds can limit long-term returns even if rates decline further, and any rate increases can bring near-term downside risk.
This comment has become even more relevant as the bond market hovers near the zero bound for Treasuries.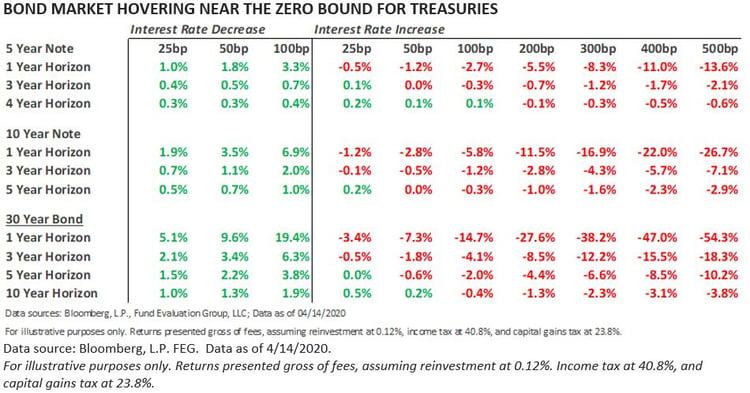 The higher degree of duration in the AGG, coupled with the knowledge that most active core fixed income managers do not make material duration "bets," leads to one potential solution for investors. Those seeking a more stable fixed income experience should strongly consider shifting assets away from core strategies to an intermediate duration. As of May 15, 2020, the Bloomberg Barclays U.S. Intermediate Aggregate Bond Index (intermediate AGG) was offering a coupon of 2.9% versus 3.1% for the AGG, with only 57% of the duration—3.4 years for the intermediate AGG versus 6 years for the AGG.
With compound coupons, little is sacrificed in terms of yield by shifting to an intermediate duration strategy, as the intermediate AGG yielded 86% of the AGG on May 15, 2020—1.2% versus 1.4%. The potential downside to making this shift is lagging performance of intermediate bonds if rates fall further, but the upside is less volatility as rates ebb and flow.
Focus on Fees
The first lesson fixed income analysts learn is basis points (bps) matter, and when the starting yield of an asset class is only 1.4% (down from 2.3% at the end of 2019), paying 43 bps1 can lower return potential by almost 31%2 (up from 20% at the end of 2019). In conjunction with lower fees, investors may consider passive fixed income strategies to replicate the exposures they seek in traditional fixed income markets, as these vehicles typically have lower fees.
While FEG believes in active fixed income management, the fact that U.S. Treasury yields are hovering above the zero bound has prompted a reassessment of what investors are willing to pay for these services in the most conservative areas of fixed income and has required ongoing dialogue with managers on this issue.
We realize the market volatility can be unsettling, which is why we are committed to keeping our clients updated. Please reach out to your FEG contact if you would like to have a call or set up a meeting.
FOOTNOTES
1 The average expense ratio for actively managed core fixed income institutional mutual funds with a minimum track record of 10 years was 43 bps according to eVestment Alliance – spreadsheet available upon request.
2 Calculation (1.39% - 0.96%)/1.39% = 30.9
DISCLOSURES
This report was prepared by FEG (also known as Fund Evaluation Group, LLC), a federally registered investment adviser under the Investment Advisers Act of 1940, as amended, providing non-discretionary and discretionary investment advice to its clients on an individual basis. Registration as an investment adviser does not imply a certain level of skill or training. The oral and written communications of an adviser provide you with information about which you determine to hire or retain an adviser. Fund Evaluation Group, LLC, Form ADV Part 2A & 2B can be obtained by written request directly to: Fund Evaluation Group, LLC, 201 East Fifth Street, Suite 1600, Cincinnati, OH 45202, Attention: Compliance Department.
The information herein was obtained from various sources. FEG does not guarantee the accuracy or completeness of such information provided by third parties. The information in this report is given as of the date indicated and believed to be reliable. FEG assumes no obligation to update this information, or to advise on further developments relating to it. FEG, its affiliates, directors, officers, employees, employee benefit programs and client accounts may have a long position in any securities of issuers discussed in this report.
Index performance results do not represent any managed portfolio returns. An investor cannot invest directly in a presented index, as an investment vehicle replicating an index would be required. An index does not charge management fees or brokerage expenses, and no such fees or expenses were deducted from the performance shown.
Neither the information nor any opinion expressed in this report constitutes an offer, or an invitation to make an offer, to buy or sell any securities.
Any return expectations provided are not intended as, and must not be regarded as, a representation, warranty or predication that the investment will achieve any particular rate of return over any particular time period or that investors will not incur losses.
Past performance is not indicative of future results.
Investments in private funds are speculative, involve a high degree of risk, and are designed for sophisticated investors.
This report is prepared for informational purposes only. It does not address specific investment objectives, or the financial situation and the particular needs of any person who may receive this report.
Diversification or Asset Allocation does not assure or guarantee better performance and cannot eliminate the risk of investment loss.
The Bloomberg Barclays Capital Aggregate Bond Index is a benchmark index made up of the Bloomberg Barclays Capital Government/Corporate Bond Index, Mortgage‐Backed Securities Index, and Asset‐Backed Securities Index, including securities that are of investment‐grade quality or better, have at least one year to maturity, and have an outstanding par value of at least $100 million.