Federal Reserve Hikes Rates at June Meeting
At their mid-June Federal Open Market Committee, the Federal Reserve moved forward with a 25 basis point increase to the federal funds rate, placing the new targeted range at 1.00%-1.25%, the fourth hike in the current tightening cycle. Of equal significance was the Fed's detailed statement regarding plans for a partial winding down of their balance sheet, which, at over $4 trillion as of June 14, 2017, is more than five times the size it was before the Global Financial Crisis. Among other line items on the Fed's balance sheet are more than $2 trillion in nominal Treasury securities, nearly half of which are set to mature in the next three years.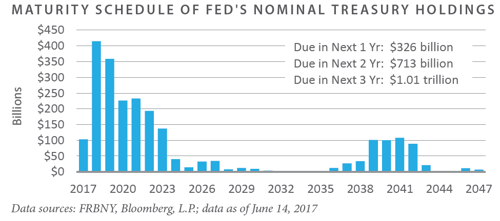 This "wall of maturities" has the potential to materially alter the Fed's influence on broader financial conditions. Previously, the Fed replaced maturing bonds with newly-issued securities at auction, serving as a key support mechanism for financial conditions by creating demand for Treasuries and maintaining a large amount of the banking system reserves. In other words, despite a lack of direct asset purchases since the conclusion of the Fed's third quantitative easing program in October 2014, the Fed has remained stimulative through the reinvestment of maturing securities.
Although the Fed provided some insight into their plans for shrinking the size of their balance sheet, any long-term implications for financial conditions, asset prices, and economic fundamentals remain difficult to discern. Declining demand for Treasury securities on behalf of the Fed may lead to rising Treasury rates, as previous Fed Treasury reinvestments helped apply upward pressure to Treasury prices through the stripping of supply from the market; however, the combination of interest rate hikes and a shrinking balance sheet could conversely serve as a headwind to already elevated valuations across many "risky" areas of the market, potentially supporting safe-haven assets that typically benefit in a risk-off environment. To summarize, the ramifications of the Fed's next chapter in their tightening playbook remain unclear, necessitating vigilance on the behalf of investors seeking to navigate the shifting winds of today's central bank-dominated capital markets successfully.
Global Equity
Corporate earnings improved and the U.S. labor market showed continued strength in the second quarter, supporting equity returns in all market caps.

Earnings remained particularly strong in the information technology sector, and news of Amazon's $14 billion acquisition of Whole Foods created headlines about the evolving business of the Internet retailer.1

Stocks in the energy sector were hit particularly hard, with ongoing supply concerns weighing on oil prices as U.S. production increases garnered attention despite the continuation of OPEC's production cuts.

Optimism abounded in Europe when Emmanuel Macron was elected president of France—just 14 months after founding a new political party—eliminating Marine Le Pen's presidential hopes and reassuring European investors while spurring a 7% gain in the euro against the U.S. dollar.2

MSCI announced plans in June to add China A shares to the emerging markets index in a scaled fashion over the next year, contributing to double-digit returns in the Chinese market.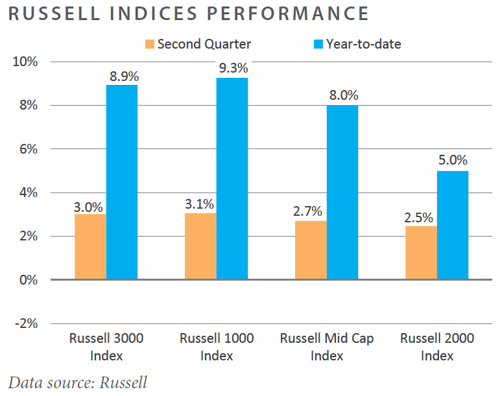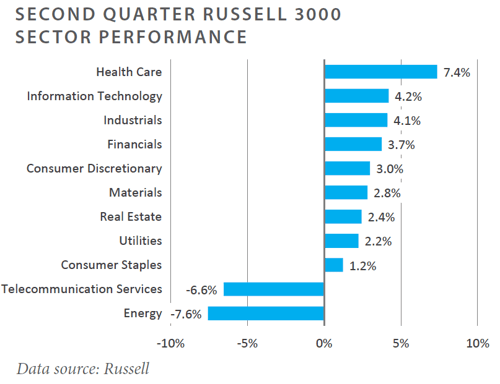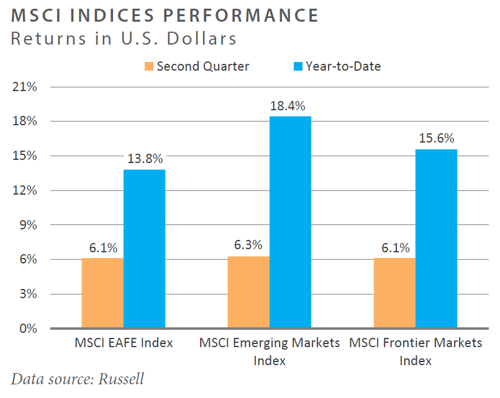 Fixed Income
MARKET DRIVERS
As anticipated, the Fed increased its target rate 25 bps during the quarter, and the market is implying a 57% probability of a third rate hike by year-end.3

Mario Draghi, Head of the ECB, showed confidence in improving economic conditions and shifted to a hawkish tone as he announced that the ECB may begin to curtail current stimulus efforts.
MARKET MOVEMENT
Inflation expectations continued to decline following the increase at the beginning of the year, decreasing the 10-year breakeven rate by 23 bps.4

The yield curve flattened as the 2-year Treasury increased 15 bps against a flat 10-year Treasury. The 10-year yield dropped to a low of 2.1% during the quarter, but ended the quarter unchanged at 2.3% after Draghi's announcement.5

Risk-on sentiment continued to rally, with no major changes to the stability of corporate credit fundamentals.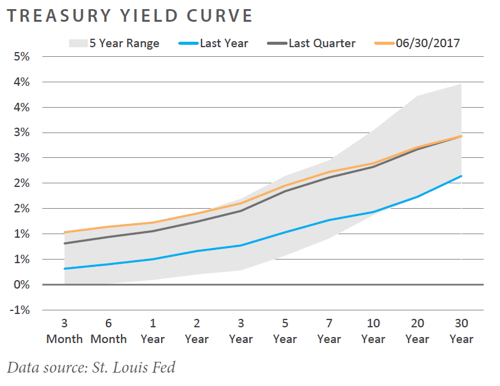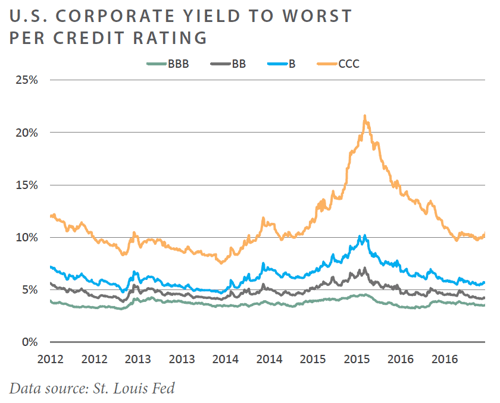 Real Assets
REAL ESTATE
International real estate securities were positively affected by a growth in overall construction throughout the international market during the second quarter, due in part to accessible capital markets and the beginning of the summer season in the northern hemisphere. In the U.S., REIT performance was more tepid, which may be a consequence of the rising rate environment.
NATURAL RESOURCES
Oil prices decreased during the second quarter due to rising fears of increasing production, while demand remained relatively flat for the quarter.

Livestock was the only portion of the commodity complex to provide positive returns, with reduced Brazilian exports and increased demand in China partially offsetting declines that led to a 3% loss in commodities for the quarter.6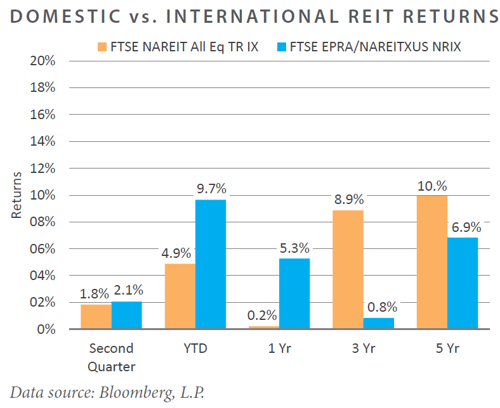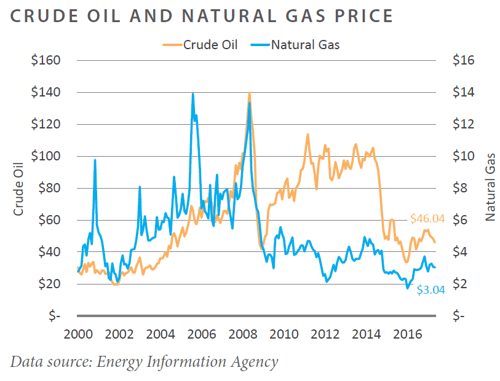 MASTER LIMITED PARTNERSHIPS
A drop in the price of crude oil in the quarter led to a decline in MLPs. MLP performance had become less correlated with the price of crude oil as stability began to return to the oil markets; however, consistently high oil inventories weighed on commodity markets, creating a resurgence of apprehension in the MLP space despite the need for continued investment in U.S. energy infrastructure, even at current prices.
Diversifying Strategies
The risk asset rally supported by Macron's election victory was beneficial for global macro managers with long positions in the euro and European equities, as well as for event-driven managers that tend to be more highly correlated to equity markets.

In late May, corruption allegations against Brazilian President Michel Temer shocked markets and led to a sell-off in the Brazilian real and equities. Emerging markets managers were generally positioned long risk assets in Brazil, as many were bullish on the reform agenda put in place by President Temer.

Major central banks such as the Fed, ECB, Bank of England, and Bank of Canada took a more hawkish stance toward the end of June, sending global bond yields soaring and the U.S. dollar plummeting. These large trend reversals hurt momentum-driven strategies such as Commodity Trading Advisors.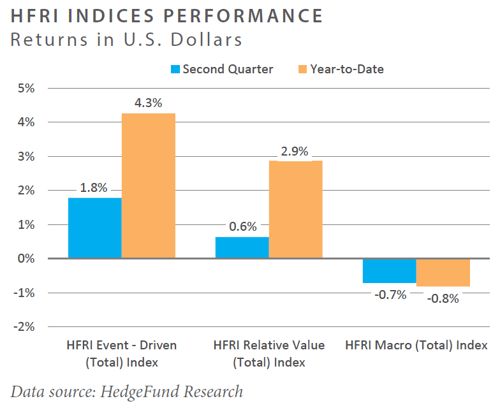 1 Turner, Wang, and Soper, Amazon to Acquire Whole Foods for $13.7 Billion, Bloomberg LP, June 16, 2017
2-5 Data from Bloomberg, L.P.
6 Data from Lipper
DISCLOSURES
This report was prepared by Fund Evaluation Group, LLC (FEG), a federally registered investment adviser under the Investment Advisers Act of 1940, as amended, providing non-discretionary and discretionary investment advice to its clients on an individual basis. Registration as an investment adviser does not imply a certain level of skill or training. The oral and written communications of an adviser provide you with information about which you determine to hire or retain an adviser. Fund Evaluation Group, LLC, Form ADV Part 2A & 2B can be obtained by written request directly to: Fund Evaluation Group, LLC, 201 East Fifth Street, Suite 1600, Cincinnati, OH 45202, Attention: Compliance Department.
The information herein was obtained from various sources. FEG does not guarantee the accuracy or completeness of such information provided by third parties. The information in this report is given as of the date indicated and believed to be reliable. FEG assumes no obligation to update this information, or to advise on further developments relating to it. FEG, its affiliates, directors, officers, employees, employee benefit programs and client accounts may have a long position in any securities of issuers discussed in this report.
Index performance results do not represent any managed portfolio returns. An investor cannot invest directly in a presented index, as an investment vehicle replicating an index would be required. An index does not charge management fees or brokerage expenses, and no such fees or expenses were deducted from the performance shown.
Neither the information nor any opinion expressed in this report constitutes an offer, or an invitation to make an offer, to buy or sell any securities.
Any return expectations provided are not intended as, and must not be regarded as, a representation, warranty or predication that the investment will achieve any particular rate of return over any particular time period or that investors will not incur losses.
Past performance is not indicative of future results.
Investments in private funds are speculative, involve a high degree of risk, and are designed for sophisticated investors.
All data is as of June 30, 2017 unless otherwise noted.
INDICES
The Alerian MLP Index is a composite of the 50 most prominent energy Master Limited Partnerships that provides investors with an unbiased, comprehensive benchmark for this emerging asset class.
Barclays Capital Fixed Income Indices is an index family comprised of the Barclays Capital Aggregate Index, Government/Corporate Bond Index, Mortgage-Backed Securities Index, and Asset-Backed Securities Index, Municipal Index, High-Yield Index, and others designed to represent the broad fixed income markets and sectors within constraints of maturity and minimum outstanding par value. See https://ecommerce.barcap.com/indices/index.dxml for more information.
The CBOE Volatility Index (VIX) is an up-to-the-minute market estimate of expected volatility that is calculated by using real-time S&P 500 Index option bid/ask quotes. The Index uses nearby and second nearby options with at least 8 days left to expiration and then weights them to yield a constant, 30-day measure of the expected volatility of the S&P 500 Index. FTSE Real Estate Indices (NAREIT Index and EPRA/NAREIT Index) includes only those companies that meet minimum size, liquidity and free float criteria as set forth by FTSE and is meant as a broad representation of publicly traded real estate securities. Relevant real estate activities are defined as the ownership, disposure, and development of income-producing real estate. See www.ftse.com/Indices for more information.
HFRI Monthly Indices (HFRI) are equally weighted performance indexes, compiled by Hedge Fund Research Inc. (HFX), and are used by numerous hedge fund managers as a benchmark for their own hedge funds. The HFRI are broken down into 37 different categories by strategy, including the HFRI Fund Weighted Composite, which accounts for over 2000 funds listed on the internal HFR Database. The HFRI Fund of Funds Composite Index is an equal weighted, net of fee, index composed of approximately 800 fund- of- funds which report to HFR. See www.hedgefundresearch.com for more information on index construction.
J.P. Morgan's Global Index Research group produces proprietary index products that track emerging markets, government debt, and corporate debt asset classes. Some of these indices include the JPMorgan Emerging Market Bond Plus Index, JPMorgan Emerging Market Local Plus Index, JPMorgan Global Bond Non-US Index and JPMorgan Global Bond Non-US Index. See www.jpmorgan.com for more information.
Merrill Lynch high yield indices measure the performance of securities that pay interest in cash and have a credit rating of below investment grade. Merrill Lynch uses a composite of Fitch Ratings, Moody's and Standard and Poor's credit ratings in selecting bonds for these indices. These ratings measure the risk that the bond issuer will fail to pay interest or to repay principal in full. See www.ml.com for more information.
Morgan Stanley Capital International – MSCI is a series of indices constructed by Morgan Stanley to help institutional investors benchmark their returns. There are a wide range of indices created by Morgan Stanley covering a multitude of developed and emerging economies and economic sectors. See www.morganstanley.com for more information.
Russell Investments rank U.S. common stocks from largest to smallest market capitalization at each annual reconstitution period (May 31). The primary Russell Indices are defined as follows: 1) the top 3,000 stocks become the Russell 3000 Index, 2) the largest 1,000 stocks become the Russell 1000 Index, 3) the smallest 800 stocks in the Russell 1000 Index become the Russell Midcap index, 4) the next 2,000 stocks become the Russell 2000 Index, 5) the smallest 1,000 in the Russell 2000 Index plus the next smallest 1,000 comprise the Russell Microcap Index. See www.russell.com for more information.
S&P 500 Index consists of 500 stocks chosen for market size, liquidity and industry group representation, among other factors by the S&P Index Committee, which is a team of analysts and economists at Standard and Poor's. The S&P 500 is a market-value weighted index, which means each stock's weight in the index is proportionate to its market value and is designed to be a leading indicator of U.S. equities, and meant to reflect the risk/return characteristics of the large cap universe. See www.standardandpoors.com for more information.
Information on any indices mentioned can be obtained either through your consultant or by written request to information@feg.com.
Previous
Next