Economic Update
Nonfarm payrolls slumped in March as the headline unemployment rate improved to a post-Global Financial Crisis low. Additionally, consumer price inflation spiked to a five-year high during the quarter. The cycle low in the unemployment rate and a multi-year high in inflation are both expected to provide the Federal Reserve (Fed) with sufficient support to further hike rates this year.
Payrolls Slump in March as the Unemployment Rate Declines to Cycle Low
The March Bureau of Labor Statistics Employment Situation report showed that the U.S. economy added 98,000 (net) new jobs during the month. The 98,000 print not only missed the Bloomberg median consensus estimate, which called for a gain of 180,000 jobs, but was also the weakest monthly print since May 2016 (43,000).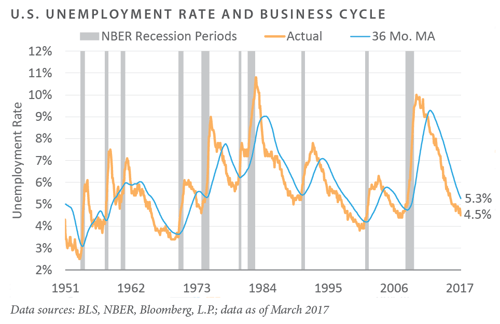 Also worth noting was the report that indicated that March's headline (U-3) unemployment rate improved to 4.5%—from 4.7% in February—representing the lowest unemployment rate since May 2007 (4.4%). One factor driving the unemployment rate lower was a marked improvement in the numerator of the ratio, as the total number of unemployed persons declined to 7.2 million in March, a fresh post-Global Financial Crisis low.
While the 98,000 jobs reading appears somewhat concerning, the unusually weak print was surprisingly unaccompanied by an increase in the unemployment rate or upward pressure on first-time claims for unemployment insurance during the month. In fact, the 20-basis point (bps) improvement in the unemployment rate from February helped maintain the gap between the current rate and its three-year moving average, a historically reliable recession-timing indicator. The 80 basis point spread suggests that the risk of an imminent turn in the business cycle likely remains in check.
Consumer Price Inflation Spikes to Five-Year High during First Quarter 2017
After a multi-year period of declining inflation rates driven by a strengthening U.S. dollar and sharp declines in energy prices, among other factors, headline consumer price inflation—inclusive of food and energy prices—accelerated to 2.7% year-over-year (YoY) through February. The 2.7% YoY reading was the strongest headline inflation rate since February 2012 (+2.9%). An impressive 15.2% YoY gain in the energy subcomponent of the headline index propelled inflation higher over the trailing 12-month period, as both crude oil and natural gas prices witnessed substantial rebounds since February 2016.
Rebounding inflation rates are presumably a welcoming development for the Federal Open Market Committee, as the 2.7% headline CPI print in February was 70 basis points above the Fed's 2% targeted inflation rate. Admittedly, the FOMC focuses their sights on core measures of personal consumption expenditures as their preferred inflation gauge, which remained 20 bps below the 2% target through February. Regardless, with the headline unemployment rate at 4.5% and CPI inflation at 2.7%, the Fed arguably has plenty of evidence supporting continued interest rate hikes. Unfortunately, this soft economic backdrop potentially sets up a conundrum for the Fed, as their dual mandate is providing an "all clear" signal for tighter policy, while current quarter growth estimates, such as the Atlanta Fed's GDPNow™ model, indicate a paltry 0.6% real GDP reading for the first quarter of 2017.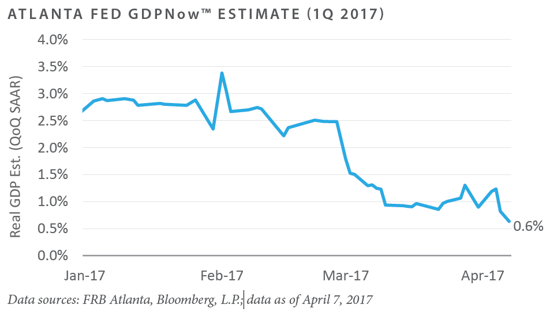 Summary
Certain first-quarter economic trends moved in favor of tighter Fed policy over the quarters ahead, including accelerating headline inflation rates and a recently-established post-Global Financial Crisis low in the unemployment rate. Given the Fed's dual mandate of maximum employment and price stability, potential exists for the combination of further Fed interest rate hikes against an economic backdrop that may not support tighter financial conditions, with the Atlanta Fed's GDPNow™ model currently estimating first quarter economic growth at just 0.6%.
Global Equity
U.S. Equity
The U.S. stock market, represented by the Russell 3000 Index, gained 5.7% in the first quarter of 2017. Equities continued to perform well throughout the quarter, as funds flowed at record levels into equity markets. Optimism about possible healthcare and tax reform coupled with signs of slow and steady economic improvement helped account for the recent rally in U.S. equity markets.
Small cap stocks (+2.5%) lagged both large cap (+6.0%) and mid cap (+5.1%) stocks during the quarter.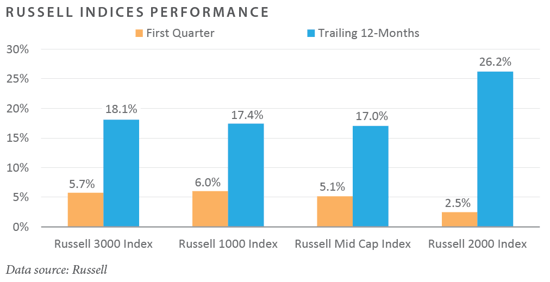 Most of the 11 sectors posted gains in the first quarter, with only energy (-6.8%) and telecommunication services (-3.3%) declining. The market saw mixed performance within sector structures. For example, economically sensitive sectors of the economy saw remarkably positive performances from information technology (+11.9%), but poor performances from telecommunication services (-3.3%). Further disparity was apparent in cyclical sectors of the economy—consumer discretionary (+7.8%) performed very well, while financials (+2.2%) lagged the broader index. Defensive sectors such as healthcare (+8.9%) and utilities (+6.1%) outperformed the broader index, and showed minimal variation in returns within the category.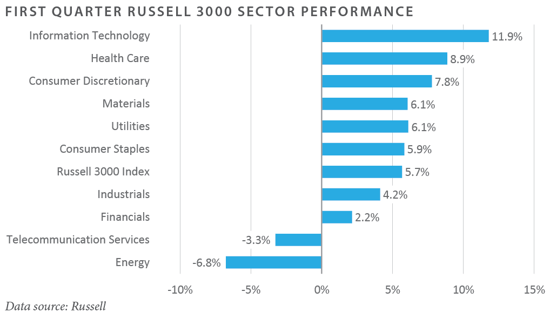 The best performing sectors during the first quarter of 2017 were information technology (+11.9%), healthcare (+8.9%), and consumer discretionary (+7.8%). The top performers in these sectors were driven by investor demand for quality companies this quarter—a reversal from the prior quarter.
Growth stocks led value stocks meaningfully across market capitalizations in the first quarter. Strong performance in the technology sector was primarily responsible for the relative outperformance by growth. Conversely, more developed, traditionally value-oriented sectors like energy and financials performed poorly in the quarter.
The largest discrepancy between growth and value was most pronounced with regards to large cap stocks. The difference between large cap growth and large cap value in the first quarter was 5.6%.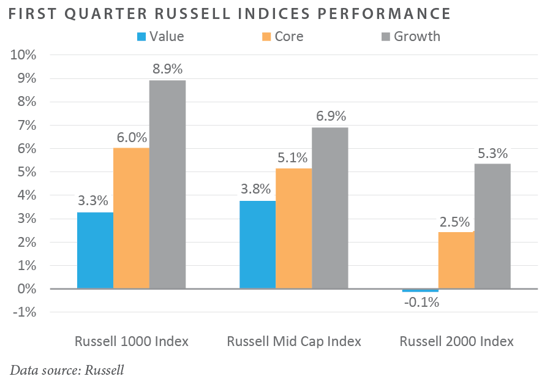 International Equity
All returns in local currency unless otherwise indicated.
INTERNATIONAL DEVELOPED MARKETS
International developed equity markets gained in the first quarter (+4.7%). Currency fluctuations had a strong positive impact on U.S. investors due to the dollar's depreciation against the major currencies of the Japanese yen, euro, and British pound. Returns for U.S. investors were 7.3% after adjusting for currency changes.
The U.S. dollar fell 4.6% against the Japanese yen, 1.5% against the euro, and 1.6% against the British pound.
Equities in Europe gained 6.0% in the quarter, (+7.4% for U.S. investors). The British pound and euro both strengthened against the U.S. dollar.
Pacific markets appreciated 2.5% in local terms (+2.5%), and 6.9% when measured in U.S. dollars. Japanese markets (-1.0%) underperformed their counterparts in Europe and the U.K. both in local terms and when translated to U.S. dollars.
Small cap stocks, as measured by the MSCI EAFE Small Cap Index, gained 5.1% (+8.0% in U.S. dollars) in the first quarter, outperforming large cap stocks.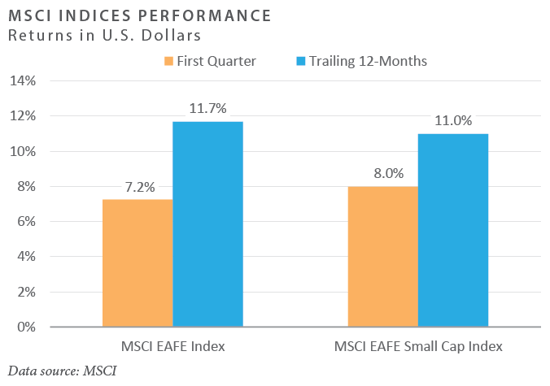 EMERGING MARKETS
Emerging markets, as measured by the MSCI Emerging Markets Index, outperformed developed international markets, rising 7.8% in the first quarter (+11.4% in U.S. dollar terms). Emerging markets also outperformed U.S. stocks during the first quarter.
Emerging markets rebounded after a tough fourth quarter of 2016 and rallied during the first quarter of 2017. More stable commodity prices in some of the key emerging economies, coupled with domestic reform in key markets, were the primary drivers behind strong emerging market performance. The outlook remains somewhat opaque, as emerging market performance will likely be strongly impacted by U.S. foreign policy.
Emerging European markets experienced a tough quarter, falling 3.0% in local terms. Russia's poor performance (-10.6%) detracted from overall performance.
Latin America (+7.6%) produced a positive gain, supported by Brazil's return of 7.6% due to continued political and economic improvements. Mexico also performed well, rising 6.1% as the market saw tensions between the U.S. and Mexico ease slightly throughout the quarter.
The impact of currency fluctuations was positive for U.S.-based investors, as the U.S. dollar depreciated 7.5% against the South Korean won and 8.1% against the Russian ruble.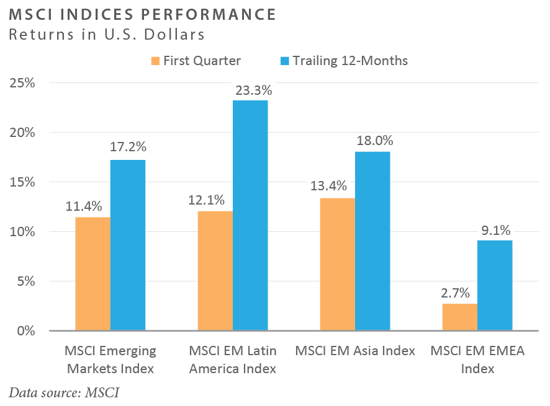 FRONTIER MARKETS
Frontier markets gained 8.5% in the quarter (+8.9% in U.S. dollars). Currency fluctuations were beneficial for U.S. investors, as the U.S. dollar experienced a slight weakening in value.
Latin American and Central/Eastern European frontier markets performed extremely well during the quarter, rising 34.8% and 11.0%, respectively. Countries in the Middle East were strong on the heels of the production cut by OPEC, including Kazakhstan (+27.9%) and Bahrain (+24.6%).
Africa (-2.5%) underperformed the broader index, as Morocco (-4.7%) performed poorly in the first quarter.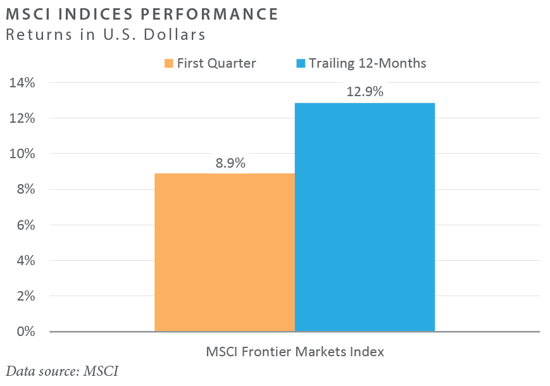 Hedged Equity
Global equity markets were positive for the quarter. The HFRI Equity Hedge (Total) Index returned 3.8%, trailing the broad public markets. All sub-index returns were positive except for short-biased funds (-4.7%).
Growth outperformed value, continuing a trend from the start of the calendar year. The HFRI EH: Fundamental Growth Index returned 6.0% and the HFRI EH: Fundamental Value Index gained 3.3%.
Growth-oriented sector-specific indices saw strong performance, including the HFRI EH: Sector – Healthcare Index (+6.7%) and the HFRI EH: Sector – Technology Index (+4.6%). The HFRI EH: Sector – Energy/Basic Materials Index was essentially flat due to the sell-off in commodities.
Performance of quantitative strategies relative to fundamental equity strategies was comparable. The HFRI EH: Quantitative Directional Index returned 3.0%, just short of the HFRI: Fundamental Value Index (+3.3%).
The broad HFRI Emerging Markets (Total) Index returned 6.1%. The HFRI Emerging Markets: India Index returned 16.7% as Indian equities continued to bounce back after the 2016 sell-off following the demonetization effort of the central bank. The HFRI Emerging Markets China Index returned 8.9%, while the HFRI Emerging Markets: Latin America Index gained 7.9% with a strong start to the year.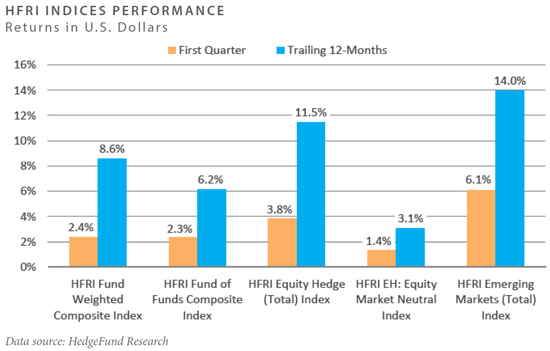 Fixed Income
OVERVIEW
The Bloomberg Barclays U.S. Aggregate Bond Index (BAGG) increased 0.8% during the first quarter. Agency mortgage-backed securities returned 0.5%, investment-grade credit returned 1.3%, and U.S. government securities returned 0.7%.
Investment-grade commercial mortgage-backed securities (CMBS), a smaller component of the BAGG, increased 0.9% during the quarter.
Emerging market debt (EMD) local currency posted a gain of 5.2%, while dollar-denominated EMD increased 3.8%.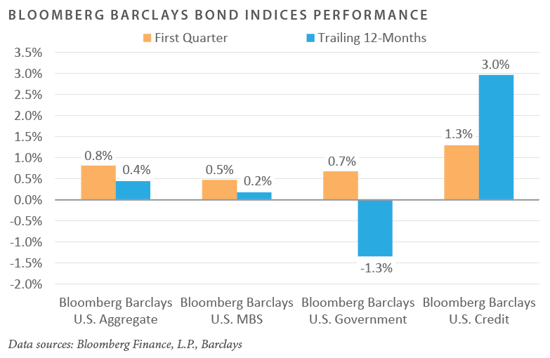 RATES
The 2-year note yield increased 6 bps to 1.25%, the 10-year note yield decreased 5 bps to 2.39%, and the 30-year bond yield decreased 6 bps to 3.01%.
Inflation expectations increased during the quarter. The 10-year break-even rate of inflation increased 1 basis point to 1.98% and concluded the month 2 bps below the Fed's 2.0% target. The yield on the benchmark 10-year Treasury Inflation-Protected Securities (TIPS) moved 13 bps higher to 0.4%, and the Bloomberg Barclays U.S. TIPS Index returned 1.3% during the quarter.
CREDIT
Investment-grade corporate bonds increased 1.0%, led by financials (+1.3%). Industrials were up 1.2% and utilities were up 1.0%.
Both fixed income risk sector returns were positive, with a 2.7% gain for the Bloomberg Barclays U.S. Corporate High Yield Index and 1.0% gain for bank loans.
Real Assets
DOMESTIC REITs
Real estate investment trusts (REITs), as measured by the FTSE NAREIT All Equity Index, rose 2.6% during the first quarter. The FTSE/NAREIT All Equity REIT Index declined 1.6% in March and 5.3% for the trailing 12 months.
At the end of the first quarter, the REIT dividend yield stood at 3.9%, versus a yield of 2.4% for the 10-year Treasury.
Timber REITs were positively impacted by increased expectations for inflation as well as favorable temperatures, gaining 12.9% year-to-date with a yield of 3.6%. The largest timber REIT by market cap, Weyerhaeuser Co., gained almost 17% in the first quarter.
Retail underperformed during the quarter, falling 4.8% and bringing the trailing 12 month to -11.1%. This decline can be partially attributed to declining sales and competition from online retailers.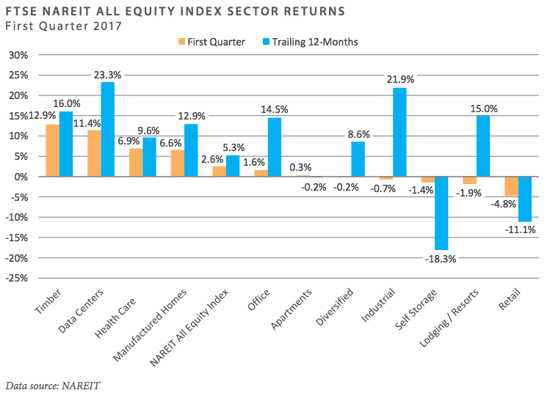 INTERNATIONAL REAL ESTATE SECURITIES
International real estate securities, as measured by the FTSE EPRA/NAREIT Developed Ex-U.S. Total Return Index, gained 4.7% in U.S. dollar terms during the first quarter. This gain can be partially attributed to favorable currency movement against the U.S. dollar throughout Asia.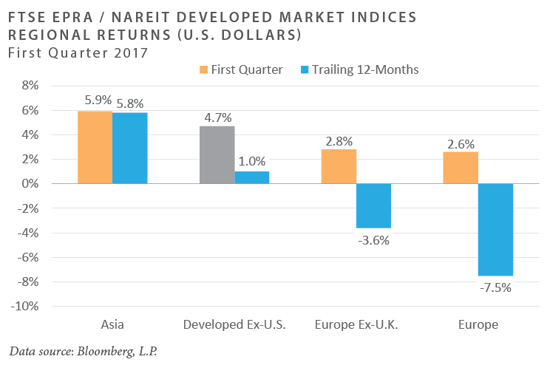 COMMODITIES
Commodities, as measured by the Bloomberg Commodity Index (BCOM), declined 2.3% during the first quarter and gained 8.7% during the last 12 months.
The industrial metals complex was the strongest performing sector, gaining 7.6% during the first quarter. Returns were supported by a surge in future prices for aluminum (+16.0%) and zinc (+11.3%). The gains in aluminum were due in part to car manufacturers transitioning from typical steel framed cars to aluminum. Additionally, China has begun to create new power plants that utilize aluminum for wiring rather than copper (+5.5%).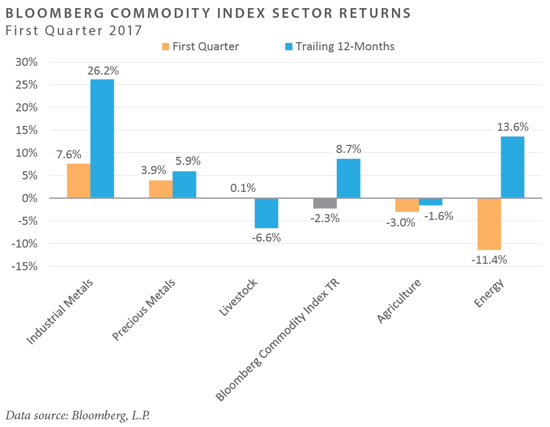 Energy declined 11.4% during the first quarter and 13.6% for the trailing 12 months. Negatively impacting the complex were declines in natural gas (-17.0%), WTI crude (-9.4%), brent crude (8.4%), and unleaded gasoline (-12.2%). Market fears about the U.S. increasing production detracted from performance. Notably, the oil and gas rig count was 839 as of the first quarter, which is still below the all-time high of 1,811 reached in 2014.
MASTER LIMITED PARTNERSHIPS
Master Limited Partnerships (MLPs), as measured by the Alerian MLP Index (AMZ), gained 3.9% during the first quarter. As of the end of March, MLPs' distribution yield stood at 7.0%, versus a yield of 2.4% for the 10-year Treasury.
Relatively resilient distributions and solid transport volumes drove MLP performance. Notable during the first quarter were multiple merger & acquisition transactions as well as initial public offerings. Also contributing to performance was President Trump's approval of the Dakota Access Pipeline, which helped solidify the cabinet's agenda of helping the pipeline sector.
U.S. crude production and U.S. gas production both gained traction during the first quarter, but remain below their all-time highs. As production continues to recover, overall market sentiment and fundamentals helped to stabilize MLP prices.
Diversifying Strategies
The HFRI Fund Weighted Composite Index and the HFRI Fund of Funds Composite Index gained 2.3% and 2.0%, respectively. Hedge fund returns were generally positive across strategies, with the exception of global macro managers. Event-driven and relative value strategies generated strong performance.
The HFRI Event Driven (Total) Index returned 2.2%, with each event-driven sub-index generating positive performance. Strategies focused on credit and special situations tended to outperform equity-oriented strategies. The HFRI ED: Special Situations Index and the HFRI ED: Credit Arbitrage Index returned 3.2% and 2.6%, respectively.
The HFRI Relative Value (Total) Index returned 2.5%. Performance amongst sub-indices was positive, with returns ranging from 1% to 4%. The top-performing relative value indices included the HFRI RV: Yield Alternatives Index (+3.5%) and the HFRI RV: Fixed Income – Asset Backed Index (+2.8%).
The HFRI Macro (Total) Index returned -0.2%. Systematic managers continued to struggle due to choppy markets and trend reversals. The HFRI Macro: Systematic Diversified Index returned -1.1%. Conversely, the HFRI Macro: Discretionary Thematic Index returned 0.7%.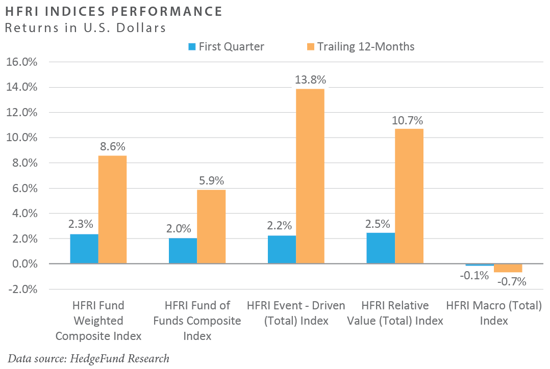 Disclosures
This report was prepared by Fund Evaluation Group, LLC (FEG), a federally registered investment adviser under the Investment Advisers Act of 1940, as amended, providing non-discretionary and discretionary investment advice to its clients on an individual basis. Registration as an investment adviser does not imply a certain level of skill or training. The oral and written communications of an adviser provide you with information about which you determine to hire or retain an adviser. Fund Evaluation Group, LLC, Form ADV Part 2A & 2B can be obtained by written request directly to: Fund Evaluation Group, LLC, 201 East Fifth Street, Suite 1600, Cincinnati, OH 45202, Attention: Compliance Department.
The information herein was obtained from various sources. FEG does not guarantee the accuracy or completeness of such information provided by third parties. The information in this report is given as of the date indicated and believed to be reliable. FEG assumes no obligation to update this information, or to advise on further developments relating to it. FEG, its affiliates, directors, officers, employees, employee benefit programs and client accounts may have a long position in any securities of issuers discussed in this report.
Index performance results do not represent any managed portfolio returns. An investor cannot invest directly in a presented index, as an investment vehicle replicating an index would be required. An index does not charge management fees or brokerage expenses, and no such fees or expenses were deducted from the performance shown.
Neither the information nor any opinion expressed in this report constitutes an offer, or an invitation to make an offer, to buy or sell any securities.
Any return expectations provided are not intended as, and must not be regarded as, a representation, warranty or predication that the investment will achieve any particular rate of return over any particular time period or that investors will not incur losses.
Past performance is not indicative of future results.
Investments in private funds are speculative, involve a high degree of risk, and are designed for sophisticated investors.
All data is as of February 28, 2017 unless otherwise noted.
INDICES
The Alerian MLP Index is a composite of the 50 most prominent energy Master Limited Partnerships that provides investors with an unbiased, comprehensive benchmark for this emerging asset class.
Barclays Capital Fixed Income Indices is an index family comprised of the Barclays Capital Aggregate Index, Government/Corporate Bond Index, Mortgage-Backed Securities Index, and Asset-Backed Securities Index, Municipal Index, High-Yield Index, and others designed to represent the broad fixed income markets and sectors within constraints of maturity and minimum outstanding par value. See https://ecommerce.barcap.com/indices/index.dxml for more information.
The CBOE Volatility Index (VIX) is an up-to-the-minute market estimate of expected volatility that is calculated by using real-time S&P 500 Index option bid/ask quotes. The Index uses nearby and second nearby options with at least 8 days left to expiration and then weights them to yield a constant, 30-day measure of the expected volatility of the S&P 500 Index. FTSE Real Estate Indices (NAREIT Index and EPRA/NAREIT Index) includes only those companies that meet minimum size, liquidity and free float criteria as set forth by FTSE and is meant as a broad representation of publicly traded real estate securities. Relevant real estate activities are defined as the ownership, disposure, and development of income-producing real estate. See www.ftse.com/Indices for more information.
HFRI Monthly Indices (HFRI) are equally weighted performance indexes, compiled by Hedge Fund Research Inc. (HFX), and are used by numerous hedge fund managers as a benchmark for their own hedge funds. The HFRI are broken down into 37 different categories by strategy, including the HFRI Fund Weighted Composite, which accounts for over 2000 funds listed on the internal HFR Database. The HFRI Fund of Funds Composite Index is an equal weighted, net of fee, index composed of approximately 800 fund- of- funds which report to HFR. See www.hedgefundresearch.com for more information on index construction.
J.P. Morgan's Global Index Research group produces proprietary index products that track emerging markets, government debt, and corporate debt asset classes. Some of these indices include the JPMorgan Emerging Market Bond Plus Index, JPMorgan Emerging Market Local Plus Index, JPMorgan Global Bond Non-US Index and JPMorgan Global Bond Non-US Index. See www.jpmorgan.com for more information.
Merrill Lynch high yield indices measure the performance of securities that pay interest in cash and have a credit rating of below investment grade. Merrill Lynch uses a composite of Fitch Ratings, Moody's and Standard and Poor's credit ratings in selecting bonds for these indices. These ratings measure the risk that the bond issuer will fail to pay interest or to repay principal in full. See www.ml.com for more information.
Morgan Stanley Capital International – MSCI is a series of indices constructed by Morgan Stanley to help institutional investors benchmark their returns. There are a wide range of indices created by Morgan Stanley covering a multitude of developed and emerging economies and economic sectors. See www.morganstanley.com for more information.
Russell Investments rank U.S. common stocks from largest to smallest market capitalization at each annual reconstitution period (May 31). The primary Russell Indices are defined as follows: 1) the top 3,000 stocks become the Russell 3000 Index, 2) the largest 1,000 stocks become the Russell 1000 Index, 3) the smallest 800 stocks in the Russell 1000 Index become the Russell Midcap index, 4) the next 2,000 stocks become the Russell 2000 Index, 5) the smallest 1,000 in the Russell 2000 Index plus the next smallest 1,000 comprise the Russell Microcap Index. See www.russell.com for more information.
S&P 500 Index consists of 500 stocks chosen for market size, liquidity and industry group representation, among other factors by the S&P Index Committee, which is a team of analysts and economists at Standard and Poor's. The S&P 500 is a market-value weighted index, which means each stock's weight in the index is proportionate to its market value and is designed to be a leading indicator of U.S. equities, and meant to reflect the risk/return characteristics of the large cap universe. See www.standardandpoors.com for more information.
Information on any indices mentioned can be obtained either through your consultant or by written request to information@feg.com.
Previous
Next